Abstract
Young children construct understandings of gender during the preschool years. They accurately apply common gender stereotypes to toys by the time they are three and readily predict their parents' opinions about gender-typical and cross-gender play. This study involved 3- and 5-year-old children in identifying "girl toys" and "boy toys". It also asked them to predict their parents' reactions to their choices of gender-specific toys. These children's parents were surveyed in an effort to describe their preferences about gender-specific toys and behaviors. Responses indicated that, in spite of evidence that many of these parents reject common gender stereotypes, their children predicted parents would consistently apply these stereotypes as reflected by their approval or disapproval of children's choices to play with gender stereotyped or cross-gender toys. The mis-match between parents' self-described beliefs and children's perceptions of the messages they have received about genderized play are discussed.
This is a preview of subscription content, log in to check access.
Access options
Buy single article
Instant access to the full article PDF.
US$ 39.95
Price includes VAT for USA
Subscribe to journal
Immediate online access to all issues from 2019. Subscription will auto renew annually.
US$ 99
This is the net price. Taxes to be calculated in checkout.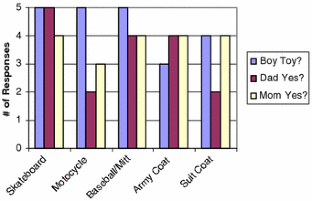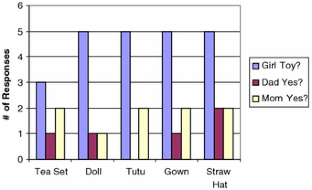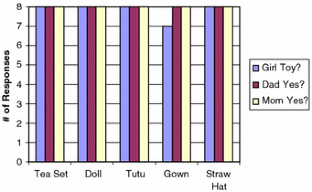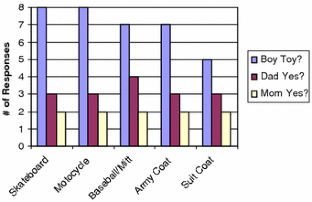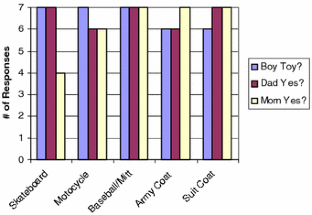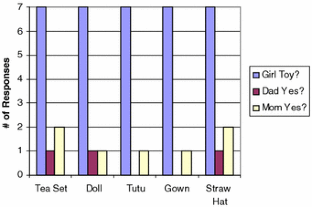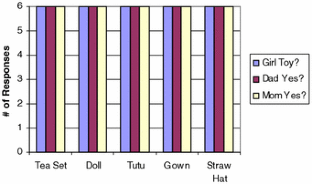 Notes
1.

Examples of websites with prominent sections organized by gender include toy stores and manufacturers www.toysrus.com, http://www.mattel.com, and furniture/ furnishing vendors such as http://potterybarnkids.com/
References
Burge P. L. (1981). Parental child-rearing sex-role attitudes related to social issue sex-role attitudes and selected demographic variables. Home Economics Research Journal, 9(3), 193–199

Cahill B., & Adams, E. (1997). An exploratory study of early childhood teachers's attitudes about gender roles. Sex Roles: A Journal of Research, 36(7/8), 517–529

Daniel, D. (1999, July). The name game. Bicycling, 25

Fagot B. I., & Littman, I. (1975). Stability of sex role and play interests from preschool to elementary school. Journal of Psychology, 89, 285–292

Fisher-Thompson D. (1990). Adult sex typing of children's toys. Sex Roles: A Journal of Research, 23(5), 291–304

Frawley T. (2005). Gender bias in the classroom: Current controversies and implications. for teachers. Childhood Education, 81, 221–227

Kohlberg L. (1966). A cognitive-developmental analysis of children's sex role concepts and attitudes. In E. E. Maccoby (Ed.), The development of sex differences (pp. 82–172). Stanford, CA: Stanford University Press

Kohlberg L., & Ullian, D. Z. (1974). Stages in the development of psychosexual concepts and attitudes In R. C Friedman R. M. Richart & R. L. Vande Wiele (Eds.). Sex differences in behavior (PP. 209–222). New York: John Wiley & Sons

Martin C. L. (1990). Attitudes and expectation about children with nontraditional and traditional gender roles. Sex Roles: A Journal of Research, 22(3/4), 151–165

Martin C. L. (1995). Stereotypes about children with traditional and nontraditional gender roles. Sex Roles: A Journal of Research, 33(11), 727–752

Martin C. H., Wood J., Little J. K. (1990). The development of gender stereotype components. Child Development, 61(6), 1891–1905

Martin C. L., & Ruble, D. (2004). Children's search for gender cues: Cognitive perspectives on gender development. Current Directions in Psychological Science, 13(2), 67–70

Moulton J. L, III, & Adams-Price, C. E. (1997). Homosexuality, heterosexuality, and cross-dressing: Perceptions of gender discordant behavior. Sex Roles: A Journal of Research, 37(5/6), 441–451

Powlishta K. K., Serbin L. A., & Moller, L. C. (1993). The stability of individual differences in gender typing: implications for understanding gender segregation. Sex Roles: A Journal of Research, 29(11–12), 723–738

Raag T, & Rackliff, C. L. (1998). Preschoolers' awareness of social expectations of gender: relationships to toy choices. Sex Roles: A Journal of Research, 38(9/10), 685–701

Russell R., & Tyler, M. (2002). Thank heaven for little girls: 'Girl Heaven' and the commercial context of feminine childhood. Sociology, 36(3), 619–637

Sadker M., & Sadker, D. (1994). Failing at fairness: How our schools cheat girls New York: Touchstone

Sandnabba K. N., & Ahlberg, C. (1999). Parents' attitudes and expectations about children's cross-gender behavior. Sex Roles: A Journal of Research, 40(3-4), 249–257

Turner P. J., & Gervai, J. (1995). A multidimensional study of gender typing in preschool children and their parents: personality, attitudes, preferences, behavior, and cultural differences. Developmental Psychology, 31(5), 759–773
APPENDIX
APPENDIX
Child-Rearing Sex-Role Attitude Scale (Adapted from Burge, 1981)
Directions: Please indicate your opinion about each statement. Do you Strongly Agree, Strongly Disagree, or is your opinion somewhere in between these extremes? Mark one choice for each item.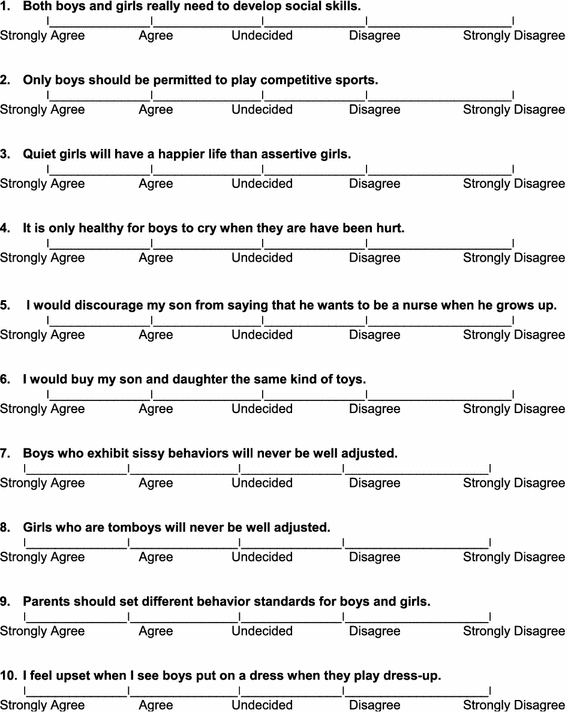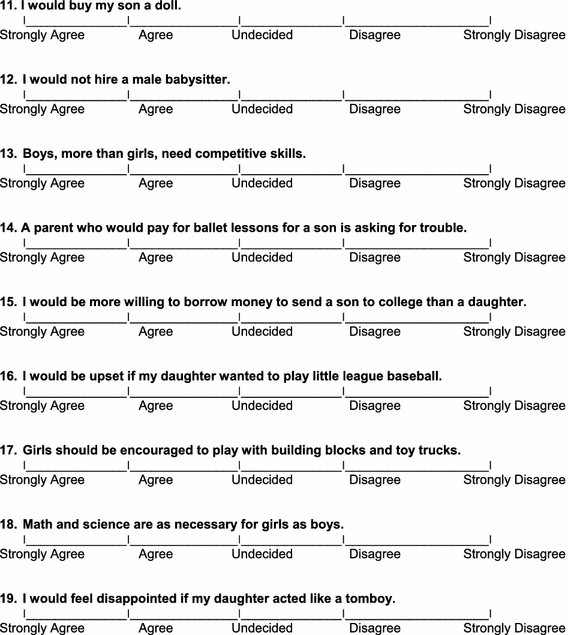 About this article
Cite this article
Freeman, N.K. Preschoolers' Perceptions of Gender Appropriate Toys and their Parents' Beliefs About Genderized Behaviors: Miscommunication, Mixed Messages, or Hidden Truths?. Early Childhood Educ J 34, 357–366 (2007). https://doi.org/10.1007/s10643-006-0123-x
Received:

Accepted:

Published:

Issue Date:
Keywords
Gender

parental attitudes

gender development

gender stereotypes

gender-specific

cross-gender

gender socialization

early childhood

preschool

young children

preschoolers

toys

play

play preferences

Title IX

sex roles