Abstract
Climate change is causing shifts in biogeography of marine species, towards higher latitude, deeper waters, or following local temperature gradients. Such species distribution changes are affecting global fisheries through increasing the dominance of warmer-water preferred species as ocean temperature increases. Previous modeling analyses projected that climate-induced changes in seafood availability would affect the entire seafood chain. However, observed climate impacts on seafood retailers and consumers have rarely been demonstrated. Seafood restaurants usually rely on the supply of locally caught species, and thus the impacts of changing catches on the food they serve, and consequently on their diners, may be reflected in their menus. In this study, 362 restaurant menus from Vancouver, British Columbia, Canada, were collated and analyzed over four different time periods (1880–1960, 1961–1980, 1981–1996, and 2019–2021). Moreover, 148 present-day menus from two other cities north (Anchorage, AK, USA) and south (Los Angeles, CA, USA) of Vancouver were also collected. An index, herein called Mean Temperature of Restaurant Seafood (MTRS), was calculated from the average temperature preference of the species of seafood identified in the menus for each time period or location. Overall, the MTRS of menus from Vancouver increased from 10.7 ± 0.7 °C to 13.8 ± 1.0 °C (95% confidence intervals) between 1888–1960 and 2019–2021. Present-day MTRS was among the highest in Los Angeles (16.5 ± 1.7 °C) and lowest in Anchorage (9.6 ± 1.0 °C). The temporal and spatial variations in MTRS are significantly related to observed patterns of average sea surface temperature and the Mean Temperature of the Catch. This suggests that restaurant menus may be used as a complementary information source regarding changes in marine ecosystems and fisheries and the seafood sector's responses to these changes. This study also highlights the value of using unconventional information sources and their applications in the detection of climate impacts on oceans and their dependent human communities.
Access options
Buy single article
Instant access to the full article PDF.
USD 39.95
Price excludes VAT (USA)
Tax calculation will be finalised during checkout.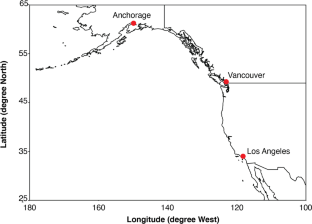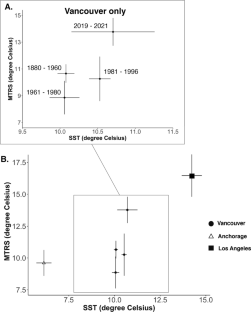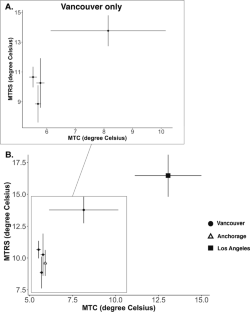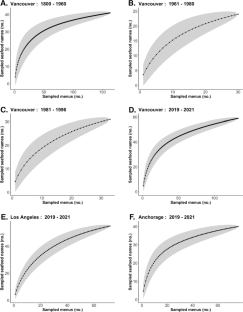 References
Anderson JL, Asche F, Garlock T (2018) Globalization and commoditization: the transformation of the seafood market. J Commod Mark 12:2–8

Andreatta S, Nash B, Martin GB (2011) Carteret Catch(TM): raising awareness of local seafood through community and business partnerships. Human Organ 70:279–288. https://doi.org/10.17730/humo.70.3.l2284858q672j47g

Bindoff NL Cheung WWL Kairo JG et al (2019) Changing ocean, marine ecosystems, and dependent communities

Cheung WWL, Meeuwig JJ, Feng M et al (2012) Climate-change induced tropicalisation of marine communities in Western Australia. Mar Freshw Res 63:415–427

Cheung WWL, Watson R, Pauly D (2013) Signature of ocean warming in global fisheries catch. Nature 497:365

Cheung WWL, Brodeur RD, Okey TA, Pauly D (2015) Projecting future changes in distributions of pelagic fish species of Northeast Pacific shelf seas. Prog Oceanogr 130:19–31

Crona BI, Daw TM, Swartz W et al (2016) Masked, diluted and drowned out: how global seafood trade weakens signals from marine ecosystems. Fish Fish 17:1175–1182

Davidson K, Pan M, Hu W, Poerwanto D (2012) Consumers' willingness to pay for aquaculture fish products vs. wild-caught seafood - a case study in Hawaii. Aquac Econ Manag 16:136–154. https://doi.org/10.1080/13657305.2012.678554

Dimarchopoulou D Makino M Prayoga MR et al (2021) Responses in fisheries catch data to a warming ocean along a latitudinal gradient in the western Pacific Ocean. Environmental Biology of Fishes. https://doi.org/10.1007/s10641-021-01162-z

Dolmage KM (2013) The market for sustainable seafood in Vancouver : an Ocean Wise assessment

Filimonau V, Lemmer C, Marshall D, Bejjani G (2017) 'Nudging' as an architect of more responsible consumer choice in food service provision: the role of restaurant menu design. J Clean Prod 144:161–170. https://doi.org/10.1016/j.jclepro.2017.01.010

Gephart JA, Pace ML (2015) Structure and evolution of the global seafood trade network. Environ Res Lett 10:125014. https://doi.org/10.1088/1748-9326/10/12/125014

Geslani C Loke M Takenaka B Leung P (2012) Hawaii's seafood consumption and its supply sources. Joint Institute for Marine and Atmospheric Research, SOEST publication 12–01

Gianelli I, Ortega L, Marín Y et al (2019) Evidence of ocean warming in Uruguay's fisheries landings: the mean temperature of the catch approach. Mar Ecol Prog Ser 625:115–125

Guidetti P, Micheli F (2011) Ancient art serving marine conservation. Front Ecol Environ 9:374–375. https://doi.org/10.1890/11.WB.019

Hall TE, Amberg SM (2013) Factors influencing consumption of farmed seafood products in the Pacific northwest. Appetite 66:1–9. https://doi.org/10.1016/j.appet.2013.02.012

Hargreaves NB, Ware DM, McFarlane GA (1994) Return of Pacific sardine (Sardinops sagax) to the British Columbia Coast in 1992. Can J Fish Aquat Sci 51:460–463. https://doi.org/10.1139/f94-048

Howell P, Auster P (2012) Phase shift in an estuarine finfish community associated with warming temperatures. Mar Coast Fish Dynamics Manag Ecosyst Sci 4:481. https://doi.org/10.1080/19425120.2012.685144

Hu Y, Huang SY, Hanner R et al (2018) Study of fish products in Metro Vancouver using DNA barcoding methods reveals fraudulent labeling. Food Control 94:38–47. https://doi.org/10.1016/j.foodcont.2018.06.023

Jensen HH (2006) Changes in seafood consumer preference patterns and associated changes in risk exposure. Mar Pollut Bull 53:591–598. https://doi.org/10.1016/j.marpolbul.2006.08.014

Kangur K Tammiksaar E Pauly D (2021) Using the "mean temperature of the catch" to assess fish community responses to warming in a temperate lake. Environmental Biology of Fishes. https://doi.org/10.1007/s10641-021-01114-7

Keskin C, Pauly D (2014) Changes in the mean temperature of the catch: application of a new concept to the North-eastern Aegean Sea. Acta Adriatica Int J Mar Sci 55:213–218

Leitão F, Maharaj RR, Vieira VM et al (2018) The effect of regional sea surface temperature rise on fisheries along the Portuguese Iberian Atlantic coast. Aquat Conserv Mar Freshwat Ecosyst 28:1351–1359

Levin PS, Dufault A (2010) Eating up the food web. Fish Fish 11:307–312. https://doi.org/10.1111/j.1467-2979.2010.00355.x

Maharaj RR Lam VWY Pauly D Cheung WWL (2018) Regional variability in the sensitivity of Caribbean reef fish assemblages to ocean warming. 590:201–209

McClenachan L, Grabowski JH, Marra M et al (2019) Shifting perceptions of rapid temperature changes' effects on marine fisheries, 1945–2017. Fish Fish 20:1111–1123. https://doi.org/10.1111/faf.12400

Naaum AM, Warner K, Mariani S et al (2016) Chapter 1 - Seafood Mislabeling Incidence and Impacts. In: Naaum AM, Hanner RH (eds) Seafood Authenticity and Traceability. Academic Press, San Diego, pp 3–26

Okey TA, Alidina HM, Lo V, Jessen S (2014) Effects of climate change on Canada's Pacific marine ecosystems: a summary of scientific knowledge. Rev Fish Biol Fisheries 24:519–559

Pörtner HO, Knust R (2007) Climate change affects marine fishes through the oxygen limitation of thermal tolerance. Science 315:95–97. https://doi.org/10.1126/science.1135471

Punzón A, López-López L, González-Irusta JM et al (2021) Tracking the effect of temperature in marine demersal fish communities. Ecol Indic 121:107142

Rayner NA, Brohan P, Parker DE et al (2006) Improved analyses of changes and uncertainties in sea surface temperature measured in situ since the mid-nineteenth century: the HadSST2 data set. J Clim 19(3):446–469

Sumaila UR, Tai TC, Lam VWY et al (2019) Benefits of the Paris Agreement to ocean life, economies, and people. Sci adv 5:eaau3855

Swartz W, Sala E, Tracey S et al (2010) The spatial expansion and ecological footprint of fisheries (1950 to present). PLoS ONE 5:e15143

Swartz W, Sumaila UR, Watson R, Pauly D (2010) Sourcing seafood for the three major markets: The EU, Japan and the USA. Mar Policy 34:1366–1373

Thurstan RH, McClenachan L, Crowder LB et al (2015) Filling historical data gaps to foster solutions in marine conservation. Ocean Coast Manag 115:31–40. https://doi.org/10.1016/j.ocecoaman.2015.04.019

Tsikliras AC, Stergiou KI (2014) Mean temperature of the catch increases quickly in the Mediterranean Sea. Mar Ecol Prog Ser 515:281–284

Van Houtan KS, McClenachan L, Kittinger JN (2013) Seafood menus reflect long-term ocean changes. Front Ecol Environ 11:289–290

Vergés A, Steinberg PD, Hay ME et al (2014) The tropicalization of temperate marine ecosystems: climate-mediated changes in herbivory and community phase shifts. Proc Biol Sci 281:20140846. https://doi.org/10.1098/rspb.2014.0846

Whitney FA (2015) Anomalous winter winds decrease 2014 transition zone productivity in the NE Pacific. Geophys Res Lett 42:428–431

Witter A, Murray G, Sumaila UR (2021) Consumer seafood preferences related to alternative food networks and their value chains. Mar Policy 131:104694

Zeidberg LD, Robison BH (2007) Invasive range expansion by the Humboldt squid, Dosidicus gigas, in the eastern North Pacific. Proc Natl Acad Sci 104:12948–12950

Zeller D, Palomares MLD, Tavakolie A et al (2016) Still catching attention: Sea Around Us reconstructed global catch data, their spatial expression and public accessibility. Mar Policy 70:145–152. https://doi.org/10.1016/j.marpol.2016.04.046
Acknowledgements
The authors are grateful for the financial support provided through the Undergraduate Student Research Award and Discovery Grant from the Natural Sciences and Engineering Research Council of Canada. We are grateful for the comments from the referees that help improve the manuscript.
Funding
This study was funded by the Undergraduate Student Research Award and Discovery Grant from the Natural Sciences and Engineering Research Council of Canada.
Ethics declarations
Ethics approval
This study is based solely on publicly available information. No ethics approval is required by the University of British Columbia Research Ethics Boards.
Conflict of interest
The authors declare no competing interests.
Additional information
Publisher's note
Springer Nature remains neutral with regard to jurisdictional claims in published maps and institutional affiliations.
About this article
Cite this article
Ng, JP., Cheung, W.W.L. Signature of climate-induced changes in seafood species served in restaurants. Environ Biol Fish 105, 1463–1474 (2022). https://doi.org/10.1007/s10641-022-01244-6
Received:

Accepted:

Published:

Issue Date:

DOI: https://doi.org/10.1007/s10641-022-01244-6
Keywords
Climate change

Seafood

Species composition

Restaurant menu

North America