Abstract
Orestias ascotanensis Parenti is a critically endangered endemic species of the Chilean high Andean systems, found only in the springs of the Ascotán saltpan. Considering the importance of reproduction and early life history stages in population persistence in fishes, understanding these is essential for successful conservation efforts. We studied the larval development of O. ascotanensis under controlled temperature and photoperiod conditions. A total of 50 O. ascotanensis specimens were captured during 2014 and 2015 and moved to the laboratory to be kept under controlled conditions and diet. Females were subjected to hormone therapy using Ovaprim® to induce oviposition, which was followed by artificial fertilization under dry conditions. Water temperature was maintained at 20 °C (± 1 °C), conductivity values oscillated in the interval of 2800–3600 µS/cm3, and the photoperiod was established as 16:8 (light hours:dark hours). The larvae hatched within 14 to 18 days. Three larval stages were established: (i) flexion larva with yolk sac, (ii) flexion larva, and (iii) post-flexion larva. The newly hatched larvae were highly prepared for the free-living stage and they absorbed the yolk sac in 5–7 days. The intense pigmentation of O. ascotanensis eggs and larvae and the high degree of development at hatching may represent adaptations to extreme conditions, such as high levels of solar radiation and significant changes in daytime temperatures. A range of anthropogenic activities have caused the contraction and degradation of the habitat of O. ascotanensis, producing serious concern regarding the conservation status of the species.
Access options
Buy single article
Instant access to the full article PDF.
USD 39.95
Price includes VAT (USA)
Tax calculation will be finalised during checkout.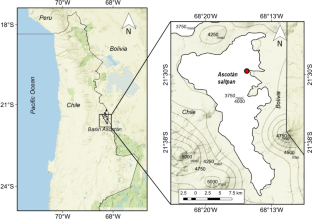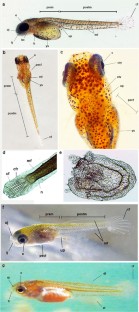 Data availability statement
All the data used here are presented in the text and figures.
References
Ahlstrom EH, Ball OP (1954) Description of eggs and larvae of jack mackerel (Trachurus symmetricus) and distribution and abundance of larvae in 1950 and 1951. Fish Bull 56:209–245

Arenzon A, Peret AC, Bohrer MBC (1999) Reproduction of the annual fish Cynopoecilus maelanotaenia (Regan 1912) based on a temporary water body population in Rio Grande do Sul state, Brazil. Hydrobiologia 411:65–70

Arezo MJ, Papa NG, Berois N, Clivio G, Montagne J, De la Piedra S (2017) Annual killifish adaptations to ephemeral environments: diapause I in two Austrolebias species. Dev Dyn 246:848–857

Blaxter JHS, Hempel G (1963) The influence of egg size on herring larvae (Clupea harengus L.). ICES J Mar Sci 28:211–240

D'Angelo L, Lossi L, Merighi A, de Girolamo P (2016) Anatomical features for the adequate choice of experimental animal models in biomedicine: I. Fishes. Ann Anat 205:75–84

Davenport J, Sayer MDJ (1993) Physiological determinants of distribution in fish. J Fish Biol 43:121–145

De La Barra E, Maldonado M, Vila I, Ibáñez C, Jégu M, Carvajal-Vallejos FM (2020) Resumen del conocimiento sobre la biología y taxonomía del género Orestias Valenciennes 1839 (Actinopterygii, Cyprinodontiformes). Hidrobiol Neotrop Conserv Acuát 1(2):185–224

Helfman GS (2013) National "versus" global red lists of imperiled fishes: why the discord? Environ Biol Fish 96:1159–1168

Hjort J (1914) Fluctuations in the great fisheries of northern Europe, viewed in the light of biological research. Rapports Et Procès-Verbaux Des Réunions Du Conseil Permanent International Pour L'exploration De La Mer 20:1–228

Houde ED (1989) Comparative growth, mortality, and energetics of marine fish larvae: temperature and implied latitudinal effects. Fish Bull 87:471–495

Houde ED, Schekter RC (1980) Feeding by marine fish larvae: developmental and functional responses. Environ Biol Fish 5:315–334

Johnson AF, Jenkins SR, Hiddink JG, Hinz H (2013) Linking temperate demersal fish species to habitat: scales, patterns and future directions. Fish Fish 14:256–280

Keller B, Soto D (1998) Hydrogeologic influences on the preservation of Orestias ascotanensis (Teleostei: Cyprinodontidae), in Salar de Ascotán, northern Chile. Rev Chil Hist Nat 71:147–156

Kendall AW, Ahlstrom EH, Moser HG (1984) Early life history stages of fishes and their characters. In: Moser HG, Richards WJ, Cohen DM, Fahay MP, Kendall AW, Richardson SL (eds) Ontogeny and systematics of fishes: American Society of Ichthyologists and Herpetologists, Special Publication No. 1. Allen Press Inc, Lawrence, 11–22 pp

Lauzanne L (1982) Les Orestias (Pisces, Cyprinodontidae) du Petit lac Titicaca. Rev D'hydrobiol Trop 15:39–70

Macaya C, Lam N, Vila I (2019) Embryological development of the high-altitude killifish Orestias ascotanensis Parenti 1984 (Teleostei: Cyprinodontidae). Environ Biol Fish 102:675–684

Maldonado E, Hubert N, Sagnes P, De Mérona B (2009) Morphology–diet relationships in four killifishes (Teleostei, Cyprinodontidae, Orestias) from Lake Titicaca. J Fish Biol 74(3):502–520

Meekan MG, Fortier L (1996) Selection for fast growth during the larval life of Atlantic cod Gadus morhua on the Scotian Shelf. Mar Ecol Prog Ser 137:25–37

Miller T, Crowder L, Rice J, Marschall E (1988) Larval size and recruitment mechanisms in fishes: toward a conceptual framework. Can J Fish Aquat Sci 45:1657–1670

Ministerio del Medio Ambiente (MMA) (2021) Inventario Nacional de especies. URL: http://especies.mma.gob.cl

Morales P, Vila I, Poulin E (2011) Genetic structure in remnant populations of an endangered cyprinodontid fish, Orestias ascotanensis, endemic to the Ascotán salt pan of the Altiplano. Conserv Genet 12:1639–1643

Mueller K, Neuhauss S (2014) Sunscreen for fish: co-option of UV light protection for camouflage. PLoS One 9(1):e87372

Nakatani K, Agostinho A, Baumgartner G, Bialetzki A, Vanderlei P, Cavicchioli M, Pavanelli C (2001) Ovos e larvas de peixes de agua doce: desenvolvimento e manual de identificacao. Conselho Editorial, Brasil. 378 pp

Pepin P (1991) Effect of temperature and size on development, mortality and survival rates of the pelagic early life-history of marine fish. Can J Fish Aquat Sci 48:503–518

Polačik M, Blažek RR, M, (2016) Laboratory breeding of the short-lived anual killifish Nothobranchius furzeri. Nat Protoc 11:1396–1413

Rondanelli R, Molina A, Falvey M (2015) The Atacama surface solar maximum. Bull Am Meteorol Soc 96:405–418

Vigliola L, Harmelin-Vivien M, Meekan MG (2000) Comparison of techniques of back calculation of growth and settlement marks from the otoliths of three species of Diplodus from the Mediterranean Sea. Can J Fish Aquat Sci 1299:1291–1299

Vila I, Hermosilla V, Gonzalez F, Sobarzo G, Rojas P (2020) Macroinvertebrate community structure in an extreme altiplanic environment from Chile: the Ascotán saltpan. Glob Ecol Conserv 24:e01260

Vila I, Mendez MA, Scott S, Morales PM, Poulin E (2007) Threatened fishes of the world: Orestias ascotanensis Parenti, 1984 (Cyprinodontidae). Environ Biol Fish 80:491–492

Vila I, Scott S, Mendez MA, Valenzuela F, Iturra P, Poulin E (2011) Orestias gloriae, a new species of cyprinodontid fish from saltpan spring of the southern high Andes (Teleostei: Cyprinodontidae). Ichthyol Explor Freshw 22:345–353

Wallus R, Simon TP (2008) Reproductive biology and early life history of fishes in the Ohio River drainage: Elassomatidae and Centrarchidae, Volume 6 (Vol. 6). CRC press.

Wootton RJ (1999) Ecology of teleost fishes: Champan and hall, Londres.
Funding
This study received funding with grant no. ANID-FONDECYT 1200419.
Ethics declarations
Ethics declarations
All procedures involving animals were performed in accordance with the standards of the Universidad de Chile Bioethics Committee.
Conflict of interest
The authors declare no competing interests.
Additional information
Publisher's note
Springer Nature remains neutral with regard to jurisdictional claims in published maps and institutional affiliations.
About this article
Cite this article
Lam, N., Rojas, P. & Vila, I. Orestias ascotanensis Parenti 1984 (Pisces; Cyprinodontiformes), larval adaptations to extreme conditions in high Andes. Environ Biol Fish 104, 1453–1459 (2021). https://doi.org/10.1007/s10641-021-01180-x
Received:

Accepted:

Published:

Issue Date:
Keywords
High Andes killifish

Extremophiles

Saltpan

Artificial reproduction