Abstract
Brown trout, Salmo trutta is a widespread fish species throughout the Europe yet most of the natural populations of the species is in decline due to the anthropogenic pressures. Hatchery based stock enhancement is commonly used to restore depleted populations. Tracking pedigree information is useful for evaluating performance of stocked offspring and for examining introgression where stocking practices are being implemented. In this study, parentage assignment powers of 16 previously developed microsatellite markers have been evaluated in four brown trout strains and their reciprocal crossbreeds. The number of alleles per locus ranged between 3 (Str73INRA) -24 (T3-13). Observed (HO) and expected heterozygosity (HE) was between 0.188 and 0.854 and 0.175–0.903, respectively. According to the simulation analysis with prior known parental and filial information, of the 204 offspring tested, correct assignment rate of the eight most informative microsatellite marker to their parental pairs was 96.08% and that of 15 loci was 98.04%. Having more than eight markers boosted only 1.96% extra power of assignment. Meanwhile correct assignment rate of five loci was resulted only 85.29%. Our results demonstrate that microsatellite markers are reliable and effective tools for the parentage assignment in brown trout strains and their reciprocal crossbreeds. The findings obtained in the present study would also be useful for performance evaluation of stocked fish, detecting crossbreeds and examining introgression into natural populations.
This is a preview of subscription content, log in to check access.
Access options
Buy single article
Instant access to the full article PDF.
US$ 39.95
Price includes VAT for USA
Subscribe to journal
Immediate online access to all issues from 2019. Subscription will auto renew annually.
US$ 199
This is the net price. Taxes to be calculated in checkout.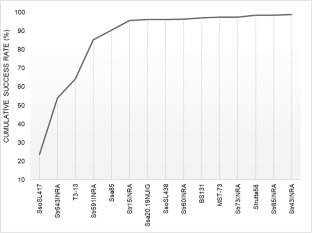 References
Alemdağ M, Ozturk RC, Sahin SA, Altinok I (2019) Karyotypes of Danubian lineage brown trout and their hybrids. Caryologia 72:61–67. https://doi.org/10.13128/caryologia-160

Altinok I, Ozturk RC, Capkin E, Kalayci G (2020) Experimental crossbreeding reveals variation in growth among brown trout (Salmo trutta) strains and their reciprocal crossbreeds. Aquaculture 521:734983

Anderson EC, Garza JC (2006) The power of single-nucleotide polymorphisms for large-scale parentage inference. Genetics 172:2567–2582. https://doi.org/10.1534/genetics.105.048074

Andrews KR, Adams JR, Cassirer EF et al (2018) A bioinformatic pipeline for identifying informative SNP panels for parentage assignment from RADseq data. Mol Ecol Resour. https://doi.org/10.1111/1755-0998.12910

Aparicio E, García-Berthou E, Araguas RM et al (2005) Body pigmentation pattern to assess introgression by hatchery stocks in native Salmo trutta from Mediterranean streams. J Fish Biol 67:931–949. https://doi.org/10.1111/j.1095-8649.2005.00794.x

Aykanat T, Johnston SE, Cotter D et al (2014) Molecular pedigree reconstruction and estimation of evolutionary parameters in a wild Atlantic salmon river system with incomplete sampling: A power analysis. BMC Evol Biol 14:1471–2148. https://doi.org/10.1186/1471-2148-14-68

Baer J, Blasel K, Diekmann M (2007) Benefits of repeated stocking with adult, hatchery-reared brown trout, Salmo trutta, to recreational fisheries? Fish Manag Ecol 14:51–59. https://doi.org/10.1111/j.1365-2400.2006.00523.x

Baumsteiger J, Hand DM, Olson DE et al (2008) Use of parentage analysis to determine reproductive success of hatchery-origin spring chinook salmon outplanted into Shitike Creek, Oregon. North Am J Fish Manag 28:1472–1485. https://doi.org/10.1577/M07-195.1

Benjamini Y, Yekutieli D (2001) The control of the false discovery rate in multiple testing under dependency. Ann Stat 29:1165–1188. https://doi.org/10.1214/aos/1013699998

Berrebi P, Poteaux C, Fissier M, Cattaneo-Berrebi G (2000) Stocking impact and allozyme diversity in brown trout from Mediterranean southern France. J Fish Biol 56:949–960. https://doi.org/10.1006/jfbi.1999.1221

Bingham DM, Gerrity PC, Painter S (2018) Genetic tagging is an effective way to monitor survival of released hatchery saugers: Conservation efforts in the Wind River, Wyoming. Environ Pract 20:92–103. https://doi.org/10.1080/14660466.2018.1531667

Caballero A, Rodríguez-Ramilo ST, Ávila V, Fernández J (2010) Management of genetic diversity of subdivided populations in conservation programmes. Conserv Genet 11:409–419. https://doi.org/10.1007/s10592-009-0020-0

Di Pierro E, Bertolino S, Martinoli A et al (2010) Estimating offspring production using capture-mark-recapture and genetic methods in red squirrels. Ecol Res 25:395–402. https://doi.org/10.1007/s11284-009-0667-5

Duchesne P, Bernatchez L (2000) Individual-based genotype analysis in studies of parentage and population assignment: how many loci, how many alleles? Can J Fish Aquat Sci 57:1–12

Estoup A, Presa P, Krieg F, Vaiman D, Guyomard R (1993) CT)n and (GT)n microsatellites: a new class of genetic markers for Salmo trutta L. (brown trout). Heredity 71:488–496

Estoup A, Rousset F, Michalakis Y, Cornuet JM, Adriamanga M, Guyomard R (1998a) Comparative analysis of microsatellite and allozyme markers: a case study investigating microgeographic differentiation in brown trout (Salmo trutta). Mol Ecol 7:339–353

Estoup A, Gharbi K, SanCristobal M et al (1998b) Parentage assignment using microsatellites in turbot (Scophthalmus maximus) and rainbow trout (Oncorhynchus mykiss) hatchery populations. Can J Fish Aquat Sci 55:715–725

Ford MJ, Hanson MB, Hempelmann JA et al (2011) Inferred paternity and male reproductive success in a killer whale (orcinus orca) population. J Hered 102:537–553. https://doi.org/10.1093/jhered/esr067

Ford MJ, Murdoch A, Hughes M (2015) Using parentage analysis to estimate rates of straying and homing in Chinook salmon (Oncorhynchus tshawytscha). Mol Ecol 24:1109–1121. https://doi.org/10.1111/mec.13091

Hauser L, Baird M, Hilborn R et al (2011) An empirical comparison of SNPs and microsatellites for parentage and kinship assignment in a wild sockeye salmon (Oncorhynchus nerka) population. Mol Ecol Resour. https://doi.org/10.1111/j.1755-0998.2010.02961.x

Kalayci G, Ozturk RC, Capkin E, Altinok I (2018) Genetic and molecular evidence that brown trout Salmo trutta belonging to the Danubian lineage are a single biological species. J Fish Biol 93:792–804. https://doi.org/10.1111/jfb.13777

Kalinowski ST, Taper ML, Marshall TC (2007) Revising how the computer program CERVUS accommodates genotyping error increases success in paternity assignment. Mol Ecol 16:1099–1106. https://doi.org/10.1111/j.1365-294X.2007.03089.x

Kim SG, Morishima K, Satoh N et al (2007) Parentage assignment in hatchery population of brown sole Pleuronectes herzensteini by microsatellite DNA markers. Fish Sci 73:1087–1093. https://doi.org/10.1111/j.1444-2906.2007.01440.x

Larios-López JE, Tierno de Figueroa JM, Alonso-González C, Nebot Sanz B (2015) Distribution of brown trout (Salmo trutta Linnaeus, 1758) (Teleostei: Salmonidae) in its southwesternmost European limit: possible causes. Ital J Zool 82:404–415. https://doi.org/10.1080/11250003.2015.1018351

Letcher BH, King TL (2011) Parentage and grandparentage assignment with known and unknown matings: application to Connecticut River Atlantic salmon restoration. Can J Fish Aquat Sci 58:1812–1821. https://doi.org/10.1139/f01-125

Li CD, Rossnagel BG, Scoles GJ (2000) The development of oat microsatellite markers and their use identifying relationships among Avena species and oat cultivars. Theor Appl Genet 101:1259–1268. https://doi.org/10.1007/s001220051605

Liu Y, Yang R, Liu Y, Si F (2017) Use of microsatellite DNA profiling to identify Japanese flounder, paralichthys olivaceus of hatchery origin. J World Aquac Soc 48:353–359. https://doi.org/10.1111/jwas.12330

Marshall TC, Slate J, Kruuk LEB, Pemberton JM (1998) Statistical confidence for likelihood-based paternity inference in natural populations. Mol Ecol 7:639–655. https://doi.org/10.1046/j.1365-294x.1998.00374.x

Matson SE, Camara MD, Eichert W, Banks MA (2008) P-LOCI: A computer program for choosing the most efficient set of loci for parentage assignment. Mol Ecol Resour 8:765–768. https://doi.org/10.1111/j.1755-0998.2008.02128.x

Moore SA, Bronte CR (2004) Delineation of sympatric morphotypes of Lake Trout in Lake Superior. Trans Am Fish Soc 130:1233–1240. https://doi.org/10.1577/1548-8659(2001)130<1233:dosmol>2.0.co;2

Muhlfeld CC, Kalinowski ST, McMahon TE et al (2009) Hybridization rapidly reduces fitness of a native trout in the wild. Biol Lett 5:328–331. https://doi.org/10.1098/rsbl.2009.0033

Norris AT, Bradley DG, Cunningham EP (2000) Parentage and relatedness determination in farmed Atlantic salmon (Salmo salar) using microsatellite markers. Aquaculture 182:73–83. https://doi.org/10.1016/S0044-8486(99)00247-1

O'Reilly PT, Hamilton LC, McConnell SK, Wright JM (1996) Rapid analysis of genetic variation in Atlantic salmon (Salmo salar) by PCR multiplexing of dinucleotide and tetranucleotide microsatellites. Can J Fish Aquat Sci 53:2292–2298

O'Reilly PT, Herbinger C, Wright JM (1998) Analysis of parentage determination in Atlantic salmon (Salmo salar) using microsatellites. Anim Genet 29:363–370. https://doi.org/10.1046/j.1365-2052.1998.295359.x

Pakkasmaa S, Piironen J (2001) Morphological differentiation among local trout (Salmo trutta) populations. Biol J Linn Soc 72:231–239. https://doi.org/10.1006/bijl.2000.0488

Pemberton JM (2008) Wild pedigrees: The way forward. Proc R Soc B Biol Sci 275:613–621. https://doi.org/10.1098/rspb.2007.1531

Poteaux C, Bonhomme F, Berrebi P (1999) Microsatellite polymorphism and genetic impact of restocking in Mediterranean brown trout (Salmo trutta L.). Heredity 82:645–653

Presa P, Guyomards R (1996) Conservation of microsatellites in three species of salmonids. J Fish Biol 49:1326–1329

Raymond M, Rousset F (1995) GENEPOP (Version 1.2): Population genetics software for exact tests and ecumenicism. J Hered 86:248–249. https://doi.org/10.1093/oxfordjournals.jhered.a111573

Rodzen JA, Famula TR, May B (2004) Estimation of parentage and relatedness in the polyploid white sturgeon (Acipenser transmontanus) using a dominant marker approach for duplicated microsatellite loci. Aquaculture 232:165–182. https://doi.org/10.1016/S0044-8486(03)00450-2

Sanchez JA, Clabby C, Ramos D, Blanco G, Flavin F, Vazquez E, Powell R (1996) Protein and microsatellite single locus variability in Salmo salar L. (Atlantic salmon). Heredity 77:423–432

Sanz N, García-Marín JL, Pla C (2002) Managing fish populations under mosaic relationships. The case of brown trout (Salmo trutta) in peripheral Mediterranean populations. Conserv Genet 3:385–400. https://doi.org/10.1023/A:1020527420654

Sanz N, Araguas RM, Fernandez R (2009) Efficiency of markers and methods for detecting hybrids.pdf. Conserv Genet 10:225–236

Savary R, Dufresnes C, Champigneulle A et al (2017) Stocking activities for the Arctic charr in Lake Geneva: Genetic effects in space and time. Ecol Evol 7:5201–5211. https://doi.org/10.1002/ece3.3073

Sellars MJ, Dierens L, Mcwilliam S et al (2014) Comparison of microsatellite and SNP DNA markers for pedigree assignment in Black Tiger shrimp, Penaeus monodon. Aquac Res 45:417–426. https://doi.org/10.1111/j.1365-2109.2012.03243.x

Serbezov D, Bernatchez L, Olsen EM, VØllestad LA (2010) Mating patterns and determinants of individual reproductive success in brown trout (Salmo trutta) revealed by parentage analysis of an entire stream living population. Mol Ecol 19:3193–3205. https://doi.org/10.1111/j.1365-294X.2010.04744.x

Slettan A, Olsaker I, Lie Ø (1995) Atlantic salmon, Salmo salar, microsatellites at the SSOSL25, SSOSL85, SSOSL311, SSOSL417 loci. Anim Genet 26:281–282

Van Oosterhout C, Hutchinson WF, Wills DPM, Shipley P (2004) MICRO-CHECKER: Software for identifying and correcting genotyping errors in microsatellite data. Mol Ecol Notes 4:535–538. https://doi.org/10.1111/j.1471-8286.2004.00684.x

Vandeputte M, Haffray P (2014) Parentage assignment with genomic markers: A major advance for understanding and exploiting genetic variation of quantitative traits in farmed aquatic animals. Front Genet 5:432. https://doi.org/10.3389/fgene.2014.00432

Westley PAH, Stanley R, Fleming IA (2013) Experimental tests for heritable morphological color plasticity in non-native brown trout (Salmo trutta) populations. PLoS One 8:e80401. https://doi.org/10.1371/journal.pone.0080401

Wollebaek J, Røed KH, Brabrand Å, Heggenes J (2012) Interbreeding of genetically distinct native brown trout (Salmo trutta) populations designates offspring fitness. Aquaculture 356:158–168. https://doi.org/10.1016/j.aquaculture.2012.05.020
Acknowledgements
This project was funded by Scientific and Technological Research Council of Turkey (TUBITAK: 214O595).
Additional information
Publisher's Note
Springer Nature remains neutral with regard to jurisdictional claims in published maps and institutional affiliations.
About this article
Cite this article
Kalayci, G., Ozturk, R.C. & Altinok, I. Parentage assignment in Salmo trutta strains and their crossbreeds with known mating. Environ Biol Fish 103, 1391–1399 (2020). https://doi.org/10.1007/s10641-020-01030-2
Received:

Accepted:

Published:

Issue Date:
Keywords
Parentage assignment

Crossbreeding

Microsatellite

Brown trout