Abstract
The distribution of Orestias (Cypriniforms) species in the southern western Altiplano (17ºS-22ºS) is allopatric; the seven species described inhabit different freshwater systems with extreme climatic characteristics and different ecological conditions, factors that would have enhanced interspecific differentiation. To analyze their head differences we compared jaw morphology of eight species of Orestias, seven southern ones and one from Puno Peru, using linear and geometric morphometrics. We found differences among the species with both methods. Nevertheless, none of the external measurements by themselves allows classification of any of the species or populations. The geometric analysis showed differences related to feeding structures such as a protractile jaw, separating the western species in two groups: a northern group with O. chungarensis, O. parinacotensis, O. piacotensis, O. laucaensis, O. puni and O. cf. agassii and a southern group, O. gloriae and O. ascotanensis. The results from this methodology reaffirmed the importance of the extreme environmental conditions of the Altiplano systems to explain the process of adaptation described for the specious genus Orestias.
Access options
Buy single article
Instant access to the full article PDF.
US$ 39.95
Tax calculation will be finalised during checkout.
Subscribe to journal
Immediate online access to all issues from 2019. Subscription will auto renew annually.
US$ 119
Tax calculation will be finalised during checkout.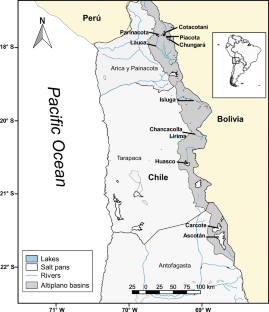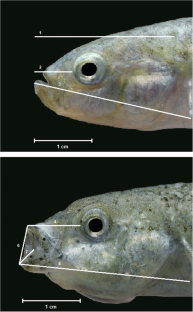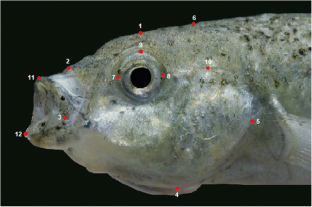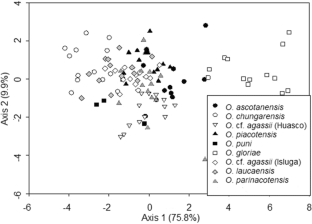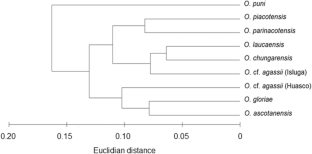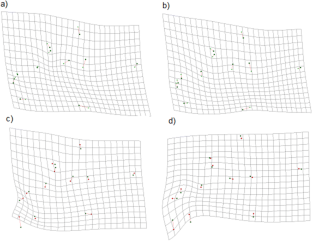 References
Adams DC, Rohlf FJ, Slice DE (2004) Geometric morphometrics: ten years of progress following the 'revolution.' Ital J Zool 71(1):5–16

Adams DC, Collyer M, Sherratt E (2015) Geometric morphometric analyses of 2D/3D landmark data

Albertson RC, Streelman JT, Kocher TD (2003) Directional selection has shaped the oral jaws of Lake Malawi cichlid fishes. Proc Natl Acad Sci 100(9):5252–5257

Albertson RC, Streelman JT, Kocher TD, Yelick PC (2005) Integration and evolution of the cichlid mandible: the molecular basis of alternate feeding strategies. Proc Natl Acad Sci USA 102(45):16287–16292

Anderson MJ (2005) Permutational multivariate analysis of variance. Department of Statistics, University of Auckland, Auckland

Arratia G (1982) Peces del Altiplano de Chile. In: Veloso A, Bustos E (eds) El hombre y los ecosistemas de montaña MAB-6. El ambiente natural y las poblaciones humanas de Los Andes del Norte Grande de Chile, Volumen I. La vegetación y los vertebrados inferiores de los pisos altitudinales entre Arica y El Lago Chungará. ROSTLAC, UNESCO, Montevideo, Uruguay, pp 93–133

Arratia G, Vila I, Lam N, Guerrero CJ, Quezada-Romegialli C (2017) Morphological and taxonomic descriptions of a new genus and species of killifishes (Teleostei: Cyprinodontiformes) from the high Andes of northern Chile. Plos One 12(8):e0181989

Bookstein FL (1991) Morphometric tools for landmark data: geometry and biology. Cambridge University Press, Cambridge

Clarke KR, Gorley RN (2006) PRIMER v6: User Manual/Tutorial. PRIMER-E, Plymouth

Cruz-Jofré F, Morales P, Vila I, Esquer-Garrigos Y, Hugueny B, Gaubert P, Poulin E, Méndez M (2016) Geographical isolation and genetic differentiation: the case of Orestias ascotanensis (Teleostei: Cyprinodontidae), an Andean killifish inhabiting a highland salt pan. Biol J Linn Soc 117(4):747–759. https://doi.org/10.1111/bij.12704

Davenport J, Sayer MDJ (1993) Physiological determinants of distribution in fish. J Fish Biol 43:121–145

Douglas ME, Matthews WJ (1992) Does morphology predict ecology? Hypothesis testing within a freshwater stream fish assemblage, Oikos: 213–224

Dryden IL, Mardia KV (2016) Statistical shape analysis: With applications in R, 2nd edn. Wiley, Hoboken

Elliott NG, Haskard K, Koslow JA (1995) Morphometric analysis of orange roughy (Hoplostethus atlanticus) off the continental slope of southern Australia. J Fish Biol 46:202–220

Guerrero CJ, Méndez MA, Vila I (2015) Caracterización trófica de Orestias (Teleostei: Cyprinodontidae) en el Parque Nacional Lauca. Gayana (Concepción) 79(1):18–25

Higham T, Day S, Wainwright P (2006) Multidimensional analysis of suction feeding performance in fishes: Fluid speed, acceleration, strike accuracy and the ingested volume of water. J Exp Biol 209:2713–2725. https://doi.org/10.1242/jeb.02315

Keller B, Soto D (1998) Hydrogeologic influences on the preservation of Orestias ascotanensis (Teleostei: Cyprinodontidae), in Salar de Ascotán, Northern Chile. Rev Chil Hist Nat 71:147–156

Klingenberg CP (2011) MorphoJ: an integrated software package for geometric morphometrics. Mol Ecol Resour 11(2):353–357

Langerhans RB, Layman CA, Langerhans AK, Dewitt TJ (2003) Habitat-associated morphological divergence in two Neotropical fish species. Biol J Lin Soc 80(4):689–698

Lauzanne L (1982) Les Orestias (Pisces, Cyprinodontidae) du Petit lac Titicaca. Rev d'Hydrobiol Trop 15:39–70

Lüssen A, Falk TM, Villwock W (2003) Phylogenetic patterns in populations of Chilean species of the genus Orestias (Teleostei: Cyprinodontidae): results of mitochondrial DNA analysis. Mol Phylogenet Evol 29(1):151–160

Maldonado E, Hubert N, Sagnes P, De Mérona B (2009) Morphology–diet relationships in four killifishes (Teleostei, Cyprinodontidae, Orestias) from Lake Titicaca. J Fish Biol 74(3):502–520

Mann G (1954) Vida de los peces en aguas chilenas. Ministerio de Agricultura. Universidad de Chile. Imprenta y Litografía Stanley. Santiago. Chile, pp 342

Márquez-García M, Vila I, Hinojosa Lf, Méndez MA, Carvajal JL, Sabando MC (2009) Distribution and seasonal fluctuations in the aquatic biodiversity of the southern Altiplano. Limnol Ecol Manag Inland Waters 39(4):314–318

Mitteroecker P, Gunz P (2009) Advances in geometric morphometrics. Evol Biol 36(2):235–247

Motta PJ (1984) Mechanics and functions of jaw protrusion in teleost fishes: a review. Copeia: 1–18

Motta PJ, Kotrschal KM (1992) Correlative, experimental, and comparative evolutionary approaches in ecomorphology. Neth J Zool 42:400–415

Northcote TG (2000) Ecological interactions among an orestiid (Pisces Cyprinodontidae) species flock in the littoral zone of Lake Titicaca. Adv Ecol Res 31:399–420

Parenti LR (1984) A taxonomic revision of the Andean killifish genus Orestias (Cyprinodontiformes, Cyprinodontidae). Bull Am Mus Nat Hist 178:107–214

Parenti LR (1984) Biogeography of the Andean killifish genus Orestias with comments on the species flock concept. In: Echelle AA, Kornfield I (eds) Evol Fish Species Flocks. University of Maine at Orono Press, Orono

Parker A, Kornfield I (1995) Molecular perspective on evolution and zoogeography of Cyprinodontid killifishes (Teleostei; Atherinomorpha). Copeia: 8–21

Parsons KJ, Robinson BW (2006) Replicated evolution of integrated plastic responses during early adaptive divergence. Evolution 60(4):801–813

Parsons KJ, Robinson BW (2007) Foraging performance of diet-induced morphotypes in pumpkinseed sunfish (Lepomis gibbosus) favours resource polymorphism. J Evol Biol 20(2):673–684

Placzek C, Quade J, Patchett J (2006) Geochronology and stratigraphy of late Pleistocene lakes cycles on the southern Bolivian Altiplano: Implications for causes of tropical climate change. Geol Soc Am Bull 118(5/6):515–532

Risacher F, Alonso H, Salazar C (2003a) Hydrochemistry of two adyacent acid saline lakes in the Andes of northern Chile. Chem Geol 187:39–57

Risacher F, Alonso H, Salazar C (2003b) The origin of brines and salts in Chilean salars: a hydrochemical view. Earth Sci Rev 63:249–293

Riveros J, Vila I, Mendez MA (2012) Trophic niche of Orestias agassii (Cuvier and Valenciennes, 1846) in the streams system of salar de Huasco (20 degrees 05'S, 68 degrees 15'W). Gayana 76(2):79–91

Rohlf FJ (1990) Dennis slice, extensions of the procrustes method for the optimal superimposition of landmarks. Syst Biol 39:40–59. https://doi.org/10.2307/2992207

Rohlf FJ (2012) SB Morphometrics. Department of Ecology and Evolution, State University of New York , Stony Brook. http://life.bio.sunysb.edu/morph/

Rohlf FJ, Marcus LF (1993) A revolution morphometrics. Trends Ecol Evol 8(4):129–132

Rondanelli R, Molina A, Falvey M (2015) The Atacama surface solar maximum. Bull 625 Am Meteorl Soc 96:405–418. https://doi.org/10.1175/BAMS-D-13-00175.1

Schaeffer B, Rosen DE (1961) Major adaptive levels in the evolution of the actinopterygian feeding mechanism. Am Zool :187–204

Scott S (2010) Sistemática y filogenia de Orestias del complejo agassizii (Teleostei: Cyprinodontidae) de la Puna [Unpublished doctoral dissertation]. Santiago, Chile: Facultad de Ciencias, Universidad de Chile

Skulason S, Smith TB (1995) Resource polymorphisms in vertebrates. Trends Ecol Evol 10(9):366–370

Slice DE (1998) Morpheus et al.: software for morphometric research. Department of Ecology and Evolution. State University of New York, Stony Brook, New York

Svanbäck R, Eklöv P (2002) Effects of habitat and food resources on morphology and ontogenetic growth trajectories in perch. Oecologia 131(1):61–70

Team RC (2014) R: A language and environment for statistical computing. R Foundation for Statistical Computing, Vienna. 2013. http://www.R-project.org

Toro IMV, Manriquez SG, Suazo GI (2010) Morfometría geométrica y el estudio de las formas biológicas: de la morfología descriptiva a la morfología cuantitativa. Int J Morphol 28(4):977–990

Vila I (2006) A new species of killifish in the genus Orestias (Teleostei: Cyprinodontidae) from the southern high Andes, Chile. Copeia 2006(3):472–477

Vila I, Pinto M (1986) A new species of Killifish (Pisces, Cyprinodontidae) from the Chilean Altiplano. Rev d'Hydrobiol Trop 19:233–239

Vila I, Pardo R, Habit E, Dyer B (2006) Peces límnicos: diversidad, origen y estado de conservación. In: Vila I, Veloso A, Schlatter R, Ramirez C (eds) Macrófitas y vertebrados de los sistemas límnicos de Chile. Editorial Universitaria, Santiago

Vila I, Scott S, Lam N, Iturra P, Mendez MA (2010) Karyological and morphological analysis of divergence among species of the killifish genus Orestias (Teleostei: Cyprinodontidae) from the southern Altiplano. Origin and phylogenetic interrelationships of Teleosts, pp 471–480

Vila I, Scott S, Mendez MA, Valenzuela F, Iturra P, Poulin E (2011) Orestias gloriae, a new species of cyprinodontid fish from saltpan spring of the southern high Andes (Teleostei: Cyprinodontidae). Ichthyol Explor Freshwaters 22:345–353

Vila I, Morales P, Scott S, Poulin E, Véliz D, Harrod C, Méndez MA (2013) Phylogenetic and phylogeographic analysis of the genus Orestias (Teleostei: Cyprinodontidae) in the southern Chilean Altiplano: the relevance of ancient and recent divergence processes in speciation. J Fish Biol 82(3):927–943

Wainwright PC (1991) Ecomorphology: experimental functional anatomy for ecological problems. Am Zool 31(4):680–693

Waltzek TB, Wainwright PC (2003) Functional morphology of extreme jaw protrusion in neotropical cichlids. J Morphol 257(1):96–106

Westneat MW (2004) Evolution of levers and linkages in the feeding mechanisms of Fishes1. Integr Comp Biol 44(5):378–389

Westneat MW (2005) Skull biomechanics and suction feeding in fishes. Fish Physiol 23:29–75

Westneat MW, Wainwright PC (1989) Feeding mechanism of Epibulus insidiator (Labridae; Teleostei): evolution of a novel functional system. J Morphol 202(2):129–150

Winemiller KO (1991) Ecomorphological diversification in lowland freshwater fish assemblages from five biotic regions. Ecol Monogr 61(4):343–365

Winemiller KO, Kelso-Winemiller LC, Brenkert AL (1995) Ecomorphological diversification and convergence in fluvial cichlid fishes. In: Ecomorphology of fishes (pp 235–261). Springer Netherlands, Dordrecht
Acknowledgements
I.V.Fondecyt 1140543, S.S. Fondecyt 3130575.
Additional information
Publisher's note
Springer Nature remains neutral with regard to jurisdictional claims in published maps and institutional affiliations.
About this article
Cite this article
Rojas, P., Scott, S., Tobar, I. et al. Head morphometry of Orestias (Cyprinodontiformes). Response to extreme Southern Altiplano systems?. Environ Biol Fish 103, 953–964 (2020). https://doi.org/10.1007/s10641-020-00997-2
Received:

Revised:

Accepted:

Published:

Issue Date:
Keywords
Andean high Plateau

Endangered

Freshwater fish