Abstract
Orestias is an endemic fish genus of lacustrine and lotic systems distributed on the Andes highland region (Altiplano) of Peru, Bolivia and Chile (9°S to 22°S). Based on morphological characters, taxonomic studies have recognized seven species on the Chilean western southern Altiplano region (17°S - 22°S). The current geographical distribution of Orestias would be associated with historical vicariant events and fluctuations in water levels since the Pleistocene. In this context, this group arises as an interesting model to assess Orestias morphological adaptations in Altiplano systems. Morphological and meristic analyses were performed on ten populations of Orestias in the southern Altiplano. The results showed significant differences among populations. The meristic and morphometric characters were related to physical and chemical properties of their habitat. We considered the systematic validation of the Orestias species and the possible future determination of new species of the populations of O. cf. agassii of Huasco saltpan, Isluga River and Chuviri wetland, which should be tested with trophic, genetic and karyotype analyses.
Access options
Buy single article
Instant access to the full article PDF.
US$ 39.95
Tax calculation will be finalised during checkout.
Subscribe to journal
Immediate online access to all issues from 2019. Subscription will auto renew annually.
US$ 119
Tax calculation will be finalised during checkout.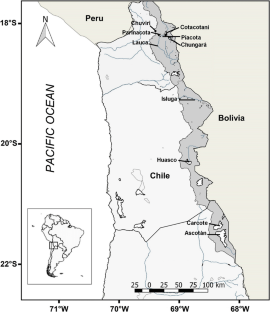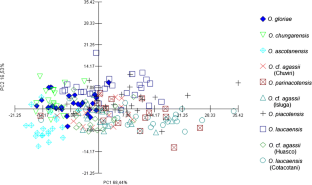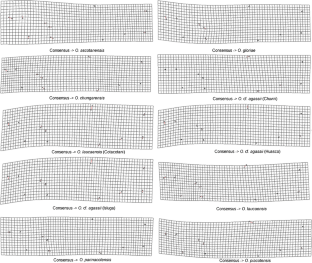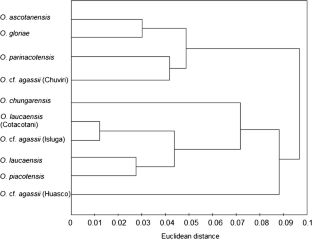 References
Arratia G (1982). Peces del Altiplano de Chile. In: Veloso A, Bustos E (eds) El hombre y los ecosistemas de montaña MAB-6. El ambiente natural y las poblaciones humanas de Los Andes del Norte Grande de Chile, Volumen I. La vegetación y los vertebrados inferiores de los pisos altitudinales entre Arica y El Lago Chungará. ROSTLAC, UNESCO, Montevideo, Uruguay, pp 93–133

Arratia G, Vila I, Lam N, Guerrero CJ, Quezada-Romegialli C (2017) Morphological and taxonomic descriptions of a new genus and species of killifishes (Teleostei: Cyprinodontiformes) from the high Andes of northern Chile. PLoS One 12(8):e0181989

Bailey KM (1997) Structural dynamics and ecology of flatfish populations. J Sea Res 37:269–280

Bookstein FL (1991) Morphometric tools for landmark data: geometry and biology. Cambridge University Press, Cambridge

Brinsmead J, Fox MG (2002) Morphological variation between lake- and streamdwelling rock bass and pumpkinseed populations. J Fish Biol 61:1619–1638

Cadrin SX (2000) Advances in morphometric analysis of fish stock structure. Rev Fish Biol Fish 10:91–112

Cardin SH, Friedland KD (1999) The utility of image processing techniques for morphometric analysis and stock identification. Fish Res 43:129–139

Costa WJEM (1997) Phylogeny and classification of the Cyprinodontidae revisited (Teleostei: Cyprinodontiformes): are Andean and Anatolian killifishes sister taxa? J Comp Biol 2(1):1–17

Costa C, Cataudella S (2007) Relationship between shape and trophic ecology of selected species of Sparids of the Caprolace coastal lagoon (Central Tyrrhenian Sea). Environ Biol Fish 78:115–123

Esquer Garrigos YS (2013) Multi-scale evolutionary analysis of a high altitude freshwater species flock: diversification of the agassizii complex (Orestias, Cyprinodontidae, Teleostei) across the Andean Altiplano. Doctoral thesis. Museum National D'Histoire Naturelle

Foster K, Bower L, Piller K (2015) Getting in shape: habitat-based morphological divergence for two sympatric fishes. Biol J Linn Soc 114 (1):152-162

Franssen NR (2011) Anthropogenic habitat alteration induces rapid morphological divergence in a native stream fish. Evol Appl 4:791–804

Fraser DJ, Lippe C, Bernatchez L (2004) Consequences of unequal population size, asymmetric gene flow and sex-biased dispersal on population structure in brook charr. Mol Ecol 13:67–80

Gaston KA, Lauer TE (2015) Morphometric variation in in lentic and lotic systems. J Fish Biol 86(1):317-332

Guerrero CJ, Méndez MA, Vila I (2015) Caracterización trófica de Orestias (Teleostei: Cyprinodontidae) en el Parque Nacional Lauca. Gayana (Concepción) 79(1):18–25

Guill JM, Heins DC, Hood CS (2003) The effect of phylogeny on interspecific body shape variation in darters (Pisces: Percidae). Syst Biol 52(4):488–500

Hendry AP, Wenburg JK, Bentzen P, Volk EC, Quinn TP (2000) Rapid evolution of reproductive isolation in the wild: evidence from introduced Salmon. Science 290(5491):516–518

Hugueny B, Pouilly M (1999) Morphological correlates of diet in an assemblage of west African freshwater fishes. J Fish Biol 54(6):1310–1325

Keast A, Webb D (1966) Mouth and body form relative to feeding ecology in the fish fauna of a small Lake, lake Opinicon, Ontario. J Fish Res Board Can 23:1845–1874

Kocher TD (2004) Adaptive evolution and explosive speciation: the cichlid fish model. Nat Rev Genet 5:288–298

Langerhans RB, Reznick DN (2010) Ecology and evolution of swimming performance in fishes: predicting evolution with biomechanics. In: Domenici P, Kapoor BG, editors. Fish locomotion: An eco-ethological perspective. Enfield, NH: Science (pp 200–248)

Lauzanne L (1982) Les Orestias (Pisces, Cyprinodontidae) du Petit lac Titicaca. Rev Hydrobiol Trop 15:39–70

Losos JB, Jackman TR, Larson A, de Queiroz K, Rodriguez-Schettino L (1998) Contingency and determinism in replicated adaptive radiations of island lizards. Science 279(5359):2115–2118

Lüssen A, Falk TM, Villwock W (2003) Phylogenetic patterns in populations of Chilean species of the genus Orestias (Teleostei: Cyprinodontidae): results of mitochondrial DNA analysis. Mol Phylogenet Evol 29(1):151–160

Maldonado E, Hubert N, Sagnes P, De Merona B (2009) Morphology-diet relationships in four killifishes (Teleostei, Cyprinodontidae, Orestias) from Lake Titicaca. J Fish Biol 74(3):502–520

Márquez-García M, Vila I, Hinojosa LF, Méndez MA, Carvajal JL, Sabando MC (2009) Distribution and seasonal fluctuations in the aquatic biodiversity of the southern Altiplano. Limnol Ecol Manag Inland Waters 39(4):314–318

Merona B (2005) Alteration of fish diversity downstream from PetitSaut dam in French Guiana. Implication of ecological strategies of fish species. Hydrobiologia 551:33–47

Moyle P, Cech J (2000) Fishes: an introduction to ichthyology, fourth edn. Prentice-Hall, Upper Saddle River

Murta AG (2000) Morphological variation of horse mackerel (Trachurus trachurus) in the Iberian and north African Atlantic: implications for stockidentification. ICES J Mar Sci 57:1240–1248

Nacua SS, Dorado EL, Torres MAJ, Demayo CG (2010) Body shape variation between two populations of the white goby, Glossogobius giuris (Hamilton and Buchanan). Res J Fish Hydrobiol 5(1):44–51

Northcote TG (2000) Ecological interactions among an orestiid (Pisces Cyprinodontidae) species flock in the littoral zone of Lake Titicaca. Advances in ecological research, vol 31 book series. Adv Ecol Res 3:399–420

Norton SF, Luczkovich JJ, Motta PJ (1995) The role of ecomorphological studies in the comparative biology of fishes. Environ Biol Fish 44(1–3):287–304

Pakkasmaa S, Piironen J (2000) Water velocity shapes juvenile salmonids. Evol Ecol 14:721–730

Parenti LR (1984a) A taxonomic revision of the Andean killifish genus Orestias (Cyprinodontiformes, Cyprinodontidaae). Bull Am Mus Nat Hist 178:107–214

Parenti LR (1984b) Biogeography of the Andean killifish genus Orestias with comments on the species flock concept. In: Echelle AA, Kornfield I (eds) Evolution of fish species flocks. University of Maine at Orono Press, Orono

Parker A, Kornfield I (1995) Molecular Perspective on Evolution and Zoogeography of Cyprinodontid Killifishes (Teleostei; Atherinomorpha). Copeia 1995 (1):8

Pinto M, Vila I (1987) Relaciones tróficas y caracteres morfofucionales de Orestiaslaucaensis Arratia 1982 (PISCES: CYPRINODONTIDAE). An Mus Hist Nat Valpso 18:77–84 

Placzek C, Quade J, Patchett PJ (2006) Geochronology and stratigraphy of late Pleistocene lake cycles on the southern Bolivian Altiplano: implications for causes of tropical climate change. Geol Soc Am Bull 118:515–532

Pouilly M, Lino F, Bretenoux JG, Rosales C (2003) Dietary-morphological relationships in a fish assemblage of the Bolivian Amazonian floodplain. J Fish Biol 62(5):1137–1158

Poulet N, Reyjol Y, Collier H, Lek S (2005) Does fish scale morphology allow the identification of population leuciscus burdigalensis in river Viaur (SW France). Aquat Sci 67:122–127

Riveros J, Vila I, Mendez MA (2012) Trophic niche of Orestias agassii (Cuvier and Valenciennes, 1846) in the streams system of salar de Huasco (20 degrees 05'S, 68 degrees 15'W). Gayana 76(2):79–91

Robinson BW, Wilson DS (1994) Character release and displacement in fishes: a neglected literature. Am Nat 144:596–627

Rohlf FJ (1990) Rotacional fit (Procrustes) methods. In: Rohlf FJ, Bookstein FL (eds) Proceedings of the Michigan Morphometrics workshop. Special publication N°2. An Arbor: Univ. of Michigan Museum of Zoology, pp 227-236

Rohlf FJ, Slice DE (1990) Extensions of the Procrustes method for the optimal superimposition of landmarks. Syst Zool 39:40–59

Schluter D (1993) Adaptive radiation in sticklebacks - size, shape, and habitat use efficiency. Ecology 74(3):699–709

Schluter D (1996) Ecological causes of adaptive radiation. Am Nat 148: S40-S64. Supplement: Suppl. S

Schluter D (2000) Ecological character displacement in adaptive radiation. Am Nat 156: S4-S16. Supplement: Suppl. S

Slice D (2000) Morpheus et al: Software for morphometric research. Department of Ecology and Evolution, State University of New York, Stony Brook, NY.

Sneath PH, Sokal RR (1973) Numerical taxonomy San Francisco, Freeman: Stony Brook, NY

Swain DP, Foote CJ (1999) Stocks and chameleons: the use of phenotypic variation in stock identification. Fish Res 43:1123–1128

Taylor EW, Egginton S, Taylor SE, Butler PJ (1997) Factors which limit swimming performance at different temperatures. In: Wood CM, McDonald DG (eds) Global warming: implications for freshwater and marine fish. Cambridge University Press, pp 105–133

Toro IM, Manríquez SG, Suazo GI (2010) Morfometría geométrica y el estudio de las formas biológicas: de la morfología descriptiva a la morfología cuantitativa. Int J Morphol 28:977–990

Vila I (2006) A new species of killifish (Teleostei; Cyprinodontiformes) from the southern Altiplano, Chile. Copeia 3:471–476

Vila I, Pinto M (1986) A new species of killifish (Pisces, Cyprinodontidae) from the Chilean Altiplano. Rev Hydrobiol Trop 19:233–239

Vila I, Scott S, Lam N, Iturra P, Mendez MA (2010) Karyological and morphological analysis of divergence among species of the killifish genus Orestias (Teleostei: Cyprinodontidae) from the southern Altiplano. Origin and phylogenetic interrelation ships of Teleosts, pp 471–480

Vila I, Scott S, Mendez MA, Valenzuela F, Iturra P, Poulin E (2011) Orestias gloriae, a new species of cyprinodontid fish from saltpan spring of the southern high Andes (Teleostei: Cyprinodontidae). Ichthyol Explor Freshw 22(4):345–353

Vila I, Morales P, Scott S, Poulin E, Véliz D, Harrod C, Méndez MA (2013) Phylogenetic and phylogeographic analysis of the genus Orestias (Teleostei: Cyprinodontidae) in the southern Chilean Altiplano: the relevance of ancient and recent divergence processes in speciation. J Fish Biol 82(3):927–943

Villwock W, Sienknecht U (1995) Intraspezifische variabilitét im genus Orestias Valenciennes 1839 (Teleostei: Cyprinodontidae) and zum problem der artidentitét. Mitt Zoological Museum of the University of Hamburg 92:381–398

Villwock W, Sienknecht U (1996) Contribución al conocimiento e historia de los peces chilenos. Los Cyprinodóntidos del género Orestias Val. 1839 (Teleostei: Cyprinodontidae) del altiplano chileno. Medio Ambiente 13:119–126

Wainwright PC (1991) Ecomorphology: experimental functional anatomy for ecological problems. Am Zool 31:680–693

Wainwright PC (1996) Ecological explanation through functional morphology: the feeding biology of sunfishes. Ecology 77:1336–1343

Webb D (1984) Form and function in fish swimming. Sci Am 251:58–68

Winemiller KO (1992) Ecological divergence and convergence in freshwater fishes. Natl Geogr Res 8:308–327
Acknowledgments
Comisión Nacional Científica y Tecnológica Project 1140543.
Ethics declarations
Ethical approval
All procedures involving animals were performed in accordance with the standards of the Universidad de Chile Bioethics Committee and under authorization of Subsecretaría de Pesca, Chile, exempted resolution #1103.
Additional information
Publisher's note
Springer Nature remains neutral with regard to jurisdictional claims in published maps and institutional affiliations.
Appendix
Appendix
About this article
Cite this article
Scott, S., Rojas, P. & Vila, I. Meristic and morphological differentiation of Orestias species (Teleostei; Cyprinodontiformes) from the southern Altiplano. Environ Biol Fish 103, 939–951 (2020). https://doi.org/10.1007/s10641-020-00995-4
Received:

Accepted:

Published:

Issue Date:
Keywords
Andean high plateau

Freshwater fish

Morphology