Abstract
Scalloped hammerhead sharks Sphyrna lewini are endangered and threatened by fisheries. Along the Eastern Tropical Pacific Seascape (ETPS) adults are protected from fishing near oceanic islands, but juveniles are captured by various fishing gear in coastal areas that require identification and protection. We used passive acoustic telemetry to track movements of ten juvenile S. lewini (LT = 87–102 cm) in Golfo Dulce, a sheltered embayment along the southwestern coast of Costa Rica where neonates and juveniles are in high abundance, to assess juvenile residency patterns. Tagged sharks were detected for up to 372 days (245 days average). Average residency was high during the first month after tagging (Residency Index = 0.65 ± 0.14) and decreased exponentially after, but remained high for eight consecutive months on two individuals. One juvenile female shark (~1 year old), remained in the vicinity of the array for 9 months, returned after 11 months, and moved more than 400 km offshore to adult habitat where it was caught 3.5 years after tagging. We found that at Golfo Dulce there is: (1) high residency of juvenile S. lewini for at least a month, (2) juvenile presence for up to a year, (3) continued use during multiple years, and (4) connection between this juvenile habitat and offshore adult habitat. This collective evidence suggests that Golfo Dulce is a critical habitat for juvenile survival and recruitment into adult populations of S. lewini in the ETPS, and adds evidence for use of this area as a juvenile nursery.
This is a preview of subscription content, log in to check access.
Access options
Buy single article
Instant access to the full article PDF.
US$ 39.95
Price includes VAT for USA
Subscribe to journal
Immediate online access to all issues from 2019. Subscription will auto renew annually.
US$ 199
This is the net price. Taxes to be calculated in checkout.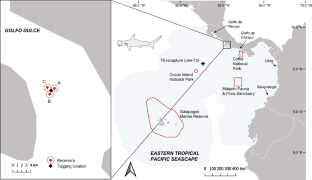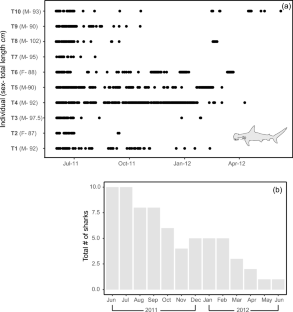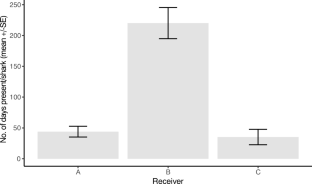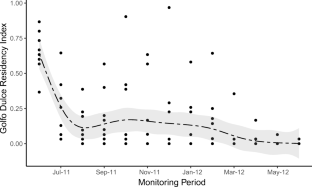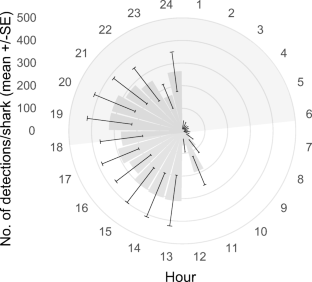 References
Acevedo A, Smultea MA (1995) First Records of Humpback Whales Including Calves at Golfo Dulce and Isla Del Coco, Costa Rica, suggesting geographical overlap of northern and southern hemisphere populations. Mar Mamm Sci 11:554–560

Anislado-Tolentino V, Robinson-Mendoza C (2001) Edad y crecimiento del tiburón martillo Sphyrna lewini (Griffith y Smith 1834) en el Pacífico Central de México. Cienc Mar 27:501–520

Baum JK, Myers RA, Kehler DG, Worm B, Harley SJ, Doherty PA (2003) Collapse and conservation of shark populations in the Northwest Atlantic. Science 299:389–392

Bessudo S, Soler GA, Klimley AP, Ketchum JT, Hearn A, Arauz R (2011) Residency of the scalloped hammerhead shark (Sphyrna lewini) at Malpelo Island and evidence of migration to other islands in the eastern tropical Pacific. Environ Biol Fish 91:165–176

Bigelow H, Schroeder W (1948) Fishes of the western North Atlantic, Part I: Lancelets, Cyclostomes, Sharks. Memoirs of the Sears Foundation for Marine Research 1(1):59–576

Branstetter S (1987) Age, growth and reproductive biology of the silky shark, Carcharhinus falciformis, and the scalloped hammerhead, Sphyrna lewini, from the northwestern Gulf of Mexico. Environ Biol Fish 19:161–173

Bush A (2003) Diet and diel feeding periodicity of juvenile scalloped hammerhead sharks, Sphyrna lewini, in Kāne'ohe bay, Ō'ahu, Hawai'i. Environ Biol Fish 67:1–11

Castro J (1993) The nursery of Bull Bay, South Carolina, with a review of the shark nurseries of the southeastern coast of the United States. Environ Biol Fish 38:37–48

Chiaramonte G, Pettovello P (2000) The biology of Mustelus schimitti in southern Patagonia, Argentina. J Fish Biol 57:930–942

Clarke T (1971) The ecology of the scalloped hammerhead shark, Sphyrna lewini, in Hawaii. Pac Sci 25:133–144

Compagno L, Krupp F, Schneider W (1995) Tiburones. In: Fischer W, Krupp F, Schneider W, Sommer C, Carpenter K, Niem V (eds) Guía para la identificación de especies para los fines de pesca. FAO, Roma, pp 647–744

Dean H (1996) Polychaete worms (Annelida) collected in Golfo Dulce, during the victor Hensen Costa Rica expedition (1993/1994). Rev Biol Trop 44:81–86

Dulvy N, Fowler S, Musick J, Cavanagh R, Kyne P, Harrison L, Carlson J, Davidson L, Fordham S, Francis M, Pollock C, Simpfendorfer C, Burgess S, Carpenter K, Compagno L, Ebert D, Gibson C, Heupel M, Livingstone S, Sanciangco J, Steves J, Valenti S, White W (2014) Extinction risk and conservation of the world's sharks and rays. Elife 3:e00590

Duncan KM, Holland KN (2006) Habitat use, growth rates and dispersal patterns of juvenile scalloped hammerhead sharks Sphyrna lewini in a nursery habitat. Mar Ecol Prog Ser 312:211–221

Edgar GJ, Banks SA, Bessudo S, Cortés J, Guzmán HM, Henderson S, Martinez C, Rivera F, Soler G, Ruiz D, Zapata FA (2011) Variation in reef fish and invertebrate communities with level of protection from fishing across the eastern tropical Pacific seascape. Glob Ecol Biogeogr 20:730–743

Espinoza M, Farrugia TJ, Lowe CG (2011) Habitat use, movements and site fidelity of the gray smooth-hound shark (Mustelus californicus gill 1863) in a newly restored southern California estuary. J Exp Mar Biol Ecol 401:63–74

Espinoza M, Heupel MR, Tobin AJ, Simpfendorfer CA (2015) Residency patterns and movements of grey reef sharks (Carcharhinus amblyrhynchos) in semi-isolated coral reef habitats. Mar Biol 162:343–358

Froeschke JT, Stunz GW, Sterba-Boatwright B, Wildhaber ML (2010) An empirical test of the 'shark nursery area concept' in Texas bays using a long-term fisheries-independent data set. Aquat Biol 11:65–76

Guzmán-Mora AG, Molina Ureña H (2008) La Pesquería Artesanal de Peces en Golfo Dulce, Costa Rica. Proceedings of the 60th Gulf and Caribbean Fisheries Institute. Dominican Republic, Punta Cana, p 137–142

Hearn A, Klimley P, Peñaherrera C (2010a) Hotspots within hotspots? Hammerhead shark movements around Wolf Island, Galapagos Marine Reserve. Mar Biol 157:1899–1915

Hearn A, Utreras E, Henderson S (2010b) Informe sobre el estado de los tiburones del Pacífico Este Tropical, Vol 1. Conservación Internacional, Quito

Helfman G (1986) Fish behaviour by day, night and twilight. In: Pitcher T (ed) Behavior of teleost fishes. Chapman & Hall, London, pp 479–512

Heupel M, Simpfendorfer C, Hueter R (2004) Estimation of shark home ranges using passive monitoring techniques. Environ Biol Fish 71:135–142

Heupel MR, Carlson JK, Simpfendorfer CA (2007) Shark nursery areas: concepts, definition, characterization and assumptions. Mar Ecol Prog Ser 337:287–297

Ketchum JT, Hearn A, Klimley AP, Peñaherrera C, Espinoza E, Bessudo S, Soler G, Arauz R (2014) Inter-island movements of scalloped hammerhead sharks (Sphyrna lewini) and seasonal connectivity in a marine protected area of the eastern tropical Pacific. Mar Biol 161:939–951

Kinney MJ, Simfendorfer CA (2009) Reassesing the value of nursery areas to shark conservation and management. Conserv Lett 2:53–60

Lei Z (2002) Marine coastal dynamics and primary production response in Golfo Dulce, Costa Rica: A multi-sensor satellite approach. MSc Thesis, International Institute for Geoinformation Science and Earth Observation, Enschede, Holanda

Léon-Morales R, Vargas JA (1998) Macroinfauna of a tropical fjord-like embayment: Golfo Dulce, Costa Rica. Rev Biol Trop 46:81–90

López-Garro A, Zanella I (2015a) Tiburones y rayas capturados por pesquerías artesanales con línea de fondo en el Golfo Dulce, Costa Rica. Rev Biol Trop 63:183–198

López-Garro A, Zanella I (2015b) Informe Final: Fortaleciendo el manejo y la conservacion del tiburon martillo (Sphyrna lewini) en el AMUM (Area Marina Uso Multiple) Pacifico Sur, Costa Rica. Misión Tiburón and MarViva. San Jose, Costa Rica

López-Garro A, Arauz R, Zanella I, Le Foulge L (2009) Análisis anual de las capturas de tiburones y rayas en las pesquerías artesanales de Tárcoles, Pacífico Central de Costa Rica. Rev Cienc Mar Costera 1:145–157

Lowe C (2002) Bioenergetics of free-ranging juvenile scalloped hammerhead sharks (Sphyrna lewini) in Kāne'ohe bay, Ō'ahu, HI. J Exp Mar Biol Ecol 278:141–156

Miller M, Carlson J, Cooper P, Kobayashi D, Nammack M, Wilson J (2013) Status review report: scalloped hammerhead shark (Sphyrna lewini). NOAA's National Marine Fisheries Service, Maryland

Morrissey J, Gruber S (1993) Home range of juvenile lemon sharks, Negaprion brevirostris. Copeia:425–434, 1993

Nalesso E, Hearn A, Sosa-Nishizaki O, Steiner T, Antoniou A, Reid A, Bessudo S, Soler G, Klimley P, Lara F, Ketchum JT, Arauz R (2019) Movements of scalloped hammerhead sharks (Sphyrna lewini) at Cocos Island, Costa Rica and between oceanic islands in the eastern tropical Pacific. PLoS One 14:e0213741

Nance HA, Klimley P, Galván-Magaña F, Martínez-Ortíz J, Marko PB (2011) Demographic processes underlying subtle patterns of population structure in the scalloped hammerhead shark, Sphyrna lewini. PLoS one 6

Papastamatiou Y, Friedlander A, Caselle J, Lowe C (2010) Long-term movement patterns and trophic ecology of blacktip reef sharks (Carcharhinus melanopterus) at Palmyra atoll. J Exp Mar Biol Ecol 386:94–102

Poirout T (2008) Diagnóstico socio ambiental de la pesca artesanal por una gestión participativa de la zona costera de zancudo (Golfo Dulce, Costa Rica). MSc Thesis, La Rochelle University, France

Quintanilla S, Gómez A, Mariño-Ramírez C, Sorzano C, Bessudo S, Soler G, Bernal JE, Caballero S (2015) Conservation genetics of the scalloped hammerhead shark in the Pacific coast of Colombia. J Hered 106:448–458

Quirós G (2003) Circulación del Golfo Dulce: un fiordo tropical. Tóp Meteorol Ocean 10:75–83

R Development Core Team R (2014) R: A Language and Environment for Statistical Computing (RDC Team, Ed.). R Found Stat Comput 1:409

Richards FA, Andwson JJ, Cline JD (1971) Chemical and physical observations in Golfo Dulce, an Anoxic Basin on the Pacific coast of Costa Rica. Limnol Oceanogr 16:43–50

Robles YA, Montes LA, Vega ÁJ (2015) Caracterización de la captura de tiburones por la pesca artesanal en los manglares de David, Golfo de Chiriquí, Pacífico de Panamá. Tecnociencia 17:11–30

Salinas-de-Leon P, Hoyos-Padilla E, Pochet F (2017) First observation on the mating behaviour of the endangered scalloped hammerhead shark Sphyrna lewini in the tropical eastern Pacific. Environ Biol Fish 100:1603–1608

Sibaja-Cordero J (2008) Tendencias espacio-temporales de los avistamientos de fauna marina en los buceos turísticos (Isla del Coco, Costa Rica). Rev Biol Trop 56:113–132

Wangelin M, Wolff M (1996) Comparative biomass spectra and species composition of the zooplankton communities in Golfo Dulce and Golfo de Nicoya, Pacific coast of Costa Rica. Rev Biol Trop 44:133–155

White E, Myers M, Flemming J, Baum J (2015) Shifting elasmobranch community assemblage at Cocos Island-an isolated marine protected area. Conserv Biol 29:1186–1197

Worm B, Davis B, Kettemera L, Ward-Paige C, Chapman D, Heithaus M, Kessel S, Gruber S (2013) Global catches, exploitation rates, and rebuilding options for sharks. Mar Policy 40:194–204

Zanella I (2008) Caracterización de la pesca del tiburón martillo (Sphyrna lewini) y algunos aspectos sobre distribución, reproducción y alimentación en el Pacífico central de Costa Rica. Msc Thesis, Universidad Nacional, Heredia, Costa Rica

Zanella I, López-Garro A (2015) Abundancia, reproducción y tallas del tiburón martillo Sphyrna lewini (Carcharhiniformes: Sphyrnidae) en la pesca artesanal de Golfo Dulce, Pacifico de Costa Rica. Rev Biol Trop 63:307–317
Acknowledgements
This project was approved by the Commission of Planning for the Responsible Fishing Marine Area of Golfo Dulce, as well as the Ministry of Environment and Energy (MINAE) and the National Institute of Fisheries (INCOPESCA), Costa Rica. No ethical approval was required for the field-based research described in this paper, but our activities were covered under the umbrella of Agreement AJD 122-2013 of the Costa Rican Institute of Fisheries and Aquaculture (INCOPESCA). The study was possible thanks to the support of artisanal and sport fishermen of Golfo Dulce, especially Donald McGuiness and the Tourist Fishery Association. Financial support was provided by grants from Conservation International Costa Rica, Columbus Zoo and Aquarium, Mohammed Bin Zayed Conservation Fund and Marine Action Conservation Fund.
Additional information
Publisher's note
Springer Nature remains neutral with regard to jurisdictional claims in published maps and institutional affiliations.
About this article
Cite this article
Zanella, I., López-Garro, A. & Cure, K. Golfo Dulce: critical habitat and nursery area for juvenile scalloped hammerhead sharks Sphyrna lewini in the Eastern Tropical Pacific Seascape. Environ Biol Fish 102, 1291–1300 (2019). https://doi.org/10.1007/s10641-019-00907-1
Received:

Accepted:

Published:

Issue Date:
Keywords
Sanctuary

Fishing

Connectivity

Juvenile sharks

Nursery

Passive acoustic telemetry