Abstract
We studied the feeding ecology of an endemic cyprinodontid fish, Aphanius marassantensis (Kızılırmak Toothcarp), with special emphasis on seasonal and ontogenetic diet shift. The dietary composition revealed an omnivorous diet with great seasonal and ontogenetic variation. Cladocera and Calanoid Copepods (Diaptomus sp.) dominated the diet in Spring and Summer, whereas the food items of plant origin e.g. filamentous algae and diatoms were the most important components in Autumn and Winter. An ontogenetic diet shift was also demonstrated. While the feeding of juveniles was based mostly on planktonic organisms, adult individuals preferred larger prey taxa, such as Gammarus sp. and Gastropods. There was no significant sex-related variation in feeding with the exception for the volume of gut content. The investigation on the feeding strategy of A. marassantensis suggested a generalised feeding pattern with some specialised individuals. This generalist feeding habits may account for the well-established population of this species in a big reservoir under coexistence of two non-native fish species, Pseudorasbora parva and Atherina boyeri.
This is a preview of subscription content, log in to check access.
Access options
Buy single article
Instant access to the full article PDF.
US$ 39.95
Price includes VAT for USA
Subscribe to journal
Immediate online access to all issues from 2019. Subscription will auto renew annually.
US$ 199
This is the net price. Taxes to be calculated in checkout.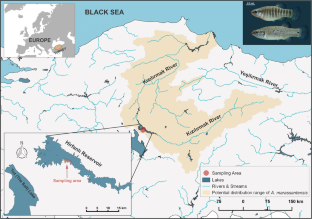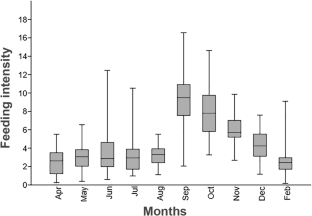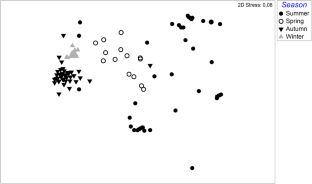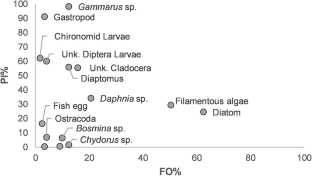 References
Alcaraz C, Garcia-Berthou E (2007) Food of an endangered cyprinodont (Aphanius iberus): ontogenetic diet shift and prey electivity. Environ Biol Fish 78(3):193–207. https://doi.org/10.1007/s10641-006-0018-0

Alcaraz C, Gholami Z, Esmaeili HR, García-Berthou E (2015) Herbivory and seasonal changes in diet of a highly endemic cyprinodontid fish (Aphanius farsicus). Environ Biol Fish 98(6):1541–1554. https://doi.org/10.1007/s10641-015-0381-9

Al-Daham NK, Huq MF, Sharma KP (1977) Notes on the ecology of fishes of the genus Aphanius and Gambusia affinis in southern Iraq. Freshw Biol 7(3):245–251. Blackwell Publishing Ltd. https://doi.org/10.1111/j.1365-2427.1977.tb01672.x

Amundsen P-A, Gabler H-M, Staldvik FJ (1996) A new approach to graphical analysis of feeding strategy from stomach contents data-modification of the Costello (1990) method. J Fish Biol 48(4):607–614. Blackwell Publishing Ltd. https://doi.org/10.1111/j.1095-8649.1996.tb01455.x

Anderson MJ, Gorley RN, Clarke KR (2008) PERMANOVA+ for PRIMER: guide to software and statistical methods. PRIMER-E, Plymouth, p 214

Baykal T, Salman S, Açıkgöz İ (2006) The relationship between seasonal variation in phytoplankton and zooplankton densities in Hirfanlı Dam Lake (Kırşehir, Turkey). Turk J Zool 30:217–226

Bergmann GT, Motta PJ (2005) Diet and morphology through ontogeny of the nonindigenous Mayan cichlid "Cichlasoma (Nandopsis)" urophthalmus (Günther 1862) in southern Florida. Environ Biol Fishes 72(2):205–211. Kluwer Academic Publishers. https://doi.org/10.1007/s10641-004-1480-1

Bowen SH (1983) Quantitative description of the diet. In: Nielson LA, Johnson LD (eds) Fisheries techniques. American Fisheries Society p 325–336

Caiola N, Vargas MJ, de Sostoa A (2001) Feeding ecology of the endangered Valencia toothcarp, Valencia hispanica (Actinopterygii: Valenciidae). Hydrobiologia 448:97–105

Cortés E (1997) A critical review of methods of studying fish feeding based on analysis of stomach contents: application to elasmobranch fishes. Can J Fish Aquat Sci 54(3):726–738. https://doi.org/10.1139/f96-316

Costello MJ (1990) Predator feeding strategy and prey importance: a new graphical analysis. J Fish Biol 36(2):261–263

Haas R (1982) Notes on the ecology of Aphanius dispar (Pisces, Cyprinodontidae) in the Sultanate of Oman. Freshw Biol 12(1):89–95. https://doi.org/10.1111/j.1365-2427.1982.tb00605.x

Hellawell JM, Abel R (1971) A rapid volumetric method for the analysis of the food of fishes. J Fish Biol 3(1):29–37. https://doi.org/10.1111/j.1095-8649.1971.tb05903.x

Hurlbert SH (1971) The nonconcept of species diversity: a critique and alternative parameters. Ecology 52(4):577–586. https://doi.org/10.2307/1934145

Hyslop EJ (1980) Stomach contents analysis-a review of methods and their application. J Fish Biol 17(4):411–429. https://doi.org/10.1111/j.1095-8649.1980.tb02775.x

Kalogianni E, Giakoumi S, Andriopoulou A, Chatzinikolaou Y (2010) Feeding ecology of the critically endangered Valencia letourneuxi (Valenciidae). Aquat Ecol 44(1):289–299. https://doi.org/10.1007/s10452-009-9253-8

Karachle PK, Stergiou KI (2008) The effect of season and sex on trophic levels of marine fishes. J Fish Biol 72(6):1463–1487. Wiley/Blackwell (10.1111). https://doi.org/10.1111/j.1095-8649.2008.01809.x

Karsli Z, Aral O (2010) Population age, sex structure and growth of Aphanius danfordii (Boulenger, 1890) to Sirakaraağaçlar stream, Turkey. J Anim Vet Adv 9(10):1427–1431. https://doi.org/10.3923/javaa.2010.1427.1431

Leonardos I (2008) The feeding ecology of Aphanius fasciatus (Valenciennes, 1821) in the lagoonal system of Messolongi (western Greece). Sci Mar 72(2):393–401

Monsefi M, Gholami Z, Esmaeli HR (2010) Histological and morphological studies of digestive tube and liver of the Persian tooth-carp, Aphanius persicus (Actinopterygii: Cyprinodontidae). IUFS. J Biol 69(1):57–64

Pfleiderer S, Geiger M, Herder F (2014) Aphanius marassantensis, a new toothcarp from the Kızılırmak drainage in northern Anatolia (Cyprinodontiformes: Cyprinodontidae). Zootaxa 3887(5):569–582. https://doi.org/10.11646/Zootaxa.3887.5.4.

Pinkas LM, Oliphant S, Iverson IL (1971) Food habits of albacore, bluefin tuna and bonito in Californian waters. Calif Fish Game 152:1–105

Ribeiro F, Orjuela RL, Magalhães MF, Collares-Pereira MJ (2007) Variability in feeding ecology of a south American cichlid: a reason for successful invasion in mediterranean-type rivers? Ecol Freshw Fish 16(4):559–569. Blackwell Publishing Ltd. https://doi.org/10.1111/j.1600-0633.2007.00252.x

Scharf F, Juanes F, Rountree R (2000) Predator size-prey size relationships of marine fish predators: interspecific variation and effects of ontogeny and body size on trophic-niche breadth. Mar Ecol Prog Ser 208:229–248. https://doi.org/10.3354/meps208229

Schindelin J, Arganda-Carreras I, Frise E, Kaynig V, Longair M, Pietzsch T, Preibisch S, Rueden C, Saalfeld S, Schmid B et al (2012) Fiji: an open-source platform for biological-image analysis. Nat Methods 9(7):676–682. Nature Research. https://doi.org/10.1038/nmeth.2019

Sun J, Liu D (2003) Geometric models for calculating cell biovolume and surface area for phytoplankton. J Plankton Res 25(11):1331–1346. https://doi.org/10.1093/plankt/fbg096

Vargas MJ, De Sostoa A (1996) Life-history pattern of the Iberian Toothcarp Aphanius iberus (Pisces, Cyprinodontidae) from a Mediterranean estuary, the Ebro Delta (Spain). Neth J Zool 47(2):143–160

Yıldırım Ö, Karacuha A (2007) A preliminary study on determination of Aphanius chantrei's feeding behaviour on mosquito larvae. Acta Trop 102(3):172–175. https://doi.org/10.1016/j.actatropica.2007.04.016

Yıldırım Ö, Karacuha A (2008) Effect of salinity on growth performance and survival rate of Aphanius chantrei (Galliard, 1895). J Appl Ichthyol 24(3):345–347. https://doi.org/10.1111/j.1439-0426.2007.01053.x

Yoǧurtçuoǧlu B, Ekmekçi FG (2013) Life-history traits of Aphanius danfordii (Boulenger, 1890) (Pisces: Cyprinodontidae), endemic to Kizilirmak Basin (Turkey). J Appl Ichthyol 29(4):866–871. https://doi.org/10.1111/jai.12036

Yoğurtçuoğlu B, Ekmekçi FG (2017) New Records of Kızılırmak Toothcarp, Aphanius marassantensis from central Yeşilırmak River basin (Turkey). Turkish. J Fish Aquat Sci 17(1):205–208. https://doi.org/10.4194/1303-2712-v17
Acknowledgements
The fish examined in this study were collected during samplings for a project on the life history and population dynamics of Pseudorasbora parva in the Hirfanlı Reservoir, financed by the Turkish Scientific and Technical Researches Institution (Code: TUBITAK-107O718). We would also like to thank to anonymous reviewers for their corrections and recommendation that improved the manuscript.
Ethics declarations
Fish collections were approved and granted by the Ministry of Food, Agriculture and Livestock, General Directorate of Fisheries and Aquaculture (Codes for the protocols: B.12.0.KKG.0.17/106.01–11-01 and 76000869/150–4199). All applicable international, national, and/or institutional guidelines for the care and use of animals were followed.
About this article
Cite this article
Yoğurtçuoğlu, B., Kirankaya, Ş.G., Gençoğlu, L. et al. Feeding ecology of the Kızılırmak toothcarp, Aphanius marassantensis: ontogenetic shift and seasonal diet variation. Environ Biol Fish 101, 1493–1502 (2018). https://doi.org/10.1007/s10641-018-0794-3
Received:

Accepted:

Published:

Issue Date:
Keywords
Aphanius marassantensis

Feeding strategy

Hirfanlı reservoir

Anatolia

Diet composition