Abstract
The development of a residential marina estate within the Knysna estuary, South Africa, introduced Reno mattresses (horizontal wire cages filled with rocks) as a novel habitat for the endangered Knysna seahorse Hippocampus capensis. Consistently high seahorse densities on these artificial structures, despite the availability of seagrass habitat, begged the question of whether this habitat was chosen by the seahorse in preference to natural vegetation. An in situ habitat choice experiment was conducted which focused on the choice made by adult H. capensis between natural vegetation (Zostera capensis) and artificial (Reno mattress) habitat within a choice chamber. Seahorses were significantly more likely to move away from Z. capensis onto a Reno mattress structure or remain on this structure. This study concludes that higher H. capensis densities on Reno mattresses within Thesen Islands Marina are owing to some positive feature of this habitat and the underlying processes responsible for the choice made by this species (additional food, holdfasts, protection) can now be investigated.
This is a preview of subscription content, log in to check access.
Access options
Buy single article
Instant access to the full article PDF.
US$ 39.95
Price includes VAT for USA
Subscribe to journal
Immediate online access to all issues from 2019. Subscription will auto renew annually.
US$ 199
This is the net price. Taxes to be calculated in checkout.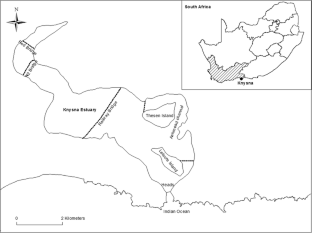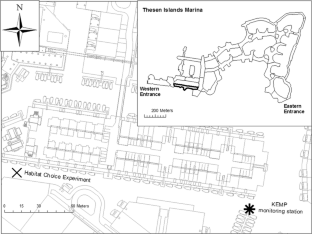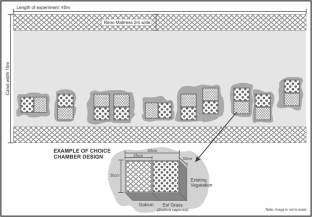 References
Adams JB (2016) Distribution and status of Zostera capensis in south African estuaries – a review. S Afr J Bot 107:63–73. https://doi.org/10.1016/j.sajb.2016.07.007

Allanson BR, Human LRD, Claassens L (2016) Observations on the distribution and abundance of a green tide along an intertidal shore, Knysna estuary. S Afr J Bot 107:49–53. https://doi.org/10.1016/j.sajb.2016.02.197

Bates D, Maechler M, Bolker B, Walker S (2015) Fitting linear mixed-effects models using lme4. J Stat Softw 67:1–48

Bell EM, Lockyear JF, McPherson JM, Marsden AD, Vincent ACJ (2003) First field studies of an endangered south African seahorse, Hippocampus capensis. Environ Biol Fish 67(1):35–46. https://doi.org/10.1023/A:1024440717162

Bohnsack JA (1989) Are high densities of fishes at artificial reefs the result of habitat limitation or behavioural preference? Bull Mar Sci 44(2):631–645

Bulleri F, Chapman MG (2010) The introduction of coastal infrastructure as a driver of change in marine environments. J Appl Ecol 47(1):26–35. https://doi.org/10.1111/j.1365-2664.2009.01751.x

Claassens L (2016) An artificial water body provides habitat for an endangered estuarine seahorse species. Estuar Coast Shelf Sci 180:1–10. https://doi.org/10.1016/j.ecss.2016.06.011

Claassens L (2018) Aspects of the Population ecology, habitat use and behaviour of the endangered Knysna seahorse (Hippocampus capensis Boulenger, 1900) in a residential marina estate, Knysna, South Africa: implications for conservation. PhD Thesis, Rhodes University, Grahamstown, pp 220. http://hdl.handle.net/10962/54789

Clynick BG (2008) Harbour swimming nets: a novel habitat for seahorses. Aquatic Conserv Mar Freshw Ecosyst 18(5):483–492. https://doi.org/10.1002/aqc.856

Correia M, Palma J, Koldewey H, Andrade JP (2013) Can artificial holdfast units work as a habitat restoration tool for long-snouted seahorse (Hippocampus guttulatus Cuvier, 1829)? J Exp Mar Biol Ecol 448:258–264. https://doi.org/10.1016/j.jembe.2013.08.001

Correia M, Koldewey H, Andrade JP, Palma J (2015a) Effects of artificial holdfast units on seahorse density in the Ria Formosa lagoon. Portugal J Exp Mar Biol Ecol 471:1–7. https://doi.org/10.1016/j.jembe.2015.05.012

Correia M, Caldwell IR, Koldewey HJ, Andrade JP, Palma J (2015b) Seahorse (Hippocampinae) population fluctuations in the ria Formosa lagoon, south Portugal. J Fish Biol 87(3):679–690. https://doi.org/10.1111/jfb.12748

Curtis JMR, Vincent ACJ (2005) Distribution of sympatric seahorse species along a gradient of habitat complexity in a seagrass-dominated community. Mar Ecol Prog Ser 29:81–91

Czembor CA, Bell EM (2012) Hippocampus capensis The IUCN Red List of Threatened Species 2012

Dafforn KA, Glasby TM, Airoldi L, Rivero NK, Mayer-Pinto M, Johnston EL (2015) Marine urbanization: an ecological framework for designing multifunctional artificial structures. Front Ecol Environ 13(2):82–90. https://doi.org/10.1890/140050

Development Core Team R (2014) R: a language and environment for statistical computing. R Foundation for Statistical Computing, Vienna

Dobson AJ, Barnett A (2008) An introduction to generalized linear models, 3rd edn. CRC Press, Boca Raton, p 320

European Commission (2003) Commission implementation strategy for the water framework directive (2000/60/EC). Working group 2.2 HMWB. Guidance document no 4. Identification and Designation of Heavily Modified and Artificial Water Bodies. European Commission, Luxembourg, p 109

Firth LB, Knights AM, Bridgers D, Evans AJ, Mieszkowska N, Moore PJ, O'Connor NE, Sheehan EM, Thompson RC, Hawkins SJ (2016a) Ocean sprawl: challenges and opportunities for biodiversity management in a changing world. Oceanogr Mar Biol 54:193–269

Firth LB, Browne KA, Knights AM, Hawkins SJ, Nash R (2016b) Eco-engineered rock pools: a concrete solution to biodiversity loss and urban sprawl in the marine environment. Environ Res Lett 11(9):094015. https://doi.org/10.1088/1748-9326/11/9/094015

Foster SJ, Vincent ACJ (2004) Life history and ecology of seahorses: implications for conservation and management. J Fish Biol 65(1):1–61. https://doi.org/10.1111/j.0022-1112.2004.00429.x

Garcia-Gomez JC, Lopez-Fe CM, Guerra-Garcia JM, Rivera-Ingraham GA (2011) Marine artificial micro-reserves: a possibility for the conservation of endangered species living on artificial substrata. Mar Ecol 32(1):6–14. https://doi.org/10.1111/j.1439-0485.2010.00409.x

Garcia-Gomez JC, Guerra-Garcia JM, Espinosa F, Maestre MJ, Rivera-Ingraham G, Fa D, Conzalez AR, Ruiz-Tabares AR, Lopez-Fe CM (2015) Artificial marine micro-reserves networks (AMMRNs): an innovative approach to conserve marine littoral biodiversity and protect endangered species. Mar Ecol 36(3):259–277. https://doi.org/10.1111/maec.12167

Gristina M, Cardone F, Carlucci R, Castellano L, Passarelli S, Corriero G (2015) Abundance, distribution and habitat preference of Hippocampus guttulatus and Hippocampus hippocampus in a semi-enclosed central Mediterranean marine area. Mar Ecol 36(1):57–66. https://doi.org/10.1111/maec.12116

Grossman GD, Jones GP, Seaman WJ (1997) Do artificial reefs increase regional fish production? A review of existing data. Fisheries 22(4):17–23. https://doi.org/10.1577/1548-8446(1997)022<0017:DARIRF>2.0.CO;2

Guerra-Garcia JM, Corzo J, Espinosa F, Garcia-Gomez JC (2004) Assessing habitat use of the endangered marine mollusc Patella ferruginea (Gastropoda, Patellidae) in northern Africa: preliminary results and implications for conservation. Biol Conserv 116(3):319–326. https://doi.org/10.1016/S0006-3207(03)00201-5

Harasti D (2016) Declining seahorse populations linked to loss of essential marine habitats. Mar Ecol Prog Ser 546:173–181. https://doi.org/10.3354/meps11619

Harasti D, Glasby TM, Martin-Smith KM (2010) Striking a balance between retaining populations of protected seahorses and maintaining swimming nets. Aquat Conserv 20(2):159–166. https://doi.org/10.1002/aqc.1066

Harasti D, Martin-Smith K, Gladstone W (2012) Population dynamics and life history of a geographically restricted seahorse, Hippocampus whitei. J Fish Biol 81:1297–1314

Harasti D, Martin-Smith K, Gladstone W (2014) Ontogenetic and sex-based differences in habitat preferences and site fidelity of White's seahorse Hippocampus whitei. J Fish Biol 85:1413–1428

Hellyer CB, Harasti D, Poore AGB (2011) Manipulating artificial habitats to benefit seahorses in Sydney harbour, Australia. Aquat Conserv 21(6):582–589. https://doi.org/10.1002/aqc.1217

Human LRD, Adams JB, Allanson BR (2016) Insights into the causes of an Ulva lactuca bloom and its impact in South Africa's most important estuary. S Afr J Bot 107:55–62. https://doi.org/10.1016/j.sajb.2016.05.016

Largier JL, Attwood C, Harcourt-Baldwin J-L (2000) The hydrographic character of the Knysna estuary. Trans Roy Soc S Afr 55(2):107–122. https://doi.org/10.1080/00359190009520437

Lockyear JF, Hecht T, Kaiser H, Teske PR (2006) The distribution and abundance of the endangered Knysna seahorse Hippocampus capensis (Pisces: Syngnathidae) in south African estuaries. Afr J Aquat Sci 31(2):275–283. https://doi.org/10.2989/16085910609503897

Lourie S (2003) Measuring seahorses. Project seahorse technical report no.4, version 1.0. Fisheries Centre, University of British Columbia, Project Seahorse, p 15

Maccaferri (1915) Gabion for protective waterwork: US patent 1165194A. Washington, DC

Marcus JE, Samoilys MA, Meeuwig JJ, Villongco ZAD, Vincent ACJ (2007) Benthic status of near-shore fishing grounds in the central Philippines and associated seahorse densities. Mar Pollut Bull 54(9):1483–1494. https://doi.org/10.1016/j.marpolbul.2007.04.011

MasonJones HD, Rose E, McRae LB, Dixson DL (2010) An examination of the population dynamics of syngnathid fishes within Tampa Bay, Florida, USA. Current Zoology 56(1):118–133

McCullagh P, Nelder JA (1989) Generalized Linear Models. Chapman and Hall, London. https://doi.org/10.1007/978-1-4899-3242-6

Morris DW (1987) Ecological scale and habitat use. Ecology 68(2):362–369. https://doi.org/10.2307/1939267

Nicholls RJ, Small C (2002) Improved estimates of coastal population and exposure to hazards released. Earth Space Sci 83(28):301–305

Otero-Ferrer F, Herrera R, Tuset VM, Socorro J, Molina L (2015) Spatial and seasonal patterns of European short-snouted seahorse Hippocampus distribution in island coastal environments. Afr J Mar Sci 37(3):395–404

Perkol-Finkel S, Ferrario F, Nicotera V, Airoldi L (2012) Conservation challenges in urban seascapes: promoting the growth of threatened species on coastal infrastructures. J Appl Ecol 49(6):1457–1466. https://doi.org/10.1111/j.1365-2664.2012.02204.x

Perkol-Finkel S, Hadary T, Rella A, Shirazi R, Sella I (2017) Seascape architecture – incorporating ecological considerations in design of coastal and marine infrastructure. Ecol Eng. https://doi.org/10.1016/j.ecoleng.2017.06.051

Pickering H, Whitmarsh D (1997) Artificial reefs and fisheries exploitation: a review of the 'attraction versus production' debate, the influence of design and its significance for policy. Fish Res 31(1-2):39–59. https://doi.org/10.1016/S0165-7836(97)00019-2

Savard J-PL, Clergeau P, Mennechez G (2000) Biodiversity concepts and urban ecosystems. Landsc Urban Plan 48(3-4):131–142. https://doi.org/10.1016/S0169-2046(00)00037-2

Switzer TB (2003) The role of water column and benthic communities in the spatial and temporal production and uptake of nutrients in controlling the trophic status of the Knysna River Estuary, South Africa. PhD Thesis, University of Cape Town, Cape Town, pp 188. http://hdl.handle.net/11427/8617

Teske PR, Lockyear JF, Hecht T, Kaiser H (2007) Does the endangered Knysna seahorse, Hippocampus capensis, have a preference for aquatic vegetation type, cover or height? Afr Zool 42(1):23–30. https://doi.org/10.1080/15627020.2007.11407373

Underwood AJ, Chapman MG, Crowe TP (2004) Identifying and understanding ecological preferences for habitat or prey. J Exp Mar Biol Ecol 300(1-2):161–187. https://doi.org/10.1016/j.jembe.2003.12.006

Venables WN, Ripley BD (2002) Modern applied statistics with S. Springer, New York. https://doi.org/10.1007/978-0-387-21706-2

Vincent ACJ, Foster SJ, Koldewey HJ (2011) Conservation and management of seahorses and other Syngnathidae. J Fish Biol 78: 1681–1724, 6, doiI: https://doi.org/10.1111/j.1095-8649.2011.03003.x

Waltham NJ, Connolly RM (2013) Artificial tidal lakes: built for humans, home for fish. Ecol Eng 60:414–420. https://doi.org/10.1016/j.ecoleng.2013.09.035

Watson EB, Wigand C, Oczkowski AJ, Sundberg K, Vendettouli D, Jayaraman S, Saliba K, Morris JT (2015) Ulva additions alter soil biogeochemistry and negatively impact Spartina alterniflora growth. Mar Ecol Prog Ser 532:59–72

Whitfield AK (1992) Characterization of southern African estuarine systems. S. Afr J Aquat Sci 18(1-2):89–103. https://doi.org/10.1080/10183469.1992.9631327

Whitfield AK (1995) Threatened fishes of the world: Hippocampus capensis Boulenger, 1900 (Syngnathidae). Environ Biol Fish 44(4):362. https://doi.org/10.1007/BF00008251

Wickham H (2011) The split-apply-combine strategy for data analysis. J Stat Softw 40(1):1–29 http://www.jstatsoft.org/v40/i01/
Acknowledgements
This research project was approved by SANParks, and conducted in accordance with their scientific research regulations and requirements. We thank Thesen Islands Home Owners Association and the Rufford Foundation for financial support to Louw Claassens, the Knysna Estuary Monitoring Platform (KEMP) project for water quality data, Rondevlei Scientific Services Offices of SANParks for permission to undertake fieldwork in the Knysna Section of the Garden Route National Park, Mike Davies for assistance in data collection, David Harasti for his support and guidance, and Brian Allanson and Richard Barnes for their continued support and advice.
About this article
Cite this article
Claassens, L., Booth, A.J. & Hodgson, A.N. An endangered seahorse selectively chooses an artificial structure. Environ Biol Fish 101, 723–733 (2018). https://doi.org/10.1007/s10641-018-0732-4
Received:

Accepted:

Published:

Issue Date:
Keywords
Zostera Capensis
Hippocampus capensis

Habitat choice

Estuary

Reno mattress