Abstract
A new species, Olyra parviocula, is described from the Kameng River, Brahmaputra River drainage in Arunachal Pradesh, northeastern India. The new species differs from congeners in having small eye diameter 5–8% HL; short adipose fin, not confluent with caudal-fin, its base length 9–12% SL; dorsal-fin branched rays 6; anal-fin rays viii–xi, 8–10 and maxillary barbel almost reaching pelvic-fin base. A key to identification of all valid species of Olyra is provided.
This is a preview of subscription content, log in to check access.
Access options
Buy single article
Instant access to the full article PDF.
US$ 39.95
Price includes VAT for USA
Subscribe to journal
Immediate online access to all issues from 2019. Subscription will auto renew annually.
US$ 199
This is the net price. Taxes to be calculated in checkout.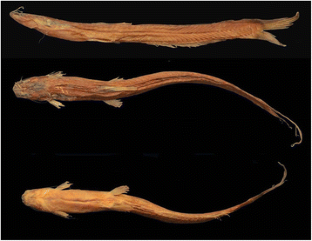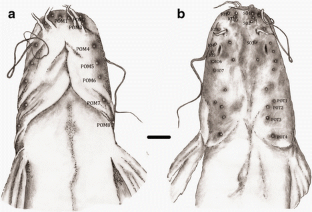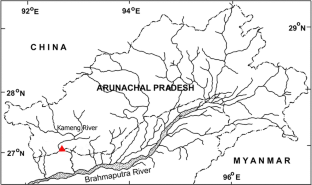 References
Arunachalam M, Raja M, Mayden RL, Chandran A (2013) Olyra astrifera a new species of olyrid catfish from the western Ghats, southern India (Teleostei: Bagridae: Olyrininae) and the designation of neotype, Olyra longicaudata McClelland, 1842 from north-eastern India. Int J Zool Res 3:51–60

Day F (1872) The fishes of India; being a natural history of the fishes known to inhabit the seas and freshwaters of India, Burma, and Ceylon, Vol 1. Jagmander Book Agency, New Delhi

McClelland J (1842) On the fresh-water fishes collected by William Griffith, Esq., F. L. S. Madras medical service, during his travels under the orders of the supreme government of India, from 1835 to 1842. Calcutta J Nat Hist 2:560–589 pls. 6, 15, 18 & 21

Mo TP (1991) Anatomy, relationships and systematics of the Bagridae (Teleostei: Siluroidei) with a hypothesis of siluroid phylogeny. Theses Zoologicae 17:1–216

Ng HH, Ferraris CJJR (2016) A new species of anguilliform catfish (Actinopterygii: Siluriformes: Bagridae) from Bangladesh and northeastern India. Zootaxa 4079(3):381–387. https://doi.org/10.11646/zootaxa.4079.3.6

Ng HH, Kottelat M (2013) Revision of the Asian catfish genus Hemibagrus Bleeker, 1862 (Teleostei: Siluriformes: Bagridae). Raffles Bull Zool 61:205–291

Ng HH, Lalramliana L, Lalthanzara H (2014) Olyra saginata, a new species of bagrid catfish (Actinopterygii: Siluriformes) from northeastern India. Zootaxa 3821(2):265–272

Prasad B, Mukerji DD (1929) The fish of the Indawgyi Lake and the streams of the Myitkyina district (upper Burma). Rec Indian Mus 21:161–223

Roberts TR (1994) Systematic revision of Asian bagrid catfishes of the genus Mystus Sensu stricto, with a new species from Thailand and Cambodia. Ichthyol Explor Freshw 5:241–256
Acknowledgements
We are thankful to Kailash Chandra (ZSI, Kolkata) for permission to examine specimens and providing laboratory facilities and also grateful to KA Subramanian (ZSI, Chennai) for permission to examine type specimen of Olyra astrifera. We are also grateful to the Project Advisory Committee of ZSI, Ministry of Environment, Forest and Climate Changes, Government of India for approving the research programme.
About this article
Cite this article
Kosygin, L., Shangningam, B. & Gopi, K.C. Olyra parviocula, a new species of bagrid catfish (Actinopterygii: Siluriformes), from northeastern India. Environ Biol Fish 101, 589–593 (2018). https://doi.org/10.1007/s10641-018-0721-7
Received:

Accepted:

Published:

Issue Date:
Keywords
Bagridae

Olyra

New species

Northeastern

India