Abstract
A new species of amblycipitid catfish is here described from the Indawgyi Lake basin of the Irrawaddy River drainage in Kachin State, Myanmar as Amblyceps improcerum, new species. It can be distinguished from congeners in having a unique combination of the following characters: lower jaw longer than upper; head length 17.4–22.3% SL; head width 13.7–15.2% SL; head depth 9.0–11.7% SL; interorbital distance 31–39% HL; eye diameter 7–10% HL; 37–38 vertebrae; lateral line incomplete; predorsal length 25.5–30.7% SL; smooth posterior margin of pectoral spine; pectoral-fin length 13.5–16.8% SL; pelvic-fin length 9.6–13.4% SL; dorsal-to-adipose distance 25.2–28.7% SL; length of adipose-fin base 19.4–23.3% SL; adipose fin separate from dorsal procurrent caudal-fin rays; preanal length 62.1–66.9% SL; body depth at anus 9.8–12.8% SL; depth of caudal peduncle 10.1–12.6% SL; length of caudal peduncle 21.4–24.0% SL, post-adipose distance 15.8–17.8% SL; weakly-forked caudal fin with short broadly, rounded lobes (length of longest ray 1.3–1.5 times length of median rays); centrally projecting hooks on proximal lepidotrichia of median caudal-fin rays absent.
This is a preview of subscription content, log in to check access.
Access options
Buy single article
Instant access to the full article PDF.
US$ 39.95
Price includes VAT for USA
Subscribe to journal
Immediate online access to all issues from 2019. Subscription will auto renew annually.
US$ 199
This is the net price. Taxes to be calculated in checkout.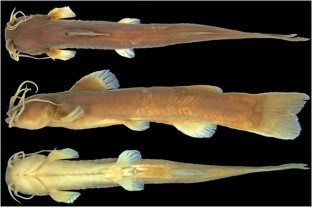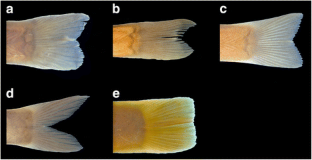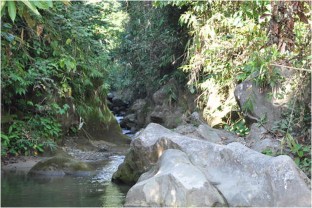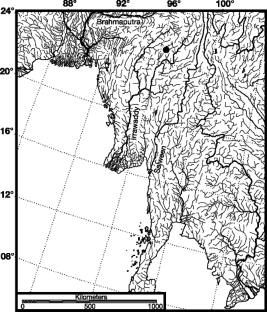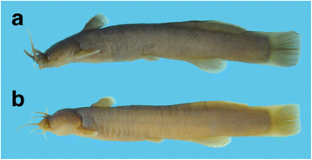 References
Chen X-P, Lundberg JG (1995) Xiurenbagrus, a new genus of amblycipitid catfishes (Teleostei: Siluriformes), and phylogenetic relationships among the genera of Amblycipitidae. Copeia 1995:780–800

Dahanukar N, Raghavan R, Ali A, Britz R (2016) Amblyceps accari, a new species of torrent catfish (Teleostei: Amblycipitidae) from the Western Ghats of India. Zootaxa 4109:218–226

Darshan A, Kachari A, Dutta R, Ganguly A, Das DN (2016) Amblyceps waikhomi, a new species of catfish (Siluriformes: Amblycipitidae) from the Brahmaputra Drainage of Arunachal Pradesh, India. PLoS One 11:e0147282

Humtsoe LN, Bordoloi S (2009) Study on the torrential catfish Amblyceps apangi Nath & Dey 1989 (Teleostei: Amblycipitidae) from Wokha district, Nagaland. J Threatened Taxa 1:109–113

Kottelat M (2013) The fishes of inland waters of Southeast Asia: a catalogue and core bibliography of the fishes known to occur in freshwaters, mangroves and estuaries. Raffles Bull Zool Supplement 27:1–663

Kottelat M (2017) Schistura indawgyiana, a new loach from Lake Indawgyi basin, Myanmar (Teleostei: Nemacheilidae). Ichthyol Explor Freshwaters 28:1–8

Linthoingambi I, Vishwanath W (2008) Two new catfish species of the genus Amblyceps from Manipur, India (Teleostei: Amblycipitidae). Ichthyol Explor Freshwaters 19:167–174

Ng HH (2001) Amblyceps macropterus, a new species of amblycipitid catfish (Osteichthyes: Amblycipitidae) from Pakistan. Ichthyol Explor Freshwaters 12:201–204

Ng HH, Kottelat M (2000) A review of the genus Amblyceps (Osteichthyes: Amblycipitidae) in Indochina, with descriptions of five new species. Ichthyol Explor Freshwaters 11:335–348

Ng HH, Wright JJ (2009) A new torrent catfish from western Thailand (Siluriformes: Amblycipitidae). Copeia 2009:369–377

Ng HH, Wright JJ (2010) Amblyceps cerinum, a new catfish (Teleostei: Amblycipitidae) from northeastern India. Zootaxa 2672: 50–60.

Sabaj MH (2016) Standard symbolic codes for institutional resource collections in herpetology and ichthyology: an online reference. Version 6.5 (16 August 2016). Electronically accessible at http://www.asih.org/, American Society of Ichthyologists and Herpetologists, Washington, DC

Vishwanath W, Linthoingambi I (2007) Redescription of catfishes Amblyceps arunachalensis Nath & Dey and Amblyceps apangi Nath & Dey (Teleostei: Amblycipitidae). Zoos' Print J 22:2662–2664

Zhang X-Y, Long Y, Xiao H, Chen Z-M (2016) First record of the catfish genus Amblyceps Blyth, 1858 from China with the description of a new species (Osteichthyes: Amblycipitidae). Folia Zool 65:81–86
Acknowledgments
Nature and Wildlife Conservation Division, Forest Department gave permission to survey in Indawgyi Wildlife Sanctuary. The material of the new species was obtained from surveys conducted by Fauna & Flora International (FFI), with financial support from the Leona M. and Harry B. Helmsley Charitable Trust and the Critical Ecosystem Partnership Fund. MK thanks Zau Lunn and Frank Momberg (FFI) for help in organising the work and logistics, Nyein Chan, Dankhaung H-Hkai (Fauna & Flora International), Kyi Oo, Soe Myint, Nay Myo Tun (Indawgyi Wildlife Sanctuary) and Khin Maung Thein (Department of Fisheries) for their help in the field. We are also grateful to Heok Hui Tan for radiographing the study material and to the curators and collection managers of the institutions whose material we examined in this study for permission to examine material under their care. We thank Fábio Fernandes Roxo and an anonymous reviewer for reading and commenting on the manuscript.
About this article
Cite this article
Ng, H.H., Kottelat, M. Amblyceps improcerum, a new sisoroid catfish from Kachin State, Myanmar (Teleostei: Siluriformes: Amblycipitidae). Environ Biol Fish 101, 459–467 (2018). https://doi.org/10.1007/s10641-017-0712-0
Received:

Accepted:

Published:

Issue Date:
Keywords
Ostariophysi

Sisoroidea

Irrawaddy river

New species