Abstract
Nurse sharks have not previously been known to migrate. Nurse sharks of the Dry Tortugas (DRTO) mating population have a highly predictable periodic residency cycle, returning to the Dry Tortugas Courtship and Mating Ground (DTCMG) annually (males) or bi- to triennially (females) during the June/July mating season. For 23 years we have followed the movements of 76 recaptured adults of a total of 115 tagged adults. Telemetry detections of 40 females tagged with acoustic transmitters show that most tagged and presumably post-partum females are continuously present in the DRTO in the fall, winter and early spring following the June mating season but these females depart in late March to early May. Detections reveal these females avoid the DTCMG completely during the next mating season, returning from late summer to fall. Telemetry records of nine of 17 adult males that co-habited with these females in the DTCMG depart DRTO waters every July. Both sexes may overwinter in the DRTO. Between 2011 and 2016 three males and five females with transmitters were detected to move up the west coast of Florida outside of the mating season as far north as the waters off Tampa Bay (335 km). Six others were only detected in the lower Florida Keys (292 km). Nine sharks returned to DRTO; one returned six times. Some overwintered and some resumed courtship in June, demonstrating both resident and migratory contingents within their population, partial migration and an ability to navigate with high spatial and temporal precision.
Access options
Buy single article
Instant access to the full article PDF.
USD 39.95
Price excludes VAT (USA)
Tax calculation will be finalised during checkout.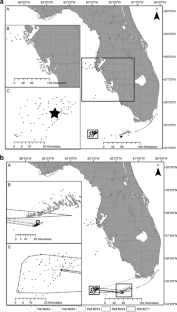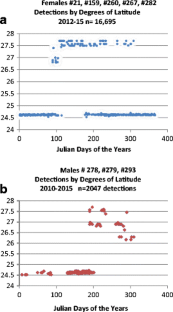 References
Afonso AS, Cantareli CV, Levy RP, Veras LB (2016) Evasive mating behaviour by female nurse sharks, Ginglymostoma cirratum (Bonnaterre, 1788), in an equatorial insular breeding ground. Neotropical Ichthyology 14:e160103 http://www.scielo.br/scielo.php?pid=S1679-62252016000400207&script=sci_arttext

Agassiz A (1883) Exploration of the surface fauna of the gulf stream: the Porpitidae and Velellidae

Baum JK, Blanchard W (2010) Inferring shark population trends from generalized linear mixed models of pelagic longline catch and effort data. Fish Res 102:229–239

Baum JK, Worm B (2009) Cascading top-down effects of changing oceanic predator abundances. J Anim Ecol 78:699–714

Baum JK, Myers RA, Kehler DG, Worm B, Harley SJ, Doherty PA (2003) Collapse and conservation of shark populations in the northwest Atlantic. Science 299:389–392

Berthold P (1999) A comprehensive theory for the evolution, control and adaptability of avian migration. Ostrich 70:1–11

Bigelow HB, and Schroeder WC (1948) Fishes of the Western North Atlantic, Part 1 (Lancelets, Cyclostomes, and Sharks). Memoir no. 1, Part 1. New Haven, Conn.:Sears Foundation for Marine research, Yale University. p 576

Brodersen J, Nilsson PA, Hansson L-A, Skov C, Brönmark C (2008) Condition-dependent individual decision-making determines cyprinid partial migration. Ecology 89:1195–1200

Brooks AJ, Pratt HL, Pratt TC, Carlson N, Brooks EJ (2012) Spatiotemporal trends of mating aggregations in nurse sharks (Ginglymostoma cirratum) around Cape Eleuthera, the Bahamas. 2012 ocean sciences meeting, Salt lake City

Bush A, Holland K (2002) Food limitation in a nursery area: estimates of daily ration in juvenile scalloped hammerheads, Sphyrna lewini (Griffith and Smith, 1834) in Kane'ohe Bay, O'ahu, Hawai'i. J Exp Mar Biol Ecol 278:157–178

Carrier JC (1985) Nurse sharks of Big Pine Key, Florida (USA): an investigation of growth and movements, and a comparison of several types of external tags. pp. 655-660. In: Gabrie C, Harmeli V (eds) Proc. 5th Internat. Coral Reef Congr. Antenne-Museum-EPHE, Moorea, French Polynesia, Tahiti

Carrier JC, Pratt HL Jr (1998) Habitat management and closure of a nurse shark breeding and nursery ground. Fish Res 39:209–213

Carrier JC, Pratt HL Jr, Martin LK (1994) Group reproductive behaviors in free-living nurse sharks, Ginglymostoma cirratum. Copeia 1994:646–656

Carrier JC, Murru FL, Walsh MT, Pratt HL (2003) Assessing reproductive potential and gestation in nurse sharks (Ginglymostoma cirratum) using ultrasonography and endoscopy: an example of bridging the gap between field research and captive studies. Zoo Biology 22:179–187

Castro JI (2000) The biology of the nurse shark, Ginglymostoma cirratum, off the Florida east coast and the Bahama Islands. Environ Biol Fish 58:1–22

Castro JI (2011) The sharks of North America. Oxford University Press, New York, p 613

Castro ALF, Rosa RS (2005) Use of natural marks on population estimates of the nurse shark, Ginglymostoma cirratum, at Atol das Rocas biological reserve, Brazil. Environ Biol Fish 72:213–221

Chapman B, Hulthén K, Brodersen J, Nilsson PA, Skov C, Hansson LA, Brönmark C (2012) Partial migration in fishes: causes and consequences. J Fish Biol 81:456–478

Clark E, Von Schmidt K (1965) Sharks of the central Gulf coast of Florida. Bull Mar Sci 15:13–83

Collins A (2014) An investigation into the habitat, behavior and opportunistic feeding strategies of the protected Goliath grouper (Epinephelus itajara). University of South Florida. Thesis Disertation. p 171

Compagno LJV (1984) Sharks of the World, FAO species catalogue. FAO Fish Syn 4, Pt. 1:1–655

Compagno L, Dando M, Fowler S (2005) A field guide to the sharks of the world, pp 368. Harper Collins Publishers Ltd., London

Crossin GT, Cooke SJ, Goldbogen JA, Phillips RA (2014) Tracking fitness in marine vertebrates: current knowledge and opportunities for future research. Mar Ecol Prog Ser 496:1–17

Davis GE (1982) A century of natural change in coral distribution at the Dry Tortugas: a comparision of reef maps from 1881 and 1976. Bull Mar Sci 32:608–623

Dennis GD, Bright TJ (1988) Reef fish assemblages on hard banks in the northwestern gulf of Mexico. Bull Mar Sci 43:280–307

Espinoza M, Lédée EJ, Simpfendorfer CA, Tobin AJ, Heupel MR (2015) Contrasting movements and connectivity of reef associated sharks using acoustic telemetry: implications for management. Ecol Appl 25:2101–2118

Espinoza M, Heupel MR, Tobin AJ, Simpfendorfer CA (2016) Evidence of partial migration in a large coastal predator: opportunistic foraging and reproduction as key drivers? PLoS One 11:e0147608

Feeley MW, Morley D, Acosta A, Barbera P, Hunt J, Switzer T, Burton M (2018) Spawning migration movements of mutton snapper in Dry Tortugas, Florida: Spatial dynamics within a marine reserve network". J Fish Res (in press) http://www.alliedacademies.org/journal-fisheries-research/

Garla RC, Gadig OBF, and Garrone-Neto D (2017) Movement and activity patterns of the nurse shark, Ginglymostoma cirratum, in an oceanic Marine Protected Area of the South-western Atlantic. J Mar Biol Assoc United Kingdom 97(8):1565-1572

Hannan KM, Driggers Iii WB, Hanisko DS, Jones LM, Canning AB (2012) Distribution of the Nurse Shark, Ginglymostoma Cirratum, in the Northern Gulf of Mexico. Bull Mar Sci 88:73–80

Harden Jones FR (1968) Fish migration. St. Martin's Press, NY, USA

Harry AV, Macbeth WG, Gutteridge AN, Simpfendorfer CA (2011) The life histories of endangered hammerhead sharks (Carcharhiniformes, Sphyrnidae) from the east coast of Australia. J Fish Biol 78:2026–2051

Hart KM, Sartain AR, Fujisaki I, Pratt HL, Morley D, Feeley MW (2012) Home range, habitat use, and migrations of hawksbill turtles tracked from Dry Tortugas national park, Florida, USA. Mar Ecol Prog Ser 457:193–207

Heithaus MR, Burkholder D, Hueter RE, Heitbaus LI, Pratt HL, Carrier JC (2007) Spatial and temporal variation in shark communities of the lower Florida Keys and evidence for historical population declines. Can J Fish Aquat Sci 64:1302–1313

Heupel MR, Simpfendorfer CA (2005) Using acoustic monitoring to evaluate MPAs for shark nursery areas: the importance of long-term data. Mar Technol Soc J 39:10–18

Jonsson B, Jonsson N (1993) Partial migration: niche shift versus sexual maturation in fishes. Rev Fish Biol Fish 3:348–365

Kajiura SM, Tellman SL (2016) Quantification of massive seasonal aggregations of blacktip sharks (Carcharhinus limbatus) in Southeast Florida. PLoS One 11:e0150911

Karl SA, Castro ALF, Garla RC (2011) Population genetics of the nurse shark (Ginglymostoma cirratum) in the western Atlantic. Mar Biol 159:489–498

Kessel S, Chapman D, Franks B, Gedamke T, Gruber S, Newman J, White E, Perkins R (2014) Predictable temperature-regulated residency, movement and migration in a large, highly mobile marine predator (Negaprion brevirostris). Mar Ecol Prog Ser 514:175–190

Klimley AP (1980) Observations of courtship and copulation in the nurse shark, Ginglymostoma cirratum. Copeia 1980:878–882

Kohler NE, Turner PA (2001) Shark tagging: A review of conventional methods and studies. Environ Biol Fish 60:191–223

Kohler NE, Casey JG, Turner PA (1998) NMFS cooperative shark tagging program, 1962-93: an atlas of shark tag and recapture data. Mar Fish Rev 60:1–87

Lewis RRI, Estevez ED (1988) The ecology of Tampa Bay, Florida: An estuarine profile. pp. Medium: X; Size: pages: 132. Mangrove Systems, Inc. and Mote Marine Lab, Tampa and Sarasota

Lowerre-Barbieri SK, Walters Burnsed SL, Bickford JW (2016) Assessing reproductive behavior important to fisheries management: a case study with red drum, Sciaenops ocellatus. Ecol Appl 26:979–995

Pratt HL Jr, and Carrier, JC (2007) The nurse shark, mating and nursery habitat in the Dry Tortugas, Florida. In American Fisheries Society Symposium (Vol. 50, p. 225). American Fisheries Society

Pratt HL Jr, Carrier JC (2001) A review of elasmobranch reproductive behavior with a case study on the nurse shark, Ginglymostoma cirratum. Environ Biol Fish 60:157–188

Pratt HL Jr, Carrier JC (2005) Elasmobranch courtship and mating behavior. In: Hamlett WC (ed) Reproductive Biology and Phylogeny of Chondrichthyes. Science Publishers, Enfeld, pp 129–164

Rosa R, Castro A, Furtado M, Monzini J, Grubbs R (2006) Ginglymostoma cirratum. The IUCN Red List of Threatened Species 2006, e.T60223A12325895. https://doi.org/10.2305/IUCN.UK.2006.RLTS.T60223A12325895.en. Accessed 20 Sept 2017

Rouse N (1985) Nurse sharks mating ballet. Sea Frontiers 31:54–57

Secor DH (2015) Migration ecology of marine fishes. JHU Press, Baltimore

Taylor JL (1974) The Charlotte Harbor estuarine system. Florida Scientist 37:205–216

Ward-Paige CA, Mora C, Lotze HK, Pattengill-Semmens C, McClenachan L, Arias-Castro E, Myers RA (2010) Large-scale absence of sharks on reefs in the greater-Caribbean: a footprint of human pressures. PLoS One 5:e11968
Acknowledgments
We would like to thank The Shark Foundation/Hai Stiftung, B. Redsecker and F. Young. for financial support. NSF EAGER grant (IOS#1010567) and NGS CRE grant (#8769-10) were awarded to N. Whitney. We thank the National Park Service at Dry Tortugas and Everglades NPS for logistical support and research permits. J. Hunt, R. Bertelsen, of the Florida Fish and Wildlife Conservation Commission, South Florida Regional Laboratory, Marathon, FL, and M. Feeley of the NPS, Biscayne Bay National Park, J. Locascio, University of South Florida all shared telemetry data. E. Heist and students from SIU helped with field work and tagging sharks. We thank reviewers B. Frerer, and R. Hueter. The authors wish to also acknowledge the support and assistance of D. Vaughan and the Mote Marine Laboratory Staff at the Summerland, FL. Lab.
Ethics declarations
Ethical approval
All applicable international, national, and/or institutional guidelines for the care and use of animals were followed. Work was carried out under Mote Marine Laboratory IACUC protocol #09-09-NW#1.
About this article
Cite this article
Pratt, H.L., Pratt, T.C., Morley, D. et al. Partial migration of the nurse shark, Ginglymostoma cirratum (Bonnaterre), from the Dry Tortugas Islands. Environ Biol Fish 101, 515–530 (2018). https://doi.org/10.1007/s10641-017-0711-1
Received:

Accepted:

Published:

Issue Date:

DOI: https://doi.org/10.1007/s10641-017-0711-1
Keywords