Abstract
Passive acoustic monitoring (PAM) of fish sounds has been used as a means of detecting the presence and abundance of fishes. Prior to PAM, bioacoustical analyses of sounds are needed to characterize species-specific characteristics of calls. With hydrophones placed in outdoor ponds, we recorded the mating calls of three species of prochilodontid fishes (Prochilodus argenteus, P. costatus, P. lineatus). Fish were induced to spawn and call by injection of carp (Cyprinus carpio) pituitary gland extract. We recorded a total of 394 pulse train calls and additional single pulse calls that were not associated with trains. The trains of all three species were similar in nature - series of low frequency pulses that lasted from 1 to 11 s, often with an initial rapid rise followed by a slow tapering of pulse amplitude. Dominant frequency of single pulses and trains was greatest in P. lineatus, with P. costatus and P. argenteus exhibiting lower single pulse dominant frequencies, and P. costatus having lower train dominant frequency. With data from the three species combined, the dominant frequency of pulses significantly increased with fish standard length. There was also a significant linear relationship between the dominant frequency of pulses and trains. Discriminant function analysis showed that differences in train dominant frequency, pulse duration, and pulse period between the three species were significant enough to discriminate between them. This study was the first to fully characterize the sounds of these three Prochilodus species, and should assist fisheries biologists monitoring spawning behavior in these species.
Access options
Buy single article
Instant access to the full article PDF.
US$ 39.95
Tax calculation will be finalised during checkout.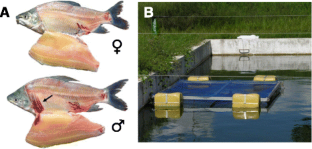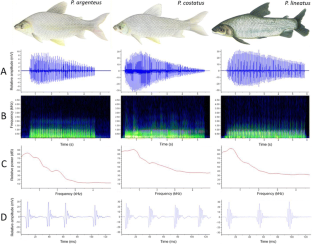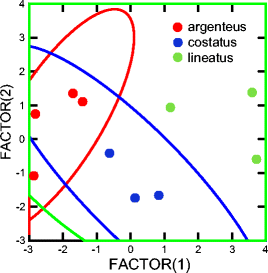 References
Aalbers SA, Sepulveda CA (2012) The utility of a long-term acoustic recording system for detecting white seabass Atractoscion nobilis spawning sounds. J Fish Biol 81(6):1859–1870. https://doi.org/10.1111/j.1095-8649.2012.03399.x

Akamatsu T, Okumura T, Novarini N, Yan HY (2002) Empirical refinements applicable to the recording of fish sounds in small tanks. J Acoust Soc Am 112(6):3073–3082

Amorim MCP, Vasconcelos RO, Fonseca PJ (2015) Fish sounds and mate choice. In:Ladich F (ed) Sound communication in fishes. Springer-Verlag Wein, New York, USA, p 1–33

Anderson KA, Rountree RA, Juanes F (2008) Soniferous fishes in the Hudson River. Trans Am Fish Soc 127(2):616–626. https://doi.org/10.1577/T05-220.1

Arantes FP, Sato Y, Sampaio EV, Rizzo E, Bazzoli N (2013) Spawning induction and fecundity of commercial native fish species from the São Francisco River basin, Brazil, under hatchery conditions. Agric Sci 4:382–388

Bass AH, Chagnaud BP, Feng NY (2015) Comparative neurobiology of sound production in fishes. In: Ladich F (ed) Sound communication in fishes. Springer-Verlag Wien, New York, USA, pp 35–75

Bessey C, Heithaus MR (2013) Alarm call production and temporal variation in predator encounter rates for a facultative teleost grazer in a relatively pristine seagrass ecosystem. J Exp Mar Biol Ecol 449:135–141. https://doi.org/10.1016/j.jembe.2013.09.008

Boncompagni-Júnior O, Normando FT, Brito MFG, Bazzoli N (2013) Reproductive biology of Prochilodus argenteus Agassiz, 1829 (Pisces: Prochilodontidae) in Sao Francisco River, Brazil. J Appl Ichthyol 29(1):132–138. https://doi.org/10.1111/jai.12018

Borie A, Mok HK, Chao NL, Fine ML (2014) Spatiotemporal variability and sound characterization in silver croaker Plagioscion squamosissimus (Sciaenidae) in the Central Amazon. PLoS One 9(8):e99326. https://doi.org/10.1371/journal.pone.0099326

Carolsfeld J, Harvey B, Ross C, Baer A (2003) Migratory fishes of South America. World Fisheries Trust, Victoria

Castro RMC, Vari RP (2003) Prochilodontidae (flannel mouth characiforms). In: Reis RE, Kullander SO, Ferraris CJ, Jr. (eds) Checklist of the freshwater fishes of south and central America EDIPUCRS, Porto Alegre. pp 65–70

Connaughton MA, Taylor MH (1995) Seasonal and daily cycles in sound production associated with spawning in weakfish, Cynoscion regalis. Environ Biol Fish 42(3):233–240. https://doi.org/10.1007/BF00004916

Connaughton MA, Taylor MH, Fine ML (2000) Effects of fish size and temperature on weakfish disturbance calls: implications for the mechanism of sound generation. J Exp Biol 203(Pt 9):1503–1512

Dorn E, Schaller F (1972) Ueber den Lautapparat von Amazonas Fischen II. Naturwissenschaften 59(4):169–170. https://doi.org/10.1007/BF00637366

Fine ML (1978) Seasonal and geographical variation of the mating call of the oyster toadfish Opsanus tau L. Oecologia 36(1):45–57. https://doi.org/10.1007/BF00344570

Fine ML, Waybright TD (2015) Grunt variation in the oyster toadfish Opsanus tau: effect of size and sex. PeerJ 3:e1330. https://doi.org/10.7717/peerj.1330

Fortuny A, Ros AE, Amutio VG (1988) Hormonal induction of final maturation and ovulation in the sábalo, Prochilodus platensis Holmberg: treatments, latency and incubation times and viability of ovules retained in the ovary after ovulation. Aquac 73(1-4):373–381. https://doi.org/10.1016/0044-8486(88)90070-1

Godinho AL, Brito MFG, Godinho HP (2003) Pesca nas corredeiras de Buritizeiro: da ilegalidade à gestão participativa. In: Godinho HP, Godinho AL (eds) Águas, peixes e pescadores do São Francisco das Minas Gerais. PUC Minas, Belo Horizonte, Brazil, pp 347–360

Godinho AL, Silva CCF, Kynard B (2017) Spawning calls by zulega, Prochilodus argenteus, a Brazilian riverine fish. Environ Biol Fish 100(5):519–533. https://doi.org/10.1007/s10641-017-0582-5

Godoy MP (1975) Peixes do Brasil. Franciscana, Piracicaba

Harder (1975) Anatomy of fishes. Schwerzebart, Stuttgart

Hawkins AD, Casaretto L, Picciulin M, Olsen K (2002) Locating spawning haddock by means of sound. Bioacoustics 12(2-3):284–286. https://doi.org/10.1080/09524622.2002.9753723

Hernandez KM, Risch D, Cholewiak DM, Dean MJ, Hatch LT, Hoffman WS, Rice AN, Zemeckis D, Van Parijs SM (2013) Acoustic monitoring of Atlantic cod (Gadus morhua) in Massachusetts Bay: implications for management and conservation. ICES J Mar Sci 70(3):628–635. https://doi.org/10.1093/icesjms/fst003

Hill GL, Fine ML, Musick JA (1987) Ontogeny of the sexually dimorphic sonic muscle in three sciaenid species. Copeia 1987(3):708–713. https://doi.org/10.2307/1445663

Holt SA (2008) Distribution of red drum spawning sites identified by towed hydrophone array. T Am Fish Soc 137(2):551–561. https://doi.org/10.1577/T03-209.1

Kaatz IM (2002) Multiple sound-producing mechanisms in teleost fishes and hypotheses regarding their behavioral significance. Bioacoustics 12(2-3):230–233. https://doi.org/10.1080/09524622.2002.9753705

Kaatz IM, Rice AN, Lobel PS (2017) How fishes use sound: quiet to loud and simple to complex signaling. Reference model in life science: encyclopedia of physiology of fishes Elsevier pp 1–12

Kastberger G (1978) Lautproduktion bei Fischen: die Trommellaute der Jaraqui-Maenchen (Prochilodus insignis - Pisces, Characiformes, Tetragonopteridae, Prochilodontinae). Anz math-nat wiss Kl Österr Akad Wiss 2:54–81

Ladich F (2000) Acoustic communication and the evolution of hearing in fishes. Philos Trans R Soc Lond 335:1285–1288

Ladich F (2015) Sound communication in fishes. Springer-Verlag, Wien. https://doi.org/10.1007/978-3-7091-1846-7

Ladich F, Bass AH (1998) Sonic/vocal motor pathways in catfish: comparisons with other teolosts. Brain Behav Evol 15:315–330

Ladich F, Fine ML (2003) Sound production, spine locking, and related adaptions. In: Arratia G, Kapoor BG, Chardon M, Diogo R (eds) Catfishes. Science publishers, Enfield, pp 249–290

Ladich F, Fine ML (2006) Sound-generating mechanisms in fishes: a unique diversity in vertebrates. In: Ladich F, Collin SP, Moller P, Kapoor BG (eds) Communication in fishes. Science publishers, Enfield, pp 6–43

Ladich F, Myrberg AA (2006) Agonistic behavior and acoustic communication. In: Ladich F, Collin SP, Moller P, Kapoor BG (eds) Communication in fishes. Science publishers, Enfield, pp 121–148

Locascio JV, Burghart S, Mann DA (2012) Quantitative and temporal relationships of egg production and sound production by black drum Pogonias cromis. J Fish Biol 81(4):1175–1191. https://doi.org/10.1111/j.1095-8649.2012.03376.x

Luczkovich JJ, Sprague MW, Johnson SE, Pullinger RC (1999) Delimiting spawning areas of weakfish Cynoscion regalis (family Sciaenidae) in Pamlico sound, North Carolina using passive hydroacoustic surveys. Bioacoustics 10(2-3):143–160. https://doi.org/10.1080/09524622.1999.9753427

Luczkovich JJ, Mann DA, Rountree RA (2008) Passive acoustics as a tool in fisheries science. Trans Am Fish Soc 137(2):533–541. https://doi.org/10.1577/T06-258.1

Magalhães AC (1931) Monografia brasileira de peixes fluviaes. Graphicars, São Paulo

McCauley RD, Cato DH (2000) Patterns of fish calling in a nearshore environment in the great barrier reef. Philos T R Soc Lon B 355(1401):1289–1293. https://doi.org/10.1098/rstb.2000.0686

Montie EW, Kehrer C, Yost J, Brenkert K, O'Donnell T, Denson MR (2016) Long-term monitoring of captive red drum Sciaenops ocellatus reveals that calling incidence and structure correlate with egg deposition. J Fish Biol 88(5):1776–1795. https://doi.org/10.1111/jfb.12938

Montie EW, Hoover M, Kehrer C, Yost J, Brenkert K, O'Donnell T, Denson MR (2017) Acoustic monitoring indicates a correlation between calling and spawning in captive spotted seatrout (Cynoscion nebulosus). PeerJ 5:e2944. https://doi.org/10.7717/peerj.2944

Myrberg AA Jr, Ha SJ, Shamblott MJ (1993) The sounds of bicolor damselfish (Pomacentrus partitus): predictors of body size and a spectral basis for individual recognition and assessment. J Acoust Soc Am 94:3067–3070

Nöttestad L (1998) Extensive gas bubble release in Norwegian spring-spawning herring (Clupea harengus) during predator avoidance. ICES J Mar Sci 55(6):1133–1140. https://doi.org/10.1006/jmsc.1998.0416

Parmentier E, Lagardère JP, Vandewalle P, Fine ML (2005) Geographical variation in sound production in the anemonefish Amphiprion akallopisos. Proc R Soc B 272(1573):1697–1703. https://doi.org/10.1098/rspb.2005.3146

Parmentier E, Tock J, Falguère J-C, Beauchaud M (2014) Sound production in Sciaenops ocellatus: Preliminary study for the development of acoustic cues in aquaculture. Aquaculture 432:204–211. https://doi.org/10.1016/j.aquaculture.2014.05.017

Parmentier E, Fine ML (2016) Fish sound production: insights. In: Suthers RA, Fitch WT, Fay RR, Popper AN (eds) Vertebrate sound production and acoustic communication. Springer, Basel, pp 19–49. https://doi.org/10.1007/978-3-319-27721-9_2

Parmentier E, Diogo R, Fine ML (2017) Multiple exaptations leading to fish sound production. Fish Fish 2017(00):1–9. https://doi.org/10.1111/faf.12217

Parsons MJG, McCauley RD, Mackie MC, Siwabessy PJ, Duncan AJ (2012) In situ source levels of mulloway (Argyrosomus japonicas) calls. J Acoust Soc Am 132(5):3559–3568. https://doi.org/10.1121/1.4756927

Parsons MJG, Longbottom S, McCauley R, Lewis P, Fairclough DV (2014) In situ calls of the marine perciform Glaucosma herbraicum. Acoust Aust 42:31–35

Pesoa NA, Schulz UH (2010) Diel and seasonal movements for grumatã Prochilodus lineatus in the Sinos River, southern Brazil. Braz J Biol 70(4 suppl):1169–1177. https://doi.org/10.1590/S1519-69842010000600006

Petrere M Jr (1989) River fisheries in Brazil: a review. Regul Rivers: Res & Manag 4:1–16

Picciulin M, Bolgan M, Codarin A, Fiorin R, Zucchetta M, Malavasi S (2013) Passive acoustic monitoring of Sciaena umbra on rocky habitats in the venetian littoral zone. Fish Res 145:76–81. https://doi.org/10.1016/j.fishres.2013.02.008

Reynalte-Tatej DA, Lopes CA, Ávila-Simas S, Garcia JRE, Zaniboni-Filho E (2013) Artificial reproduction of neotropical fish: extrusion or natural spawning? Nat Sci 5:1–6

Reynatle-Tatej DA, Zaniboni-Filho E, Muelbert B (2001) Stages of the embryonic development of the piavucu Leporinus macrocephalus (Garvella & Britski, 1988). Acta Sci 23:823–827

Roberts TR (1973) Osteology and relationships of the Prochilodontidae, a south American family of characoid fishes. Bull Mus Comp Zool 145:213–235

Rountree RA, Gilmore RG, Goudey CA, Hawkins AD, Luczkovich JJ, Mann DA (2006) Listening to fish: applications of passive acoustics to fisheries science. Fish 31(9):433–446. https://doi.org/10.1577/1548-8446(2006)31[433:LTF]2.0.CO;2

Saldaña J, Venables B (1983) Energy compartmentalization in a migratory fish, Prochilodus mariae (Prochilodontidae), of the Orinoco River. Copeia 1983(3):617–623. https://doi.org/10.2307/1444325

Sato Y (1999) Reprodução de peixes da bacia do rio São Francisco: indução e caracterização de padrões. Universidade Federal de São Carlos, Brazil, Dissertation

Sato Y, Cardoso EL, Godinho AL, Godinho HP (1996) Hypophysation parameters of the fish Prochilodus marggravii obtained in routine hatchery station conditions. Revista bras. Biologia 56:59–64

Sato Y, Bazzoli N, Rizzo E, Boschi MB, Miranda MOT (2005) Influence of the Abaete River on the reproductive succes of the Neotropical migratory teleost Prochilodus Argenteus in the Sao Francisco River, downstream from the Tres Marias dam, southeastern Brazil. River Res Applic 21(8):939–950. https://doi.org/10.1002/rra.859

Schaller F (1971) Über den Lautapparat von Amazonas-Fischen. Naturwissenschaften 58:573–574

Schaller F, Kratochvil H (1981) Lautbildung bei Fischen. Biologie in unserer Zeit 11(2):43–47. https://doi.org/10.1002/biuz.19810110205

Sirovic A, Cutter GR, Butler JL, Demer DA (2009) Rockfish sounds and their potential use for population monitoring in the Southern California bight. ICES J Mar Sci 66(6):981–990. https://doi.org/10.1093/icesjms/fsp064

Staaterman E, Rice AN, Mann DA, Paris CB (2013) Soundscapes from a tropical eastern Pacific reef and a Carribean sea reef. Coral Reefs 32(2):553–557. https://doi.org/10.1007/s00338-012-1007-8

Sverlij, SB (1993) Sinopsis de los datos biológicos y pesqueros del sábalo, Prochilodus lineatus (Valenciennes, 1847). FAO Sinopsis sobre la Pesca, 154. FAO, Roma

Wall CC, Simard P, Lembke C, Mann DA (2013) Large-scale passive acoustic monitoring of fish sound production on the West Florida shelf. Mar Ecol Prog Ser 484:173–188. https://doi.org/10.3354/meps10268

Weitzman SH, Vari RP (1998) Characins and their allies. In: Paxton JR, Eschmeyer WN (eds) Encyclopedia of fishes, 2nd edn. Academic press, San Diego, pp 101–107

Zohar Y, Mylonas CC (2001) Endocrine manipulations of spawning in cultured fish: from hormones to genes. Aquac 197(1-4):99–136. https://doi.org/10.1016/S0044-8486(01)00584-1
Acknowledgements
We thank Dirceu M. Ribeiro (in memoriam) and Marcília B. Goulart for providing facility and fish to record calls of P. lineatus, and Paulo Henrique Fiote and Álvaro Nunes for the fish drawings. All applicable national and institutional guidelines for care and use of animals were followed for this research. Funding for this project was provided by the Universidade Federal de Minas Gerais.
About this article
Cite this article
Smith, M.E., Weller, K.K., Kynard, B. et al. Mating calls of three prochilodontid fish species from Brazil. Environ Biol Fish 101, 327–339 (2018). https://doi.org/10.1007/s10641-017-0701-3
Received:

Accepted:

Published:

Issue Date:
Keywords
Passive acoustic monitoring

Sound production

Dominant frequency

Pulse duration

Pulse period

Bioacoustics