Abstract
Sinocyclocheilus cyphotergous was described by Dai in 1988 as Gibbibarbus cyphotergous based on a single specimen collected in Luodian County, Guizhou Province, China. The holotype (the only one type specimen) has been lost and the original description was vague and was published in a report with limited circulation. A specimen collected from the type locality in 2015 was the basis for a detailed redescription of the species and designation of a neotype. Sinocyclocheilus cyphotergous can be distinguished from all other congeners by the following combination of characters: a humpback profile with a fleshy dorsal projection; a hard last unbranched ray of dorsal fin with a serrated rear edge; and nearly straight lateral line. This species is the only member of the genus with a fleshy dorsal projection composed of adipose tissue (either a bony projection located on the nape or fleshy humpback is present in all other species). The conservation status of S. cyphotergous is uncertain and most likely critical due to its limited distribution, apparent rarity (based on low frequency of detection), and the potential for increased impacts to its habitat due to diminished quantity and quality of groundwater.
This is a preview of subscription content, log in to check access.
Access options
Buy single article
Instant access to the full article PDF.
US$ 39.95
Price includes VAT for USA
Subscribe to journal
Immediate online access to all issues from 2019. Subscription will auto renew annually.
US$ 199
This is the net price. Taxes to be calculated in checkout.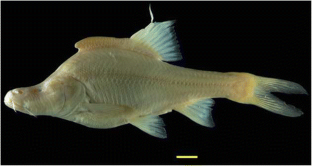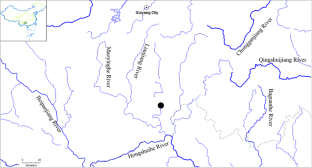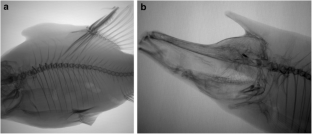 References
Dai DR (1988) Un nouvean poisson cavernicole. Guizhou Expe 86:88–98 (in French)

He Y, Chen XY, Xiao TQ, Yang JX (2013) Three-dimensional morphology of the Sinocyclocheilus hyalinus (Cypriniformes: Cyprinidae) horn based on synchrotron X-ray microtomography. Zool Res 34:E128

Hong Y (2013) On the Relation between the Two Underground Rivers in the Daxiaojing Region, Guizhou. Acta Geol Sichuan:221–224 (in Chinese)

Howard LE, Holmes WM, Ferrando S, Maclaine JS, Kelsh RN, Ramsey A, Cox JP (2013) Functional nasal morphology of chimaerid fishes. J Morphol 274:987–1009. doi:10.1002/jmor.20156

Romero A, Green SM (2005) The end of regressive evolution: examining and interpreting the evidence from cave fishes. J Fish Biol 67:3–32. doi:10.1111/j.0022-1112.2005.00776.x

Romero A, Zhao Y, Chen X (2009) The Hypogean fishes of China. Environ Biol Fish 86:211–278. doi:10.1007/s10641-009-9441-3

Shan X, Yue P (1994) The study on phylogeny of the sinocyclocheiline fishes (Cypriniformes: Cyprinidae: Barbinae). Zool res S1(in Chinese)

Shan X, Lin R, Yue P, Chu X (2000) Barbinae. In: Yue P (ed) Fauna Sinica, Osteichthyes. Cypriniformes III, Science, Beijing, p 79 (in Chinese)

Wang DZ, Huang Y, Liao JW, Zhen JZ (1995) Taxonomic revision of the genus Gibbibarbus Dai. Acta Acad Med Zunyi 18:166–168 (in Chinese)

Xing YC, Zhang CG, Fan EY, Zhao YH (2016) Freshwater fishes of China: species richness, endemism, threatened species and conservation. Divers Distrib 22:358–370. doi:10.1111/ddi.12399

Xiu L, Yang J, Zheng H (2014) An extraordinary new blind catfish, Xiurenbagrus dorsalis (Teleostei: Siluriformes: Amblycipitidae), from Guangxi, China. Zootaxa 3835:376–380

Zhang CG, Zhao YH, Xing YC, Zhou W, Tang WQ (2016) Species diversity and distribution of inland fishes in China. Science, Beijing, pp 14–43 (in Chinese)

Zhao YH, Zhang CG (2009) Endemic fishes of Sinocyclocheilus (Cypriniformes: Cyprinidae) in China-species diversity, cave adaptation, systematics and zoogeography. Science Press, Beijing, pp 1–99 (in Chinese)

Zhao Y, Watanabe K, Zhang C (2006) Sinocyclocheilus donglanensis, a new cavefish (Teleostei: Cypriniformes) from Guangxi, China. Ichthyol Res 53:121–128. doi:10.1007/s10228-005-0317-z

Zhao YH, Gozlan RE, Zhang CG (2011) Out of sight out of mind: current knowledge of Chinese cave fishes. J Fish Biol 79:1545–1562. doi:10.1111/j.1095-8649.2011.03066.x
Acknowledgements
The authors thank Han MQ and Lu YB (Guangxi Normal University) for providing this specimens and information. This study was conducted under the auspices of the Chinese Cavefish Working Group and supported by grants (NSFC-31471961) from the National Nature Science Foundation of China, a grant (GEFC-15-16) from National Geography Society, a grant from Innovation Project of Guangxi Graduate Education (T3100098001) and a grant (Y229YX5105) from the Key Laboratory of the Zoological Systematics and Evolution of the Chinese Academy of Sciences.
About this article
Cite this article
Huang, J., Gluesenkamp, A., Fenolio, D. et al. Neotype designation and redescription of Sinocyclocheilus cyphotergous (Dai) 1988, a rare and bizarre cavefish species distributed in China (Cypriniformes: Cyprinidae). Environ Biol Fish 100, 1483–1488 (2017). https://doi.org/10.1007/s10641-017-0658-2
Received:

Accepted:

Published:

Issue Date:
Keywords
Sinocyclocheilus

Neotype

Redescription

Cavefish

China