Abstract
Diploids and tetraploids of the cyprinid loach Misgurnus anguillicaudatus coexist in many natural habitats in Asia. However, little is known about the biological and ecological differences between these two ploidy forms. We examined age, body size and growth rates of fish in a mixed ploidy population of M. anguillicaudatus in the Yangtze River basin in China. The sex ratios of both diploid and tetraploid M. anguillicaudatus were highly skewed toward females, who tended to be larger than males. The age distributions of the collected specimens clearly indicated that tetraploids lived longer than diploids. For example, we found a substantial number of tetraploids that were 5+ years old, while the oldest diploids were 4+ years old. Tetraploids were also longer and heavier than diploids for both sexes. Using the empirical body size and age data, we inferred the growth patterns of these fish with the von Bertalanffy growth function. The estimated asymptotic body lengths (L ∞) indicated that tetraploids could indeed achieve larger body sizes than diploids. This difference was partially due to the increased growth rate, as demonstrated by lower growth coefficient (K) and higher growth performance index (φ'). In sum, we show that tetraploid M. anguillicaudatus exhibited significantly increased longevity and superior growth performance compared to diploids. These differences may contribute to the ecological competitiveness of tetraploid M. anguillicaudatus, thus enabling them to coexist with diploids in certain ecological settings.
This is a preview of subscription content,
to check access.
Access this article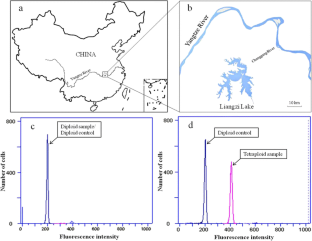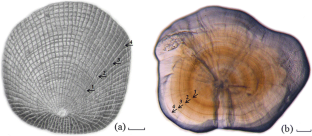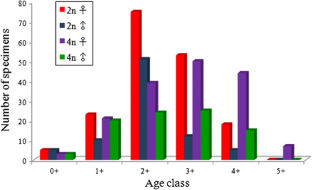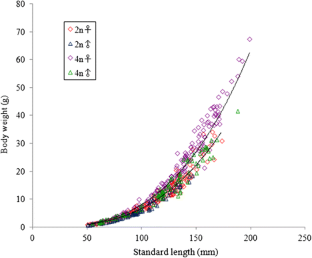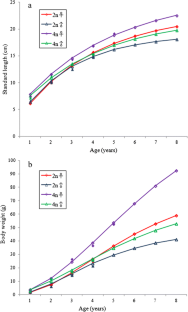 Similar content being viewed by others
References
Arai K (2003) Genetics of the loach, Misgurnus anguillicaudatus, recent progress and perspective. Folia Biol (Kraków) 51:107–117

Arai K, Matsubara K, Suzuki R (1991) Chromosomes and developmental potential of progeny of spontaneous tetraploid loach Misgurnus anguillicaudatus. Nippon Suisan Gakk 57:2173–2178

Arai K, Matsubara K, Suzuki R (1993) Production of polyploids and viable gynogens using spontaneously occurring tetraploid loach, Misgurnus anguillicaudatus. Aquaculture 117:227–235

Arai K, Ikeno M, Suzuki R (1995) Production of androgenetic diploid loach Misgurnus anguillicaudatus using spermatozoa of natural tetraploids. Aquaculture 137:131–138

Arai K, Taniura K, Zhang Q (1999) Production of second generation progeny of hexaploid loach. Fisheries Sci 65:186–192

Bagenal TB, Tesch FW (1978) Age and growth. In: Bagenal TB (ed) Methods for assessment of fish production in freshwaters, 3rd edn. Blackwell, London, pp 101–136

Benfey TJ (1991) The physiology of triploid salmonids in relation to aquaculture. Can Tech Rep Fish Aquat Sci 1789:73–80

Benfey TJ (1999) The physiology and behavior of triploid fishes. Rev Fish Sci 7:39–67

Binet MC, Angers B (2005) Genetic identification of members of the Phoxinus eos-neogaeus hybrid complex. J Fish Biol 67:1169–1177

Boroń A, Jeleń I, Juchno D, Przybylski M, Borzuchowska E (2008) Age and growth of the karyologically identified spined loach Cobitis taenia (Teleostei, Cobitidae) from a diploid population. Folia Zool 57:155–161

Campana SE (2001) Accuracy, precision and quality control in age determination, including a review of the use and abuse of age validation methods. J Fish Biol 59:197–242

Cantor TE (1842) General features of Chusan, with remarks on the flora and fauna of that island. Ann Mag Nat Hist 9:485

Carlander KD (1981) Caution on the use of the regression method of back-calculating length from scale measurements. Fisheries 6:2–4

Cazorla AL, Sidorkewicj N (2008) Age and growth of the largemouth perch Percichthys colhuapiensis in the Negro River, argentine Patagonia. Fish Res 92:169–179

Chen J, Zhu S (1984) The subfamily classification of the Cobitidae fishes and their phylogenetic relationships. Acta Zootaxon Sin 9:201–207 (in Chinese)

Chourrout D (1987) Genetic manipulations in fish: review of methods. In: Tiews K (ed) Proc world Symp on selection, hybridization, and genetic engineering in aquaculture, Bordeaux, may 27–30, 1986. Vol II, Berlin, pp 111–126

Erős T (2000) Population biology of Cobitis elongatoides in a lowland stream of the middle Danube (Hungary). Folia Zool 49(Suppl. 1):151–157

Felip A, Piferrer F, Zanuy S, Carrillo M (2001) Comparative growth performance of diploid and triploid European sea bass over the first four spawning seasons. J Fish Biol 58:76–88

Gallucci VF, Quinn TJ (1979) Reparameterizing, fitting, and testing a simple growth model. T Am Fish Soc 108:14–25

Golubtsov AS, Krysanov EY (1993) Karyological study of some cyprinid species from Ethiopia - the ploidy differences between large and small Barbus of Africa. J Fish Biol 42:445–455

Granado-Lorencio C (1996) Ecología de Peces. Publicaciones de la Universidad de Sevilla, Sevilla

Horie S, Taniura K, Umino T, Nakagawa H, Arai K (2004) Performance of the progeny of natural tetraploid loaches in long-term communal rearing experiments under a laboratory condition. Suisanzoshoku 52:91–98

Huo B, Xie C, Ma B, Yang X, Huang H (2012a) Age and growth of Oxygymnocypris stewartii (Cyprinidae: Schizothoracinae) in the Yarlung Tsangpo River, Tibet, China. Zool Stud 51:185–194

Huo TB, Jiang ZF, Karjan A, Wang ZC, Tang FJ, Yu HX (2012b) Length-weight relationships of 16 fish species from the Tarim River, China. J Appl Ichthyol 28:152–153

Ihssen PE, McKay LR, McMillian I, Phillips RB (1990) Ploidy manipulation and gynogenesis in fishes: cytogenetics and fisheries applications. T Am Fish Soc 119:698–717

Jin G (1999) State of submersed vegetation resources in Lake Liangzi, Lake Niushan and Lake Bao'an. Acta Hydrobiol Sin 23:87–89 (in Chinese)

Juchno D, Boroń A (2006) Comparative histology of the testes of the spined loach Cobitis taenia L. and natural allotetraploids of Cobitis (Pisces, Cobitidae). Hydrobiologia 573:45–53

Juchno D, Boroń A (2010) Fecundity of the spined loach, Cobitis taenia (Pisces, Cobitidae) and natural allopolyploids of Cobitis from a diploid-polyploid population. Folia Zool 59:35–43

Juchno D, Boroń A, Kujawa R, Szlachciak J, Szacherski S, Spoz A, Grabowska A (2013) Comparison of egg and offspring size of karyologically identified spined loach, Cobitis taenia L., and hybrid triploid Cobitis females (Pisces, Cobitidae). Arch Pol Fish 21:293–299

Jullien PE, Berger F (2010) Parental genome dosage imbalance deregulates imprinting in Arabidopsis. PLoS Genet 6(3):e1000885

Kano Y (2000) Age and growth of the Ajime-loach, Niwaella delicata, in the Yura River, Kyoto, Japan. Ichthyol Res 47:183–186

Kitagawa T, Watanabe M, Kitagawa E, Yoshioka M, Kashiwagi M, Okazaki T (2003) Phylogeography and the maternal origin of the tetraploid form of the Japanese spined loach, Cobitis biwae, revealed by mitochondrial DNA analysis. Ichthyol Res 50:318–325

Knaepkens G, Knapen D, Bervoets L, Hanfling B, Verheyen E, Eens M (2002) Genetic diversity and condition factor: a significant relationship in Flemish but not in German populations of the European bullhead (Cottus gobio L.) Heredity (Edinb) 89:280–287

Lagler KF (1956) Freshwater fishery biology, 2nd edn. Brown WC, Dubuque

Le Comber SC, Smith C (2004) Polyploidy in fishes: patterns and processes. Biol J Linn Soc 82:431–442

Lea E (1910) On the method used in the herring investigations. Publications de Circonstance du Conseil International pour l'Explotation de la Mer 53:7–25

Leggatt RA, Iwama GK (2003) Occurrence of polyploidy in the fishes. Rev Fish Biol Fisher 13:237–246

Li K, Li Y, Zhou D (1983) A comparative study of the karyotypes in two species of mud loaches. Zool Res 4:75–81

Li L, Keverne EB, Aparicio SA, Ishino F, Barton SC, Surani MA (1999) Regulation of maternal behavior and offspring growth by paternally expressed Peg3. Science 284:330–333

Li Y, Yin J, Wang J, Yuan X, Wei J, Sun X, Arai K (2008) A study on the distribution of polyploid loach in China. Nippon Suisan Gakk 74:177–182

Li Y, Tian P, Li Y, Yin J, Arai K (2009) Comparison of karyotypes and morphological characteristics in oriental weatherfish with different ploidy from Honghu lake. J Dalian Fish Univ 24:236–241 (in Chinese)

Li Y, Yu Z, Zhang M, Qian C, Abe S, Arai K (2011) The origin of natural tetraploid loach Misgurnus anguillicaudatus (Teleostei: Cobitidae) inferred from meiotic chromosome configurations. Genetica 139:805–811

Liasko R, Koulish A, Pogrebniak A, Papiggioti O, Taranenko L, Leonardos I (2011) Influence of environmental parameters on growth pattern and population structure of Carassius auratus gibelio in eastern Ukraine. Hydrobiologia 658:317–328

Ma BS, Xie CX, Huo B, Yang XF, Huang HP (2010) Age and growth of a long-lived fish Schizothorax o'connori in the Yarlung Tsangpo River, Tibet. Zool Stud 49:749–759

Malison JA, Procarione LS, Held JA, Kayes TB, Amundson CH (1993) The influence of triploidy and heat and hydrostatic pressure shocks on the growth and reproductive development of juvenile yellow perch (Perca flavescens). Aquaculture 116:121–133

Mezhzherin SV, Chudakorova T (2002) Genetic structure of a diploid-polyploid complex of the spined loach Cobitis taenia (Cypriniformes: Cobitidae) from the middle Dnieper bassin. Genetika 38:86–92

Mills CA, Welton JS, Rendle EL (1983) The age, growth and reproduction of the stone loach Noemacheitus barbatulus (L.) in a Dorset chalk stream. Freshw Biol 13:283–292

Minamori S (1951) Hybridization and classification in spinous loaches. Jpn J Ichthyol 1:215–225

Minamori S (1956) Physiological isolation in Cobitidae. IV Speciation of two sympatric races of Lake Biwa of the striated spinous loaches Jpn J Zool 12:89–104

Misra RK (1980) Statistical comparison of several growth curves of the von Bertalanffy type. Can J Fish Aquat Sci 37:920–926

Moreau J, Belaud A, Dauba F, Nelva A (1985) A model for rapid growth evaluation in fishes: the case of the cyprinids of some large French rivers. Hydrobiologia 120:225–227

Morishima K, Horie S, Yamaha E, Arai K (2002) A cryptic clonal line of the loach Misgurnus anguillicaudatus (Teleostei: Cobitidae) evidenced by induced gynogenesis, interspecific hybridization, microsatellite genotyping and multilocus DNA fingerprinting. Zool Sci 19:565–575

Munro JL, Pauly D (1983) A simple method for comparing the growth of fish and invertebrates. Aust Fish 1:5–6

Nagięć M (1993) Informative function of otoliths. Biul Nauk ART, Olsztyn (11) 93: 69-80

Otto SP, Whitton J (2000) Polyploid incidence and evolution. Annu Rev Genet 34:401–437

Pauly D (1984) Fish population dynamics in tropical waters: a manual for use with programmable calculators. ICLARM Stud Rev 8:325

Piferrer F, Beaumont A, Falguière JC, Flajšhans M, Haffray P, Colombo L (2009) Polyploid fish and shellfish: production, biology and applications to aquaculture for performance improvement and genetic containment. Aquaculture 293:125–156

Przybylski M (1996) Variation in fish growth characteristics along a river course. Hydrobiologia 325:39–46

Przybylski M, Valladolid M (2000) Age and growth of Cobitis paludica in the Lozoya River (Central Spain). Folia Zool 49(Suppl. 1):129–143

Purdom CE (1972) Induced polyploidy in plaice (Pleuronectes platessa) and its hybrid with the flounder (Platichthys flesus). Heredity 29:11–24

Qin JG, Fast AW, Ako H (1998) Growth performance of diploid and triploid Chinese catfish Clarias fuscus. Aquaculture 166:247–258

Rab P, Machordom A, Perdices A, Guegan JF (1995) Karyotypes of three «small» Barbus species (Cyprinidae) from Republic of Guinea (western Africa) with a review on karyology of African small Barbus. Caryologia 48:299–307

Rasotto MB (1992) Gonadal differentiation and mode of sexuality in Cobitis taenia (Teleostei; Cobitidae). Copeia 1:223–228

Ribeiro F, Cowx IG, Tiago P, Filipe AF, Moreira Da Costa L, Collares-Pereira MJ (2003) Growth and reproductive traits of diploid and triploid forms of the Squalius alburnoides cyprinid complex in a tributary of the Guadiana River, Portugal. Arch Hydrobiol 156:471–484

Robotham PWJ (1981) Age, growth and reproduction of a population of spined loach, Cobitis taenia (L.) Hydrobiologia 85:129–136

Saitoh K (1989) Asian pond loach. In: Kawanabe H, Mizuno N (eds) Freshwater fishes of Japan. Yamakei, Tokyo, pp 382–385

Saitoh K (1990) Reproductive and habitat isolation between two populations of the striated spined loach. Env Biol Fish 28:237–248

Saitoh K, Matsuda M (1990) An introduction to the spined loaches in the Lake Biwa Basin. Ann Rep Biwako Bunkakan 8:19–23

Saitoh K, Chen WJ, Mayden RL (2010) Extensive hybridization and tetrapolyploidy in spined loach fish. Mol Phylogenet Evol 56:1001–1010

Sanchez-Carmona R, Encina L, Rodriguez-Ruiz A, Rodriguez-Sanchez V (2008) Age, growth and diet of the Iberian loach, Cobitis paludica in two different environments. Folia Zool 57:420–434

Schenck RA, Vrijenhoek RC (1989) Coexistence among sexual and asexual forms of Poeciliopsis: foraging behavior and microhabitat selection. In: Dawley RM, Bogart JP (eds) evolution and ecology of unisexual vertebrates. New York State Museum, Albany 466:39–48

Schneider D, Mustafić P, Mrakovčić M, Mihaljević Z (2000) Some aspects of the biology of the Neretvan spined loach. Folia Zool 49(Suppl.1):159–165

Sezaki K, Kobayasi H (1978) Comparison of erythrocytic size between diploid and tetraploid in spinous loach, Cobitis biwae. Nippon Suisan Gakk 44:851–854

Thorgaard GH (1986) Ploidy manipulation and performance. Aquaculture 57:57–64

Thorgaard GH, Jazwin ME, Stier AR (1981) Polyploidy induced by heat shock in rainbow trout. T Am Fish Soc 110:546–550

Tsoumani M, Liasko R, Moutsaki P, Kagalou I, Leonardos I (2006) Length-weight relationships of an invasive cyprinid fish (Carassius gibelio) from 12 Greek lakes in relation to their trophic states. J Appl Ichthyol 22:281–284

Ueno K, Iwai S, Ojima Y (1980) Karyotypes and geographic distribution in the genus Cobitis (Cobitidae). Bull Jpn Soc Sci Fish 46:9–18

Wang M, Wang WM, Yan JL (2001) Comparative studies of on the age and growth of Misgurnus anguillicaudatus and Paramisgurnus dabryanus. Reserv Fish 21:7–9 (in Chinese)

Wang K, Ling Q, Li Q, Cheng F, Xu H (2009) Primary study on the age and growth of Misgurnus anguillicaudatus and Paramisgurnus dabryanus in the area of Suzhou. J Shanghai Ocean Univ 18:553–558 (in Chinese)

Wang H, Liu C, Yu D (2015) Morphological and reproductive differences among three charophyte species in response to variation in water depth. Aquat Biol 24:91–100

Weatherley A, Gill H (1987) The biology of fish growth. Academic Press, London

Wootton R (1990) Ecology of teleost fish. Chapman and Hall, London

Xiao J, Zou T, Chen Y, Chen L, Liu S, Tao M, Zhang C, Zhao R, Zhou Y, Long Y, You C, Yan J, Liu Y (2011) Coexistence of diploid, triploid and tetraploid crucian carp (Carassius auratus) in natural waters. BMC Genet 12:20

Xie S, Cui Y, Li Z (2001) Small fish communities in two regions of the Liangzi Lake, China, with or without submersed macrophytes. J Appl Ichthyol 17:89–92

Yamazaki F, Goodier J (1993) Cytogenetic effects of hydrostatic pressure treatment to suppress the first cleavage of salmon embryos. Aquaculture 110:51–59

Yang C, Cao L, Wang W, Yang Y, Abbas K, Yan B, Wang H, Li S, Sun Y, Wang H (2009) Comparative and evolutionary analysis in natural diploid and tetraploid weather loach Misgurnus anguillicaudatus based on cytochrome b sequence data in central China. Environ Biol Fish 86:145–153

Yin J, Zhao ZS, Chen XQ, Li YQ, Zhu LY (2005) Karyotype comparison of diploid and tetraploid loach, Misgurnus anguillicanudatus. Acta Hydrob Sin 29:469–472 (in Chinese)

Yu XJ, Zhou T, Li YC, Li K, Zhou M (1989) Chromsomes of Chinese freshwater fishes. Science Press, Beijing (in Chinese)

Yu Y, Abbas K, Wang W, Zhou X (2014) Geographical distribution of ploidy level variation of loach Misgurnus anguillicaudatus in China. Pak J Agri Sci 51:273–281

Yuan F (1986) Studies on the age and growth of loach Misgurnus anguillicaudatus. J Huazhong Agri Univ 5:163-167(in Chinese)

Zanella D, Mrakovčić M, Schneider D, Mustafić P, Ćaleta M, Radić I (2003) Growth of Cobitis narentana Karaman, 1928 in the Neretva River, Croatia. Folia Biol (Krakow) 51(Suppl.):155-157

Zhang A (2008) A scanning electron microscope observation on surface scales of Paramisgurnus dabryanus Sauvage. Sichuan J Zool 27:1052–1061 (in Chinese)

Zhang Q, Arai K (1999) Distribution and reproductive capacity of natural triploid individuals and occurrence of unreduced eggs as a cause of polyploidization in the loach, Migurnus anguillicaudatus. Ichthyol Res 46:153–161

Zhong J, Yi S, Yu Y, Huang S, Shen Y, Guo Q, Wang W (2015) Investigation of Misgurnus anguillicaudatus and Paramisgurnus dabryanus in the Yangtze River basin. J fish China 39:1089-1097(in Chinese)

Zhou XY, Li MY, Abbas K, Gao ZX, Wang WM (2008) Comparison of ploidy level screening methods in Chinese dojo loach (Misgurnus anguillicaudatus). J Appl Ichthyol 24:664–669

Zhou X, Abbas K, Li M, Fang L, Li S, Wang W (2010) Comparative studies on survival and growth performance among diploid, triploid and tetraploid dojo loach Misgurnus anguillicaudatus. Aquacult Int 18:349–359
Acknowledgements
We thank Dongmei Zhu, Jianzhong Shen and Bin Huo for technical support on otolith specimen preparation. The comments of two reviewers improved the manuscript. This study was funded by the National Natural Science Foundation of China (No. 31472267 and No. 31001103) to Xiaoyun Zhou and a Georgia Tech-Zoo Atlanta Collaborative grant to Soojin V. Yi.
Ethics declarations
Conflict of interest
The authors declare that they have no conflict of interest.
Ethical approval
All experimental procedures involving fish were approved by the Animal Care and Use Committee of Huazhong Agricultural University.
About this article
Cite this article
Feng, B., Yi, S.V., Li, R. et al. Comparison of age and growth performance of diploid and tetraploid loach Misgurnus anguillicaudatus in the Yangtze River basin, China. Environ Biol Fish 100, 815–828 (2017). https://doi.org/10.1007/s10641-017-0608-z
Received:

Accepted:

Published:

Issue Date:

DOI: https://doi.org/10.1007/s10641-017-0608-z
Keywords