Abstract
In the European eel (Anguilla anguilla, L.), the steep decline of reproductive silver eels is partly due to disorientation and mortality during their downstream migration, when facing turbines, but also reservoirs and dams. In the Frémur, an obstructed river in Brittany, which is representative of the western coastal hydrosystem of France, five hydrophones were used to study the downstream migration patterns of twenty acoustically-tagged silver eels. Using this acoustic telemetry design, we showed that, despite exceptionally favourable environmental conditions, silver eels experienced important issues to move downstream the river. Indeed, 75 % of eels were delayed and up to 65 % were definitively stopped in their downstream migration. The 14 m high Bois-Joli dam, located at 5 km from the estuary, and its reservoir were the major obstacles to downstream movements. Eels that managed to move downstream only passed over the dam crest, during the night, and under highly favourable environmental conditions: river flow >1.2 m3.s−1 and water level at the dam >28.26 mNGF (Niveau Général de la France; baseline mean sea level for France). Three different downstream migration behaviours were observed: "successful migrants", "uncertain migrants" and "unsuccessful migrants". None of them were related to biological traits, suggesting a behavioural plasticity of silver eels. This study provides useful information to manage eel populations in such water basins that are very likely to be applied to all water reservoirs and dams, which are widespread through the distribution range of European eels.
Access options
Buy single article
Instant access to the full article PDF.
US$ 39.95
Tax calculation will be finalised during checkout.
Subscribe to journal
Immediate online access to all issues from 2019. Subscription will auto renew annually.
US$ 119
Tax calculation will be finalised during checkout.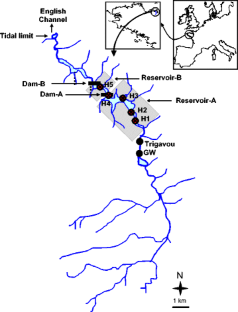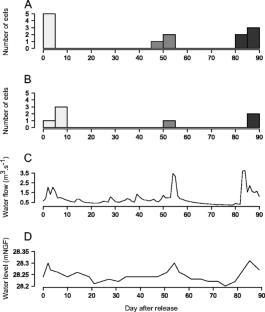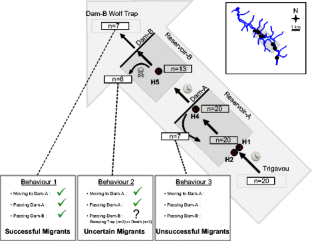 References
Acou A, Boury P, Laffaille P, Crivelli AJ, Feunteun E (2005) Towards a standardized characterization of the potentially migrating silver European eel (Anguilla anguilla, L.). Arch Hydrobiol 164:237–255

Acou A, Robinet TT, Lance E, Gerard C, Mounaix B, Brient L, Le Rouzic B, Feunteun E (2008a) Evidence of silver eels contamination by microcystin-LR at the onset of their seaward migration: what consequences for breeding potential? J Fish Biol 72:753–762

Acou A, Laffaille P, Legault A, Feunteun E (2008b) Migration pattern of silver eel (Anguilla anguilla, L.) in an obstructed river system. Ecol Freshw Fish 17:432–442

Acou A, Rivot E, Van Gils JA, Legault A, Ysnel F, Feunteun E (2011) Habitat carrying capacity is reached for the European eel in a small coastal catchment: evidence and implications for managing eel stocks. Freshw Biol 56:952–968

Akaike H (1974) A new look at the statistical model identification. IEEE Trans Autom Control 19:716–723

Béguer-pon M, Castonguay M, Benchetrit J, Hatin D, Verreault G, Mailhot Y, Tremblay V, Lefaivre D, Legault M, Stanley D, et al. (2014) Large-scale migration patterns of silver American eels from the St. Lawrence River to the Gulf of St. Lawrence using acoustic telemetry. Can J Fish Aquat Sci 14:1579–1592

Behrmann-Godel J, Eckmann R (2003) A preliminary telemetry study of the migration of silver European eel (Anguilla anguilla L.) in the river Mosel, Germany. Ecol Freshw Fish 12:196–202

Boubée JAT, Williams EK (2006) Downstream passage of silver eels at a small hydroelectric facility. Fish Manag Ecol 13:165–176

Boubée JAT, Mitchell CP, Chisnall BL, West DW, Bowman EJ, Haro A (2001) Factors regulating the downstream migration of mature eels (Anguilla spp.) at Aniwhenua Dam, Bay of plenty, New Zealand. N Z J Mar Freshw Res 35:121–134

Brown L, Haro A, Castro-Santos T (2009) Three-dimensional movement of silver-phase American eels in the forebay of a small hydroelectric facility. In: Eels at the edge: science, status, and conservation concerns. American Fisheries Society, Bethesda, pp 277–291

Bruijs MCM, Durif CMF (2009) Silver eel migration and behaviour. In: Spawning Migration of the European Eel: Reproduction Index, a Useful Tool for Conservation Management - Fish & fisheries series. Springer Netherlands, Wageningen, pp 65–95

Bultel E, Lasne E, Acou A, Guillaudeau J, Bertier C, Feunteun E (2014) Migration behaviour of silver eels (Anguilla anguilla) in a large estuary of Western Europe inferred from acoustic telemetry. Estuar Coast Shelf Sci 137:23–31

Calles O, Olsson IC, Comoglio C, Kemp PS, Blunden L, Schmitz M, Greenberg LA (2010) Size-dependent mortality of migratory silver eels at a hydropower plant, and implications for escapement to the sea. Freshw Biol 55:2167–2180

Carr JW, Whoriskey FG (2008) Migration of silver American eels past a hydroelectric dam and through a coastal zone. Fish Manag Ecol 15:393–400

Charrier F, Mazel V, Bonnaire F, Knaebel B, Legault A (2013) Suivi des migrations d'anguilles et évaluation des stocks en place sur le Frémur en 2013. Rapport Fish Pass pour Bretagne Grands Migrateurs

Durif CMF, Elie P, Gosset C, Rives J, Travade F (2002) Behavioral study of downstream migrating eels by radio-telemetry at a small hydroelectric power plant. Am Fish Soc Symp XX:1–14

Durif CMF, Dufour S, Elie P (2005) The silvering process of Anguilla anguilla: a new classification from the yellow resident to the silver migrating stage. J Fish Biol 66:1025–1043

Enders EC (2012) Behavioral responses of migrating fish to environmental changes: Implications to downstream fish passage. In SE 2012 Vienna: 9th International Symposium on Ecohydaulics 2012, p. 5

Feunteun E (2002) Management and restoration of European eel population (Anguilla anguilla): an impossible bargain. Ecol Eng 18:575–591

Feunteun E, Acou A, Laffaille P, Legault A (2000) European eel (Anguilla anguilla): prediction of spawner escapement from continental population parameters. Can. J Aquat Sci 57:1627–1635

Garcia de Leaniz C (2008) Weir removal in salmonid streams: implications, challenges and practicalities. Hydrobiologia 609:83–96

ICES (2007) Report of the 2007 session of the Joint EIFAC / ICES Working Group on Eels (WGEEL), 3–7 September 2007 in Bordeaux, France. EIFAC/ICES WGEEL Rep. 2007 156 pp

ICES (2013). Report of the Joint EIFAAC / ICES Working Group on Eels (WGEEL), 18–22 March 2013 in Sukarietta, Spain, 4–10 September 2013 in Copenhagen, Denmark. ICES C. 2013/ACOM 18, 851 pp

Jansen HM, Winter HV, Bruijs MCM, Polman HJG (2007) Just go with the flow? Route selection and mortality during downstream migration of silver eels in relation to river discharge. ICES J Mar Sci 64:1437–1443

Le Pichon C, Trancart T, Lambert T, Daverat F, Rochard E (2014) Summer habitat use and movements of late juvenile European flounder (Platichthys flesus) in tidal freshwaters: results from an acoustic telemetry study. J Mar Biol Ecol 461:441–448

Legault A, Acou A, Guillouët J, Feunteun E (2003) Suivi de la migration d'avalaison des anguilles par une conduite de débit réservé. Bull Fr Peche Piscic 368:43–54

McCarthy TK, Frankiewicz P, Cullen P, Blaszkowski M, O'Connor W, Doherty D (2008) Long-term effects of hydropower installations and associated river regulation on river Shannon eel populations: mitigation and management. Hydrobiologia 609:109–124

McCullagh P, Nelder JA (1989) Generalized linear models. Chapman Hall, London

Miller MJ, Kimura S, Friedland KD, Knights B, Kim H, Jellyman DJ, Tsukamoto K (2009) Review of ocean-atmospheric factors in the Atlantic and Pacific oceans influencing spawning and recruitment of anguillid eels. Am Fish Soc Symp 69:231–249

Miller MJ, Feunteun E, Tsukamoto K (2016) Did a "perfect storm" of oceanic changes and continental anthropogenic impacts cause northern hemisphere anguillid recruitment reductions? ICES J Mar Sci 73:43–56

Okamura A, Yamada Y, Tanaka S, Horie N, Utoh T, Mikawa N, Akazawa A, Oka HP (2002) Atmospheric depression as the final trigger for the seaward migration of the Japanese eel Anguilla japonica. Mar Biol 234:281–288

Onema (2010) Plan de Gestion Anguille de la France. Application du règlement R(CE) n°1100/2007 du 18 septembre 2007. Volet National. Rapport du Ministère de l'Alimentation, de l'Agriculture et de la Pêche. 120 pp.

Pankhurst NW (1982) Relation of visual changes to the onset of sexual maturation in the European eel Anguilla anguilla (L. J Fish Biol 21:127–140

Piper AT, Wright RM, Walker AM, Kemp PS (2013) Escapement, route choice, barrier passage and entrainment of seaward migrating European eel, Anguilla anguilla, within a highly regulated lowland river. Ecol Eng 57:88–96

Reckordt M, Ubl C, Wagner C, Frankowski J, Dorow M (2013) Downstream migration dynamics of female and male silver eels (Anguilla anguilla L.) in the regulated German lowland Warnow River. Ecol Freshw Fish 23:7–20

Robinet TT, Feunteun E (2002) Sublethal effects of exposure to chemical compounds: a cause for the decline in Atlantic eels? Ecotoxicology 11:265–277

Stein F, Doering-Arjes P, Fladung E, Brämick U, Bendall B, Schröder B (2015) Downstream migration of the European eel (Anguilla anguilla) in the Elbe river, Germany: movement patterns and the potential impact of environmental factors. River Res Appl 32(4):666–676

Sudo R, Tsukamoto K (2015) Migratory restlessness and the role of androgen for increasing behavioral drive in the spawning migration of the Japanese eel. Sci Rep 5:17430

Tesch (2003) The eel. Blackwell Science Ltd., Oxford

Trancart T, Lambert P, Rochard E, Daverat F, Coustillas J, Roqueplo C (2012) Alternative flood tide transport tactics in catadromous species: Anguilla anguilla, Liza ramada and Platichthys flesus. Estuar Coast Shelf Sci 99:191–198

Trancart T, Acou A, De Oliveira E, Feunteun E (2013) Forecasting animal migration using SARIMAX: an efficient means of reducing silver eel mortality caused by turbines. Endanger Species Res 21:181–190

Yoshikawa H, Ishida Y, Ueno S, Mitsuda H (1988) Changes in depth of anesthesia of the carp anesthetized with a constant level of CO2. Nippon Suisan Gakkaishi 54:457–462

Winter, JD (1996). Advances in underwater biotelemetry. pp. 555–590. In: Fisheries Techniques, 2nd Edition. (Murphy, B.R. and D.W. Willis, Eds.). American Fisheries Society, Bethesda, Maryland
Acknowledgments
The study was funded by the Muséum National d'Histoire Naturelle and Fishpass. Surveys at the Pont es Omnes Wolf Trap were funded by Bretagne Grands Migrateurs and operated by both the Cœur Emeraude association and Fishpass. The authors would like to thank the CRESCO lab members for their help and precious advice, and P. Rocher, from IMCCE, for the lunar phase data.
About this article
Cite this article
Besson, M.L., Trancart, T., Acou, A. et al. Disrupted downstream migration behaviour of European silver eels (Anguilla anguilla, L.) in an obstructed river. Environ Biol Fish 99, 779–791 (2016). https://doi.org/10.1007/s10641-016-0522-9
Received:

Accepted:

Published:

Issue Date:
Keywords
Migration delay

Acoustic telemetry

Fragmented river

Dam

European eel