Abstract
The swimming performance of fishes has generally been assessed using a stepped velocity test where the speed at fatigue is considered the critical swimming performance (U crit). Although this test was designed for fishes that swim in the water column, it has been applied to fishes that adhere to the substrate. Here we examined the extent to which substrate holding, slipping and swimming contributed to reaching U crit in an example substrate holding fish, the invasive round goby. A linear model indicated that each behavior contributed significantly to U crit, but that substrate holding was by far the biggest contributor (65.8 ± 3.9 % vs. 5.8 ± 0.9 and 28.4 ± 3.4 % slipping and swimming). We also used our behavioural analysis to determine the critical substrate holding speed (U hold: 28.6 ± 1.1 cm s−1). We conclude that the U crit test can be applied to substrate holding fish but that it is not just an indication of critical swimming speed as is often considered and must be interpreted with caution.
Access options
Buy single article
Instant access to the full article PDF.
US$ 39.95
Tax calculation will be finalised during checkout.
Subscribe to journal
Immediate online access to all issues from 2019. Subscription will auto renew annually.
US$ 119
Tax calculation will be finalised during checkout.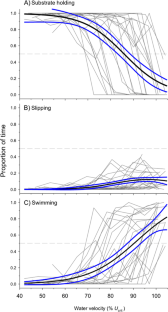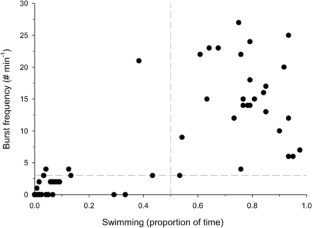 References
Arnold GP, Webb PW, Holford BH (1991) Short communication: the role of the pectoral fins in station-holding of Atlantic salmon parr (Salmo salar L.). J Exp Biol 156:625–629

Beamish FWH (1978) Swimming capacity. In: Hoar WS, Randall DJ (eds) Fish physiology, vol 7. Academic Press Inc., New York, pp. 101–187

Blob RW, Rai R, Julius ML, Schoenfuss HL (2006) Functional diversity in extreme environments: effects of locomotor style and substrate texture on the waterfall-climbing performance of Hawaiian gobiid fishes. J Zool 268:315–324

Blob RW et al. (2007) Ontogenetic change in novel functions: waterfall climbing in adult Hawaiian gobiid fishes. J Zool 273:200–209

Brett JR (1964) The respiratory metabolism and swimming performance of young sockeye salmon. J Fish Res Board Can 21:1183–1226

Charlebois PM, Marsden JE, Goettel RG, Wolfe RK, Jude DJ, Rudnika S (1997) The round goby, Neogobius melanostomus (Pallas), a review of European and North American literature. Illinois-Indiana Sea Grant Program and Illinois Natural History Survey. INHS Special Publication No. 20, Illinois, p 76

Deslauriers D, Kieffer JD (2011) The influence of flume length and group size on swimming performance in shortnose sturgeon Acipenser brevirostrum. J Fish Biol 79:1146–1155

Deslauriers D, Kieffer JD (2012) Swimming performance and behaviour of young-of-the-year shortnose sturgeon (Acipenser brevirostrum) under fixed and increased velocity swimming tests. Can J Zool 90:345–351

Duthie GG (1982) The respiratory metabolism of temperature-adapted flatfish at rest and during swimming activity and the use of anaerobic metabolism at moderate swimming speeds. J Exp Biol 97:359–373

Farrell AP (2008) Comparisons of swimming performance in rainbow trout using constant acceleration and critical swimming speed tests. J Fish Biol 72:693–710

Grömping U (2006) Relative importance for linear regression in R: the package relaimpo. J Stat Soft 17:1–27

Hammer CH (1995) Fatigue and exercise tests with fish. Comp Bioch Physiol 112A:1–20

Hoover JJ, Adams SR, Killgore KJ (2003) Can hydraulic barriers stop the spread of the round goby? U.S. Army Corps of Engineers, U.S. Army Engineer Research and Development Center (ERDC), Vicksburg, MS., p 1–8

Jude DJ, Reider RH, Smith GR (1992) Establishment of Gobiidae in the Great-Lakes basin. Can J Fish Aquat Sci 49:416–421

Keenleyside MHA, Yamamoto FT (1962) Territorial behaviour of juvenile Atlantic salmon (Salmo salar L.). Behaviour 19:139–169

Kieffer JD (2010) Perspective - exercise in fish: 50+ years and going strong. Comp Biochem Physiol 156A:163–168

MacNutt MJ et al. (2006) Temperature effects on swimming performance, energetics, and aerobic capacities of mature adult pink salmon (Oncorhynchus gorbuscha) compared with those of sockeye salmon (Oncorhynchus nerka). Can J Zool 84:88–97

Nelson JA, Gotwalt PS, Reidy SP, Webber DM (2002) Beyond Ucrit: matching swimming performance tests to the physiological ecology of the animal, including a new fish 'drag strip'. Comp Biochem Physiol 133A:289–302

Peake SJ (2008) Gait transition speed as an alternate measure of maximum aerobic capacity in fishes. J Fish Biol 72:645–655

Peake SJ, Farrell AP (2006) Fatigue is a behavioural response in respirometer confined smallmouth bass. J Fish Biol 68:1742–1755

Plaut I (2001) Critical swimming speed: its ecological relevance. Comp Biochem Physiol 131A:41–50

Priede IG, Holliday FGT (1980) The use of a new tilting tunnel respirometer to investigate some aspects of metabolism and swimming activity of the plaice (Pleuronectes platessa L.). J Exp Biol 85:295–309

R Core Team (2013) R: a language and environment for statistical computing. R Foundation for Statistical Computing, Vienna

Ralph AL, Berli BI, Burkhardt-Holm P, Tierney KB (2012) Variability in swimming performance and underlying physiology in rainbow trout (Oncorhynchus mykiss) and brown trout (Salmo trutta). Comp Biochem Physiol 163A:350–356

Schoenfuss HL, Blob RW (2003) Kinematics of waterfall climbing in Hawaiian freshwater fishes (Gobiidae): vertical propulsion at the aquatic–terrestrial interface. J Zool 261:191–205

Tierney K, Kasurak A, Zielinski B, Higgs D (2011) Swimming performance and invasion potential of the round goby. Environ Biol Fish 92:491–502

Tudorache C, Viaenen P, Blust R, de Boeck G (2007) Longer flumes increase critical swimming speeds by increasing burst-glide swimming duration in carp Cyprinus carpio, L. J Fish Biol 71:1630–1638

Young JAM, Marentette JR, Gross C, McDonald JI, Verma A, Marsh-Rollo SE, Macdonald PDM, Earn DJD, Balshine S (2010) Demography and substrate affinity of the round goby (Neogobius melanostomus) in Hamilton harbour. J Great Lakes Res 36:115–122
Acknowledgments
We thank Marc St. Pierre of the University of Windsor Science Technical shop for his outstanding craftsmanship of the swim tunnel respirometer. This study was funded by NSERC grants to KBT and DMH.
About this article
Cite this article
Gilbert, M.J.H., Barbarich, J.M., Casselman, M. et al. The role of substrate holding in achieving critical swimming speeds: a case study using the invasive round goby (Neogobius melanostomus). Environ Biol Fish 99, 793–799 (2016). https://doi.org/10.1007/s10641-016-0514-9
Received:

Accepted:

Published:

Issue Date:
Keywords
Swimming performance

U crit

Substrate holding

Gobiidae