Abstract
Development on Grand Bahama in the Bahamian Archipelago during the 1950's to 1970's resulted in substantial changes to the island's geography. Hawksbill Creek, which potentially served as a natural migration route for fish from the north side to the south side of the island, was severed and replaced by a man-made canal called the Grand Lucayan Waterway (GLW). Bonefish (Albula spp.), a sport-fish that contributes more than $141 million to the Bahamian economy annually, is one such species that may have been affected. The purpose of this study was to determine contemporary movement corridors of adult bonefish during their spawning season (October to May) in Grand Bahamian waters. This was accomplished by using a passive acoustic telemetry array of 17 receivers and 30 transmitter-implanted individuals. A total of 26,108 detections were logged from 20 of the fish. Eight bonefish tagged on the north side used the GLW to access waters on the south, whereas no transmitter-implanted fish tagged on the south side fully traversed the man-made canal, suggesting that primary spawning areas may be located on the south side of the island. This result is consistent with previous reports that bonefish spawn near deep water which is easier to access on the south side of Grand Bahama. Further supporting this finding, two other bonefish tagged on the north side forayed around the east end of the island and were detected on receivers approximately 88 km from their tagging locations. Additionally, two other bonefish tagged on the north side were detected at the west end of the island, with one individual continuing its movements along the south side of the island for an approximate straight-line distance of 80 km. Canal use typically corresponded to days immediately prior to or after new or full moons, indicating that movements were related to spawning. This study suggests that despite historical habitat modifications, bonefish today use the GLW as a movement corridor for migrations during spawning season, emphasizing the importance of protecting the canal from any activities that could impede connectivity.
Access options
Buy single article
Instant access to the full article PDF.
USD 39.95
Price excludes VAT (USA)
Tax calculation will be finalised during checkout.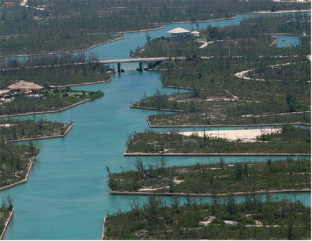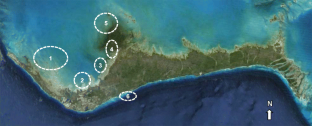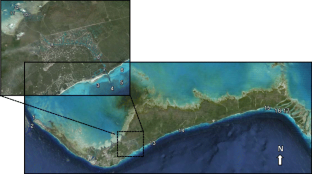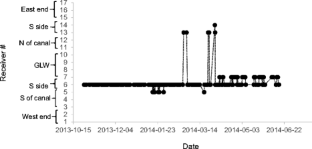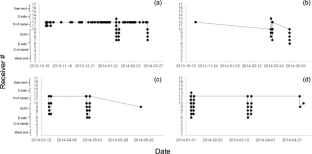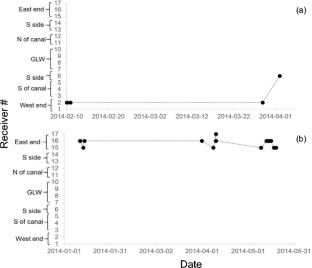 References
Adams AJ, Hordysky AZ, McBride RS, MacDonald TC, Shenker J, Guindon K, Harwell HD, Ward R, Carpenter K (2013) Conservation status and research needs for tarpons (Megalopidae), ladyfishes (Elopidae), and bonefishes (Albulidae). Fish Fish 15:280–311

Alongi DM (2002) Present state and future of the world's mangrove forests. Environ Conserv 29:331–349

Ault JS (2008) Biology and management of the world tarpon and bonefish fisheries. CRC Press, Boca Raton

Barratt P (2002) Grand Bahama – A rich and colourful history, 3rd edn. IM Publishing, Freeport

Buchan KC (2000) The Bahamas. Marine Poll Bull 41:94–111

Coleman FC, Koenig CC, Collins LA (1996) Reproductive styles of shallow-water grouper (Pisces:Serranidae) in the eastern Gulf of Mexico and the consequences of fishing spawning aggregations. Environ Biol Fish 47:129–141

Colton DE, Alevizon WS (1983) Movement patterns of the bonefish (Albula vulpes) in Bahamian waters. Fish Bull 81:148–154

Danylchuk AJ, Cooke SJ, Goldberg TL, Suski CD, Murchie KJ, Danylchuk SE, Shultz A, Haak CR, Brooks E, Oronti A, Koppleman JB, Philipp DP (2011) Aggregations and offshore movements as indicators of spawning activity of bonefish (Albula vulpes) in The Bahamas. Mar Biol 158:1981–1999

Dingle H, Drake A (2007) What is migration? Bioscience 57:113–121

Doherty PJ, Williams DM, Sale PF (1985) The adaptive significance of larval dispersal in coral reef fishes. Environ Biol Fish 12:81–90

Domeier ML, Colin RL (1997) Tropical reef fish spawning aggregations: defined and reviewed. Bull Mar Sci 60:698–726

Dupuch SP (1971) Bahamas handbook and businessman's annual 1971–72. Etienne Dupuch Jr publications, Nassau

Engstrom NA (1984) Depth limitation of a tropical intertidal xanthid crab, Cataleptodius floridanus, and a shallow-water majid, Pitho aculeate: results of a cagingexperiment. J Crustac Biol 4:55–62

Faunce CH, Serafy JE (2006) Mangroves as fish habitat: 50 years of field studies. Mar Ecol Prog 318:1–18

Fedler A (2010) The economic impact of flats fishing in The Bahamas. Report to the Everglades Foundation. 16 p

Feller IC, Lovelock CE, Berger U, McKee KL, Joye SB, Ball MC (2010) Biocomplexity in mangrove ecosystems. Ann Rev Mar Sci 2:395–417

Halpern BS, Walbridge S, Selkoe KA, Kappel CV, Micheli F, D'Agrosa C, Watson R (2008) A global map of human impact on marine ecosystems. Science 319:948–952

Heupel MR, Semmens JM, Hobday AJ (2006) Automated acoustic tracking of aquatic animals: scales, design and deployment of listening station arrays. Mar Freshw Res 57:1–13

Johannes RE, Yeeting B (2000) I-Kiribati knowledge and management of Tarawa's lagoon resources. Atoll Res Bull 498:1–24

Lapointe NWR, Thiem JD, Doka SE, Cooke SJ (2013) Opportunities for improving aquatic restoration science and monitoring through the use of animal electronic-tagging technology. Bioscience 63:390–396

Lotze HK, Lenihan HS, Bourque BJ, Bradbury RG, Cooke RG et al (2006) Depletion, degradation, and recovery potential of estuaries and coastal seas. Science 312:1806–1809

McElroy JL, de Albuquerque K (1998) Tourism penetration index in small Caribbean islands. Ann Tour Res 25:145–168

Murchie KJ, Cooke SJ, Danylchuk AJ, Danylchuk SE, Goldberg TL, Suski CD, Philipp DP (2013) Movement patterns of bonefish (Albula vulpes) in tidal creeks and coastal waters of Eleuthera, The Bahamas. Fish Res 147:404–412

Musick JA, Harbin MM, Berkeley SA, Burgess GH, Eklund AM, Findley L, Gilmore RG, Golden JT, Ha DS, Huntsman GR, McGovern JC, Parker SJ, Poss SG, Sala E, Schmidt TW, Sedberry GR, Weeks H, Wright SG (2000) Marine, estuarine, and diadromous fish stocks at risk of extinction in North America (exclusive of Pacific salmonids). Fisheries 25:6–30

Nagelkerken I, Blaber SJM, Bouillon S, Green P, Haywood M, Kirton LG, Somerfield PJ (2008) The habitat function of mangroves for terrestrial and marine fauna: a review. Aquat Bot 89:155–185

Polidoro BA, Carpenter KE, Collins L, Duke NC, Ellison AM et al (2010) The loss of species: mangrove extinction risk and geographic areas of global concern. PLoS ONE 5(4), e10095. doi:10.1371/journal.pone.0010095

Ricklefs RE (1976) The economy of nature. Chiron Press, Portland

Roberts CM, Hawkins JP (1999) Extinction risk in the sea. Trends Ecol Evol 14:241–246

Sala E, Aburto-Oropeza O, Paredes G, Thompson G (2003) Spawning aggregations and reproductive behavior of reef fishes in the Gulf of California. Bull Mar Sci 72:103–121

Sullivan Sealy K, Brunnick B, Harzen S, Luton C, Nero V, Flowers L (2002) An ecoregional plan for the Bahamian archipelago. Taras Oceanographic Foundation, Jupiter

US Army Corps of Engineers (2004) Water resources assessment of The Bahamas. US Army Corps of Engineers, Mobile District and Topographic Engineering Center, December 2004, 114 pp

Wagner GN, Cooke SJ, Brown RS, Deters KA (2011) Surgical implantation techniques for electronic tags in fish. Rev Fish Biol Fish 21:71–81
Acknowledgments
We gratefully acknowledge the significant contribution of effort from the guides of h2obonefishing - without their expertise and assistance this study would not have been possible. Leroy Robinson, Colleen and Larry Lewis, Malcom Goodman, and Kelly Hannan provided logistical support. Godfrey Waugh, Keith Cooper, Levette Morris, Edith Gibson, and Christopher Bull provided assistance with historical accounts of Grand Bahama. The Fisheries Conservation Foundation, Cape Eleuthera Institute, The University of Illinois at Urbana-Champaign, The Bahamas Department of Marine Resources, and The Bahamas National Trust are also acknowledged for their support of the study. Cooke is supported by the Canada Research Chairs Program, Bonefish and Tarpon Trust and the Natural Sciences and Engineering Research Council of Canada. All methods used in this study were in accordance with the policies of the Canadian Council on Animal Care as administered by the Carleton University Animal Care Committee (Protocol B10-06).
About this article
Cite this article
Murchie, K.J., Shultz, A.D., Stein, J.A. et al. Defining adult bonefish (Albula vulpes) movement corridors around Grand Bahama in the Bahamian Archipelago. Environ Biol Fish 98, 2203–2212 (2015). https://doi.org/10.1007/s10641-015-0422-4
Received:

Accepted:

Published:

Issue Date:

DOI: https://doi.org/10.1007/s10641-015-0422-4
Keywords
Bonefish

Acoustic telemetry

Pre-spawning aggregations