Abstract
Space use and movement patterns are largely influenced by an animal's size, habitat connectivity, reproductive mode, and foraging behaviours; and are important in defining the broader population biology and ecology of an organism. Acoustic telemetry was used to investigate the home range, habitat use and relative movement patterns of an estuarine dependant sparid (Acanthopagrus australis, Günther). Ten fish were internally tagged with acoustic transmitters and manually tracked in a riverine estuary for four, 3-day periods. Positional data was converted into a relative index of fish movement (Minimum Activity Index, MAI), and also used to estimate kernel density distributions which approximated areas of core and total space use for each fish. Space use for A. australis was not related to fish size; although movement of each fish (MAI) increased with fish length and a reduction in water conductivity. The distance between tagged fish and mangrove habitat was correlated with time-of-day and tide level with yellowfin bream moving closer to mangroves during the daytime and on high tides. Fish movements, residency and site fidelity revealed the nature of decision-making for fish, and the conservation value of small patches of estuarine habitats.
This is a preview of subscription content, log in to check access.
Access options
Buy single article
Instant access to the full article PDF.
US$ 39.95
Tax calculation will be finalised during checkout.
Subscribe to journal
Immediate online access to all issues from 2019. Subscription will auto renew annually.
US$ 119
Tax calculation will be finalised during checkout.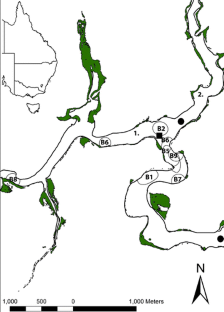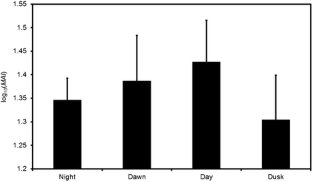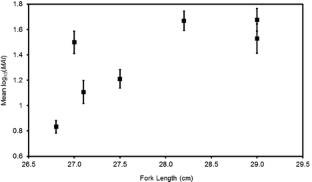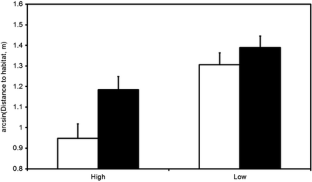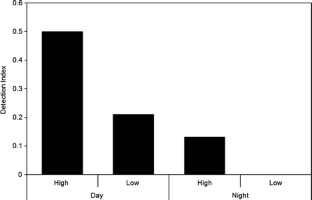 References
Bainbridge R (1958) The speed of swimming of fish as related to size and to the frequency and amplitude of the tail beat. J Exp Biol 35:109–133

Barker D, Allan GL, Rowland SJ, Kennedy JD, Pickles JM (2009) A guide to acceptable proceedures and practices for aquaculture and fisheries research, 3rd edn. Primary Industries (Fisheries) Animal Care and Ethics Committee, Nelson Bay, p 52

Benfield MC, Minello TJ (1996) Relative effects of turbidity and light intensity on reactive distance and feeding of an estuarine fish. Environ Biol Fish 46:211–216

Broadhurst MK, Butcher PA, Brand CP, Porter M (2007) Ingestion and ejection of hooks: effects on long-term health and mortality of angler-caught yellowfin bream Acanthopagrus australis. Dis Aquat Org 74:27–35

Childs AR, Cowley PD, Næsje TF, Booth AJ, Potts WM, Thorstad EB, Økland F (2008) Do environmental factors influence the movement of estuarine fish? A case study using acoustic telemetry. Estuar Coast Shelf Sci 78:227–236

Cooke SJ, Hinch SG, Wikelski M, Andrews RD, Kuchel LJ, Wolcott TG, Butler PJ (2004) Biotelemetry: a mechanistic approach to ecology. Trends Ecol Evol 19:334–343

Cooke SJ, Woodley CM, Eppard MB, Brown RS, Nielsen JL (2011) Advancing the surgical implantation of electronic tags in fish: a gap analysis and research agenda based on a review of trends in intracoelomic tagging effects studies. Rev Fish Biol Fish 21:127–151

Creese RG, Glasby TM, West G, Gallen C (2009) Mapping the estuarine habitats of NSW. NSW Fisheries Final Report Series No 113. Port Stephens Fisheries Institute, p 94

Dittmann S (2001) Abundance and distribution of small infauna in mangroves of Missionary Bay, North Queensland, Australia. Rev Biol Trop 49:535–544

Drucker EG (1996) The use of gait transition speed in comparative studies of fish locomotion. Am Zool 36:555–566

Elliott M, Quintino V (2007) The estuarine quality paradox, environmental homeostasis and the difficulty of detecting anthropogenic stress in naturally stressed areas. Mar Pollut Bull 54:640–645

Elliott M, Whitfield AK, Potter IC, Blaber SJ, Cyrus DP, Nordlie FG, Harrison TD (2007) The guild approach to categorizing estuarine fish assemblages: a global review. Fish Fish 8:241–268

Eyre B (1998) Transport, retention and transformation of material in Australian estuaries. Estuaries 21:540–551

Eyre B, Twigg C (1997) Nutrient behaviour during post-flood recovery of the Richmond River Estuary Northern NSW, Australia. Estuar Coast Shelf Sci 44:311–326

Geyer WR, Farmer DM (1989) Tide-induced variation of the dynamics of a salt wedge estuary. J Phys Oceanogr 19:1060–1072

Gillson J, Scandol J, Suthers I (2009) Estuarine gillnet fishery catch rates decline during drought in eastern Australia. Fish Res 99:26–37

Glencross BD, Felsing M (2006) Influence of fish size and water temperature on the metabolic demand for oxygen by barramundi, Lates calcarifer (Bloch), in freshwater. Aquacult Res 37:1055–1062

Hettler W (1976) Influence of temperature and salinity on routine metabolic rate and growth of young Atlantic menhaden. J Fish Biol 8:55–65

Heupel M, Semmens J, Hobday A (2006) Automated acoustic tracking of aquatic animals: scales, design and deployment of listening station arrays. Mar Freshw Res 57:1–13

Honda K, Nakamura Y, Nakaoka M, Uy WH, Fortes MD (2013) Habitat use by fishes in coral reefs, seagrass beds and mangrove habitats in the Philippines. PLoS ONE 8:e65735

Kailola PJ, Williams MJ, Stewart PC, Reichelt RE, McNee A, Grieve C (1992) Australian Fisheries Resources. Fisheries Research and Development Corporation, Canberra, 422 p

Laegdsgaard P, Johnson C (2001) Why do juvenile fish utilise mangrove habitats? J Exp Mar Biol Ecol 257:229–253

Lotze HK, Lenihan HS, Bourque BJ, Bradbury RH, Cooke RG, Kay MC, Kidwell SM, Kirby MX, Peterson CH, Jackson JBC (2006) Depletion, degradation, and recovery potential of estuaries and coastal seas. Science 312:1806–1809

Meynecke J-O, Poole GC, Werry J, Lee SY (2008) Use of PIT tag and underwater video recording in assessing estuarine fish movement in a high intertidal mangrove and salt marsh creek. Estuar Coast Shelf Sci 79:168–178

Mittelbach GG (1981) Foraging efficiency and body size: a study of optimal diet and habitat use by bluegills. Ecology 62:1370–1386

Momtaz S, Gladstone W (2008) Ban on commercial fishing in the estuarine waters of New South Wales, Australia: community consultation and social impacts. Environ Impact Assess Rev 28:214–225

Ochwada F, Loneragan NR, Gray CA, Suthers IM, Taylor MD (2009) Complexity affects habitat preference and predation mortality in postlarval Penaeus plebejus: implications for stock enhancement. Mar Ecol Prog Ser 380:161–171

Payne NL, Gillanders BM, Webber DM, Semmens JM (2010) Interpreting diel activity patterns from acoustic telemetry: the need for controls. Mar Ecol Prog Ser 419:295–301

Payne NL et al (2013) Rain reverses diel activity rhythms in an estuarine teleost. Proc R Soc Ser B - Biol Sci 280:20122363. doi:10.1098/rspb.2012.2363

Payne NL, Taylor MD, Watanabe Y, Semmens JM (2014) From physiology to physics: what can biotelemetry tell us about aquatic animals? J Exp Biol 217:317–322

Pease B, Bell J, Burchmore J, Middleton M, Pollard D (1981) The ecology of fish in Botany Bay: Biology of commercially and recreationally valuble species. In: Commission SPC (ed). Sydney. p 287

Pinheiro J, Bates D, DebRoy S, Sarkar D, R Development Core Team (2012) nlme: Linear and Nonlinear Mixed Effects Models. R package version 3.1.

Pollock B (1982a) Movements and migrations of yellowfin bream, Acanthopagrus australis (Günther), in Moreton Bay, Queensland as determined by tag recoveries. J Fish Biol 20:245–252

Pollock B (1982b) Spawning period and growth of yellowfin bream, Acanthopagrus australis (Günther), in Moreton Bay, Australia. J Fish Biol 21:349–355

Pollock B (1984) Relations between migration, reproduction and nutrition in yellowfin bream Acanthopagrus australis. Mar Ecol Prog Ser 19:17–23

Pollock B, Weng H, Morton R (1983) The seasonal occurrence of postlarval stages of yellowfin bream, Acanthopagrus australis (Gunther), and some factors affecting their movement into an estuary. J Fish Biol 22:409–415

Roberts DG, Ayre DJ (2010) Panmictic population structure in the migratory marine sparid Acanthopagrus australis despite its close association with estuaries. Mar Ecol Prog Ser 412:223–230

Robertson A (1988) Abundance, diet and predators of juvenile banana prawns, Penaeus merguiensis, in a tropical mangrove estuary. Mar Freshw Res 39:467–478

Rowling K, Hegarty AMI (2010) Status of Fisheries Resources in NSW 2008/09. Industry and Investment, Cronulla, p 392

Roy PS, Williams RJ, Jones AR, Yassini I, Gibbs PJ, Coates B, West RJ, Scanes PR, Hudson JP, Nichol S (2001) Structure and function of south-east Australian estuaries. Estuar Coast Shelf Sci 53:351–384

Saintilan N (2004) Relationships between estuarine geomorphology, wetland extent and fish landings in New South Wales estuaries. Estuar Coast Shelf Sci 61:591–601

Schulte PM (2014) What is environmental stress? Insights from fish living in a variable environment. J Exp Biol 217:23–34

Silverman BW (1986) Density Estimation for Statistics and Data Analysis. Chapman and Hall, New York, 22 p

Skilleter GA, Olds A, Loneragan NR, Zharikov Y (2005) The value of patches of intertidal seagrass to prawns depends on their proximity to mangroves. Mar Biol 147:353–365

Taylor MD, Ko A (2011) Monitoring acoustically tagged king prawns Penaeus (Melicertus) plebejus in an estuarine lagoon. Mar Biol 158:835–844

Taylor MD, Laffan SD, Fielder D, Suthers IM (2006) Key habitat and home range of mulloway Argyrosomus japonicus in a south-east Australian estuary: finding the estuarine niche to optimise stocking. Mar Ecol Prog Ser 328:237–247

Taylor MD, McPhan L, van der Meulen DE, Gray CA, Payne NL (2013) Interactive drivers of activity in a free-ranging estuarine predator. PLoS ONE 8:e80962

Venables WN, Ripley BD (2002) Modern Applied Statistics with S, 4th edn. Springer, New York

Walsh C, Reinfelds I, Ives M, Gray CA, West RJ, van der Meulen DE (2013) Environmental influences on the spatial ecology and spawning behaviour of an estuarine-resident fish Macquaria colonorum. Estuar Coast Shelf Sci 118:60–71

Warren JH, Underwood A (1986) Effects of burrowing crabs on the topography of mangrove swamps in New South Wales. J Exp Mar Biol Ecol 102:223–235

Watanabe YY et al (2011) Scaling of swim speed in breath‐hold divers. J Anim Ecol 80:57–68

Whitfield AK, Adams JB, Bate GC, Bezuidenhout K, Bornman TG, Cowley PD, Froneman PW, Gama PT, James NC, Mackenzie B, Riddin T, Snow GC, Strydom NA, Taljaard S, Terörde AI, Theron AK, Turpie JK, van Niekerk L, Vorwerk PD, Wooldridge TH (2008) A multidisciplinary study of a small, temporarily open/closed South African estuary, with particular emphasis on the influence of mouth state on the ecology of the system. Afr J Mar Sci 30:453–473

Zagars M, Ikejima K, Arai N, Mitamura H, Ichikawa K, Yokota T, Tongnunui P (2012) Migration patterns of juvenile Lutjanus argentimaculatus in a mangrove estuary in Trang province, Thailand, as revealed by ultrasonic telemetry. Environ Biol Fish 94:377–388
Acknowledgements
We wish to thank all volunteers for assistance with fieldwork, particularly B. Harris, T. Marzullo, A. Pursche, G. Cadiou, C. Foster-Thorpe, A. Van-Neer and C. Setio. The authors wish to acknowledge the Australian Research Council and the NSW Recreational Fishing Saltwater Trust for providing resources for this project. Research was permitted under University of NSW Animal Research Permit 10/15B.
About this article
Cite this article
Gannon, R., Payne, N.L., Suthers, I.M. et al. Fine-scale movements, site fidelity and habitat use of an estuarine dependent sparid. Environ Biol Fish 98, 1599–1608 (2015). https://doi.org/10.1007/s10641-015-0385-5
Received:

Accepted:

Published:

Issue Date:
Keywords
Fish ecology

Movements

Foraging

Site fidelity

Estuary

Mangrove

Acoustic telemetry