Abstract
This study provides fundamental information on some key aspects of the reproductive traits of Aphanius ginaonis, an Iranian endemic, poorly studied cyprinodontid fish species. Samples were taken monthly, from March 2010 to February 2011, from Geno hot spring (Bandar Abbas, Iran). The smallest sexually mature male and female individuals measured 21.1 and 15.1 mm and massed 0.15 and 0.06 g, respectively. The overall sex ratio (females/males) found to be 1.18. Monthly sex ratios suggested no significant differences, although females demonstrated significantly higher abundances than males at larger length classes. Gonadosomatic index and ovary condition suggested that species reproductive period lasts all year. Oocyte diameter ranged from 0.30 to 2.20 mm, with a mean of 1.15 ± 0.49 mm. Monthly mean oocyte diameter were not significantly different, ranging from 0.99 (in February) to 1.22 mm (in December). Size composition analysis of oocyte diameter showed that females contained mature oocytes (>1.1 mm) throughout year. Absolute fecundity of A. ginaonis ranged from 36 to 832 oocytes per individual (mean: 341 ± 209 oocytes), varying considerably at given length and mass. Relative fecundity to total length fluctuated from 12 to 169 oocytes/mm (mean: 78 ± 41 oocytes/mm) while relative fecundity to total mass varied from 61–526 oocytes/g (mean: 213 ± 106 oocytes/g). A. ginaonis is an asynchronous, iteroparous spawner producing more than one oocyte clutch in a single reproductive season.
This is a preview of subscription content, log in to check access.
Access options
Buy single article
Instant access to the full article PDF.
US$ 39.95
Price includes VAT for USA
Subscribe to journal
Immediate online access to all issues from 2019. Subscription will auto renew annually.
US$ 199
This is the net price. Taxes to be calculated in checkout.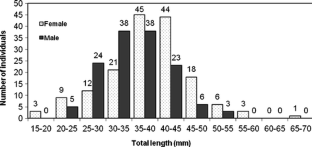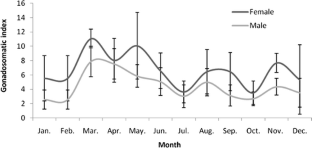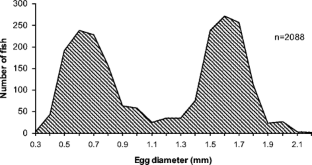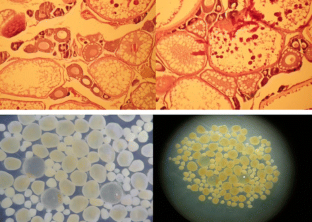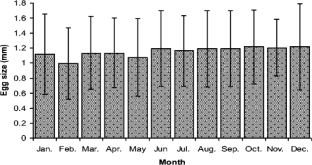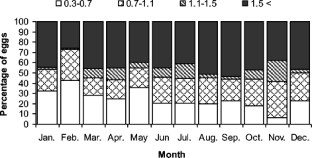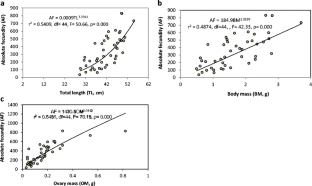 References
Alavi-Yeganeh MS, Seyfabadi SJ, Keivany Y, Kazemi P, Wallis GP (2011) Length- weight relationships in some populations and species of Iranian toothcarps. J Appl Ichthyol 27:1401–1403. doi:10.1111/j.1439-0426.2011.01782.x

Caddy JF, Mahon R (1995) Reference points for fisheries management. FAO Fisheries Technical Paper. No. 347. Rome, FAO.

Cao L, Song B, Zha J, Yang C, Gong X, Li J, Wang W (2009) Age composition, growth, and reproductive biology of yellow catfish (Peltobagrus fulvidraco, Bagridae) in Ce Lake of Hubei Province, Central China. Environ Biol Fish 86:75–88. doi:10.1007/s10641-008-9342-x

Coad BW (1980) A re-description of Aphanius ginaonis (Holly, 1929) from southern Iran (Osteichthyes: Cyprinodontiformes). J Nat Hist 14:33–40. doi:10.1080/00222938000770031

Coad BW (1998) Threatened fishes of the world: Lebias ginaonis (Holly, 1929) (Cyprinodontidae). Environ Biol Fish 51:284. doi:10.1007/s10641-009-9549-5

El-Haweet AA (1991) Biological studies of some Cichlid species in Lake Borollus. Dissertation, University of Alexandria

El-Shazly A (1993) Biological studies on four cichlid fishes (Tilapia nilotica, Tilapia galilae, Tilapia zillii, Tilapia aurea). Dissertation, University of Zagazig

Esmaeili HR, Ebrahimi M (2006) Length–weight relationships of some freshwater fishes of Iran. J Appl Ichthyol 22:328–329. doi:10.1111/j.1439-0426.2006.00653.x

Esmaeili HR, Shiva H (2006) Reproductive biology of the Persian Tooth-carp, Aphanius persicus (Jenkins, 1910) (Cyprinodontidae), in southern Iran. Zool Middle East 37:39–46. doi:10.1080/09397140.2006.10638147

Fernandez-Delgado C, Hernando JA, Herrera M, Bellido M (1988) Age, growth and reproduction of Aphanius iberus (Cuv. & Val., 1846) in the lower reaches of the Guadalquivir River South-West Spain. Freshw Biol 20:227–234. doi:10.1111/j.1365-2427.1988.tb00446.x

Golmoradizadeh E, Kamrani E, Sajjadi MM (2011) Life history traits of Aphanius ginaonis Holly, 1929 (Cyprinodontidae) and potential risks of extinction in the Geno hot spring (Iran) population. J Appl Ichthyol 28(1):1–3. doi:10.1111/j.1439-0426.2011.01868.x

Güçlü SS, Kucuk F (2011) Reproductive biology of Aphanius mento (Heckel in: Russegger, 1843) (Osteichthyes: Cyprinodontidae) in Kirkgoz spring (Antalya-Turkey). Turk J Fish Aquat Sci 11:323–327. doi:10.4194/trjfas.2011.0217

Güçlü SS, Kucuk F (2012) Population structure of Killifish, Aphanius anatoliae (Cyprinodontidae) endemic to Anatolia in Lake Eğirdir-Isparta (Turkey). JIFRO 11(4):786–795

Hotosa GN, Avramidoua D, Ondrias I (2000) Reproduction biology of Liza aurata (Risso, 1810), (Pisces Mugilidae) in the lagoon of Klisova (Messolonghi, W. Greece). Fish Res 47:57–67. doi:10.1016/S0165-7836(99)00128-9

Hrbek T, Meyer A (2003) Closing of the Tethys Sea and the phylogeny of Eurasian killifishes (Cyprinodontiformes: Cyprinodontidae). J Evol Biol 16(1):17–36. doi:10.1046/j.1420-9101.2003.00475.x

Hubbs C, Strawn K (1957) The effects of light and temperature on the fecundity of the greenthroat darter, Etheostoma lepidum. esa. Ecology 38:596–602. doi:10.2307/1943125

Hubbs C, Stevenson MM, Peden AE (1968) Fecundity and egg size in two central Texas darter populations. Southwest Nat 13(30):1–323. doi:10.2307/3669223

Hunter JR, Macewicz BJ, Lo NCH, Kimbrell CA (1992) Fecundity, spawning, and maturity of female Dover sole, Microstomus pacificus, with an evaluation of assumptions and precision. Fish Bull 90(1):101–128

Kamal S, Bakhtiyari M, Abdoli A, Eagderi S, Karami M (2009) Life-history variations of killifish (Aphanius sophiae) populations in two environmentally different habitats in central Iran. J Appl Ichthyol 25:474–478. doi:10.1111/j.1439-0426.2009.01242.x

Keivany Y, Soofiani NM (2004) Contribution to the biology of Zagros tooth-carp, Aphanius vladykovi (Cyprinodontidae) in central Iran. Environ Biol Fish 71:165–169. doi:10.1007/s10641-004-0106-y

Leonardos I, Sinis A (1998) Reproductive strategy of Aphanius fasciatus Nardo, 1827 (Pisces: Cyprinodontidae) in the Mesolongi and Etolikon lagoons (W. Greece). Fish Res 35:171–181. doi:10.1016/S0165-7836(98)00082-4

Li Y, Xie S, Li Z, Gong W, He W (2007) Gonad development of an anadromous fish Coilia ectenes (Engraulidae) in lower reach of Yangtze River, China. Fish Sci 73:1224–1230. doi:10.1111/j.1444-2906.2007.01459.x

Maitland P (2001) Guide to freshwater fish of Britain and Europe. Hamlyn, London

Murua H, Karus G, Saborido-Ray F, Witthames PR (2003) Procedures to estimate fecundity of marine fish species in relation to their reproductive strategy. J Northwest Atl Fish Sci 33:33–54

Negassa A, Getahun A (2003) Breeding Season, length-weight relationship and condition factor of introduced fish, Tilapia zillii Gervais 1948 (Pisces: Cichlidae) in Lake Zwai, Ethiopia. SINET Ethiop J Sci 26:115–122

Negassa A, Padanillay CP (2008) Abundance, food habits, and breeding season of exotic Tilapia zillii and native Oreochromis niloticus L. fish species in Lake Zwai, Ethiopia Mj. Int J Sci Technol 02(02):345–360

Pan BS, Yeh WT (1993) Biochemical and morphological changes in grass shrimp (Penaeus monodon) muscle following freezing by air blast and liquid nitrogen methods. J Food Biochem 17:147–160. doi:10.1111/j.1745-4514.1993.tb00464.x

Phillips AE (1994) Studies on the biology of two Tilapia species in Lake Edku. Dissertation, Alexandria University

Reichenbacher B, Kamrani E, Esmaeili HR, Teimori A (2009) The endangered cyprinodont Aphanius ginaonis (Holly, 1929) from southern Iran is a valid species: evidence from otolith morphology. Environ Biol Fish 86:507–521. doi:10.1007/s10641-009-9549-5

Schenck JR, Whiteside BG (1977) Reproduction, fecundity, sexual dimorphism and sex ratio of Etheostoma fonticola (Osteichthyes: Percidae). Am Midl Nat 98(2):365–375

Teimori A (2013) The evolutionary history and taxonomy of Aphanius (Teleostei: Cyprinodontidae) species in Iran and the Persian Gulf region. Dissertation, University of München

Wildekamp RH (1993) A world of killies: Atlas of the oviparous cyprinodontiform fishes of the world. Volume 1. The genera Adamas, Adinia, Aphanius, Aphyoplatys and Aphyosemion. Amer. Killifish Assoc., Mishawaka. 311 pp

Zhang J, Takita T, Zhang C (2009) Reproductive biology of Ilisha elongata (Teleostei: Pristigasteridae) in Ariake Sound, Japan: implications for estuarine fish conservation in Asia. Estuar Coast Shelf Sci 81:105–113. doi:10.1016/j.ecss.2008.10.013

Winemiller KO, Rose KA (1992) Patterns of life-history diversification in North American fishes: implications for population regulation. Can J Fish Aquat Sci 49:2196–2218. doi:10.1139/f92-242
Acknowledgments
This research was conducted with the approval of environmental protection office of geno hot spring, Bandar Abbas, Iran. We would like to thank A. Bagheri and S. Okhdad from Islamic Azad University, Bandar Abbas branch for her valuable help to use of laboratory facilities and Parshan for his help with the sampling. Special thanks to H. H. Larson for editing our manuscript.
About this article
Cite this article
Zare, P., Naderi, M. & Asghari, S. Reproductive biology of the Geno hot spring tooth-carp (Aphanius ginaonis Holly, 1929) in southern Iran. Environ Biol Fish 98, 1365–1371 (2015). https://doi.org/10.1007/s10641-014-0364-2
Keywords
Aphanius ginaonis

Spawning period

Oocyte size

Reproductive strategy

Fecundity