Abstract
Alternative reproductive tactics are powerful examples of how variation in genetics and physiology among individuals can lead to striking diversity in phenotype. In the swordtails (genus Xiphophorus), copy number variation (CNV) at the melanocortin 4 receptor (mc4r) locus is correlated with male body size, which in turn is correlated with male mating behavior. We measured the relationship between mc4r CNV, behavior, and 11-ketotesterone (11-KT) in X. multilineatus to determine whether mc4r CNV was associated with other components of male tactics in addition to body size. We confirmed the results of previous studies, showing that male size increases with mc4r CNV and that mating behavior toward females was size-dependent. We also examined agonistic behavior by exposing males to their mirror image and found that male-male displays behavior were size-dependent. Small males were less likely to exhibit an agonistic response, suggesting that alternative reproductive tactics span intrasexual and intersexual contexts. There was no significant association between mc4r CNV and behavior or 11-KT hormone titer. Mc4r CNV is thus associated with the variation in male body size, but not with other traits independent of body size.
This is a preview of subscription content, log in to check access.
Access options
Buy single article
Instant access to the full article PDF.
US$ 39.95
Price includes VAT for USA
Subscribe to journal
Immediate online access to all issues from 2019. Subscription will auto renew annually.
US$ 199
This is the net price. Taxes to be calculated in checkout.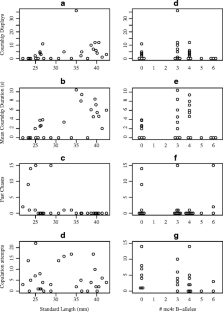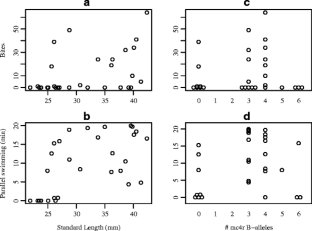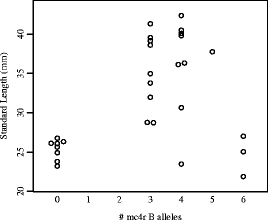 References
Adkins-Regan E (2012) Hormonal organization and activation: evolutionary implications and questions. Gen Comp Endocrin 176:29–285

Bass AH, Forlano PM (2008) Neuroendocrine mechanisms of alternative reproductive tactics: the chemical language of reproductive and social plasticity. In: Oliveira RF, Brockmann HJ, Taborsky M (eds) Alternative reproductive tactics: an integrative approach. Cambridge University Press, Cambridge, pp 109–131

Bass AH, Grober MS (2001) Social and neural modulation of sexual plasticity in teleost fish. Brain Beh Evol 57:293–300

Benjamini Y, Hochberg Y (1995) Controlling the false discovery rate: a practical and powerful approach to multiple testing. J Roy Stat Soc B 57:289–300

Borg B (1994) Androgens in teleost fishes. Comp Biochem Phys Part C 109:219–245

Briffa M, Sneddon LU (2007) Physiological constraints on contest behavior. Funct Ecol 21:627–637

Brockmann HJ, Taborsky M (2008) Alternative reproductive tactics and the evolution of alternative allocation phenotypes. In: Oliveira RF, Taborsky M, Brockmann HJ (eds) Alternative reproductive tactics: an integrative approach. Cambridge University Press, Cambridge, pp 25–51

Cade WH (1981) Alternative male strategies: genetic differences in crickets. Science 212:563–564

Dijkstra PD, Wiegertjes GF, Forlenza M, van der Sluijs I, Hofmann HA, Metcalfe NB, Groothuis TGG (2011) The role of physiology in the divergence of two incipient cichlid species. J Evol Biol 24:2639–2652

Emlen DJ (2008) The role of genes and the environment in the expression and evolution of animal alternative tactics. In: Oliveira R, Taborsky M, Brockmann HJ (eds) Alternative reproductive tactics: an integrative approach. Cambridge University Press, Cambridge, pp 85–108

Gabor CR, Grober MS (2010) A potential role of male and female androgen in species recognition in a unisexual-bisexual mating complex. Horm Behav 57:427–433

Gantz I, Fong TM (2003) The melanocortin system. Am J Physiol Endocrinol Metab 284:E468–E474

Halpern-Sebold LR, Schreibman MD, Margolis-Nung H (1986) Differences between early and late maturing genotypes of the platyfish (Xiphophorus maculatus) in the morphometry of their immunoreactive luteinizing hormone releasing hormone - containing cells: a development study. J Exp Zool 240:245–257

Hews DK, Moore MC (1996) A critical period for the organization of alternative male phenotypes of tree lizards by exogenous testosterone? Phys Beh 60:425–429

Hews DK, Knapp R, Moore MC (1994) Early exposure to androgens affects adult expression of alternative male types in tree lizards. Horm Beh 28:96–115

Hofmann HA (2006) GnRH signaling in behavioral plasticity. Curr Opin Neurobiol 16:343–350

Kallman KD (1984) A new look at sex determination in Poeciliid fishes. In: Turner BJ (ed) Evolutionary genetics of fishes. Plenum Pub. Co, New York, pp 95–171

Kallman KD (1989) Genetic control of size at maturity in Xiphophorus. In: Meffe GK, Snelson FF (eds) Ecology and evolution of livebearing fishes (Poeciliidae). Drentra Hall, New Jersey, pp 163–184

Kidd CE, Kidd MR, Hofmann HA (2010) Measuring multiple hormones from a single water sample using enzyme immunoassays. Gen Comp Endocrin 165:277–285

Knapp R (2003) Endocrine mediation of vertebrate male alternative reproductive tactics: the next generation of studies. Integr Comp Biol 43:658–668

Knell RJ (2009) Population density and the evolution of male aggression. J Zool 278:83–90

Lampert KP, Schmidt C, Fischer P, Volff JN, Hoffmann C, Muck J, Lohse MJ, Ryan MJ, Schartl M (2010) Determination of onset of sexual maturation and mating behavior by melanocortin receptor 4 polymorphisms. Curr Biol 20:1729–1734

Lank DB, Smith CM, Hanotte O, Burke T, Cooke F (1995) Genetic polymorphism for alternative mating-behavior in lekking male ruff Philomachus pugnax. Nature 378:59–62

Lank DB, Farrell LL, Burke T et al (2013) A dominant allele controls development into female mimic male and diminutive female ruffs. Biol Lett 9(6):20130653. doi:10.1098/rsbl.2013.0653

Miles DB, Sinervo B, Hazard LC, Svensson EI, Costa D (2007) Relating endocrinology, physiology and behavior using species with alternative mating strategies. Funct Ecol 21:653–665

Mills SC, Hazard L, Lancaster L et al (2008) Gonadotropin hormone modulation of testosterone, immune function, performance, and behavioral trade‐offs among male morphs of the lizard Uta stansburiana. Am Nat 171:339–357

Moore MC (1991) Application of organization-activation theory to alternative male reproductive strategies: a review. Horm Beh 25:154–179

Moore MC, Hews DK, Knapp R (1998) Hormonal control and evolution of alternative male phenotypes: generalizations of models for sexual differentiation. Am Zool 38:133–151

Moretz JA, Morris MR (2003) Evolutionarily labile responses to a signal of aggressive intent. Proc Roy Soc B 270:2271–2277

Morgan T (2009) Hormonal regulation of alternative reproductive strategies. M.S., University of Alaska Fairbanks

Morris MR, Gass L, Ryan MJ (1995a) Assessment and individual recognition of opponents in the pygmy swordtails Xiphophorus nigrensis and X. multilineatus. Behav Ecol Sociobiol 37:303–310

Morris MR, Mussel M, Ryan MJ (1995b) Vertical bars on male Xiphophorus multilineatus - a signal that deters rival males and attracts females. Behav Ecol 6:274–279

Nakagawa S, Schielzeth H (2010) Repeatability for Gaussian and non‐Gaussian data: a practical guide for biologists. Biol Rev 85:935–956

Oliveira RF, Taborsky M, Brockmann HJ (2008a) Alternative reproductive tactics: an integrative approach, 1st edn. Cambridge University Press, Cambridge

Oliveira RF, Canario AVM, Ros AFH (2008b) Hormones and alternative reproductive tactics in vertebrates. In: Oliveira RF, Taborsky M, Brockmann HJ (eds) Alternative reproductive tactics: an integrative approach. Cambridge University Press, Cambridge, pp 132–174

R Core Development Team (2011) R: A Language and Environment for Statistical Computing. Vienna, Austria: R Foundation for Statistical Computing. ISBN 3-900051-07-0.[http://www.R-project.org]

Ramsey ME, Wong RY, Cummings ME (2011) Estradiol, reproductive cycle and preference behavior in a northern swordtail. Gen Comp Endocrin 170:381–390

Rauchenberger M, Kallman KD, Morizot DC (1990) Monophyly and geography of the Río Pánuco basin swordtails (genus Xiphophorus) with descriptions of four new species. Am Mus Novit 2975:1–41

Ryan MJ, Causey BJ (1989) Alternative mating behavior in the swordtails Xiphophorus nigrensis and Xiphophorus pygmaeus (Pisces: Poeciliidae). Behav Ecol Sociobiol 24:341–348

Ryan MJ, Rosenthal GG (2011) Variation and selection in swordtails. In: Dugatkin LA (ed) Model systems in behavioral ecology: integrating conceptual, theoretical and empirical approaches. Princeton University Press, New Jersey, pp 133–148

Ryan MJ, Hews DK, Wagner WE (1990) Sexual selection on alleles that determine body size in the swordtail Xiphophorus nigrensis. Behav Ecol Sociobiol 26:231–238

Schreibman MP, Margolis-Nunno H, Halpern-Sebold LR, Goos HJT, Perlman PW (1986) The influence of androgen administration on the structure and function of the brain-pituitary-gonad axis of sexually immature platyfish, Xiphophorus maculatus. Cell Tissue Res 245:519–524

Scott AP, Ellis T (2007) Measurement of fish steroids in water—a review. Gen Comp Endocrin 153:392–400

Scott AP, Hirschenhauser K, Bender N, Oliveira R, Earley RL, Sebire M, Ellis T, Pavlidis M, Hubbard PC, Huertas M, Canario A (2008) Non-invasive measurement of steroids in fish-holding water: important considerations when applying the procedure to behavior studies. Behavior 145:1307–1328

Sessa AK, Harris RM, Hofmann HA (2013) Sex steroid hormones modulate responses to social challenge and opportunity in males of the monogamous convict cichlid, Amatitliana nigrofasciata. Gen Comp Endocr 189:59–65

Shuster SM, Wade MJ (1991) Equal mating success among male reproductive strategies in a marine isopod. Nature 350:608–610

Sinervo B, Lively CM (1996) The rock-paper-scissors game and the evolution of alternative male strategies. Nature 380:240–243

Sinervo B, Miles DB, Frankino WA, Klukowski M, DeNardo DF (2000) Testosterone, endurance, and Darwinian fitness: natural and sexual selection on the physiological bases of alternative male behaviors in side-blotched lizards. Horm Beh 38:222–233

Smith CC, Ryan MJ (2010) Evolution of sperm quality but not quantity in the internally fertilized fish Xiphophorus nigrensis. J Evol Biol 23:1759–1771

Taborsky M (1998) Sperm competition in fish: "bourgeois" males and parasitic spawning. Trends Ecol Evol 13:222–227

Taborsky M (2001) The evolution of bourgeois, parasitic, and cooperative reproductive behaviors in fishes. J Hered 92:100–110

Van der Ploeg LHT, Martin WJ, Howard AD et al (2002) A role for the melanocortin 4 receptor in sexual function. PNAS 99:11381–11386

Zamudio K, Sinervo B (2000) Polygyny, mate-guarding, and posthumous fertilization as alternative male mating strategies. PNAS 97:14427–14432

Zimmerer EJ, Kallman KD (1988) The inheritance of vertical barring (aggression and appeasement signals) in the pygmy swordtail, Xiphophorus nigrensis (Poeciliidae, Teleostei). Copeia 299–307

Zimmerer EJ, Kallman KD (1989) Genetic basis for alternative reproductive tactics in the pygmy swordtail, Xiphophorus nigrensis. Evolution 43:1298–1307
Acknowledgments
Ben Inbar and Rebecca Haning helped with the video analysis, processing the water samples and field work. Funding came from the Alfred P. Sloan Foundation Fellowship and a Dwight W. and Blanche Faye Reeder Centennial Fellowship in Systematic and Evolutionary Biology to HAH; by the Deutsche Forschungsgemeinschaft through SFB 487 to MS, and a Clark Hubbs Regents Professorship to MJR. Collecting permits were obtained from Secretaria Pesca of the government of Mexico (DGOPA.11319.031107.-4933). Fish maintenance and experiments were approved by the Institutional Animal Care and Use Committee at The University of Texas at Austin.
Electronic supplementary material
Below is the link to the electronic supplementary material.
The probability of parallel swimming (a) or biting (b) as a function of male standard length. Filled dots in (a) indicate males that parallel swam for less than 46 s. All other males parallel swam for at least 5 min during the 20-min trial (see Fig. 1a). The logistic regression equation for (a) was y = 1.59×−40.16, and for (b) y = 0.11×−3.49. (PDF 39 kb)
About this article
Cite this article
Smith, C.C., Harris, R.M., Lampert, K.P. et al. Copy number variation in the melanocortin 4 receptor gene and alternative reproductive tactics the swordtail Xiphophorus multilineatus . Environ Biol Fish 98, 23–33 (2015). https://doi.org/10.1007/s10641-014-0234-y
Received:

Accepted:

Published:

Issue Date:
Keywords
11-ketotestosterone

Alternative reproductive tactics

Copy number variation

Melanocortin 4 receptor

P-gene

Xiphophorus