Abstract
Understanding how spatial ecology varies between life stages, and whether there is an overlap of critical areas (e.g., nursery areas, breeding sites), may provide significant benefits to conservation planning. The present work examined the space use and residency of shark-like batoids (families Rhynchobatidae and Rhinobatidae) in a nearshore system. An array of 63 acoustic receivers deployed in Cleveland Bay, north Queensland, Australia, passively tracked 15 G. typus and 20 Rhynchobatus spp. between 2009 and 2011. Glaucostegus typus were monitored between 1 and 766 days (mean = 333 ± 69 days) and were present in the site from 1 to 198 days (mean 73 ± 25 days). Both adult male and female G. typus exhibited philopatric behaviour patterns, leaving the bay and returning after periods of about 9–12 months to use the same areas where they were detected in previous years. Individuals with lower residency had larger activity spaces. Rhynchobatus spp. were monitored for 1 to 707 days (mean = 231 ± 50 days) and were present in the site from 1 to 350 days (mean 82 ± 24 days). Rhynchobatus spp. exhibited no synchronicity in use of the bay. Both G. typus male and female residency changed with size of individuals, in comparison size had no effect on the residency of Rhynchobatus spp. The present study improves our understanding of shark-like batoid spatial ecology in nearshore waters and may provide useful information for the management of these populations.
Access options
Buy single article
Instant access to the full article PDF.
USD 39.95
Price includes VAT (USA)
Tax calculation will be finalised during checkout.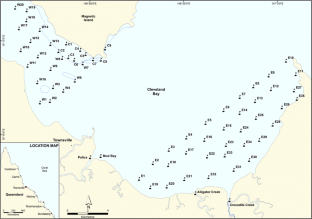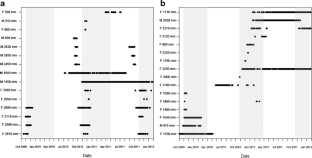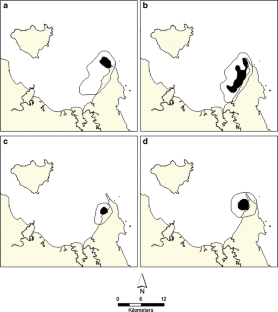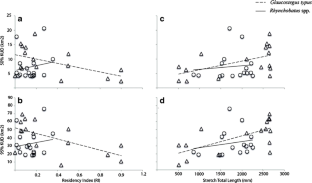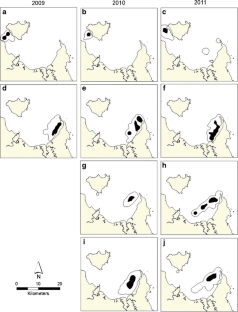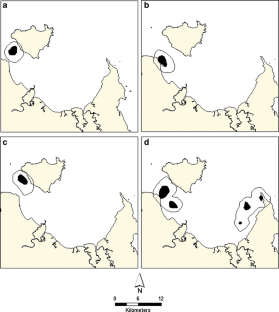 References
Calenge C (2006) The package "adehabitat" for the R software: a tool for the analysis of space and habitat use by animals. Ecol Model 197:516–519

Carlson J, Heupel M, Bethea D, Hollensead L (2008) Coastal habitat use and residency of juvenile atlantic sharpnose sharks (Rhizoprionodon terraenovae). Estuar Coast 31(5):931–940. doi:10.1007/s12237-008-9075-2

Cartamil DP, Vaudo JJ, Lowe CG, Wetherbee BM, Holland K (2003) Diel movement patterns of the Hawaiian stingray, Dasyatis lata: implications for ecological interactions between sympatric elasmobranch species. Mar Biol 142:841–847

Collins AB, Heupel MR, Motta PJ (2007) Residence and movement patterns of cownose rays Rhinoptera bonasus within a south-west Florida estuary. J Fish Biol 71:1159–1178

Conrath CL, Musick JA (2010) Residency, space use and movement patterns of juvenile sandbar sharks (Carcharhinus plumbeus) within a Virginia summer nursery area. Mar Freshw Res 61:223–235

DeAngelis BM, McCandless CT, Kohler NE, Recksiek CW, Skomal GB (2008) First characterization of shark nursery habitat in the United States Virgin Islands: evidence of habitat partitioning by two species. Mar Ecol Prog Ser 358:257–271

Farrugia TJ, Espinoza E, Lowe CG (2011) Abundance, habitat use and movement patterns of the shovelnose guitarfish (Rhinobatus productus) in a restored southern California estuary. Mar Freshw Res 62:648–657

Heupel MR, Webber DM (2012) Trends in fish tracking: where are the fish going and how will we follow them? Am Fish Soc Symp 76:219–231

Heupel MR, Semmens JM, Hobday AJ (2006) Automated acoustic tracking of aquatic animals: scales, design and deployment of listening station arrays. Mar Freshw Res 57:1–13

Heupel MR, Carlson JK, Simpfendorfer CA (2007) Shark nursery areas: concepts, definition, characterization and assumptions. Mar Ecol Prog Ser 337:287–297

Heupel MR, Simpfendorfer CA, Fitzpatrick R (2010) Large-scale movement and reef fidelity of grey reef sharks. PLoS ONE 5(3):e9650

Hueter RE, Heupel MR, Heist KJ, Kneey DB (2005) Evidence of philopatry in sharks and implications for the management of shark fisheries. J Northwest Atl Fish Sci 35:239–247

Knip DM, Heupel MR, Simpfendorfer CA (2010) Sharks in nearshore environments: models importance, and consequences. Mar Ecol Prog Ser 402:1–11

Knip DM, Heupel MR, Simpfendorfer CA, Tobin A, Moloney J (2011a) Ontogenetic shifts in movement and habitat use of juvenile pigeye sharks Carcharhinus amboinensis in a tropical nearshore region. Mar Ecol Prog Ser 425:233–246

Knip DM, Heupel MR, Simpfendorfer CA, Tobin A, Moloney J (2011b) Wet-season effects on the distribution of juvenile pigeye sharks, Carcharhinus amboinensis, in tropical nearshore waters. Mar Freshw Res 62:658–667

Knip DM, Heupel MR, Simpfendorfer CA (2012a) To roam or to home: site fidelity in a tropical coastal shark. Mar Biol 159:1647–1657

Knip DM, Heupel MR, Simpfendorfer CA (2012b) Habitat use and spatial segregation of adult spottail sharks Carcharhinus sorrah in tropical nearshore waters. J Fish Biol 80(4):767–784

Last PR, Stevens J (2009) Sharks and rays of Australia vol 2. CSIRO Publishing, Melbourne

Marquez-Farias JF (2005) Gillnet mesh selectivity for the shovelnose guitarfish (Rhinobatos productus) from fishery-dependent data in the artisanal ray fishery of the Gulf of California, Mexico. J Northwest Atl Fish Sci 35:443–452

Matern SA, Cech JJ, Hopkins TE (2004) Diel movements of bat rays, Myliobatis californica, in Tomales Bay, California: evidence for behavioral thermoregulation? Environ Biol Fishes 58:173–182

Pikitch EK, Chapman DD, Babcock EA, Shivji M (2005) Habitat use and demogaphic population structure of elasmobranchs at a Caribbean atoll (Glovers Reef, Belize). Mar Ecol Prog Ser 302:187–197

Salazar-Hermoso F, Villavicencio-Garayzar C (1999) Relative abundance of the shovelnose guitarfish Rhinobatos productus (Ayres, 1856) (Pisces: Rhinobatidae) in Bahia Almejas, Baja California Sur, from 1991 to 1995. Cienc Mar 25:401–422

Salini J, Pillans R, Ovenden J, Buckworth R, Gribble N, McAuley R, Stevens J (2007) Northern Australian sharks and rays: the sustainability of target and bycatch species, phase 2. FRDC Project: 2002/064. CSIRO Marine and Atmospheric Research, Cleveland, Australia.

Simpfendorfer CA, Milward NE (1993) Utilisation of a tropical bay as a nursery area by sharks of the Families Carcharhinidae and Sphyrnidae. Environ Biol Fish 37(4):337–345

Simpfendorfer CA, Heupel MR, Hueter RE (2002) Estimation of short-term centers of activity from an array of omnidirectional hydrophones and its use in studying animal movements. Can J Fish Aquat Sci 59:23–32

Simpfendorfer CA, Wiley TR, Yeiser BG (2010) Improving conservation planning for an endangered sawfish using data from acoustic telemetry. Biol Conserv 143(6):1460–1469

Simpfendorfer CA, Heupel MR, White WT, Dulvy NK (2011a) The importance of research and public opinion to conservation management of sharks and rays: a synthesis. Mar Freshw Res 62:518–527

Simpfendorfer CA, Yeiser BG, Wiley TR, Poulakis GR, Stevens PW, Heupel MR (2011b) Environmental influences on the spatial ecology of juvenile smalltooth sawfish (Pristis pectinata): results from acoustic monitoring. PLoS ONE 6(2):e16918

Sims DW (2003) Tractable models for testing theories about natural strategies: foraging behaviour and habitat selection of free-ranging sharks. J Fish Biol 63:53–73

Speed CW, Field IC, Meekan MG, Bradshaw CJA (2010) Complexities of coastal shark movements and their implications for management. Mar Ecol Prog Ser 408:275–293

Talent JG (1985) The occurrence, seasonal distribution and reproductive condition of elasmobranch fishes in Elkhorn Slough, California. Calif Fish Game 71:210–219

Team RDC (2009) R: a language and environment for statistical computing. R Foundation for Statistical Computing, Vienna

U.N. (2012) Convention concerning the protection of the world cultural and natural heritage. United Nations Educational. Scientific and Cultural Organization, Saint-Petersburg, Russian Federation.

Vaudo JJ, Heithaus MR (2009) Spatiotemporal variability in a sandflat elasmobranch fauna in Shark Bay, Australia. Mar Biol 156:2579–2590

Vaudo JJ, Heithaus MR (2012) Diel and seasonal variation in the use of a nearshore sandflat by a ray community in a near pristine system. Mar Freshw Res 63(11):1077–1084. doi:10.1071/MF11226

Vaudo JJ, Lowe CG (2006) Movement patterns of the round stingray Urobatis halleri (Cooper) near a thermal outfall. J Fish Biol 68(6):1756–1766

Voegeli FA, Smale MJ, Webber DM, Andrade Y, O'Dor RK (2001) Ultrasonic telemetry, tracking and automated monitoring technology for sharks. Environ Biol Fishes 60:267–281

Wetheree BM, Gruber SH, Rosa RS (2007) Movement patterns of juvenile lemon sharks Negaprion brevirostris within Atol das Rocas, Brazil: a nursery characterized by tidal extremes. Mar Ecol Prog Ser 343:283–293

White WT, McAuley R (2003) Rhinobatos typus In: IUCN 2012. IUCN red list of threatened species. Version 2012.1. http://www.iucnredlist.org. Downloaded on 09 January 2012.

White WT, Potter IC (2004) Habitat partitioning among four elasmobranch species in near shore, shallow waters of a subtropical embayment in Western Australia. Mar Biol 145(5):1023–1032

White J, Heupel MR, Simpfendorfer CA, Tobin AJ (2013) Shark-like batoids in Pacific fisheries: prevalence and conservation concerns. ESR 19(3):277–284. doi:10.3354/esr00473

Whitty JM, Morgan DL, Peverell S, Thorburn DC, Beatty SJ (2009) Ontogenetic depth partitioning by juvenile freshwater sawfish (Pristis microdon; Pristidae) in a riverine environment. Mar Freshw Res 60:306–316

Yates PM, Heupel MR, Tobin A, Simpfendorfer CA (2012) Diversity in young shark habitats provides the potential for portfolio effects. Mar Ecol Prog Ser 458:269–281
Acknowledgments
We thank the staff and students of the Centre for Sustainable Tropical Fisheries and Aquaculture, including A. Chin, F. De Faria, A. Schlaff, O. Li, A. Harry and all volunteers for assistance with this project. Funding for this research was provided by the Australian Research Council (ARC) and Great Barrier Reef Marine Park Authority (GBRMPA) awarded to M.R. Heupel and C.A. Simpfendorfer. Additional research funding was granted to J. White from Sea World Research and Rescue Foundation (SWRRFI), James Cook University (JCU) School of Earth and Environmental Sciences (SEES). J. White was also supported by a JCU Postgraduate Research Scholarship and Smart State Futures Stipend. All research activities were conducted under GBRMPA permit # G09/29895.1 and Queensland Department of Primary Industries and Fisheries permit #90911. Treatment of all animals was conducted under ethical guidelines approved by JCU animal ethics #A1566. Spatial data was provided by the Commonwealth of Australia (Great Barrier Reef Marine Park Authority) 2010.
About this article
Cite this article
White, J., Simpfendorfer, C.A., Tobin, A.J. et al. Spatial ecology of shark-like batoids in a large coastal embayment. Environ Biol Fish 97, 773–786 (2014). https://doi.org/10.1007/s10641-013-0178-7
Received:

Accepted:

Published:

Issue Date:
Keywords
Rhynchobatus
Glaucostegus typus

Activity space

Residency

Philopatry

Acoustic monitoring