Abstract
We report in situ behavioural observations of presettlement schooling in Priacanthus tayenus off Coral Bay, Western Australia collected using pelagic Baited Remote Underwater stereo-Video systems. Two groups of fish (8 and 9 individuals) were observed that aggregated into a single school. Mean total length was 24.1 mm (12.5–30.2 mm). The fish swam at a mean speed of 8.5 cm s−1 in a group spacing themselves more or less evenly at a distance of around one body length from the nearest neighbour within the school. P. tayenus appeared to be sometimes associated with juveniles of other species. The results presented here add to the limited, but growing body of literature on the schooling behaviour of the early pelagic stages of demersal fishes.
Access options
Buy single article
Instant access to the full article PDF.
US$ 39.95
Tax calculation will be finalised during checkout.
Subscribe to journal
Immediate online access to all issues from 2019. Subscription will auto renew annually.
US$ 119
Tax calculation will be finalised during checkout.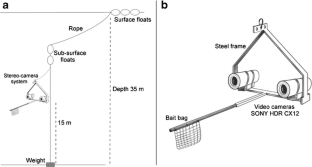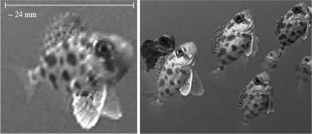 References
Breitburg DL (1991) Settlement patterns and presettlement behaviour of the naked goby, Gobiosoma bosci, a temperate oyster reef fish. Mar Biol 109(2):213–221. doi:10.1007/bf01319389

Caldwell DK (1962) Development and distribution of the short bigeye Pseudopriacanthus altus (Gill) in the western North Atlantic. US Dep Inter Fish Bull 203:1–150

Caldwell DK, Bullis HR (1971) Unusually large aggregation of prejuvenile bigeyes, Priacanthus arenatus, in West Indies. Copeia (1):176

Harvey ES, Shortis M (1995) A system for stereo-video measurement of sub-tidal organisms. Mar Technol Soc J 29(4):10–22

Harvey E, Fletcher D, Shortis M (2001a) A comparison of the precision and accuracy of estimates of reef-fish lengths determined visually by divers with estimates produced by a stereo-video system. Fish Bull 99(1):63–71

Harvey E, Fletcher D, Shortis M (2001b) Improving the statistical power of length estimates of reef fish: a comparison of estimates determined visually by divers with estimates produced by a stereo-video system. Fish Bull 99(1):72–80

Harvey E, Fletcher D, Shortis M (2002) Estimation of reef fish length by divers and by stereo-video—a first comparison of the accuracy and precision in the field on living fish under operational conditions. Fish Res 57(3):255–265

Harvey ES, Fletcher D, Shortis MR, Kendrick GA (2004) A comparison of underwater visual distance estimates made by scuba divers and a stereo-video system: implications for underwater visual census of reef fish abundance. Mar Freshw Res 55(6):573–580. doi:10.1071/mf03130

Harvey ES, Goetze J, McLaren B, Langlois T, Shortis MR (2010) Influence of range, angle of view, image resolution and image compression on underwater stereo-video measurements: high-definition and broadcast-resolution video cameras compared. Mar Technol Soc J 44(1):75–85

Harvey ES, Butler JJ, McLean DL, Shand J (2012) Contrasting habitat use of diurnal and nocturnal fish assemblages in temperate Western Australia. J Exp Mar Biol Ecol 426:78–86. doi:10.1016/j.jembe.2012.05.019

Heagney EC, Lynch TP, Babcock RC, Suthers IM (2007) Pelagic fish assemblages assessed using mid-water baited video: standardising fish counts using bait plume size. Mar Ecol Prog Ser 350:255–266. doi:10.3354/meps07193

Kingsford MJ, Tricklebank KA (1991) Ontogeny and behavior of Aldrichetta forsteri (TELEOSTEI, MUGILIDAE). Copeia 1:9–16

Leis JM (2006) Are larvae of demersal fishes plankton or nekton? In: Southward AJ, Sims DW (eds) Advances in marine biology, vol 51. Academic Press Ltd-Elsevier Science Ltd, London, pp 57–141. doi:10.1016/s0065-2881(06)51002-8

Leis JM (2010) Ontogeny of behaviour in larvae of marine demersal fishes. Ichthyol Res 57(4):325–342. doi:10.1007/s10228-010-0177-z

Leis JM, Carson-Ewart BM (1998) Complex behaviour by coral-reef fish larvae in open-water and near-reef pelagic environments. Environ Biol Fish 53(3):259–266. doi:10.1023/a:1007424719764

Leis JM, Sweatman HPA, Reader SE (1996) What the pelagic stages of coral reef fishes are doing out in blue water: daytime field observations of larval behavioural capabilities. Mar Freshw Res 47(2):401–411. doi:10.1071/mf9960401

Lester RJG, Watson RA (1985) Growth, mortality, parasitism, and potential yields of two Priacanthus species in the South China Sea. J Fish Biol 27(3):307–318. doi:10.1111/j.1095-8649.1985.tb04032.x

Masuda R (2009) Behavioral ontogeny of marine pelagic fishes with the implications for the sustainable management of fisheries resources. Aqua-Bio Sci Monogr 2(2):1–56

Masuda R, Shoji J, Nakayama S, Tanaka M (2003) Development of schooling behavior in Spanish mackerel Scomberomorus niphonius during early ontogeny. Fish Sci 69(4):772–776. doi:10.1046/j.1444-2906.2003.00685.x

McCormick MI, Milicich MJ (1993) Late pelagic stage goatfishes—distribution patterns and inferences on schooling behavior. J Exp Mar Biol Ecol 174(1):15–42. doi:10.1016/0022-0981(93)90249-n

Mora C, Sale PF (2002) Are populations of coral reef fish open or closed? Trends Ecol Evol 17(9):422–428

Ohman MC, Munday PL, Jones GP, Caley MJ (1998) Settlement strategies and distribution patterns of coral-reef fishes. J Exp Mar Biol Ecol 225(2):219–238. doi:10.1016/s0022-0981(97)00224-4

Seah YG, Mazlan AG, Abdullah S, Zaidi CC, Usup G, Mohamed CAR (2011) Feeding guild of dominant trawl speceis in the southeastern waters of Peninsular Malaysia. J Biol Sci 11(2):221–225

Senta T (1978) High incidence of aggregations of the bigeyes, Priacanthus tayenus and P. macracanthus in the South China Sea. Bull Fac Fish Nagasaki University 45:1–4

Shaw E (1978) Scooling fishes. Am Sci 66(2):166–175

Soria M, Freon P, Chabanet P (2007) Schooling properties of an obligate and a facultative fish species. J Fish Biol 71(5):1257–1269. doi:10.1111/j.1095-8649.2007.01554.x

Starnes WC (1988) Revision, phylogeny and biogeographic comments on the cirmtropical marine percoid fish family Priacanthidae. Bull Mar Sci 43(2):117–203

Starnes WC (1999) Priacanthidae. FAO species identification guide for fishery purposes. The living marine resources of the Western Central Pacific, vol 4. FAO, Rome

Torisawa S, Fukuda H, Suzuki K, Takagi T (2011) Schooling behaviour of juvenile Pacific bluefin tuna Thunnus orientalis depends on their vision development. J Fish Biol 79(5):1291–1303. doi:10.1111/j.1095-8649.2011.03113.x
Acknowledgments
The authors would like to gratefully thank Wayne Starnes for his assistance with species identification and advice. We thank S. Bennett and S. Andrews for assistance with fieldwork and H. Twose for the illustration. JSG was supported by a Scholarship for International Research Fees, a University Postgraduate Award (International) from the University of Western Australia, a UWA Safety-Net Top-Up Scholarship and funding from the School of Plant Biology. This work was undertaken under the approval of UWA Animal Ethics (RA/3/100/1035) and Department of Environment and Conservation permit SF008486.
Electronic supplementary material
Below is the link to the electronic supplementary material.
About this article
Cite this article
Santana-Garcon, J., Leis, J.M., Newman, S.J. et al. Presettlement schooling behaviour of a priacanthid, the Purplespotted Bigeye Priacanthus tayenus (Priacanthidae: Teleostei). Environ Biol Fish 97, 277–283 (2014). https://doi.org/10.1007/s10641-013-0150-6
Received:

Accepted:

Published:

Issue Date:
Keywords
Pelagic juvenile reef fish

Mid-water baited remote underwater stereo-video

Demersal fish

Ningaloo Reef

Western Australia