Abstract
Large predatory fish that alter the behaviour of smaller species may affect visual estimates of abundance by making organisms more or less difficult to observe and quantify. To evaluate the non-consumptive influence of large predators on rocky reef fishes observed with Baited Remote Underwater Video (BRUV), we tested the hypothesis that fish assemblages monitored when large (ca 1.5 m) piscivorous sharks, Mustelus antarcticus, were present differ from those observed when sharks were absent. We did this in two ways using recordings from rocky reefs in Batemans Marine Park, NSW, Australia. First, we examined 6 min of each 30 min tape; 3 min when sharks were present and 3 min when they were absent, in a paired sample design from 17 sites. Second, we compared fish assemblages for complete tapes (30 min) at sites with sharks present compared to sites where they were absent. The diversity and total abundance of fishes was consistently lower in the presence of sharks; we detected significant assemblage-wide change (PERMANOVA, P < 0.05). Importantly, the diversity and total abundance of fishes for complete tapes (30 min) decreased in the presence of sharks by 18 % and 36 %, respectively, underscoring the likelihood that sharks influence observed fish assemblages. Individual species responses were variable and while the abundance of many fish species decreased in response to sharks, others increased 6-fold. Overall, these results highlight the need to consider systematic differences in the abundance of large predators to avoid biases when testing hypotheses about fish assemblages using non-destructive visual methodologies.
Access options
Buy single article
Instant access to the full article PDF.
USD 39.95
Price excludes VAT (USA)
Tax calculation will be finalised during checkout.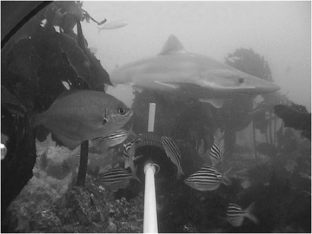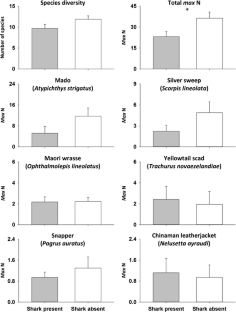 References
Anderson MJ (2001) A new method for non-parametric multivariate analysis of variance. Austral Ecol 26:32–46. doi:10.1111/j.1442-9993.2001.01070.pp.x

Anderson MJ, Millar RB, Blom WM, Diebel CE (2005) Nonlinear multivariate models of successional change in community structure using the von Bertalanffy curve. Oecologia 146:279–286. doi:10.1007/s00442-005-0195-0

Anderson MJ, Gorley RN, Clarke KR (2008) PERMANOVA + for PRIMER: Guide to software and statistical methods. PRIMER-E, Plymouth

Babcock RC, Kelly S, Shears NT, Walker JW, Willis TJ (1999) Changes in community structure in temperate marine reserves. Mar Ecol Prog Ser 189:125–134. doi:10.3354/meps189125

Cappo M, Speare P, De'ath G (2004) Comparison of baited remote underwater video stations (BRUVS) and prawn (shrimp) trawls for assessments of fish biodiversity in inter-reefal areas of the Great Barrier Reef Marine Park. J Exp Mar Biol Ecol 302:123–152. doi:10.1016/j.jembe.2003.10.006

Chapman DDF, Pikitch EK, Babcock EA (2006) Marine parks need sharks? Science 312:526–527. doi:10.1126/science.312.5773.526d

Cole RG (1994) Abundance, size-structure, and diver-oriented behaviour of three large benthic carnivorous fishes in a marine reserve in northeastern New Zealand. Biol Conserv 70:93–99. doi:10.1016/0006-3207(94)90276-3

Collins M, Yau C, Nolan C, Bagley P, Priede I (1999) Behavioural observations on the scavenging fauna of the Patagonian slope. J Mar Biol Assoc UK 79:963–970. doi:10.1017/S0025315499001198

Colton MA, Swearer SE (2010) A comparison of two survey methods: differences between underwater visual census and baited remote underwater video. Mar Ecol Prog Ser 400:19–36. doi:10.3354/meps08377

Farnsworth KD, Thygesen UH, Ditlevsen S, King NJ (2007) How to estimate scavenger fish abundance using baited camera data. Mar Ecol Prog Ser 350:223–234. doi:10.3354/meps07190

Fetterplace L (2011) Sand barrens or thriving oasis: Sanctuary zone effects on soft sediment fish assemblages. Unpublished B. Mar. Sci. (Hons) thesis, University of Wollongong pp. 107

Frid A, Baker GG, Dill LM (2008) Do shark declines create fear-released systems? Oikos 117:191–201. doi:10.3354/meps07190

Godin JJ (1997) Behavioural ecology of teleost fishes. Oxford University Press, Oxford

Gomon M, Bray D, Kuiter R (2008) Fishes of Australia's southern coast. Reed New Holland, Sydney

Grabowski JH, Kimbro DL (2005) Predator-avoidance behavior extends trophic cascades to refuge habitats. Ecology 86:1312–1319. doi:10.1890/04-1216

Kingsford MJ (1998) Reef fishes. In: Kingsford MJ, Battershill, C (eds) Studying temperate marine environments. pp 132–165

Kulbicki M (1998) How the acquired behaviour of commercial reef fishes may influence the results obtained from visual censuses. J Exp Mar Biol Ecol 222:11–30. doi:10.1016/S0022-0981(97)00133-0

Lester S, Halpern BS, Grorud-Colvert K, Lubchenco J, Ruttenberg BI, Gaines SD, Airamé S, Warner RR (2009) Biological effects within no-take marine reserves: a global synthesis. Mar Ecol Prog Ser 384:33–46. doi:10.3354/meps08029

Lima SL (1998) Nonlethal effects in the ecology of predator–prey interactions: what are the ecological effects of anti-predator decision-making? Bioscience 48:25–34. doi:10.2307/1313225

Lima SL, Dill LM (1990) Behavioural decisions made under the risk of predation: a review and prospectus. Can J Zool 69:619–640. doi:10.1139/z90-092

Malcolm HA, Gladstone W, Lindfield S, Wraith J, Lynch TP (2007) Spatial and temporal variation in reef fish assemblages of marine parks in New South Wales, Australia—baited video observations. Mar Ecol Prog Ser 350:277–290. doi:10.3354/meps07195

Pitcher TJ (1993) Behaviour of teleost fishes, 2nd edn. Chapman and Hall, London

Roberts CM, Hawkins JP (2000) Fully-protected marine reserves: A guide. WWF Endangered Seas Campaign, Washington DC

Walker TI (2007) Spatial and temporal variation in the reproductive biology of gummy shark Mustelus antarcticus (Chondrichthyes: Triakidae) harvested off southern Australia. Mar Freshw Res 58:67–97. doi:10.1071/MF06074

Watson DL, Harvey ES (2007) Behaviour of temperate and sub-tropical reef fishes towards a stationary SCUBA diver. Mar Freshw Behav Physiol 40:85–103. doi:10.1080/10236240701393263

Watson DL, Harvey ES, Kendrick GA, Nardi K, Anderson MJ (2007) Protection from fishing alters the species composition of fish assemblages in a temperate-tropical transition zone. Mar Biol 152:1197–1206. doi:10.1007/s00227-007-0767-0

Watson DL, Harvey ES, Fitzpatrick BM, Langlois TJ, Shedrawi G (2010) Assessing reef fish assemblage structure: how do different stereo-video techniques compare? Mar Biol 157:1237–1250. doi:10.1007/s00227-010-1404-x

Willis TJ, Babcock RC (2000) A baited underwater video system for the determination of relative density of carnivorous reef fish. Mar Freshw Res 51:755–763. doi:10.1071/MF00010

Willis TJ, Millar RB, Babcock RC (2000) Detection of spatial variability in relative density of fishes: comparison of visual census, angling, and baited underwater video. Mar Ecol Prog Ser 198:249–260. doi:10.3354/meps198249

Willis TJ, Millar RB, Babcock RC (2003) Protection of exploited fish in temperate regions: high density and biomass of snapper Pagrus auratus (Sparidae) in northern New Zealand marine reserves. J Appl Ecol 40:214–227. doi:10.1046/j.1365-2664.2003.00775.x

Wirsing AJ, Heithaus MR, Dill LM (2007) Fear factor: do dugongs (Dugong dugon) trade food for safety from tiger sharks (Galeocerdo cuvier)? Oecologia 153:1031–1040. doi:10.1007/s00442-007-0802-3

Wirsing AJ, Frid A, Dill LM (2008) Seascapes of fear: evaluating sublethal predator effects experienced and generated by marine mammals. Mar Mamm Sci 24:1–15. doi:10.1111/j.1748-7692.2007.00167.x

Zar JH (1999) Biostatistical analysis, 4th edn. Prentice-Hall, New Jersey

Zintzen V, Roberts D, Anderson MJ, Stewart AL, Struthers CD, Harvey ES (2011) Hagfish predatory behaviour and slime defence mechanism. Sci Rep 1(131):1–6. doi:10.1038/srep00131
Acknowledgments
This work was supported by the Batemans Marine Park and the Institute for Conservation Biology and Environmental Management, University of Wollongong. It was undertaken following approval by the University of Wollongong Animal Ethics Committee (#AE05/18). Ian Osterloh, David Van der Leedan, Allan Norman, Pia Winberg and Melinda Coleman ably assisted with the field work. Marti Anderson provided advice on multivariate analyses and two anonymous reviewers improved an early draft. This represents contribution no. 305 from the Ecology and Genetics Group, University of Wollongong. We wish to dedicate this contribution to the memory of Hans Jaochim Klages; a true man of the sea.
About this article
Cite this article
Klages, J., Broad, A., Kelaher, B.P. et al. The influence of gummy sharks, Mustelus antarcticus, on observed fish assemblage structure. Environ Biol Fish 97, 215–222 (2014). https://doi.org/10.1007/s10641-013-0138-2
Received:

Accepted:

Published:

Issue Date:

DOI: https://doi.org/10.1007/s10641-013-0138-2
Keywords