Abstract
Anthropogenic activities lead to changes in characteristics of aquatic ecosystems, including alteration of turbidity and addition of invasive species. In this study, we tested how changes in turbidity and the recent invasion of an aquatic macrophyte, Egeria densa, may have changed the predation pressure by introduced largemouth bass on juvenile striped bass and delta smelt, two species that have seen a drastic decline in recent decades in the Sacramento-San Joaquin Delta. In a series of mesocosm experiments, we showed that increases in vegetation density decreased the predation success of largemouth bass. When placed in an environment with both open water and vegetated areas, and given a choice to forage on prey associated with either of these habitats, largemouth bass preyed mainly on open water species as opposed to vegetation-associated species, such as juvenile largemouth bass, bluegill or red swamp crayfish. Finally, we showed that turbidity served as cover to open water species and increased the survival of delta smelt, an endemic species at risk. We also found that such open water prey tend not to seek refuge in the vegetation cover, even in the presence of an imminent predation threat. These results provide the beginning of a mechanistic framework to explain how decreases in turbidity and increases in vegetation cover correlate with a decline of open water species in the Sacramento-San Joaquin Delta.
Access options
Buy single article
Instant access to the full article PDF.
US$ 39.95
Tax calculation will be finalised during checkout.
Subscribe to journal
Immediate online access to all issues from 2019. Subscription will auto renew annually.
US$ 119
Tax calculation will be finalised during checkout.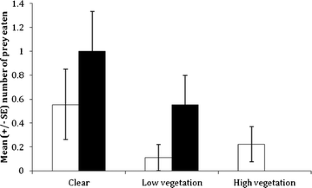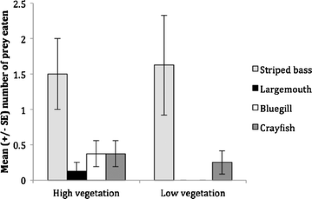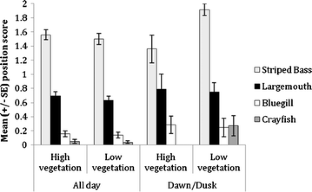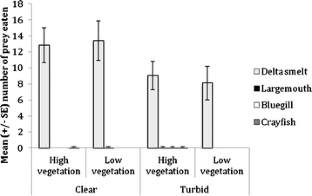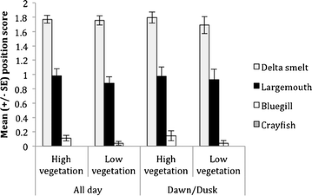 References
Bonner TH, Wilde GR (2002) Effects of turbidity on prey consumption by prairie stream fishes. Trans Am Fish Soc 131:1203–1208. doi:10.1577/1548-8659(2002)131<1203:eotopc>2.0.co;2

Brown LR, Michniuk D (2007) Littoral fish assemblages of the alien-dominated sacramento—San Joaquin Delta, California, 1980–1983 and 2001–2003. Estuaries Coasts 30:186–200

Burdenski T (2000) Evaluating univariate, bivariate, and multivariate normality using graphical and statistical procedures. Multiple Linear Regression Viewpoints 26:15–28

Carlton JT, Geller JB, Reaka-Kudla ML, Norse EA (1999) Historical extinctions in the sea. Annu Rev Ecol Syst 30:515–538. doi:10.1146/annurev.ecolsys.30.1.515

Chesson J (1983) The estimation and analysis of preference and its relationship to foraging models. Ecol 64:1297–1304

Cohen J (1992) A power primer. Psychol Bull 112:155–159

Crooks JA (2002) Characterizing ecosystem-level consequences of biological invasions: the role of ecosystem engineers. Oikos 97:153–166

Didham RK, Tylianakis JM, Gemmell NJ, Rand TA, Ewers RM (2007) Interactive effects of habitat modification and species invasion on native species decline. Trends Ecol Evol 22:489–496. doi:10.1016/j.tree.2007.07.001

Didham RK, Tylianakis JM, Hutchison MA, Ewers RM, Gemmell NJ (2005) Are invasive species the drivers of ecological change? Trends Ecol Evol 20:470–474. doi:10.1016/j.tree.2005.07.006

Douglas ME, Marsh PC, Minckley WL (1994) Indigenous fishes of western North-America and the hypothesis of competitive displacement - Meda fulgida (Cyprinidae) as a case study. Copeia 9–19

Durocher PP, Provine WC, Kraai JE (1984) Relationship between abundance of largemouth bass and submerged vegetation in Texas reservoirs. N Am J Fish Manag 4:84–88

Facon B, Genton BJ, Shykoff J, Jarne P, Estoup A, David P (2006) A general eco-evolutionary framework for understanding bioinvasions. Trends Ecol Evol 21:130–135. doi:10.1016/j.tree.2005.10.012

Feyrer F, Healey MP (2003) Fish community structure and environmental correlates in the highly altered southern Sacramento-San Joaquin Delta. Environ Biol Fish 66:123–132. doi:10.1023/a:1023670404997

Feyrer F, Nobriga ML, Sommer TR (2007) Multidecadal trends for three declining fish species: habitat patterns and mechanisms in the San Francisco Estuary, California, USA. Can J Fish Aquat Sci 64:723–734

Finch H (2005) Comparison of the performance of nonparametric and parametric MANOVA test statistics when assumptions are violated. Methodol Eur J Res Methods Behav Soc Sci 1:27–38

Gregory RS (1993) Effect of turbidity on the predator avoidance behaviour of juvenile chinook salmon (Oncorhynchus tshawytscha). Can J Fish Aquat Sci 50:214–246

Hestir EL (2010) Trends in estuarine water quality and submerged aquatic vegetation invasion. Dissertation, University of California, Davis

Holway DA, Suarez AV (1999) Animal behavior: an essential component of invasion biology. Trends Ecol Evol 14:328–330

Hoyle JA, Keast A (1987) The effect of prey morphology and size on handling time in a piscivore, the largemouth bass (Micropterus salmoides). Can J Zool 65:1972–1977

Huenemann TW, Dibble ED, Fleming JP (2012) Influence of turbidity on the foraging of largemouth bass. Trans Am Fish Soc 141:107–111

Huskey SH, Turingan RG (2001) Functional and morphological bases of intraspecific variation in the feeding ecomorphology of largemouth bass, Micropterus salmoides. Am Zool 41:1479–1479

Johnson PTJ, Olden JD, vander Zanden MJ (2008) Dam invaders: impoundments facilitate biological invasions into freshwaters. Front Ecol Environ 6:359–365. doi:10.1890/070156

Lehtiniemi M, Engstrom-Ost J, Viitasalo M (2005) Turbidity decreases anti-predator behaviour in pike larvae, Esox lucius. Environ Biol Fish 73:1–8. doi:10.1007/s10641-004-5568-4

Lockwood JL, Hoopes MF, Marchetti MP (2007) Invasion ecology. Blackwell, London

Mazur MM, Beauchamp DA (2003) A comparison of visual prey detection among species of piscivorous salmonids: effects of light and low turbidities. Environ Biol Fish 67:397–405. doi:10.1023/a:1025807711512

Mazzeo N et al (2003) Effects of Egeria densa Planch. beds on a shallow lake without piscivorous fish. Hydrobiologia 506:591–602. doi:10.1023/b:hydr.0000008571.40893.77

Moffett A, Sarkar S (2006) Incorporating multiple criteria into the design of conservation area networks: a minireview with recommendations. Divers Distrib 12:125–137. doi:10.1111/j.1366-9516.2005.00202.x

Mooney HA, Cleland EE (2001) The evolutionary impact of invasive species. Proc Natl Acad Sci United States Am 98:5446–5451. doi:10.1073/pnas.091093398

Moyle PB (2002) Inland fishes of California. University of California Press, California

Moyle PB, Herbold B, Stevens DE, Miller LW (1992) Life history and status of delta smelt in the Sacramento-San Joaquin estuary, California. Trans Am Fish Soc 121:67–77. doi:10.1577/1548-8659(1992)121<0067:lhasod>2.3.co;2

Nobriga ML, Feyrer F (2007) Shallow-water piscivore-prey dynamics in California's Sacramento-San Joaquin Delta. San Franscisco Estuary and Watershed Sci 5

Nobriga ML, Sommer TR, Feyrer F, Fleming K (2008) Long-term trends in summertime habitat suitability for delta smelt (Hypomesus transpacificus). San Francisco Estuary and Watershed Sci 6

Porter SD, Savignano DA (1990) Invasion of polygyne fire ants decimates native ants and disrupts arthropod community. Ecol 71:2095–2106. doi:10.2307/1938623

Race MS (1982) Competitive displacement and predation between introduced and native mud snails. Oecologia 54:337–347. doi:10.1007/bf00380002

Rhymer JM, Simberloff D (1996) Extinction by hybridization and introgression. Annu Rev Ecol Syst 27:83–109. doi:10.1146/annurev.ecolsys.27.1.83

Sala OE et al (2000) Biodiversity—Global biodiversity scenarios for the year 2100. Sci 287:1770–1774. doi:10.1126/science.287.5459.1770

Savino JF, Stein RA (1982) Predator–prey interaction between largemouth bass and bluegills as influenced by simulated, submersed vegetation. Trans Am Fish Soc 111:255–266. doi:10.1577/1548-8659(1982)111<255:piblba>2.0.co;2

Schmider E, Ziegler M, Danay E, Beyer L, Bühner M (2010) Is it really robust? Reinvestigating the robustness of ANOVA against violations of the normal distribution assumption. Methodol Eur J Res Methods Behav Soc Sci 6:147–151

Shoup DE, Wahl DH (2009) The effects of turbidity on prey selection by piscivorous largemouth bass. Trans Am Fish Soc 138:1018–1027

Sih A (1987) Predators and prey lifestyles: an evolutionary overview. In: Kerfoot WC, Sih A (eds) Predation: direct and indirect impacts on aquatic communities. New England University Press, Hanover, pp 203–224

Sih A et al (2010) Predator–prey naivete, antipredator behavior, and the ecology of predator invasions. Oikos 119:610–621. doi:10.1111/j.1600-0706.2009.18039.x

Sih A, Ferrari MCO, Harris D (2011) Evolution and behavioural responses to human-induced rapid environmental change. Evol Appl 4:367–387

Sommer T et al (2007) The collapse of pelagic fishes in the Upper San Francisco Estuary. Fish 32:270–277. doi:10.1577/1548-8446(2007)32[270:tcopfi]2.0.co;2

Sommer T, Mejia F, Hieb K, Baxter R, Loboschefsky EJ, Loge FJ (2011) Long-term shifts in the lateral distribution of age-0 striped bass Morone saxatilis in the San Francisco estuary. Trans Am Fish Soc 140:1451–1459

Turner AM, Mittelbach GG (1990) Predator avoidance and community structure—interactions among piscivores, planktivores, and plankton. Ecol 71:2241–2254. doi:10.2307/1938636

United States Fish and Wildlife Service (1993) Determination of threatened status for the delta smelt. Federal register 58:12854–12864

VanLandeghem MM, Carey MP, Wahl DH (2011) Turbidity-induced changes in emergent effects of multiple predators with different foraging strategies. Ecol Freshw Fish 20:279–286

Vitousek PM (1994) Beyond global warming—Ecology and global change. Ecol 75:1861–1876

Wilcove DS, Rothstein D, Dubow J, Phillips A, Losos E (1998) Quantifying threats to imperiled species in the United States. Biosci 48:607–615. doi:10.2307/1313420

Wright SA, Schoellhamer DH, David H (2004) Trends in the sediment yield of the Sacramento River, California, 1957–2001. San Franscisco Estuary and Watershed Sci 2

Yarrow M, Marin VH, Finlayson M, Tironi A, Delgado LE, Fisher F (2009) The ecology of Egeria densa Planchón (Liliopsida: Alismatales): a wetland ecosystem engineer? Rev Chil Hist Nat 82:299–313

Zamor RM, Grossman GD (2007) Turbidity affects foraging success of drift-feeding rosyside dace. Trans Am Fish Soc 136:167–176. doi:10.1577/t050316.1
Acknowledgements
We thank Andrew Bibian, Talene Baghdassarian, Ann Chang, Erik Hallen, and Paul Lutes for their help with animal care and technical assistance with the trials. We thank Joan Lindberg and Luke Ellison at the Fish Conservation and Culture Laboratory of the University of California Davis for supplying the delta smelt for the study and for their guidance in caring for delta smelt. This study was conducted under the University of California Davis Animal care protocol number: 15422. Financial support was provided by the Interagency Ecological Program and the US Bureau of Reclamation (R10AC20090) to LC, AS, KW and MY, and by NSERC to MF.
About this article
Cite this article
Ferrari, M.C.O., Ranåker, L., Weinersmith, K.L. et al. Effects of turbidity and an invasive waterweed on predation by introduced largemouth bass. Environ Biol Fish 97, 79–90 (2014). https://doi.org/10.1007/s10641-013-0125-7
Received:

Accepted:

Published:

Issue Date:
Keywords
Largemouth bass

Micropterus salmoides
Egeria densa

Delta smelt

Turbidity

Predator–prey