Abstract
The use of killifish in biological control of mosquitoes to complement other mosquito control programs is gaining interest due to the increasing development of chemically resistant substrains of mosquitoes. This study investigates the ambient salinity, temperature and dissolved oxygen as well as food habits, sex ratio, fecundity and spawning frequency of Aplocheilichthys spilauchen in Ghana in an effort to broaden knowledge of the suitability of this killifish for mosquito control. Sampling was undertaken from July 2009 to January 2010 to monitor the levels and variations in the environmental parameters and fish abundance, and also to determine the feeding ecology, fecundity and possible spawning frequency. Results suggested that lower levels of salinity favoured the population while levels beyond 4‰ were detrimental. The species preyed highly on insects and insect larvae, which constituted 80% of food consumed. Females significantly outnumbered males by almost 2:1 (χ2 = 28.57, P < 0.05), and had low fecundity (2–44 eggs). Ova diameter analysis suggested that the species spawns continuously. The better survivability of the species in freshwater pools with continuous spawning of drought tolerant eggs, and the high preference for insects and insect larvae suggest that it could be a useful candidate for biocontrol of mosquitoes.
This is a preview of subscription content, log in to check access.
Access options
Buy single article
Instant access to the full article PDF.
US$ 39.95
Price includes VAT for USA
Subscribe to journal
Immediate online access to all issues from 2019. Subscription will auto renew annually.
US$ 199
This is the net price. Taxes to be calculated in checkout.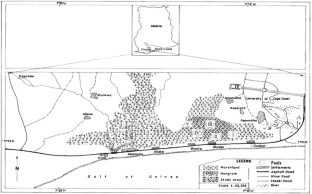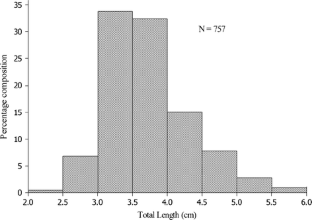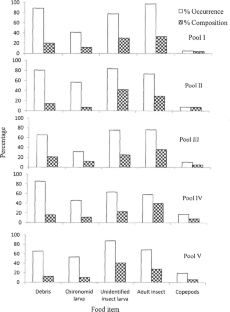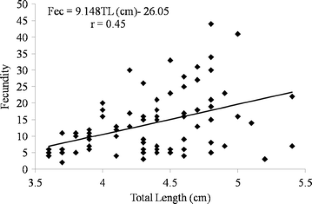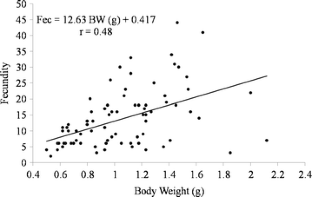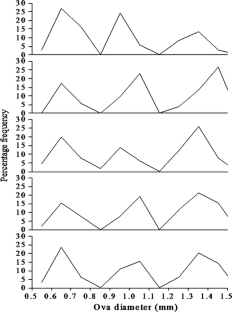 References
Adite A (2002) The mangrove fishes in the Benin estuarine system (Benin, West Africa): diversity, degradation and management implications. Available at http://iodeweb1.vliz.be/odin/handle/1834/455?mode=fullandsubmit_simple=Show+full+item+record (accessed May 10, 2011)

Bagenal TB, Braum E (1978) Eggs and early life history. In: Bagenal T (ed) Methods of assessment of fish production in freshwaters. Blackwell, IBP Handbook No. 3, Oxford. pp. 165–201

Dabire KR, Diabate A, Djogbenou L, Ouari A, Guessan RN, Ouedraogo JB, Hougard JM, Chandre F, Baldet T (2008) Dynamics of multiple insecticide resistance in the malaria vector Anopheles gambiae in a rice growing area in Southwestern Burkina Faso. Malar J 7:188

Dankwa HR, Abban EK, Teugels GG (1999) Freshwater fishes of Ghana. Annales Sciences Zoologiques. Vol. 283

Fuiman LA (2002) Special consideration of fish eggs and larvae. In: Fuiman LA, Werner RG (eds) Fishery science: the unique contributions of early life stages. Blackwell, UK, pp 1–32

Ghedotti MJ (2000) Phylogenetic analysis and taxonomy of the poecilioid fishes (Teleostei; Cyprinodontiformes). Zool J Linn Soc 130:l–53

Ghosh A, Bhattacharjee I, Ganguly M, Mondal S, Chandra G (2004) Efficacy of some common aquarium fishes as biocontrol agent of preadult mosquitoes. Bul Penel Kesehatan 32:144–149

Hamouda S, Samraoui B (2007) Ecological impact of Gambusia affinis (Cyprinodontiform: Poeciliidae) on aquatic environments. J Anim Vet Advances 6:828–832

Holden M, Reed W (1991) West African freshwater fish. Longman, UK

Howard AFV, Zhou G, Omlin FX (2007) Malaria mosquito control using edible fish in western Kenya: preliminary findings of a controlled study. BMC Publ Health 7:199

Huber JH (1996) Killi-Data 1996: updated checklist of taxonomic names, collecting localities and bibliographic references of oviparous Cyprinodont fishes (Atherinomorpha, Pisces). Société Française d'Ichtyologie, Muséum National d'Histoire Naturelle, Paris, France

Hyslop EJ (1980) Stomach contents analysis—a review of methods and their application. J Fish Biol 17:411–429

James PSBR, Baragi MV (1980) Ovary as an indicator of frequency of spawning in fishes. Proc. Indian Natn. Sci. Acad. B 46 No.4 pp. 479–489

Lima-Junior SE, Goitein R (2001) A new method for the analysis of fish stomach contents. Maringá 23:421–424

Matias JR (1982) Embryonic diapause in annual fishes: evaporative water loss and survival. Experientia 38:1315–1317

Matias JR, Adrias AQ (2010) The use of annual killifish in the biocontrol of the aquatic stages of mosquitoes in temporary bodies of fresh water; a potential new tool in vector control. Parasites & Vectors 3:46

Munhenga G, Mansendu HT, Brooke BD, Hunt RH, Koekemoer LK (2008) Pyrethroid resistance in the major malaria vector Anopheles arabiensis from Gwave, a malaria-endemic area in Zimbabwe. Malar J 7:247

Okyere I (2010) Observations on the Benthic Macroinvertebrate and fish communities of the Kakum Estuary Wetland in Ghana. M.Phil. Thesis, University of Cape Coast, Ghana

Parenti LR (1981) A phylogenetic and biogeographic analysis of cyprinodontiform fishes (Teleostei, Atherinomorpha). Bull Am Mus Nat Hist 168:335–557

Paugy D, Lévêque C, Teugels GG (2003) The fresh and brackish water fishes of West Africa, II IRD Editions. Vol., Publications Scientifiques du Muséum, MRAC

Podrabsky JE, Carpenter JF, Hand SC (2001) Survival of water stress in annual fish embryos: dehydration avoidance and egg envelope amyloid fibers. Am J Physiol Regul Integr Comp Physiol 280:123–131

Riehl R, Baensch HA (1991) Aquarien Atlas. Band 1. Melle: Mergus, Verlag für Natur- und Heimtierkunde, Germany

Schultz K (2004) Ken Schultz's field guide to saltwater fish. Wiley, USA

Welcomme RL (1975) The fisheries ecology of African floodplains. CIFA Technical Paper, 3: 51 pp

Wildekamp RH, Romand R, Scheel JJ (1986) Cyprinodontidae. In: Daget J, Gosse JP, Thys van den Audenaerde DFE (eds) Check-list of the freshwater fishes of Africa. CLOFFA: ISNB, Brussels, MRAC; Tervuren; and ORSTOM, Paris. Vol. 2. pp. 165–276

Wildekamp RH (1995) A world of Killies: Atlas of the oviparous cyprinodontiform fishes of the world. Volume II: the genera Aplocheilichthys, Aplocheilus, Austrofundulus, Campellolebias, Crenichthys, Cualac, Cubanichthys. Cynolebias, Cynopoecilus, and Cyprinodon. American Killifish Association, Inc

Zar JH (1999) Biostatistical analysis. Prentice Hall, Upper Saddle River
Acknowledgements
The author is grateful to the Department of Fisheries and Aquatic Sciences of the School of Biological Sciences, University of Cape Coast, Ghana for providing vehicle, field and laboratory equipment as well as laboratory space for this research. I am also thankful to Prof John Blay and Dr. Joseph Aggrey-Fynn for their assistance in the laboratory. I finally thank the chief technician Mr. Peter Aubyn as well as the field assistants Mr. John Eshun and Mr. Benjamin Owusu of School of Biological Sciences, UCC for their tireless efforts throughout the data collection.
About this article
Cite this article
Okyere, I. Some ambient environmental conditions, food and reproductive habits of the banded lampeye killifish Aplocheilichthys spilauchen in the Kakum estuary wetland, Ghana. Environ Biol Fish 94, 639–647 (2012). https://doi.org/10.1007/s10641-011-9970-4
Received:

Accepted:

Published:

Issue Date:
Keywords
Killifish

Environmental requirements

Feeding habits

Breeding habits

Mosquito control