Abstract
Much has been learned from the large scale deployment of acoustic tags on aquatic species and associated networks of riverine and marine receivers. While effective in the linear environment of river systems, marine systems limit the ability to provide spatial information on fish movements and distributions due to a combination of costs, logistics, and lack of off-shore technology. At the same time, each year millions of dollars worth of tags are being released into the aquatic environment with extended battery/transmission life, yet detections are limited to coastal arrays. Here we explore new methods of tracking acoustically tagged species in the marine environment. A new miniaturized acoustic receiver, the Vemco Mobile Transceiver (VMT) can be carried by large marine organisms. In combination with satellite and archival tag technology, VMTs were deployed on northern elephant seals to monitor acoustic tags encountered during their migrations across the Northeast Pacific. Early results include acoustic detections of tagged great white sharks, salmon sharks, Chinook salmon, steelhead, lingcod, green sturgeon and other elephant seals. We also propose several alternative directions for future effort: 1) analyzing the growing number of passive acoustic survey recordings made from hydrophone arrays for acoustic tag detections, 2) working with acoustic technology providers to develop hull-mounted receiver systems for the thousands of ocean going vessels around the world and 3) integrating acoustic receiver technology into the thousands of moored and drifting oceanographic buoy arrays.
Access options
Buy single article
Instant access to the full article PDF.
US$ 39.95
Tax calculation will be finalised during checkout.
Subscribe to journal
Immediate online access to all issues from 2019. Subscription will auto renew annually.
US$ 119
Tax calculation will be finalised during checkout.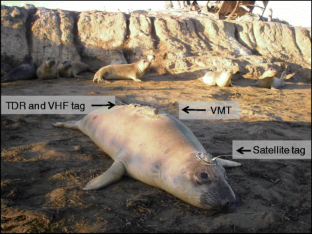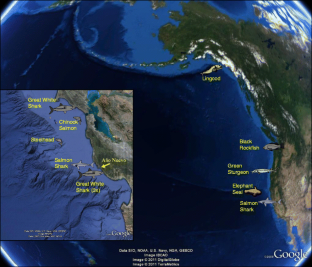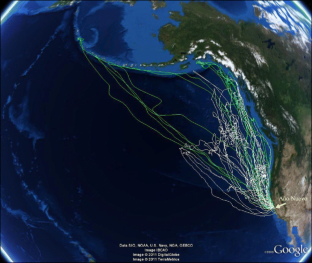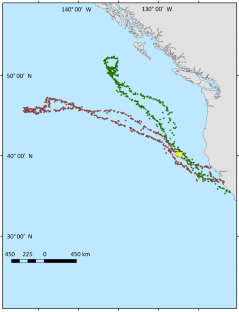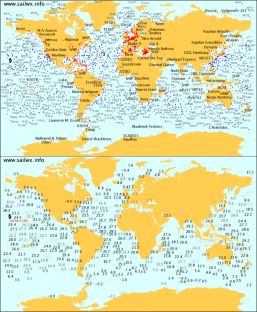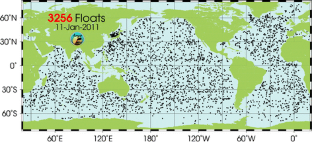 References
Argo_Project_Office (2006) Argo, an array of profiling floats observing the ocean in real-time. In: H. CSIRO Marine and Atmospheric Research, Tasmainia, Austrialia (ed.) Japan Agency for Marine-Earth Science and Technology

Bailey H, Mate BR, Palacios DM, Irvine L, Bograd SJ, Costa DP (2009) Behavioural estimation of blue whale movements in the Northeast Pacific from state-space model analysis of satellite tracks. Endanger Species Res 10:93–106

Biuw M, Boehme L, Guinet C, Hindell M, Costa D, Charrassin JB, Roquet F, Bailleul F, Meredith M, Thorpe S, Tremblay Y, McDonald B, Park YH, Rintoul SR, Bindoff N, Goebel M, Crocker D, Lovell P, Nicholson J, Monks F, Fedak MA (2007) Variations in behavior and condition of a Southern Ocean top predator in relation to in situ oceanographic conditions. PNAS 104:13705–13710

Boehlert GW, Costa DP, Crocker DE, Green P, O'Brien T, Levitus S, Le Boeuf BJ (2001) Autonomous pinniped environmental samplers: using instrumented animals as oceanographic data collectors. J Atmos Oceanic Technol 18:1882–1893

Bograd SJ, Block BA, Costa DP, Godley BJ (2010) Biologging technologies: new tools for conservation. Introduction. Endanger Species Res 10:1–7

Charrassin J-B, Hindell M, Rintoul SR, Roquet F, Sokolov S, Biuw M, Costa D, Boehme L, Lovell P, Coleman R, Timmermann R, Meijers A, Meredith M, Parka Y-H, Bailleul F, Goebel M, Tremblay Y, Bost C-A, McMahon CR, Field IC, Fedak MA, Guinet C (2008) Southern Ocean frontal structure and sea-ice formation rates revealed by elephant seals. PNAS 105:11634–11639

Costa DP (1993) The secret life of marine mammals. Oceanography 6:120–127

Costa DP, Klinck JM, Hofmann EE, Dinniman MS, Burns JM (2008) Upper ocean variability in west Antarctic Peninsula continental shelf waters as measured using instrumented seals. Deep-Sea Research II

Costa DP, Tremblay Y, Hayes SA (2009) Research on Higher Trophic Levels. In: Glickson D (ed.) Oceanography in 2025: Proceedings of a Workshop, National Research Council, pp. 124–129

Costa DP, Huckstadt LA, Crocker DE, McDonald BI, Goebel ME, Fedak MA (2010) Approaches to studying climatic change and its role on the habitat selection of antarctic pinnipeds. Integr Comp Biol 50:1018–1030

Hayes SA, Bond MH, Wells BK, Hanson CV, Jones AW, MacFarlane RB (2011) Using archival tags to infer habitat use of Central California steelhead and coho salmon. In: Parsons B, McKenzie J, Mesa M, Phelps Q, Seitz A, Pepperell J, Kopf R (ed.) Proceedings of the 2nd International Symposium on Advances in Fish Tagging and Marking Technology, American Fisheries Society

Holland KN, Meyer CG, Dagorn LC (2009) Inter-animal telemetry: results from first deployment of acoustic 'business card' tags. Endanger Species Res 10:287–293

Jorgensen SJ, Reeb CA, Chapple TK, Anderson S, Perle C, Van Sommeran SR, Fritz-Cope C, Brown AC, Klimley AP, Block BA (2009) Philopatry and migration of Pacific white sharks. Proc Royal Soc B Biol Sci 277:679–688

Klimley AP, Voegell F, Beavers SC, LeBoeuf BJ (1998) Automated listening stations for tagged marine fishes. Mar Technol Soc J 32:94–101

Kuhn CE, Crocker DE, Tremblay Y, Costa DP (2009) Time to eat: measurements of feeding behaviour in a large marine predator, the northern elephant seal Mirounga angustirostris. J Anim Ecol 78:513–523

Le Boeuf BJ, Crocker DE, Costa DP, Blackwell SB, Webb PM, Houser DS (2000) Foraging ecology of northern elephant seals. Ecol Monogr 70:353–382

Lindley ST, Moser ML, Erickson DL, Belchik M, Welch DW, Rechisky EL, Kelly JT, Heublein J, Klimley A (2008) Marine migration of North American Green Sturgeon. Trans Am Fish Soc 137:182–194

Lloyd's_List_Intelligence. Lloyd's List Intelligence Brochure. In: Informa_plc (ed.) Mortimer House, 37–41 Mortimer Street, London, W1T 3JH, pp. 5

Mellinger DK (2001) ISHMAEL 1.0 User's guide: Integrated system for holistic multi-channel acoustic exploration and localization. NOAA Technical Memorandum OAR-PMEL-120

Mellinger DK, Stafford KM, Moore SE, Dziak RP, Matsumoto H (2007) An overview of fixed passive acoustic observation methods for cetaceans. Oceanography 20:36–45

Melnychuk MC, Welch DW, Walters CJ (2010) Spatio-temporal migration patterns of Pacific salmon smolts in rivers and coastal marine waters. PLoS One 5:e12916

Michel C (2010) River and estuarine survival and migration of yearling Sacramento River Chinook Salmon (Oncorhynchus Tshawytscha) smolts and the influence of environment. Master of Arts, University of California, Santa Cruz, 120

Muir WD, Smith SG, Williams JG, Hockersmith EE, Skalski JR (2001) Survival estimates for migrant yearling Chinook Salmon and steelhead tagged with passive integrated transponders in the lower snake and lower Columbia Rivers, 1993–1998. N Am J Fish Manag 21:269–282

Myers KW, Aydin KY, Walker RV, Fowler S, Dahlberg ML (1996) Known ocean ranges of stocks of Pacific salmon and steelhead as shown by tagging experiments, 1956–1995. pp. 4p + figs., North Pacific Anadromous Fish Commission Doc 192, University of Washington, Seattle, WA

Nicholls KW, Boehme L, Biuw M, Fedak MA (2008) Wintertime ocean conditions over the southern Weddell Sea continental shelf, Antarctica. Geophys Res Lett 35:L21605

Oliver GW, Morris PA, Thorson PH, le Boeuf BJ (1998) Homing behavior of juvenile northern elephant seals. Mar Mammal Sci 14:245–256

Prentice EF, McComas RL (2007) Unmanned underwater vehicles for fish and marine mammal shadowing and data acquisition: A concept. In: Sheridan P, Ferguson JW, Downing SL (eds.) Report of the National Marine Fisheries Service Workshop on Advancing Electronic Tag Technology and their use in Stock Assessments., U.S. Dept. of Commerce, NOAA Tech. Memo., NMFSF-F/SPO-82, Northwest Fisheries Science Center, Seattle WA, pp. 15–16

Rankin S, Barlow JP, Oswald J, Ballance L (2008) Acoustic studies of marine mammals during seven years of combined visual and acoustic line-transect surveys for cetaceans in the eastern and central Pacific Ocean. U.S. Department of Commerce, NOAA Technical Memorandum NMFS NOAA-TM-NMFS-SWFSC-429: 69

Rechisky EL, Welch DW, Porter AD, Jacobs MC, Ladouceur A (2009) Experimental measurement of hydrosystem-induced delayed mortality in juvenile Snake River spring Chinook salmon (Oncorhynchus tshawytscha) using a large-scale acoustic array. Can J Fish Aquat Sci 66:1019–1024

Shaffer SA, Tremblay Y, Weimerskirch H, Scott D, Thompson DR, Sagar PM, Taylor GA, Foley DG, Block BA, Costa DP (2006) Migratory shearwaters integrate oceanic resources across the Pacific Ocean in an endless summer. PNAS 103:12799–12802

Simmons SE, Crocker DE, Kudela RM, Costa DP (2007) Linking foraging behaviour with oceanography and bathymetry at mesoscales in the northern elephant seal. Marine Ecology Progress Series 346

USCG (2010) National GMDSS Implementation Task Force, Newsletter and Summary Record of 20 May 2010 Meeting, section 2.b http://www.navcen.uscg.gov/pdf/gmdss/taskForce/TFSR-63.pdf. pp 9

Villegas-Amtmann S, Costa DP (2010) Oxygen stores plasticity linked to foraging behaviour and pregnancy in a diving predator, the Galapagos sea lion. Funct Ecol 24:785–795

Welch DW, Ward BR, Batten SD (2004) Early ocean survival and marine movements of hatchery and wild steelhead trout (Oncorhynchus mykiss) determined by an acoustic array: Queen Charlotte Strait, British Columbia. Deep-Sea Res II Top Stud Oceanogr 51:897–909

Welch DW, Rechinsky EL, Melnychuk MC, Porter AD, Walters CJ, Clements S, Clemens BJ, McKinley RS, Schreck C (2008) Survival of migrating salmon smolts in large rivers with and without dams. PLoS Biol 6:e265. doi:10.1371/journal.pbio.0060265
Acknowledgements
We would like to acknowledge Barbara Block, Barry McCovey, Mary Anne Bishop, Phil Sandstrom, Rick Starr and Sal Jorgensen for confirming the species identification of the detected tag codes. The SWFSC Fisheries Ecology Division librarian Kit Johnston provided valuable help digging up references for AIS ship tracking sites. Hopkins Marine Station provided permission for beach access to release juvenile elephant seals in November 2009. The AIS ship distribution maps in Fig. 5 were used with permission by sailwx.info, copyright sailwx.info. Permission to use the Argo Status Map (Fig. 6) was provided by the Argo program (www.argo.net) and the Argo Information Centre. The Advanced Survey Technology group at NOAA's SWFSC conducted recordings of acoustic tags to be used in the development of automated detectors in the ISHMAEL software package. The West Coast and Polar Regions Undersea Research Center provided a grant to cover the deployment costs of VMTs and associated hardware on elephant seals, along with significant intellectual and moral support. Specifically, we would like to credit Director David Christie for stimulating the idea to incorporate mobile acoustic receiver technology into the animal tagging work, and our program manager Jennifer Reynolds for her enthusiasm, wisdom and patience. Elephant seal handling procedures were approved by the UCSC Chancellors Animal Research Committee and covered by NMFS permit #14636 to Daniel Costa. Additional funding was also provided by US Navy grants N00014-10-1-0534 and N00244-10-1-0047. This is PMEL contribution #3665.
About this article
Cite this article
Hayes, S.A., Teutschel, N.M., Michel, C.J. et al. Mobile receivers: releasing the mooring to 'see' where fish go. Environ Biol Fish 96, 189–201 (2013). https://doi.org/10.1007/s10641-011-9940-x
Received:

Accepted:

Published:

Issue Date:
Keywords
Acoustic tag

Mobile receiver

Elephant seal

Offshore tracking

Salmon