Abstract
A checklist of the fish of Poyang Lake Basin based on an extensive survey and literature review is presented. A total of 220 species and subspecies belonging to12 orders, 27 families and 100 genera, have been recorded. Of these, 131 species are endemic to China. Based on cluster analysis with presence-absence data, freshwater ecosystems in Jiangxi Province are divided into two regions, the Xunwushui River region and the region of Poyang Lake. The Xunwushui River flows into the Pearl River, whereas the region of Poyang Lake flows into the Yangtze River. The fish fauna and evolution of the fish fauna in Poyang Lake Basin owes much to geological events and belongs to the Oriental Region, South-east Asiatic sub-region and East China area. Anthropogenic activities including habitat alteration, overfishing, pollution and soil erosion have severely reduced the fish biodiversity in Poyang Lake Basin. River modifications (i.e. dam construction and sand excavation) and heavy metal pollution are the most significant threats to fish diversity and ecosystem functioning in the majority of the river systems in the province. To protect fish diversity and fisheries more effectively in Poyang Lake Basin, law enforcement should be strengthened, and the following measures could be introduced: restocking economically important fish species; establishing fish sanctuaries and freshwater protected areas, ordering a close season and developing sustainable aquaculture.
Access options
Buy single article
Instant access to the full article PDF.
US$ 39.95
Tax calculation will be finalised during checkout.
Subscribe to journal
Immediate online access to all issues from 2019. Subscription will auto renew annually.
US$ 119
Tax calculation will be finalised during checkout.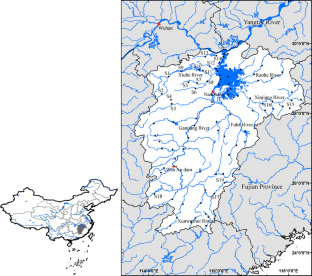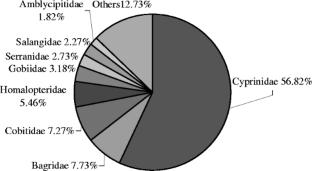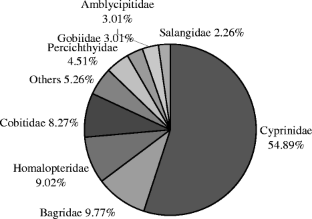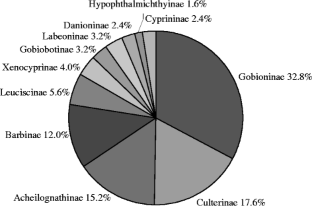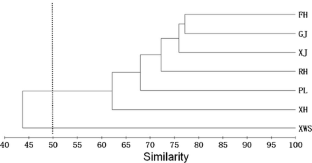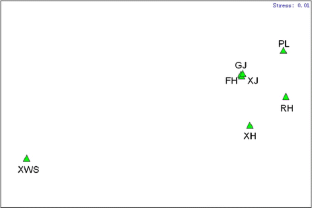 References
Abell R, Allan JD, Lehner B (2007) Unlocking the potential of protected areas for freshwaters. Biol Conserv 134:48–63

Allan JD, Castillo MM (2007) Stream ecology: structure and function of running waters, 2nd edn. Springer, Dordrecht, pp 317–357

Allen-Gil SM, Gubala CP, Landers DH, Lasorsa BK (1997) Heavy metal accumulation in sediment and freshwater fish in US Arctic lakes. Environ Toxicol Chem 16(4):733–741

Bruton MN (1995) Have fishes had their chips? The dilemma of threatened fishes. Environ Biol Fish 43:1–27

Chen LZ (1993) The status in quo and conservation countermeasures of Chinese biodiversity. Science Press, Beijing (in Chinese)

Chen YY (1998) Fauna sinica, osteichthyes, cypriniformes II. Science Press, Beijing (in Chinese)

Chen DQ, Xiong F, Wang K, Chang YH (2009) Status of research on the Yangtze fish biology and fisheries. Environ Biol Fishes 85:337–357

Cheng TQ, Zheng BS (1987) Systematic synopsis of Chinese fishes. Science Press Beijing, (in Chinese)

Chu XL, Zheng BS, Dai DY (1999) Fauna sinica, osteichthyes, siliuriformes. Science Press, Beijing (in Chinese)

Clarke KR, Warwick RM (1994) Change in marine communities: an approach to statistical analysis and interpretation. Plymouth Marine Laboratory, Plymouth

Clarke KR, Somerfield PJ, Chapman MG (2006) On resemblance measures for ecological studies, including taxonomic dissimilarities and a zero-adjusted Bray-Curtis coefficient for denuded assemblages. J Exp Mar Biol Ecol 330:55–80

Dudgeon D, Arthington AH, Gessner MO, Kawabata ZI, Knowler DJ, Leveque C, Naiman RJ, Prieur-Richard AH, Soto D, Stiassny MLJ, Sullivan CA (2006) Freshwater biodiversity: importance, threats, status and conservation challenges. Biol Rev 81:163–182

Fu CZ, Wu JH, Chen JK, Qu QH, Lei GC (2003) Freshwater fish biodiversity in the Yangtze River basin of China: patterns, threats and Conservation. Biodivers Conserv 12:1649–1685

Goren M, Ortal R (1999) Biogeography, diversity and conservation of the inland water fish communities in Israel. Biol Conserv 89:1–9

Guo ZZ (1964) The investigation on fish in Lake Poyang. J Nanchang Univ (Nat Sci) 2:121–130 (in Chinese)

Guo ZZ, Liu RL (1995) The fishes of Jiangxi Province. J Nanchang Univ (Nat Sci) 19:222–232 (in Chinese)

He MC, Wang ZJ, Tang HX (1998) The chemical, toxicological and ecological studies in assessing the heavy metal pollution in Le An river, China. Water Res 32(2):510–518

Hu ML, Wu ZQ, Zhou HM, Zhang AF, Song W, Zhang ZZ (2005) The fisheries characters and resource status of Nanjishan Natural reserve in Poyang Lake. Resour Environ Yangtze Basin 14:561–565 (in Chinese)

Hu ML, Wu ZQ, Liu YL (2009) The fish fauna of mountain streams in the Guanshan National Nature Reserve, Jiangxi, China. Environ Biol Fish 86:23–27

Huang XP, Gong Y (2007) Fishery resources in Poyang Lake and its conservation. Jiangxi Fishery Sci Technol 112(4):2–6 (in Chinese)

Huang LL, Wu ZQ, Hu ML, Li Q, Zong DS, Wan ZQ, Zhao WQ (2008) Fish diversity in Lushan Nature Reserve, Jiangxi, China. J Nanchang Univ (Nat Sci) 32:161–164 (in Chinese)

Jian MF, You H, Ni CY (2006) Characteristic of heavy metals contaminant status and migration in Raohe River of Lake Poyang. J Lake Sci 18(2):127–133, (in Chinese)

Jin BS, Fu CZ, Zhong JS, Li B, Chen JK, Wu JH (2007) Fish utilization of a salt marsh intertidal creek in the Yangtze River estuary, China. Estuar Coast Shelf Sci 73:844–852

Karr JR (1981) Assessment of biotic integrity using fish communities. Fisheries 6:21–27

Karr JR (1991) Biological integrity: a long-neglected aspect of water resource management. Ecol Appl 1:66–84

Karr JR, Chu EW (2000) Sustaining living rivers. Hydrobiologia 422(423):1–14

Keith P (2000) The part played by protected areas in the conservation of threatened French freshwater fish. Biol Conserv 92:265–273

Larinier M (2008) Fish passage experience at small-scale hydro-electric power plants in France. Hydrobiologia 609:97–108

Li SZ (1981) The distribution of Chinese freshwater fishes. Science Press, Beijing (in Chinese)

Li SZ (1993) The distribution of Homalopteridae, Sisoridae and discussion for the north limit of Oriential region. Scientific treatise on Systematic and Evolutionary Zoology. Science Press, Beijing (in Chinese)

Li Q, Wu ZQ, Huang LL, Chen HM, Lu HJ (2008a) Fish resources of Qiyunshan nature reserve, Jiangxi, China. Acta Zootaxon Sin 33:324–329 (in Chinese)

Li ZG, Cao W, Liu BZ, Luo ZD (2008b) Current status and comprehensive control strategies of soil erosion for hilly region in the southern China. Sci Soil Water Conserv 6(1):57–62

Liang Y, Li DC, Lu XX, Yang X, Pan XZ, Mu H, Shi DM, Zhang B (2010) Soil erosion changes over the past five decades in the red soil region of southern China. J Mt Sci 7(1):92–99

Linde-Arias AR, Incaio AF, Novo LA, de Alburquerque C, Moreira JC (2008) Multibiomarker approach in fish to assess the impact of pollution in a large Brazilian river, Paraiba do Sul. Environ Pollut 156:974–979

Liu HZ, Chen YY (1999) Resources of aquatic organisms and conservation. In: Liu JK (ed) Advanced hydrobiology. Science Press, Beijing, pp 362–375 (in Chinese)

Liu RL, Guo ZZ (1986) Description of a new species of the genus Parabotia from Jiangxi. J Jiangxi Univ (Nat Sci) 10:69–71 (in Chinese)

Lyons J, Navarro-Perez S, Cochran PA, Santana E, Guzmanarroyo M (1995) Index of biotic integrity based on fish assemblages for the conservation of streams and rivers in West-Central Mexico. Conserv Biol 9:569–584

Mercado-Silva N, Escandón-Sandoval DS (2008) A comparison of seining and electrofishing for fish community bioassessment in a Mexican Atlantic slope Montane river. N Am J Fish Manage 28:1725–1732

Moyle PB, Leidy RA (1992) Loss of biodiversity in ecosystems: evidence from fish faunas. In: Fiedler PL, Jain SK (eds) Conservation biology: the theory and practice of nature conservation, preservation and management. Chapman and Hall, New York, pp 127–169

Nelson JS (2006) Fishes of the world, 4th edn. Wiley, New York

Pont D, Hugueny B, Rogers C (2007) Development of a fish-based index for the assessment of river health in Europe: the European Fish Index. Fish Manage Ecol 14:427–439

Saunders DL, Meeuwig JJ, Vincent ACJ (2002) Freshwater protected areas: strategies for conservation. Conserv Biol 16(1):30–41

Suen JP, Herricks EE (2006) Investigating the causes of fish community change in the Dahan River (Taiwan) using an autecology matrix. Hydrobiologia 568:317–330

Suski CD, Cooke SJ (2007) Conservation of aquatic resources through the use of freshwater protected areas: opportunities and challenges. Biodivers Conserv 16:2015–2029

Szöllosi-Nagy A, Najlis P, Björklund G (1998) Assessing the world's freshwater resources. Nat Resour 34(1):8–18

Tang WQ, Liu HZ, Ma JA, Xiao RC (1993) The effects of key water control project at Wanan Dam and countermeasures on the reproduction of Macrura reevesii (Richardson) in Ganjiang River in Jiangxi province, China. Reserv Fish 65:18–19 (in Chinese)

Tian JL (1989) Fish resources in Ganjiang river before the construction of Wan An dam and its fishery ultilazation. Freshw Fisheries 19(1):33–39 (in Chinese)

Wang HJ, Zhou YL, Yao LW, Wei XJ (2004) Influences of water project on living resources in Poyang Lake wetland. J Water Resour Archit Eng 2:19–21 (in Chinese)

Wang K, Shi XZ, Yu DS, Shi DM, Chen JM, Xu BB, Liang Y, Li DC (2005) Environmental factors affecting temporal and spatial dynamics of soil erosion in Xinguo County, South China. Pedosphere 15(5):620–627

Wu HL, Chen YX, Chong DH (2002) A new species of the genus Odontobuis (Pisces, Odontobutidae) from China. J Shanghai Fisheries Univ 11:6–13 (in Chinese)

Xu JX, Fang CL, Liao HM (1999) The fish fauna in the Lake Jinxian. Jiangxi Fishery Sci Technol 78:15–19 (in Chinese)

Xu J, Zou PZ, Wen CY, Chen JR (2002) Fish fauna and dividing of northern line of oriental region, at Yali river upper reach of Beijiang river in the south of Qinling mountain range. J Shanxi Normal Univ (Nat Sci) 30:104–108 (in Chinese)

Yang L, Mayden RL (2010) Phylogenetic relationships, subdivision, and biogeography of the cyprinid tribe Labeonini (sensu Rainboth, 1991)(Teleostei: Cypriniformes), with comments on the implication of lips and associated structures in the labeonin classification. Mol Phylogenet Evol 54:254–265

Yu ZY, Sun C (2006) Fishery resources in Poyang lake. Chin Fish Econ 5:43–46 (in Chinese)

Yuan LY (2005) Taxonomic revision of Chinese species of the cyprinid genus Acrossocheilus (Teleostei: Cypriniformes). Dissertation of Master of Science, Nanchang University, Nanchang (in Chinese)

Yue PQ (2000) Fauna sinica, osteichthyes, cypriniformes III. Science Press, Beijing (in Chinese)

Yue PQ, Chen YY (1998) Pisces. In: Wang S (ed) China red data book of endangered animals. Science Press, Beijing (in Chinese)

Yuma M, Hosoya K, Nagata Y (1998) Distribution of the freshwater fishes of Japan: an historical overview. Environ Biol Fish 52:97–124

Zhang E, Chen YY (1997) Fish fauna in Northeastern Jiangxi province with a discussion on the zoogeographical division of east China. Acta Hydrobiol Sin 21:254–261 (in Chinese)

Zhang CG, Dai DY (1992) The exploitation and utilization of natural resources in Nanling Mountain region. Science Press, Beijing, pp 152–159 (in Chinese)

Zhang ZL, Huang LZ (2008) Influence of quarrying in Poyang Lake in the ecological environment. Jiangxi Hydraul Sci Technol 34:7–10 (in Chinese)

Zhang TL, Li ZJ (2007) Fish resources and fishery utilization of Lake Poyang. J Lake Sci 19:434–444 (in Chinese)

Zhang E, Liu HZ (1995) A new species of the genus Gobiobotia from Jiangxi Province, China. Acta Zootaxonomica Sin 20:249–252 (in Chinese)

Zhang E, Liu HZ, He CC (1996) The study on fish fauna in Northeastern of Jiangxi province. Chin J Zool 31:3–12 (in Chinese)

Zhang JM, Wu ZQ, Hu ML (2010) Resource status of four major Chinese carps in the Xiajiang reach of Ganjiang river. J Hydroecol 3(1):34–37, in Chinese

Zhong YX, Chen S (2005) Effects of sand excavation on fish in Poyang Lake. Jiangxi Fishery Sci Technol 101:15–18 (in Chinese)

Zhou H, Zhang ZN (2003) Rationale of the Multivariate Statistical Software PRIMER and Its Application in Benthic Community Ecology. J Ocean Univ Qingdao 33:58–64 (in Chinese)

Zhu SQ (1995) Synopsis of freshwater fishes of China. Jiangsu Science & Technology Publishing House, Nanjing (in Chinese)

Zhu C, Wang Y, Yu N (1997) Patterns in high-production and ecological fisheries in lake Gehu, Jiangsu. Chinese Agriculture Press, Beijing (in Chinese)

Zou DL (1988) The fish resources of Xunwushui in Jiangxi province. Chin J Zool 23:15–17 (in Chinese)
Acknowledgements
The study was supported by National Natural Science Foundation of China (Grant No. 30760188) and Natural Science Foundation in Jiangxi Province (No. 226). We are grateful to Hanlin Wu (Shanghai Ocean University, China) for his help in fish identification and Gary Grant (Member of Institute of Ecology and Environmental Management, 6–8 Cole Street, London SE1 4YH, UK g.grant@me.com) for improving the English text and two anonymous reviewers for their helpful and insightful comments on our manuscript.
Appendix 1
Appendix 1
About this article
Cite this article
Huang, L.L., Wu, Z.Q. & Li, J.H. Fish fauna, biogeography and conservation of freshwater fish in Poyang Lake Basin, China. Environ Biol Fish 96, 1229–1243 (2013). https://doi.org/10.1007/s10641-011-9806-2
Received:

Accepted:

Published:

Issue Date:
Keywords
Fish fauna

Biogeography

Conservation

Freshwater

Poyang Lake