Abstract
Sturgeon populations in the Danube River have experienced severe decline during the last several decades, mostly due to the poorly regulated fishery, river fragmentation and water pollution. This study focuses on gaining better understanding of sturgeon life history primarily by addressing the assessment of microelement accumulation in sturgeon pectoral fin rays, especially of strontium and calcium, as a method that can reveal migration patterns of anadromous sturgeons. Analysis was performed on pectoral fin samples of three anadromous Danube sturgeon species (beluga, Russian sturgeon and stellate sturgeon) by the use of a Nuclear Microprobe technique. The most frequent pattern in analyzed samples was represented by a low Sr:Ca ratio in the innermost annuli, followed by an increased ratio in the middle annuli segment, and often with a decreased ratio in the outermost annuli. Probability density estimate has revealed three distinguished maxima of the Sr:Ca ratio, 7.08 × 10−3, 8.98 × 10−3 and 9.90 × 10−3, which might correspond, respectively, to fresh, brackish and saltwater. Although the analysis of the Sr:Ca ratio in sturgeon pectoral fin rays has revealed changes that might indicate probable migration between habitats with different water salinity, further studies are needed for improvement of this method. This study represents the first analysis of this kind that was conducted on sturgeon species from the Black Sea basin.
This is a preview of subscription content, log in to check access.
Access options
Buy single article
Instant access to the full article PDF.
US$ 39.95
Price includes VAT for USA
Subscribe to journal
Immediate online access to all issues from 2019. Subscription will auto renew annually.
US$ 199
This is the net price. Taxes to be calculated in checkout.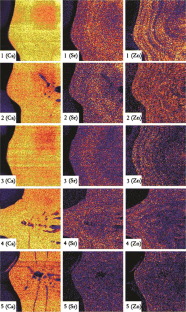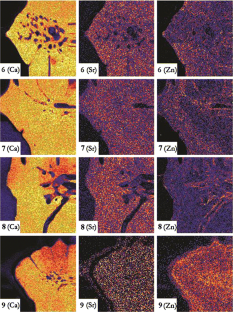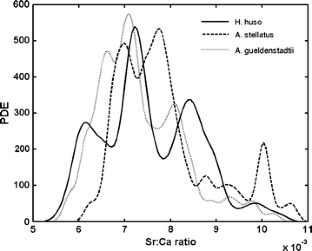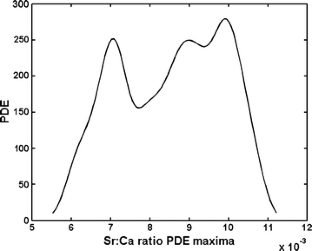 References
Arai T, Levin AV, Boltunov AN, Miyazaki N (2002) Migratory history of the Russian sturgeon Acipenser guldenstadti in the Caspian Sea, as revealed by pectoral fin spine Sr:Ca ratios. Mar Biol 141:315–319

Bacalbaşa-Dobrovici N (1991) Statut des differentes especes d'esturgeons dans le Danube Roumain: problemes lies a leur maintenance. In: Williot P (ed) Acipenser. Cemagref-Dicova, Bordeaux, pp 185–192

Bemis WE, Findeis EK, Grande L (1997) An overview of Acipenseriformes. Environ Biol Fish 48:25–71

Bloesch J, Jones T, Reinartz R, Striebel B (eds) (2006) Action Plan for the conservation of sturgeons (Acipenseridae) in the Danube River Basin. Nature and Environment 144:1–121

Ciolac A, Patriche N (2005) Biological aspects of main marine migratory sturgeons in Romanian Danube River. Migration of fishes in Romanian Danube River, No 4. Appl Ecol Environ Res 3(2):101–106

Elfman M, Limburg KE, Kristiansson P, Malmqvist K, Pallon J (1999) Application of micro-PIXE to fish life history analyses: trace element analysis of otoliths. Nucl Instrum Meth B 150:272–276

Elfman M, Limburg KE, Kristiansson P, Svedäng H, Westin L, Wickström H, Malmqvist K, Pallon J (2000) Complex life histories of fishes revealed through natural information storage devices: case studies of diadromous events as recorded by otoliths. Nucl Instrum Meth B 161–163:877–881

Elfman M, Pallon J, Auzelyte V, Kristiansson P, Malmqvist K, Nilsson C, Shariff A, Wegdén M (2005) The Lund Nuclear Microprobe sub-micron set-up. Part III: Sample stage, optical imaging and detector configuration in the experimental chamber. Nucl Instrum Meth B 231:14–20

Hensel K, Holčik J (1997) Past and current status of sturgeons in the upper and middle Danube River. Environ Biol Fish 48:185–200

Hubenova T, Uzunova E, Zaikov A (2009) Management strategies in protection and restoration of sturgeon biodiversity in Bulgaria. In: Marković Z (ed) Proceedings of the IV International Conference "Fishery". Faculty of Agriculture, University of Belgrade, Serbia, pp 39–52

IUCN (2008) 2008 IUCN Red List of Threatened Species. International Union for Conservation of Nature and Natural Resources. http://www.iucnredlist.org. Accessed 04 May 2010

Jackson ND, Garvey JE, Colombo RE (2007) Comparing aging precision of calcified structures in shovelnose sturgeon. J Appl Ichthyol 23:525–528

Jarić I, Lenhardt M, Cvijanović G, Ebenhard T (2009) Acipenser sturio and Acipenser nudiventris in the Danube—extant or extinct? J Appl Ichthyol 25:137–141

Jarić I, Ebenhard T, Lenhardt M (2010) Population Viability Analysis of the Danube sturgeon populations in a VORTEX simulation model. Rev Fish Biol Fish 20(2):219–237

Killgore KJ, Hoover JJ, Kirk JP, George SG, Lewis BR, Murphy CE (2007) Age and growth of pallid sturgeon in the free-flowing Mississippi River. J Appl Ichthyol 23:452–456

Lenhardt M, Jaric I, Kalauzi A, Cvijanovic G (2006) Assessment of extinction risk and reasons for decline in sturgeon. Biodivers Conserv 15:1967–1976

Lenhardt M, Jarić I, Cvijanović G, Smederevac-Lalić M (2008) The key threats to sturgeons and measures for their protection in the Lower Danube Region. In: Lagutov V (ed) Rescue of sturgeon species in the Ural River Basin. Springer Science, pp. 87–96

Limburg KE, Landergren P, Westin L, Elfman M, Kristiansson P (2001) Flexible modes of anadromy in Baltic sea trout: making the most of marginal spawning streams. J Fish Biol 59:682–695

Major CO, Goldstein SL, Ryan WBF, Lericolais G, Piotrowski AM, Hajdas I (2006) The co-evolution of Black Sea level and composition through the last deglaciation and its paleoclimatic significance. Qua Sci Rev 25:2031–2047

Paragamian VL, Beamesderfer RC (2003) Growth estimates from tagged white sturgeon suggest that ages from fin rays underestimate true age in the Kootenai River, USA and Canada. T Am Fish Soc 132:895–903

Reinartz R (2002) Sturgeons in the Danube River. Biology, Status, Conservation. Literature study. International Association for Danube Research (IAD), Bezirk Oberpfalz, Landesfischereiverband Bayern, e.V

Rekacewicz P (2001a) Salinity of the Black Sea. UNEP/GRID-Arendal. http://maps.grida.no. Accessed 04 May 2010

Rekacewicz P (2001b) Sturgeons distribution in the Black Sea. UNEP/GRID-Arendal. http://maps.grida.no. Accessed 04 May 2010

Rien TA, Beamesderfer RC (1994) Accuracy and precision of white sturgeon age estimates from pectoral fin rays. T Am Fish Soc 123:255–265

Shariff A, Auzelyte V, Elfman M, Kristiansson P, Malmqvist K, Nilsson C, Pallon J, Wegdén M (2005a) The Lund Nuclear Microprobe sub-micron set-up. Part I: Ion optics calculation. Nucl Instrum Meth B 231:1–6

Shariff A, Nilsson C, Auzelyte V, Elfman M, Kristiansson P, Malmqvist K, Pallon J, Wegdén M (2005b) The Lund nuclear microprobe sub-micron set-up. Part II: Beam line, focusing system and scanning. Nucl Instrum Meth B 231:7–13

Stevenson JT, Secor DH (2000) Age determination and growth of Hudson River Atlantic sturgeon, Acipenser oxyrinchus. Fish B-NOAA 98(1):153–166

Vassilev M (2006) Lower Danube—the last refuge for surviving of sturgeon fishes in the Black Sea Region. In: Hubert P (ed) Proceedings of the Conference "Water Observation and Information System for Decision Support". Balwois, Ohrid, Macedonia. http://balwois.org. Accessed 04 May 2010

Veinott G, Northcote T, Rosenau M, Evans RD (1999) Concentrations of strontium in the pectoral fin rays of the white sturgeon (Acipenser transmontanus) by laser ablation sampling—inductively coupled plasma—mass spectrometry as an indicator of marine migrations. Can J Fish Aquat Sci 56:1981–1990

Williot P, Arlati G, Chebanov M, Gulyas T, Kasimov R, Kirschbaum F, Patriche N, Pavlovskaya LP, Poliakova L, Pourkazemi M, Kim Y, Zhuang P, Zholdasova IM (2002) Status and management of Eurasian sturgeon: an overview. Int Rev Hydrobiol 87(5–6):483–506
Acknowledgements
This study represents a part of activities within the Project No. 143045, funded by Ministry of Science of Republic Serbia, as well as within the Master Programme in Management of Biological Diversity, organized by the Swedish Biodiversity Centre (CBM) and funded by the Swedish International Development Cooperation Agency (Sida). The authors would like to thank the Editor and two anonymous referees for providing helpful comments and suggestions.
About this article
Cite this article
Jarić, I., Lenhardt, M., Pallon, J. et al. Insight into Danube sturgeon life history: trace element assessment in pectoral fin rays. Environ Biol Fish 90, 171–181 (2011). https://doi.org/10.1007/s10641-010-9728-4
Received:

Accepted:

Published:

Issue Date:
Keywords
Acipenser
Huso

Migration patterns

Pectoral fin microchemistry

Sr:Ca ratio

Nuclear microprobe