Abstract
Polyandry is extremely common across a wide range of organisms. In promiscuous mating systems, females are often sexually harassed by males, but at the same time obtain benefits from multiple mating. It remains unclear whether polyandry is exclusively imposed by males or is also promoted by females. Here, we investigated this question by recording the time spent by female guppies near a single male or a group of males with similar size and colour patterns over three consecutive days. We accounted for the effect of shoaling by using a control treatment where a group of females was used instead of a group of males. Results showed that females spent significantly more time near the group of males, but not with the group of females. In the presence of a group of males, total female mating preference time did not change over the course of the study, but rather shifted from spending more time near the single male at the beginning of the experiment to spending more time near the group of males. The consequence of this female preference for associating with a group of males in a non-experimental setup would be to promote multiple mating. Our result indicates that polyandry in guppies is at least partially encouraged by females, and not entirely a consequence of male sexual behaviour.
This is a preview of subscription content, log in to check access.
Access options
Buy single article
Instant access to the full article PDF.
US$ 39.95
Price includes VAT for USA
Subscribe to journal
Immediate online access to all issues from 2019. Subscription will auto renew annually.
US$ 199
This is the net price. Taxes to be calculated in checkout.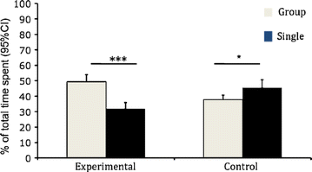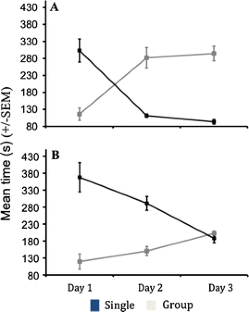 References
Agrillo C, Marco D, Bisazza A (2006) Sexual harassment influences group choice in female mosquitofish. Ethology 112:592–598

Agrillo C, Dadda M, Serena G (2008) Choice of female groups by male Mosquitofish (Gambusia holbrooki). Ethology 114:479–488

Arnqvist G, Rowe L (2005) Sexual conflict. Princeton University Press, New Jersey, 360 pp

Barbosa M, Magurran AE (2006) Female mating decisions: maximizing fitness? J Fish Biol 68:1636–1661

Barbosa M, Dornelas M, Magurran AE (2010) Effects of polyandry on male phenotypic diversity. J Evol Biol. doi:10.1111/j.1420-9101.2010.02105.x

Bashey F (2006) Cross-generational environmental effects and the evolution of offspring size in the Trinidadian guppy Poecilia reticulata. Evolution 60:348–361

Bateman AJ (1948) Intrasexual selection in Drosophila. Heredity 2:349–368

Birkhead T (2000) Promiscuity—an evolutionary history of sperm competition and sexual conflict. Faber and Faber, London, 283 pp

Bischoff RJ, Gould JL, Rubenstein DI (1985) Tail size and female choice in the guppy (Poecilia reticulata). Behav Ecol Sociobiol 17:253–255

Breden F, Novinger D, Schubert A (1995) The effect of experience on mate choice in the Trinidadian guppy, Poecilia reticulata. Environ Biol Fish 42:323–328

Brewster J, Houde A (2003) Are female guppies more likely to flee when approached by two males? J Fish Biol 63:1056–1059

Bro-Jørgensen J (2007) Reversed sexual Conflict in a promiscuous antelope. Curr Biol 17:1–5

Brooks R, Endler JA (2001) Female guppies agree to differ: phenotypic and genetic variation in mate-choice behavior and the consequences for sexual selection. Evolution 55:1644–1655

Chapman T (2006) Evolutionary conflicts of interests between males and females. Curr Biol 16:R744–R754

Chapman T, Arnqvist G, Bangham J, Rowe L (2003) Sexual conflict. Trends Ecol Evol 18:41–47

Clutton-Brock TH, Parker GA (1995) Sexual coercion in animal societies. Anim Behav 49:1345–1365

Constantz GD (1989) Reproductive biology of poeciliid fishes. In: Meffe GK, Snelson FF (eds) Ecology and evolution of livebearing fishes. Prentice Hall, Englewoood Clifts, pp 33–50

Croft DP, Botham MS, Krause J (2004) Is sexual segregation in the guppy, Poecilia reticulata, consistent with the predation risk hypothesis? Environ Biol Fish 71:127–133

Croft DP, James R, Thomas POR, Hathaway C, Mawdsley D, Laland KN, Krause J (2006) Social structure and co-operative interactions in a wild population of guppies (Poecilia reticulata ). Behav Ecol Sociobiol 59:644–650

Darden SK, Croft DP (2008) Male harassment drives females to alter habitat use and leads to segregation of the sexes. Biol Lett 4:449–451

Eliassen S, Kokko A (2008) Current analyses do not resolve whether extra-pair paternity is male or female driven. Behav Ecol Sociobiol 62:1795–1804

Evans JP, Magurran AE (2000) Multiple benefits of multiple mating in guppies. PNAS 97:10074–10076

Evans JP, Bisazza A, Pilastro A (2004) Female mating preferences for colourful males in a population of guppies subject to high predation. J Fish Biol 65:1154–1159

Godin J-GJ, Herdman EJE, Dugatkin LA (2005) Social influences on female mate choice in the guppy, Poecilia reticulata: generalized and repeatable trait-copying behaviour. Anim Behav 69:999–1005

Griffiths SW, Magurran AE (1998) Sex and schooling behaviour in the Trinidadian guppy. Anim Behav 56:689–693

Guevara-Fiore P, Skinner A, Watt PJ (2009) Do male guppies distinguish virgin females from recently mated ones? Anim Behav 77:425–431

Head ML, Brooks R (2006) Sexual coercion and the opportunity for sexual selection in guppies. Anim Behav 71:515–522

Heubel KU, Plath M (2008) Influence of male harassment and female competition on female feeding behaviour in a sexual–asexual mating complex of mollies (Poecilia mexicana, P. formosa). Behav Ecol Sociobiol 62:1689–1699

Houde AE (1997) Sex, colour and mate choice in guppies. Princeton University Press, Princeton, 224 pp

Ihara Y (2002) A model for evolution of male parental care and female multiple mating. Am Nat 160:235–244

Jayasooriya AP, Weisinger RS, Weisinger HS, Mathai ML, Sinclair AJ (2002) Attraction to orange: Sexiness, not gluttony. Science 296:847–847

Jennions MD, Petrie M (2000) Why do females mate multiply? A review of the genetic benefits. Biol Rev 75:21–64

Kodric-Brown A (1993) Female choice of multiple male criteria in guppies: interacting effects of dominance, coloration and courtship. Behav Ecol Sociobiol 32:415–420

Kotiaho JS, Puurtinen M (2007) Mate choice for indirect genetic benefits: scrutiny of the current paradigm. Funct Ecol 21:638–644

Liley NR (1966) Ethological isolating mechanisms in four sympatric species of Poeciliid fishes. Behaviour 13:1–197

Liley NR, Wishlow W (1974) The interaction of endocrine and experimental factors in the regulation of sexual behaviour in the female guppy Poecilia reticulata. Behaviour 48:185–213

Lindström K, Ranta E (1993) Social preferences by male guppies, Poecilia reticulata, based on shoal size and sex. Anim Behav 46:1029–1031

Magurran AE, Seghers BH (1994) Sexual conflict as a consequence of ecology—evidence from guppy, Poecilia reticulata, populations in Trinidad. Proc R Soc B 255:31–36

Neff BD, Pitcher TE, Ramnarine IW (2008) Inter-population variation in multiple paternity and reproductive skew in the guppy. Mol Ecol 17:2975–2984

Ojanguren AF, Magurran AE (2007) Male harassment reduces short-term female fitness in guppies. Behaviour 144:503–514

Ojanguren AF, Evans JP, Magurran AE (2005) Multiple mating influences offspring size in guppies. J Fish Biol 67:1184–1188

Pitcher TE, Neff BD, Rodd FH, Rowe L (2003) Multiple mating and sequential mate choice in guppies: females trade up. Proc R Soc B 270:1623–1629

R Development Core Team (2008) R: A language and environment for statistical computing. R R Foundation for Statistical Computing, Vienna, Austria

Reinhardt K, Naylor RA, Siva-Jothy MT (2009) Situation exploitation: higher male mating success when female resistance is reduced by feeding. Evolution 63:29–39

Reznick D, Yang AP (1993) The influence of fluctuating resources on life-history—patterns of allocation and plasticity in female guppies. Ecology 74:2011–2019

Sheldon BC (2000) Differential allocation: tests, mechanisms and implications. Trends Ecol Evol 15:397–402

Sokal RR, Rohlf JF (1995) Biometry: the principles and practice of statistics in biological research. Freeman and Company, New York, 859 pp

Stoltz JA, McNeil JN, Andrade MCB (2007) Males assess chemical signals to discriminate just-mated females from virgins in redback spiders. Anim Behav 74:1669–1674
Acknowledgments
We are grateful to Maria Dornelas and Andrew Baird for providing helpful comments on early drafts. This study was funded by a PhD fellowship to MB from Fundação para a Ciência e a Tecnologia (FCT), Portugal. This project was carried out at the Gatty Marine Laboratory, and as such was subject to regular inspection by both the Home Office Inspector and the University Vet and complied with current UK animal welfare and health and safety regulations.
About this article
Cite this article
Barbosa, M., Magurran, A.E. Evidence of female-promoted polyandry in Trinidadian guppies. Environ Biol Fish 90, 95–102 (2011). https://doi.org/10.1007/s10641-010-9721-y
Received:

Accepted:

Published:

Issue Date:
Keywords
Polyandry

Sexual conflict

Sexual harassment

Mating behaviour

Mating preference

Poecilia reticulata