Abstract
Despite being an important member of neotropical fish assemblages, as well as a species with an unenviable reputation, little is known about the reproductive ecology of Red-bellied Piranha, Pygocentrus nattereri, in the wild. We tracked the reproductive activity of piranhas in the flooded forests of Mamirauá Reserve, Central Brazilian Amazon, for 2 years, in an investigation that included over 3,000 individual fish. Contrary to expectation piranhas had not one, but rather two annual reproductive seasons, tuned to water level fluctuation and the flooding pulse. Females were found to have up to 30,000 oocytes, little more than one third of which were mature and available for spawning in a single batch. Sexual maturation (of both males and females) occurred at around 160 mm. At this point sexually active individuals (of both sexes) became dark and lost most of their red coloration. Ontogenetic changes in habitat selection were strongly associated with the spawning behavior of mature adults. We also found that flooded marginal vegetation and marginal grasses inside lakes were the preferred spawning areas. In contrast, non-reproductive individuals were found in open water and under floating meadows.
This is a preview of subscription content,
to check access.
Access this article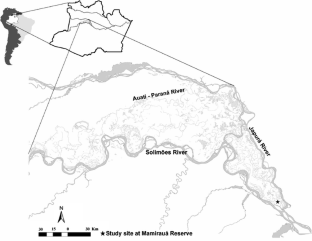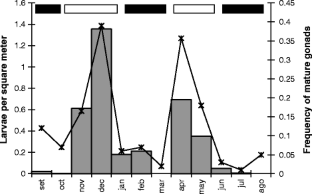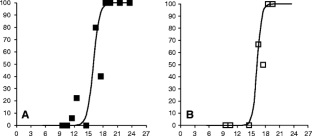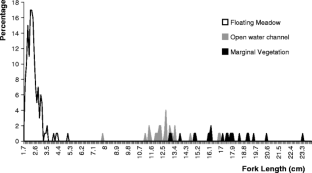 Similar content being viewed by others
References
Araújo-Lima C, Goulding M (1997) So fruitful a fish: ecology, conservation, and aquaculture of the Amazon´s Tambaqui. Columbia University Press, New York, 192pp

Crampton W (1999) A fauna de peixes da Reserva Mamirauá. In: Queiroz H, Crampton W (eds) O Manejo Integrado dos Recursos Pesqueiros em Mamirauá. SCM, CNPq/MCT, Brasília (DF), 205pp

Duponchelle F, Lino F, Hubert N, Panfili J, Renno J-F, Baras E, Torrico JP, Dugue R, Nuñez J (2007) Environment-related life-history trait variations of the Red-bellied Piranha Pygocentrus nattereri in two river basins of the Bolivian Amazon. J Fish Biol 71:1113–1134

Ferreira RMA, Bazzoli N, Rizzo E, Sato Y (1996) Aspectos reprodutivos da piranha, Pygocentrus piraya (Teleostei, Characiformes), espécie nativa da bacia do Rio São Francisco. Arq Bras Med Vet Zootec 48(1):71–76

Fink W (1993) Revision of the piranha genus Pygocentrus (Teleostei, Characiformes). Copeia 1993:665–687

Goulding M (1980) The fishes and the forest. Explorations in Amazonian natural history. University of California Press, Berkeley, 280p

Henderson P, Crampton W (1997) A comparison of fish diversity and abundance between nutrient-rich and nutrient-poor lakes in the upper Amazon. J Trop Ecol 13:175–198

Henderson P, Hamilton HF (1995) Standing crop and distribution of fish in drifting and attached floating meadow within an upper Amazonian varzea lake. J Fish Biol 47:266–276

Henderson P, Robertson B (1997) On structural complexity and fish diversity in an Amazonian floodplain. In: Padoch C, Ayres J, Vásquez M, Henderson A (eds) Várzea: diverstity, development, and conservation of Amazonian´s whitewater floodplains. Advances in Economic Botany, vol. 13:45–58. The New York Botanical Garden Press, 407pp

Hubert N, Renno JF (2006) Historical biogeography of South American freshwater fishes. J Biogeogr 33:1414–1436

Junk WJ (1997) The Central Amazon floodplain—ecology of a pulsing system. Ecological Studies, 126. Springer, Berlin, 525p

Junk WJ, Ohly JJ, Piedade MTF, Soares MGM (2000) The Central Amazon floodplain: actual use and options for a sustainable management. Backhuys, Leiden, 584pp

Lamas IR, Godinho AL (1996) Reproduction in the piranha Serrasalmus spiropleura, a neotropical fish with a unusual pattern of sexual maturity. Environ Biol Fish 45:161–168

Latini AO, Petrere M Jr (2004) Reduction of a native fish fauna by alien species: an example from Brazilian freshwater tropical lakes. Fisheries Manag Ecol 11:71–79

Leão ELM, Leite RG, Chaves PTC, Ferraz E (1991) Aspectos da reprodução, alimentação e parasitofauna de uma espécie rara de piranha, Serrasalmus altuvei Ramírez, 1956 (Pisces, Serrasalmidae) do baixo rio Negro. Rev Bras Biol 51:545–553

Lowe-McConnell RH (1964) The fishes of the Rupununi Savana district of British Guyana, South America. J Linn Soc (Zool) 45:103–144

Lowe-McConnell RH (1987) Ecological studies in tropical fish communities. Cambridge University Press, Cambridge

Lowe-McConnell RH (1999) Estudos Ecológicos de Comunidades de Peixes Tropicais. Editora da Universidade de São Paulo, São Paulo, 534pp

Machado-Alison A (1983) Estudios sobre la sistemática de la subfamilia Serrasalminae (Teleostei, Characidae). Parte II. Discusión sobre la condicion monofilética de la subfamilia. Acta Biol Venez 11:145–195

Machado-Alison A, Fink W (1995) Sinopsis de las especies de la subfamilia Serrasalminae presentes en la cuenca del Orinoco. Claves, Diagnosis e Ilustraciones. Lito Color RI, Caracas

Magurran AE, Queiroz HL (2003) Partner choice in piranha shoals. Behaviour 140:289–299

Pauly D (1994) Quantitative analysis of published data on the growth, metabolism, food consumption, and related features of the Red-bellied Piranha, Serrasalmus nattereri (Characidae). Environ Biol Fish 41:423–437

Petry P, Bayley PB, Markle DF (2003) Relationships between fish assemblages, macrophytes and environmental gradients in the Amazon River floodplain. J Fish Biol 63:547–579

Quaggio-Grassiotto I, Guimarães ACD (2003) Follicular epithelium, theca and egg envelope formation in Serrasalmus spilopleura (Teleostei, Characiformes, Characidae). Acta Zool (Stockholm) 84:121–129

Queiroz HL (1997) Artisanal fisheries of pirarucu at the Mamirauá ecological station. In: Padoch C, Ayres JM, Pinedo-Vasquez M, Henderson A (eds) Várzea: diversity, development, and conservation of Amazonian´s whitewater floodplains. Advances in Economic Botany, vol.13:83–100. The New York Botanical Garden Press, 407p

Queiroz HL, Crampton W (eds) (1999) O Manejo Integrado dos Recursos Pesqueiros em Mamirauá. SCM, CNPq/MCT, Brasília, 205pp

Queiroz HL, Magurran AE (2005) Safety in numbers? Shoaling behaviour of the Amazonian Red-bellied Piranha. Biol Lett 1(2):155–157

Ramalho EE, Macedo J, Vieira TM, Valsecchi J, Calvimontes J, Marmontel M, Queiroz HL (2009) Ciclo hidrológico nos ambientes de várzea da Reserva de Desenvolvimento Sustentável Mamirauá—Médio Rio Solimões, Período de 1990 a 2008. Uakari 5(1):61–87

Rodrigues JD, Mota A, Moraes MN, Ferreira AE (1978) Curvas de maturação gonadal e crescimento de fêmeas de pirambeba, Serrasalmus spiropleura Kner, 1859 (Pisces, Cypriniformes). Bol Inst Pesca 5:51–63

Saint-Paul U, Zuanon J, Villacorta-Correa MA, Garcia M, Fabre N, Berger U, Junk WJ (2000) Fish communities in central white- and black-water floodplains. Environ Biol Fish 57:235–250

Sato Y, Sampaio EV, Fenechi-Verani N, Verani JR (2006) Biologia reprodutiva de duas espécies de Characidae (Osteichthyes, Characiformes) na Bacia do São Francisco, Minas Gerais. Brasil Rev Bras Zool 23(1):267–273

Sazima I, Guimarães SA (1987) Scavenging on human corpses as a source for stories about man-eating piranhas. Environ Biol Fish 20:75–77

Sazima I, Machado FA (1990) Underwater observation of piranhas in western Brazil. Environ Biol Fish 28:17–31

Schulte W (1988) Piranhas in the aquarium. Tropical Fish Hobbyist Publication, Neptune City

Sioli H (ed) (1984) The Amazon: limnology and landscape ecology of a mighty tropical river and its basin. W Junk, Dordrecht, 580pp

Uetanabaro M, Wang T, Abe AS (1993) Breeding behaviour of the Red-bellied Piranha Pygocentrus nattereri in nature. Environ Biol Fish 38:369–371

Vazzoler AEAM (1996) Biologia da Reprodução de Peixes Teleósteos. Teoria e Prática. Ed. EDUEM. Maringá, Paraná, 51pp

Vazzoler AEAM, Menezes NA (1992) Síntese do conhecimento sobre o comportamento reprodutivo dos Characiformes da América do Sul (Teleostei, Ostariphysi). Rev Bras Biol 52:627–640

Winemiller KO (1989) Ontogenetic diet shifts and resource partitioning among piscivorous fishes in the Venezuelan llanos. Environ Biol Fish 26:177–199

Wittmann F, Schöngart J, Montero JC, Motzer T, Junk WJ, Piedade MTF, Queiroz HL, Worbes M (2006) Tree species composition and diversity gradients in white-water forests across the Amazon Basin. J Biogeogr 33(8):1334–1347
Acknowledgements
We thank the many fishermen of Mamirauá Reserve who helped us sample animals, and those that assisted in data collection, especially Danielle Pedrociani Cavalcante, Jonas Martins e Franciney Martins. Maurício Camargo and Alexandre Hercos made insightful comments and made suggestions for improving an earlier version of the manuscript. To these and to all others that helped with this study we are very grateful. This work was partially supported by IDSM-OS/MCT, and by a grant from the Royal Society (London).
About this article
Cite this article
Queiroz, H.L., Sobanski, M.B. & Magurran, A.E. Reproductive strategies of Red-bellied Piranha (Pygocentrus nattereri Kner, 1858) in the white waters of the Mamirauá flooded forest, central Brazilian Amazon. Environ Biol Fish 89, 11–19 (2010). https://doi.org/10.1007/s10641-010-9658-1
Received:

Accepted:

Published:

Issue Date:

DOI: https://doi.org/10.1007/s10641-010-9658-1
Keywords