Abstract
Superficial dermal wounds in whale sharks are reported to heal rapidly as with many other elasmobranchs. Here observations of two wounded whale sharks (Rhincodon typus) in Maldivian waters suggest that free ranging sharks are able to recover and rapidly heal from the effects of deeper wounding on internal organs or amputations. One specimen observed impaled by a wooden harpoon shaft, was subsequently re-encountered nearly a year later. The other suffered a near severed first dorsal fin but showed signs of rapid healing. These observations illustrate that despite national bans in whale sharks fishing, the practise persists in the Maldives. Further research to increase understanding of the demography of aggregations of this species is necessary before the impact of illegal exploitation on regional population trends can be determined. National governments are encouraged to enhance marine conservation outreach and education programmes throughout their territories.
Access options
Buy single article
Instant access to the full article PDF.
US$ 39.95
Tax calculation will be finalised during checkout.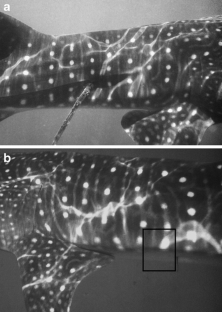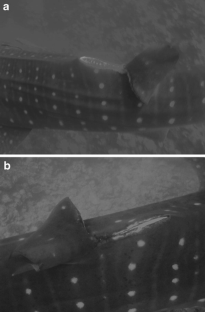 References
Anderson RC, Ahmed H (1993) The shark fisheries of the Maldives. Ministry of Fisheries and Agriculture, Male, Republic of Maldives. Food and Agriculture Organisation

Anderson RC, Waheed A (2001) The Economics of Shark and Ray Watching in the Maldives. Newsletter of the IUCN Shark Specialist Group 13. Berkshire, UK: IUCN Shark Specialist Group

Arzoumanian Z, Holmberg J, Norman B (2005) An astronomical pattern matching algorithm for computer-aided identification of whale sharks Rhincodon typus. J. Appl. Ecol. 42:999–1011

Bird PM (1978) Tissue regeneration in three carcharhinid sharks encircled by embedded straps. Copeia 2:345–349

Cárdenas-Torres-Torres N, Enr´ıquez-Andrade R, Rodr´ıguez-Dowdell N (2007) Community-based management through ecotourism in Bahia de los Angeles, Mexico. Fish. Res 84:114–118

Domeier ML, Nasby-Lucas N (2007) Annual re-sightings of photographically identified white sharks (Carcharodon carcharias) at an eastern PaciWc aggregation site (Guadalupe Island, Mexico). Mar Biol 150:977–984

Fitzpatrick B, Meekan M, Richards A (2006) Shark attacks on a whale shark (Rhincodon typus) at Ningaloo Reef, Western Australia. Bull. Mar. Sci. 78:397–402

Graham R, Roberts C (2007) Assessing the size, growth rate and structure of a seasonal population of whale sharks (Rhincodon typus Smith 1828) using conventional tagging and photo identification. Fish. Res. 84:71–80

Gudger EW (1940) Whale sharks rammed by ocean vessels. How these sluggish leviathans aid in their own destruction. New England Naturalist 7:1–10

Heyman WD, Graham RT, Kjerfve B, Johannes RE (2001) Whale sharks Rhincodon typus aggregate to feed on fish spawn in Belize. Mar Ecol Prog Ser 215:275–282

Holden MJ, Raitt DFS (1974) Manual of Fisheries Science Part 2 — Methods of Resource Investigation and Their Application. FAO Fisheries Technical Paper 115, rev. 1. United Nations, Rome

Holland KN, Wetherbee BM, Lowe CG, Meyer CG (1999) Movements of tiger sharks (Galeocerdo cuvier ) in coastal Hawaiian waters. Mar Biol 134:665–673

Holmberg J, Norman B, Arzoumanian Z (2008) Robust, comparable population metrics through collaborative photo-monitoring of whale sharks Rhincodon typus. Ecol. Appl. 18(1):222–233

International Union for Conservation of Nature and Natural Resources (2009) IUCN Red List of Threatened Species. Version 2009.1. <www.iucnredlist.org>. Accessed on 26 August 2009

Lewallen EA, Anderson TW, Bohonak AJ (2007) Genetic structure of leopard shark (Triakis semifasciata) populations in California waters. Mar Biol 152:599–609

Meekan MG, Bradshaw CJA, Press M, McLean C, Richards A, Quasnichka S, Taylor JG (2006) Population size and structure of whale sharks Rhincodon typus at Ningaloo Reef, Western Australia. Mar. Ecol. Prog. Ser. 319:275–285

Myrberg AA, Gruber SH (1974) The behaviour of the bonnethead shark, Sphyrna tiburo. Copeia 2:358–374

Norman BM (1999) Aspects of the biology and ecotourism industry of the whale shark Rhincodon typus in northwestern Australia. Murdoch University, Murdoch, Western Australia, Australia, M.Phil. Thesis

Norman BM, Stevens JD (2007) Size and maturity status of the whale shark (Rhincodon typus) at Ningaloo Reef in Western Australia. Fish Res 84:81–86

O'Sullivan JB (2000) A fatal attack on a whale shark Rhincodon typus, by killer whales Orcinus orca off Bahia de los Angeles Baja California. In: Abstracts of the American Elasmobranch Society 16th Annual Meeting, LaPaz, Mexico, June 14–20, 2000, p. 282

Porcher IF (2005) On the gestation period of the blackfin reef shark, Carcharhinus melanopterus, in waters off Moorea, French Polynesia. Mar. Biol. 146:1207–1211

Reif WE (1978) Wound healing in sharks. Form and arrangement of repair scales. Zoomorphologie 90:101–111

Rowat D, Meekan M, Engelhardt U, Pardigon B, Vely M (2007) Aggregations of juvenile whale sharks (Rhincodon typus) in the Gulf of Tadjoura. Djibouti. Environ. Biol. Fish. 80:465–472

Smith A (1829) Contributions to the natural history of South Africa. Zoolog. J. 4:433–444

Speed CW, Meekan MG, Rowat D, Pierce SJ, Marshall AD, Bradshaw CJA (2008) Scarring patterns and relative mortality rates of Indian Ocean whale sharks. J. Fish Biol. 72:1488–1503

Taylor JG (1994) Whale Sharks: the Giants of Ningaloo Reef. Angus & Robertson, Sydney

Thomson KS, Simanek DE (1977) Body form and locomotion in sharks. Amer. Zool. 11:343–354
Acknowledgments
We thank Conrad Rangali, Swallow Tree Gardens, the Gilchrist Educational Trust, the Royal Geographical Society, the Earth and Space Foundation and the Duke of Edinburgh's Trust for their generous support. The assistance of the Ministry of Fisheries, Agriculture and Marine Resources is gratefully acknowledged. The help of the dhoni captains and crew was essential as was the support provided by the communities and resorts at the study site. The success of the research should be attributed to the Maldives Whale Shark Research Programme, and former team members James Hancock, Jonathan Leigh, Rhodri Lloyd-Williams, Adam Rees, and Mark Tarrant. We thank the anonymous reviewer and D. L. G. Noakes for their comments and suggestions for improving the manuscript.
About this article
Cite this article
Riley, M.J., Harman, A. & Rees, R.G. Evidence of continued hunting of whale sharks Rhincodon typus in the Maldives. Environ Biol Fish 86, 371 (2009). https://doi.org/10.1007/s10641-009-9541-0
Received:

Accepted:

Published:
Keywords
Whale shark

Rhincodon typus

Maldives

Wound

Fishing