Abstract
Feeding ecology of the lionfish (Pterois volitans), an invasive species in the Western North Atlantic, was examined by collecting stomach content data from fishes taken throughout the Bahamian archipelago. Three relative metrics of prey quantity, including percent number, percent frequency, and percent volume, were used to compare three indices of dietary importance. Lionfish largely prey upon teleosts (78% volume) and crustaceans (14% volume). Twenty-one families and 41 species of teleosts were represented in the diet of lionfish; the top 10 families of dietary importance were Gobiidae, Labridae, Grammatidae, Apogonidae, Pomacentridae, Serranidae, Blenniidae, Atherinidae, Mullidae, and Monacanthidae. The proportional importance of crustaceans in the diet was inversely related to size with the largest lionfish preying almost exclusively on teleosts. Lionfish were found to be diurnal feeders with the highest predation occurring in the morning (08:00–11:00).
This is a preview of subscription content, log in to check access.
Access options
Buy single article
Instant access to the full article PDF.
US$ 39.95
Price includes VAT for USA
Subscribe to journal
Immediate online access to all issues from 2019. Subscription will auto renew annually.
US$ 199
This is the net price. Taxes to be calculated in checkout.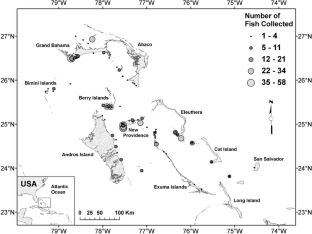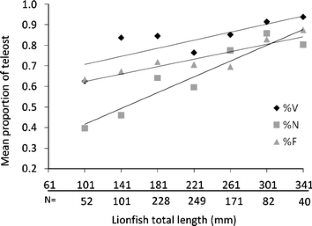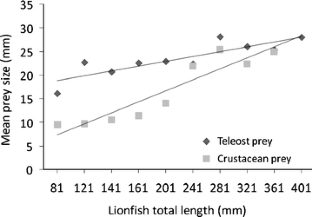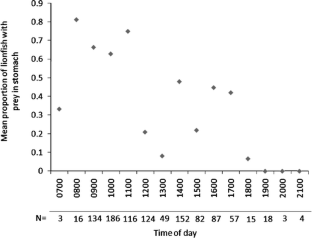 References
Albins MA, Hixon MA (2008) Invasive Indo-Pacific lionfish (Pterois volitans) reduce recruitment of Atlantic coral-reef fishes. Mar Ecol Prog Ser 367:233–238

Bizzarro JJ, Robinson HJ, Rinewalt CS, Ebert DA (2007) Comparative feeding ecology of four sympatric skate species off central California. Environ Biol Fish 80:197–220

Borski RJ, Hodson RG (2003) Fish research and the institutional animal care and use committee. ILAR J 44:286–294

Bowen SH (1996) Quantitative description of the diet. In: Murphy BR, Willis DW (eds) Fisheries techniques. American Fisheries Society, Bethesda, pp 513–522

Cortés E (1997) A critical review of methods of studying fish feeding based on analysis of stomach contents: application to elasmobranch fishes. J Fish Aquat Sci 54:726–738

Courtenay WR (1995) Marine fish introductions in southeastern Florida. Am Fish Soc Intro Fish Sec Newsletter 14:2–3

Duarte LO, García CB (1999) Diet of the mutton snapper Lutjanus analis (Cuvier) from the Gulf of Salamanca, Colombia, Caribbean Sea. Bull Mar Sci 65:453–465

Eggleston DB, Grover JJ, Lipcius N (1998) Ontogenetic diet shifts in Nassau grouper: trophic linkages and predatory impact. Bull Mar Sci 63:111–126

Fishelson L (1975) Ethology and reproduction of pteroid fishes found in the Gulf of Agaba (Red Sea), especially Dendrochirus brachypterus (Cuvier), (Pteroidae, Teleostei). PSZNI Mar Ecol 39:635–656

Fishelson L (1997) Experiments and observations on food consumption, growth and starvation in Dendrochirus brachypterus and Pterois volitans (Pteroinae, Scorpaenidae). Environ Biol Fish 50:393–401

Freshwater DW, Hines A, Parham S, Wilbur A, Sabaoun M, Woodhead J, Akins L, Purdy B, Whitfield PE, Paris CB (2009) Mitochondrial control region sequence analyses indicate dispersal from the US East Coast as the source of the invasive Indo-Pacific lionfish Pterois volitans in the Bahamas. Mar Biol. doi:10.1007/s00227-009-1163-8

Gray AE, Mulligan TJ, Hannah RW (1997) Food habits, occurrence, and population structure of bat ray, Myliobatis californica, in Humboldt Bay, CA. Environ Biol Fish 49:227–238

Green SJ, Côté IM (2009) Record densities of Indo-Pacific lionfish on Bahamian coral reefs. Coral Reefs 28:107

Hamner RM, Freshwater DW, Whitfield PE (2007) Mitochondrial cytochrome b analysis reveals two invasive lionfish species with strong founder effects in the western Atlantic. J Fish Biol 71:214–222

Hansson S (1998) Methods of studying fish feeding: a comment. Can J Fish Aquat Sci 55:2706–2707

Hare JA, Whitfield PE (2003) An integrated assessment of the introduction of lionfish (Pterois volitans/miles complex) to the Western Atlantic Ocean. NOAA Tech Memo NOS NCCOS, p 21

Harmelin-Vivien ML, Bouchon C (1976) Feeding behavior of some carnivorous fishes (Serranidae and Scorpaenidae) from Tuléar (Madagascar). Mar Biol 37:329–340

Hornstra HM, Herrel A, Montgomery WL (2004) Gas bladder movement in lionfishes: a novel mechanism for control of pitch. J Morphol 260:299–300

Hunt SL, Mulligan TJ, Komori K (1999) Oceanic feeding habits of Chinook salmon, Oncorhynchus tshawytscha, off northern California. Fish Bull 97:717–721

Hyslop EJ (1980) Stomach contents analysis: a review of methods and their application. J Fish Biol 17:411–429

Lindquist D, Cahoon L, Clavijo I, Posey M, Bolden S, Pike L, Burk S, Cardullo P (1994) Reef fish stomach contents and prey abundance on reef and sand substrata associated with adjacent artificial and natural reefs in Onslow Bay, North Carolina. Bull Mar Sci 55:308–318

Luckhurst BE, Luckhurst K (1977) Recruitment patterns of coral reef fishes on the fringing reef of Curacao, Netherlands Antilles. Can J Zool 55:681–689

Matsumiya Y, Kinoshita I, Oka M (1980) Stomach contents examination of the piscivorous demersal fishes in Shijiki Bay Japan. Bull Seikai Nat Fish Res Inst 55:333–342

McFarland WN, Brothers EB, Ogden JC, Shulman MJ, Bermingham EL, Kotchian-Prentiss NM (1985) Recruitment patterns in young french grunts, Haemulon flavolineatum (family Haemulidae) at St. Croix, U.S.V.I. Fish Bull 83:413–426

Morris JA Jr (2009) The biology and ecology of invasive Indo-Pacific lionfish. Dissertation. North Carolina State University, Raleigh, NC

Natrajan AV, Jhingran AG (1962) Index of Preponderance—a method of grading the food elements in the stomach analysis of fishes. Indian J Fish 8:54–59

Ouzts AC, Szedlmayer ST (2003) Diel feeding patterns of red snapper on artificial reefs in the North-Central Gulf of Mexico. Trans Am Fish Soc 132:1186–1193

Pinkas LM, Oliphant S, Iverson ILK (1971) Food habits of albacore, bluefin tuna and bonito in Californian waters. Calif Fish Game 152:1–105

Reef Environmental Education Foundation (REEF) (2009) REEF database reports. http://www.reef.org/db/reports. Cited 2 Feb 2009

Rooker JR (1995) Feeding ecology of the schoolmaster snapper, Lutjanius apodus (Walbum), from southwestern Puerto Rico. Bull Mar Sci 56:881–894

Schofield PJ, Langston JN, Fuller PL (2009). Pterois volitans/miles. USGS Nonindigenous Aquatic Species Database, Gainesville, FL. http://nas.er.usgs.gov/queries/FactSheet.asp?speciesID=963. Cited 27 Jan 2009

Semmens BX, Buhle E, Salomon A, Pattengill-Semmens C (2004) A hotspot of non-native marine fishes: evidence for the aquarium trade as an invasion pathway. Mar Ecol Prog Ser 266:239–244

Snyder DB, Burgess GH (2007) The Indo-Pacific red lionfish, Pterois volitans (Pisces: Scorpaenidae), new to Bahamian ichthyofauna. Coral Reefs 26:175

Sreeraj N, Raghavan R, Prasad G (2006) The diet of Horabagrus brachysoma (Gunther), and endangered bagrid catfish from Lake Vembanad (South India). J Fish Biol 69:637–642

Van Leeuwen JL, Muller M (1984) Optimum sucking techniques for predatory fish. Trans Zool Soc London 37:137–169

Whitfield PE, Gardner T, Vives SP, Gilligan MR, Courtenay WR, Ray GC, Hare JA (2002) Biological invasion of the Indo-Pacific lionfish Pterois volitans along the Atlantic coast of North America. Mar Ecol Prog Ser 235:289–297

Williams LB, Williams EH Jr (1986) Ichthyological notes about fishes collected for parasite examination around Sesoko Island, Okinawa. Galaxea 5:217–221

Windell JT, Bowen SH (1978) Estimating food consumption rates of fish populations. In: Bagnel T (ed) Methods for assessment of fish production in fresh waters. Blackwell Scientific Publications, Oxford, pp 227–254

Zar JH (1999) Biostatistical analysis. Prentice Hall, Upper Saddle River
Acknowledgments
This work was funded in part by the NOAA Aquatic Invasive Species Program, the Elisabeth Ordway Dunn Foundation, and the Reef Environmental Education Foundation (REEF). We are grateful to dive operators B. Purdy and S. Cove for their gracious support. All lionfish were collected under a research permit MAF/FIS/12: MAF/FIS/17 to J. Morris. We thank D. Ahrenholz, J. Burke, D. Cerino, I. Côté, S. Green, J. Govoni, P. Schofield, J. Smith, E. Williams, and two anonymous reviewers for their helpful comments on this manuscript. We also thank A. Dehart and the National Aquarium in Washington, D.C., A. Benson, S. Green, K. Sealey, E. Joseph, M. Tucker, N. Smith, C. Rochelle, C. Butler, E. Davenport, and REEF Staff, for their invaluable assistance. A special thank you to the more than two hundred REEF volunteers whose dedicated efforts in the field made this work possible.
About this article
Cite this article
Morris, J.A., Akins, J.L. Feeding ecology of invasive lionfish (Pterois volitans) in the Bahamian archipelago. Environ Biol Fish 86, 389 (2009). https://doi.org/10.1007/s10641-009-9538-8
Received:

Accepted:

Published:
Keywords
Pterois

Diet composition

Stomach content

Invasive species