Abstract
Between June and December 2005, active and passive acoustic telemetry was used to examine fine scale movements of 13 white sharks (Carcharodon carcharias) (ten passive, three active) at Mossel Bay. A total of 24 active trackings (ranging from 2 h to 103 h in duration) were conducted. Patterns of rate of movement (ROM), swimming linearity (LI), swimming bearing, and instantaneous swimming speed (ISS) were assessed. A conversion quotient (Q) of 1.21 between ISS and ROM (10 min sample interval) was calculated suggesting ROM is a good indicator of white shark activity. The mean ROM for tracked sharks was 0.52 m·s−1, with a greatest sustained ROM of 1.33 m·s−1 (4.8 km·h−1). Sharks displayed greatest LI and ROM during directional travels between the three persistent aggregation sites. The majority of the shark movement was, however, non-linear as the sharks repeat patrolled at the three aggregation sites. Two of these sites were not associated with pinniped presence, and sharks typically patrolled back and forth parallel to the shore line at a comparatively low ROM which suggested resting. The third aggregation site was adjacent to Seal Island, and despite low LI, sharks displayed a high ROM, indicating high activity levels. We propose that the high ROM is related to maximising search area when patrolling to hunt Cape fur seals (Arctocephalus p. pusillus).
Access options
Buy single article
Instant access to the full article PDF.
USD 39.95
Price excludes VAT (USA)
Tax calculation will be finalised during checkout.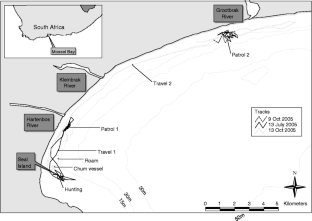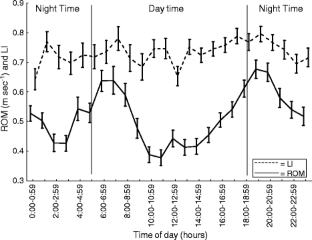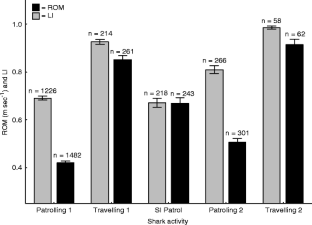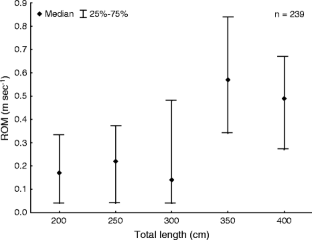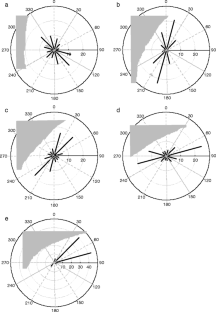 References
Batschelet E (1981) Circular statistics in biology. Academic, London

Bell WJ, Kramer E (1979) Search and anemotactic orientation of cockroaches. J Insect Physiol 25:631–640. doi:10.1016/0022-1910(79)90112-4

Bonfil R, Meyër MA, Scholl MC, Johnson RL, O'Brian S, Oosthuizen WH, Swanson S, Kotze D, Patterson M (2005) Transoceanic migration, spatial dynamics, and population linkages of white sharks. Science 310:100–103. doi:10.1126/science.1114898

Boustany AM, Davis SF, Pyle P, Anderson SD, Le Boeuf BJ, Block BA (2002) Satellite tagging: expanded niche for white sharks. Nature 412(6867):35–36. doi:10.1038/415035b

Bruce BD, Stevens JD, Malcolm H (2006) Movements and swimming behaviour of white shark (Carcharodon carcharias) in Australian waters. Mar Biol (Berl) 150:161–172. doi:10.1007/s00227-006-0325-1

Carey FG, Kanwisher JW, Brazier O, Gabrielson G, Casey JG, Pratt H (1982) Temperature and activities of a white shark (Carcharodon carcharias). Copeia 2:254–260. doi:10.2307/1444603

Compagno LJV, Marks MA, Fergusson IK (1997) Threatened fishes of the world—Carcharodon carcharias (Linnaeus, 1758) (Lamnidae). Environ Biol Fishes 50:61–62. doi:10.1023/A:1007308406137

Goldman KJ, Anderson S (1999) Space utilisation and swimming depth of white shark (Carcharodon carcharias) at the South Farallon Islands, central California. Environ Biol Fishes 56:351–364. doi:10.1023/A:1007520931105

Gruber SH, Nelson DR, Morrissey JF (1988) Patterns of activity and space utilization of lemon sharks, Negaprion brevirostris, in a shallow Bahamian lagoon. Bull Mar Sci 43(1):61–76

Gunn JS, Stevens JD, Davis TLO, Norman BM (1999) Observation of the short-term movements and behaviour of whale sharks (Rhincodon typus) at Ningaloo Reef, Western Australia. Mar Biol (Berl) 135:553–559. doi:10.1007/s002270050656

Heupel MR, Semmens JM, Hobday AJ (2006) Automated acoustic tracking of aquatic animals: scales, design and deployment of listening station arrays. Mar Freshw Res 57:1–13. doi:10.1071/MF05091

Hooge PN, Eichenlaub B (2000) Animal movement extension to Arcview. ver. 2.0. Alaska Science Center—Biological Science Office, U.S. Geological Survey, Anchorage, AK, USA

Johnson RL (2003) Behavioural ecology of the white shark (Carcharodon carcharias) at Dyer Island, South Africa. MSc Thesis, University of Pretoria, Pretoria, South Africa

Klimley PA, Le Boeuf BJ, Cantara KM, Richert JE, Davis SF, Van Sommeran S (2001a) Radio acoustic positioning tool for studying site-specific behaviour of white sharks and other large marine species. Mar Biol (Berl) 138:429–446. doi:10.1007/s002270000394

Klimley PA, Le Boeuf BJ, Cantara KM, Richert JE, Davis SF, Van Sommeran S, Kelly JT (2001b) The hunting strategy of white sharks (Carcharodon carcharias) near a seal colony. Mar Biol (Berl) 138:617–636. doi:10.1007/s002270000489

Kock A, Johnson R (2006) White shark abundance: Not a causative factor in numbers of shark bite incidences. In: Nel DC, Peschak TP (eds) Finding a balance: White shark conservation and recreational safety in inshore waters of Cape Town, South Africa: Proceedings of a specialist workshop. WWF South Africa report series—2006/Marine/001, pp 1–19

Kock AA, Fallows CG, Griffiths CL (2002) Predatory activity of great white sharks (Carcharodon carcharias) around a Cape fur seal colony. BSc Thesis, Percy Fitzpatrick Institute, University of Cape Town, South Africa

Lowe CG, Holland KN, Wolcott TG (1998) A new acoustic tail beat transmitters for fishes. Fish Res 36:275–283. doi:10.1016/S0165-7836(98)00109-X

Rechisky EL, Wetherbee BM (2003) Short-term movements of juvenile and neonate sandbar sharks, Carcharhinus plumbeus, on their nursery grounds in Delaware Bay. Environ Biol Fishes 68:113–128. doi:10.1023/B:EBFI.0000003820.62411.cb

Sciarrotta TC, Nelson DR (1977) Diel behaviour of the blue shark, Prionace glauca, near Santa Catalina Island, California. US Fish Bull 75:519–528

Sundström LF, Gruber SH, Clermont SM, Correia JPS, de Marignac JRC (2001) Review of elasmobranch behavioural studies using ultrasonic telemetry with special reference to the lemon shark, Negaprion brevirostris, around Bimini Islands, Bahamas. Environ Biol Fishes 60:225–250. doi:10.1023/A:1007657505099

Strong WR, Murphy RC, Bruce BD, Nelson DR (1992) Movements and associated observations of bait attracted white sharks (Carcharodon carcharias): a preliminary report. Aust J Mar Freshwater Res 43:13–20. doi:10.1071/MF9920013

Tricas TC, Taylor LR, Naftel G (1981) Diel behaviour of the tiger shark, Galeocerdo cuvier, at French Frigate Shoals, Hawaiian Islands. Copeia 1981:904–908. doi:10.2307/1444199

Voegeli FA, Smale MJ, Webber DM, Andrade A, O'Dor RK (2001) Ultrasonic telemetry, tracking and automated monitoring technology for sharks. Environ Biol Fishes 60:267–281. doi:10.1023/A:1007682304720

Weng KC, Boustany AM, Pyle P, Anderson SD, Brown A, Block BA (2007) Migration and habitat of white sharks (Carcharodon carcharias) in the eastern Pacific Ocean. Mar Biol (Berl) 152(4):877–894. doi:10.1007/s00227-007-0739-4
About this article
Cite this article
Johnson, R., Bester, M.N., Dudley, S.F.J. et al. Coastal swimming patterns of white sharks (Carcharodon carcharias) at Mossel Bay, South Africa. Environ Biol Fish 85, 189–200 (2009). https://doi.org/10.1007/s10641-009-9477-4
Received:

Accepted:

Published:

Issue Date:

DOI: https://doi.org/10.1007/s10641-009-9477-4
Keywords
White shark

Rate of movement

Activity patterns

Habitat use