Abstract
A decrease in seagrass cover and a commensurate increase in Caulerpa taxifolia distribution in Moreton Bay have prompted concern for the impact that habitat change may have on faunal communities. Therefore, it is important to understand the patterns of habitat use. We examined habitat selection of three common seagrass species: double-ended pipefish (Syngnathoides biaculeatus), eastern trumpeter (Pelates quadrilineatus), and fan-bellied leatherjacket (Monacanthus chinensis) using a mesocosm experiment. Fish were given three possible habitat pairings (1) seagrass and C. taxifolia, (2) seagrass and unvegetated, and (3) C. taxifolia and unvegetated. Observation trials were conducted during the day and night over two days. In all trials, fish preferred vegetated habitat (seagrass or C. taxifolia) over unvegetated habitat (sand). In seagrass and C. taxifolia trials, all species preferred seagrass significantly over C. taxifolia. Habitat use patterns did not differ between day and night trials. Caulerpa taxifolia provides a valuable structured habitat in the absence of seagrass; however, it is unclear if C. taxifolia meadows provide other resource benefits to fishes beyond that of shelter.
This is a preview of subscription content, log in to check access.
Access options
Buy single article
Instant access to the full article PDF.
US$ 39.95
Tax calculation will be finalised during checkout.
Subscribe to journal
Immediate online access to all issues from 2019. Subscription will auto renew annually.
US$ 199
Tax calculation will be finalised during checkout.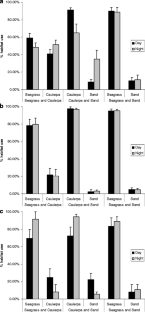 References
Attrill M, Strong J, Rowden A (2000) Are macroinvertebrate communities influenced by seagrass structural complexity? Ecography 23:114–121. doi:10.1034/j.1600-0587.2000.230112.x

Beck MW, Heck KL, Able KW, Childers DL, Eggleston DB, Gillanders BM, Halpern B, Hays CG, Hoshino K, Minello TJ, Orth RJ, Sheridan PF, Weinstein MP (2001) The identification, conservation, and management of estuarine and marine nurseries for fish and invertebrates. Bioscience 5:633–641. doi:10.1641/0006-3568(2001)051[0633:TICAMO]2.0.CO;2

Boudouresque CF, Meinesz A, Ribera MA, Ballesteros E (1995) Spread of the green alga Caulerpa taxifolia (Caulerpales, Chlorophyta) in the Mediterranean: Possible consequences of a major ecological event. Sci Mar 59(Supp. 1):21–29

Burfeind DD, Stunz GW (2006) The effects of boat propeller scarring intensity on nekton abundance in subtropical seagrass meadows. Mar Biol (Berl) 148:953–962. doi:10.1007/s00227-005-0136-9

Burfeind DD, Udy JW (2009) Effects of light and nutrients on seagrass and Caulerpa taxifolia growth. Aquat Bot 90:105–109

Golan J, Wright J (2006) Limited grazing pressure by native herbivores on the invasive seaweed Caulerpa taxifolia in a temperate Australian estuary. Mar Freshw Res 57:685–694. doi:10.1071/MF05253

Heck KL, Orth RJ (1980) Seagrass habitats: the roles of habitat complexity, competition, competition and predation in structuring assisted fish and motile macroinvertebrate assemblages. In: Kennedy VS (ed) Estuarine perspective. Academic Press, New York

Heck KL, Thoman TA (1981) Experiments on predator-prey interactions in vegetated aquatic habitats. J Exp Mar Biol Ecol 53:125–134. doi:10.1016/0022-0981(81)90014-9

Heck KL, Hays G, Orth RJ (2003) Critical evaluation of the nursery role hypothesis for seagrass meadows. Mar Ecol Prog Ser 253:123–136. doi:10.3354/meps253123

Heck K, Valentine J (2006) Plant-herbivore interactions in seagrass meadows. J Exp Mar Biol Ecol 330:420–436. doi:10.1016/j.jembe.2005.12.044

Holt SA, Kitting CL, Arnold CR (1983) Distribution of young red drums among different sea-grass meadows. Trans Am Fish Soc 112:267–271. doi:10.1577/1548-8659(1983)112<267:DOYRDA>2.0.CO;2

Houde ED (1987) Fish early life dynamics and recruitment variability. Am Fish Soc Symp 2:17–29

Levin P, Petrik R, Malone J (1997) Interactive effects of habitat selection, food supply and predation on recruitment of an estuarine fish. Oecologia 112:55–63. doi:10.1007/s004420050283

Martin-Smith K, Vincent A (2006) Exploitation and trade of Australian seahorses, pipehorses, sea dragons and pipefishes (Family Syngnathidae). Oryx 40:141–151. doi:10.1017/S003060530600010X

Meinesz A, Hesse B (1991) Introduction of the tropical alga C. taxifolia and its invasion of the northwestern Mediterranean. Oceanol Acta 14:415–426

Meinesz A, Belsher T, Thibaut T, Antolic B, Ben Mustapha K, Boudouresque CF, Chiaverini D, Cinelli F, Cottalorda JM, Djellouli A, El Abed A, Orestano C, Grau AM, Ivesa L, Jaklin A, Langar H, Massuti-Pascual E, Peirano A, Tunesi L, de Vaugelas J, Zavodnik N, Zuljevic A (2001) The introduced green alga Caulerpa taxifolia continues to spread in the Mediterranean. Biol Invas 3:201–210. doi:10.1023/A:1014549500678

Minello TJ (1999) Nekton densities in shallow estuarine habitats of Texas and Louisiana and the identification of essential fish habitat. In: Benaka LR (ed) Fish habitat: essential fish habitat, and rehabilitation. American Fisheries Society, Bethesda, Maryland

Orth RJ, Heck KL, Van Montfrans JV (1984) Faunal communities in seagrass beds: a review of the influence of plant structure and prey characteristics on predator-prey relationships. Estuaries 7:339–350. doi:10.2307/1351618

Pillen TL, Ringeltaube P, Dennison WC (1998) Are expanding populations of the tropical green alga Caulerpa taxifolia a potential threat to Moreton Bay? In: Tibbetts IR, Hall NJ, Dennison WC (eds) Moreton Bay and Catchment. School of Marine Science, the University of Queensland, Brisbane, pp 327–328

Quammen ML, Onuf CP (1993) Laguna Madre—seagrass changes continue decades after salinity reduction. Estuaries 16:302–310. doi:10.2307/1352503

Rozas LP, Odum WE (1988) Occupation of submerged aquatic vegetation by fishes: Testing the roles of food and refuge. Oecologia 77:101–106. doi:10.1007/BF00380932

Short FT, Wyllie-Echeverria S (1996) Natural and human induced disturbance of seagrasses. Environ Conserv 23:12

Street J (2007) Environmental drivers of Caulerpa taxifolia growth and shifts in benthic infauna communities, Moreton Bay, Australia. Honours thesis, University of Queensland, Brisbane, Australia

Stunz GW, Minello TJ (2001) Habitat-related predation on juvenile wild-caught and hatchery-reared red drum Sciaenops ocellatus (Linnaeus). J Exp Mar Biol Ecol 260:13–25. doi:10.1016/S0022-0981(01)00248-9

Stunz GW, Minello TJ, Levin PS (2002) A comparison of early juvenile red drum densities among various habitat types in Galveston Bay, Texas. Estuaries 25:76–85. doi:10.1007/BF02696051

Thomas J (2003) Caulerpa taxifolia in Moreton Bay-Distribution and seagrass interactions. Honours thesis, University of Queensland, Brisbane, Australia

Udy JW, Dennison WC (1997) Physiological responses of seagrasses used to identify anthropogenic nutrient inputs. Mar Freshw Res 48:605–614. doi:10.1071/MF97001

Williams SL (2007) Introduced species in seagrass ecosystems: Status and concerns. J Exp Mar Biol Ecol 350:89–110 Sp. Iss. SI. doi:10.1016/j.jembe.2007.05.032

York PH, Booth DJ, Glasby TM, Pease BC (2006) Fish assemblages in habitats dominated by Caulerpa taxifolia and native seagrasses in south-eastern Australia. Mar Ecol Prog Ser 312:223–234. doi:10.3354/meps312223

Zieman JC (1976) The ecological effects of physical damage from motor boats on turtle grass beds in southern Florida. Aquat Bot 2:127–139. doi:10.1016/0304-3770(76)90015-2
Acknowledgements
We thank the staff of Moreton Bay Research Station for logistical support, M. Anzalone and the students of MARS 2005 for their assistance in animal collection and observation. We are grateful for the funding provided by the Moreton Bay Research Station Community Research Grant and the Tangalooma Research Foundation. We are also grateful to the anonymous reviewers who greatly improved earlier drafts of this manuscript.
About this article
Cite this article
Burfeind, D.D., Tibbetts, I.R. & Udy, J.W. Habitat preference of three common fishes for seagrass, Caulerpa taxifolia, and unvegetated substrate in Moreton Bay, Australia. Environ Biol Fish 84, 317–322 (2009). https://doi.org/10.1007/s10641-009-9444-0
Received:

Accepted:

Published:

Issue Date:
Keywords
Caulerpa taxifolia

Habitat change

Habitat preference

Invasive species

Nursery habitat

Seagrass