Abstract
The objective of this study was to identify kinematic variables correlated with oxygen consumption during spontaneous labriform swimming. Kinematic variables (swimming speed, change of speed, turning angle, turning rate, turning radius and pectoral fin beat frequency) and oxygen consumption (MO2) of spontaneous swimming in Embiotoca lateralis were measured in a circular arena using video tracking and respirometry, respectively. The main variable influencing MO2 was pectoral fin beat frequency (r 2 = 0.71). No significant relationship was found between swimming speed and pectoral fin beat frequency. Complementary to other methods within biotelemetry such as EMG it is suggested that such correlations of pectoral fin beat frequency may be used to measure the energy requirements of labriform swimming fish such as E. lateralis in the field, but need to be taken with great caution since movement and oxygen consumption patterns are likely to be quite different in field situation compared to a small lab tank. In addition, our methods could be useful to measure metabolic costs of growth and development, or bioassays for possible toxicological effects on fish.
Access options
Buy single article
Instant access to the full article PDF.
USD 39.95
Price excludes VAT (USA)
Tax calculation will be finalised during checkout.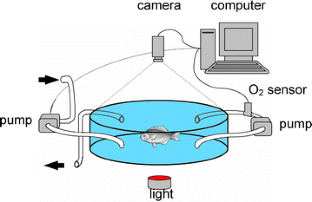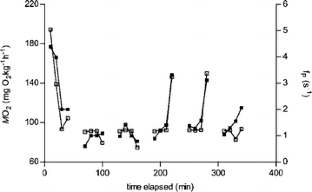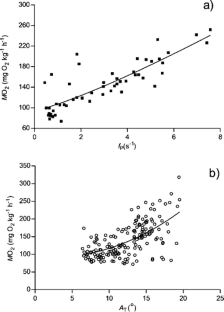 References
Beamish FWH (1978) Swimming capacity. In: Hoar WS, Randall DJ (eds) Fish physiology, vol 7. Academic, New York, pp 101–187

Blake RW (1983) Fish locomotion. Cambrigde University Press, New York

Boisclair D, Leggett WC (1989) The importance of activity in bioenergetics models applied to actively foraging fishes. Can J Fish Aquat Sci 46:1859–1867

Boisclair D, Sirois P (1993) Testing assumptions of fish bioenergetics models by direct estimation of growth, consumption, and activity rates. Trans Am Fish Soc 122:784–796 doi:10.1577/1548-8659(1993)122<0784:TAOFBM>2.3.CO;2

Brett JR (1964) The respiratory metabolism and swimming performance of young sockeye salmon. J Fish Res Board Can 21:1183–1226

Cannas M, Schaefer J, Domenici P, Steffensen JF (2006) Gait transition and oxygen consumption in swimming striped surfperch (Embiotoca lateralis). J Fish Biol 69:1612–1625 doi:10.1111/j.1095-8649.2006.01225.x

Clarke A, Johnston NM (1999) Scaling of metabolic rate with body mass and temperature in teleost fish. J Anim Ecol 68:893–905 doi:10.1046/j.1365-2656.1999.00337.x

Cooke SJ, Hinch SG, Wikelski M, Andrews RD, Kuchel LJ, Wolcott TG et al (2004) Biotelemetry: a mechanistic approach to ecology. Trends Ecol Evol 19:334–343 doi:10.1016/j.tree.2004.04.003

Domenici P (2003) Habitat, body design and the swimming performance of fish. In: Bels VL, Gasc J-P, Casinos A (eds) Vertebrate biomechanics and evolution. BIOS Scientific, Oxford, England, pp 137–160

Domenici P, Blake RW (1991) The kinematics and performance of the escape response in the angel fish (Pterophyllum eimekei). J Exp Biol 156:187–205

Domenici P, Blake RW (1997) The kinematics and performance of fish fast-start swimming. J Exp Biol 200:1165–1178

Drucker EG, Jensen JS (1996a) Pectoral fin locomotion in striped surf perch. I. Kinematic effects of swimming speed and body size. J Exp Biol 199:2235–2242

Drucker EG, Jensen JS (1996b) Pectoral fin locomotion in striped surf perch. II. Scaling swimming kinematics and performance at a gait transition. J Exp Biol 199:2243–2252

Gordon M, Chin H, Vojkovich M (1998) Energetics of swimming in fishes using different methods of locomotion: 1. Labriform swimmers. Fish Physiol Biochem 6(6):341–352 doi:10.1007/BF01875604

Hinch SG, Rand PS (1998) Swim speeds and energy use of upriver-migrating sockeye salmon (Oncorhynchus nerka): role of local environment and fish characteristics. Can J Fish Aquat Sci 55:1821–1831 doi:10.1139/cjfas-55-8-1821

Jayne BC, Lauder GV (1995a) Are muscle fibers within fish myotomes activated synchronously? Patterns of recruitment within deep myomeric musculature during swimming in largemouth bass. J Exp Biol 198:805–815

Jayne BC, Lauder GV (1995b) Red muscle motor patterns during steady swimming in largemouth bass: effects of speed and correlations with axial kinematics. J Exp Biol 198:1575–1587

Jones EA, Lucey KS, Ellerby DJ (2007) Efficiency of labriform swimming in the bluegill sunfish (Lepomis macrochirus). J Exp Biol 210:3422–3429 doi:10.1242/jeb.005744

Jordan AD, Jungersen M, Steffensen JF (2001) Oxygen consumption of East Siberian cod: no evidence for the metabolic cold adaptation theory. J Fish Biol 59:818–823

Kendall JL, Lucey KS, Jones EA, Wang J, Ellerby DJ (2007) Mechanical and energetic factors underlying gait transitions in bluegill sunfish (Lepomis macrochirus). J Exp Biol 210:4265–4271 doi:10.1242/jeb.009498

Koch F, Wieser W (1983) Partitioning of energy in fish: can reduction of swimming activity compensate for the cost of production? J Exp Biol 107:141–146

Korsmeyer KE, Steffensen JF, Herskin J (2002) Energetics of median and paired fin swimming, body and caudal fin swimming and gait transition in parrotfish (Scarus schlegeli) and triggerfish (Rhinecanthus aculeatus). J Exp Biol 205:1253–1263

Krohn MM, Boisclair D (1994) Use of a stereo-video system to estimate the energy expenditure of free swimming fish. Can J Aquat Sci 51:1119–1127 doi:10.1139/f94-111

Lucas MC, Priede IG, Armstrong JD, Gindy ANZ, De Vera L (1991) Direct measurements of metabolism, activity and feeding behaviour of pike, Esox lucius L., in the wild, by the use of heart rate telemetry. J Fish Biol 39:25–345 doi:10.1111/j.1095-8649.1991.tb04366.x

Ney JJ (1993) Bioenergetics modelling today: growing pains on the cutting edge. Trans Am Fish Soc 122:736–748 doi:10.1577/1548-8659(1993)122<0736:BMTGPO>2.3.CO;2

Soofiani NM, Hawkings AD (1985) Field studies of energy budgets. In: Tytler P, Calow P (eds) Fish energetics: new perspectives. The Johns Hopkins University Press, Baltimore

Smith RJF (1991) Social behaviour, homing and migration. In: Winfield IJ, Nelson JS (eds) Cyprinid fishes: systematics, biology and exploitation. Chapman and Hall, London, pp 509–529

Standen EM, Hinch SG, Healey MC, Farrell AP (2002) Energetic costs of migration through the Fraser River Canyon, British Columbia, in adult pink (Oncorhynchus gorbuscha) and sockeye (Oncorhynchus nerka) salmon as assessed by EMG telemetry. Can J Fish Aquat Sci 59:1809–1818 doi:10.1139/f02-151

Steffensen JF, Johansen K, Bushnell PG (1984) An automated swimming respirometer. Comp Biochem Phys A–Phys 79(3):437–440

Steinhausen MF (2005) Swimming cost of fish: how to estimate oxygen consumption in the field. PhD thesis, University of Copenhagen, Denmark

Svendsen JC, Koed A, Lucas MC (2005) The angle of attack of the body of common sea bream while swimming at different speeds in a flume tank. J Fish Biol 66:572–577 doi:10.1111/j.0022-1112.2005.00614.x

Tang M, Boisclair D (1993) Influence of the size of enclosures on the swimming characteristics of juvenile brook trout (Salvelinus fontinalis). Can J Fish Aquat Sci 50:786–1793

Tang M, Boisclair D, Ménard C, Dowing JA (2000) Influence of body weight, swimming characteristics, and water temperature on the cost of swimming in brook trout (Salvelinus fontinalis). Can J Fish Aquat Sci 57:1482–1488 doi:10.1139/cjfas-57-7-1482

Thorsen DH, Westneat MW (2005) Diversity of pectoral fin structure and function in fishes with labriform propulsion. J Morphol 263(2):133–150 doi:10.1002/jmor.10173

Viedeler JJ (1993) Fish swimming. Chapman & Hall, London

Weatherly AH, Gill HS (1987) The biology of fish growth. Academic, New York

Webb PW (1973) Kinematics of pectoral fin propulsion in Cymatogaster aggregatta. J Exp Biol 59:697–710

Webb PW (1975) Synchrony of locomotion and ventilation in Cymatgaster aggregata. Can J Zool 53:904–907

Webb PW (1991) Composition and mechanics of routine swimming of rainbow trout (Oncorhynchus mykiss). Can J Fish Aquat Sci 48:583–590
Acknowledgements
We wish to thank the staff of Friday Harbor Laboratories (FHL), University of Washington and the all participants of the Fish swimming course 2005. This research was approved by the Animal Care and Use Committee of the University of Washington (Protocol IACUC #3018-09). Thanks to M.F. Steinhausen for comments on the manuscript. Financial support from FHL, Norwegian Research Council, project 146469/140 (ADJ and JFS), the Danish Fisheries Research Institute DIFRES (JCS) and from the Belgian Science Policy under grant number EV/05/31A (CT) is gratefully acknowledged.
About this article
Cite this article
Tudorache, C., Jordan, A.D., Svendsen, J.C. et al. Pectoral fin beat frequency predicts oxygen consumption during spontaneous activity in a labriform swimming fish (Embiotoca lateralis). Environ Biol Fish 84, 121–127 (2009). https://doi.org/10.1007/s10641-008-9395-x
Received:

Accepted:

Published:

Issue Date:

DOI: https://doi.org/10.1007/s10641-008-9395-x
Keywords
Embiotoca lateralis

Energetics

Labriform swimming

Metabolism

Oxygen consumption

Striped surfperch

Swimming performance