Abstract
Amphilius uranoscopus is a catfish species, restricted to rivers and streams in east, southern and central Africa. It is likely to be displaced due to both competition and predation by exotic trout and other introduced fish. In high altitude mountain streams it can be the only species occurring, which means that this habitat may act as a refuge for this species. Ecosystems like this are threatened by habitat alteration and are therefore in need of protection. The abiotic environment, population structure, behavior and feeding biology of Amphilius uranoscopus were studied in a small, high-altitude perennial tributary of the Limpopo River in the Soutpansberg mountain range, Limpopo Province, South Africa, during 2005–2006. Here A. uranoscopus showed nocturnal behavior. It used dark hollow crevices in rapids as shelters during the daytime. The rapids are characterized by a high flow rate, high dissolved oxygen content and coarse riverbed substrate consisting mainly of boulders without fallen leaves. In contrast to the adults, juveniles found shelter among the fallen leaves in pools. At night, A. uranoscopus moved out of the rapids into the open water of the pools. The main food of A. uranoscopus consisted of macroinvertebrates, mainly Trichoptera larvae. Amounts of algae and detritus in its diet were negligible. A. uranoscopus foraged mainly in rapids and on rock surfaces, spending less time foraging between the fallen leaves at the bottom of pools, in open water, at the surfaces of bottom and bank and near the water surface. At the water surface, it also fed opportunistically on terrestrial insects that dropped into the stream, like flying termites. A. uranoscopus was the top predator of the stream system and reached a high density (0.71 fish m−2). There was no competition from other fish species at the study site as they were lacking. A. uranoscopus showed a striking ability to climb and cling on to vertical substrates to conquer waterfalls and very shallow streams that sometimes become dry, using its fins, adhesive body and protruding mouth teeth.
Access options
Buy single article
Instant access to the full article PDF.
US$ 39.95
Tax calculation will be finalised during checkout.
Subscribe to journal
Immediate online access to all issues from 2019. Subscription will auto renew annually.
US$ 119
Tax calculation will be finalised during checkout.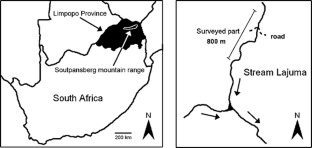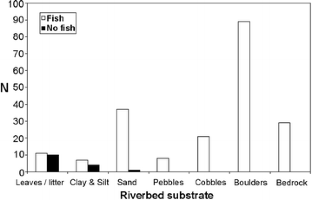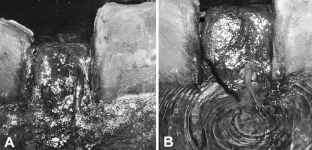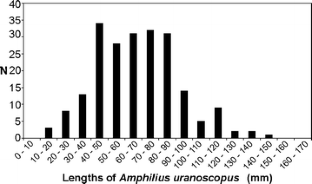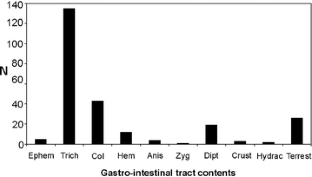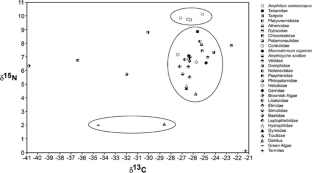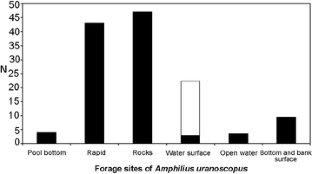 References
Anonymous (1982) Amphilius platychir. Trop Fish Hobbyist 30

Bell-Cross G (1976) The fishes of Rhodesia. National Museums and Monuments of Rhodesia, Salisbury, pp 169–171

Fouche PSO, Foord SH, Potgieter N, van der Waal BCW, van Ree T (2005) Towards an understanding of factors affecting the biotic integrity of rivers in the Limpopo Province: niche partitioning, habitat preference and microbiological status in rheophilic biotopes of the Luvuvhu and Mutale rivers. Water Research Commission, pp 61–132

Gaigher IG, Hamman KCD, Thorne SC (1980) The distribution, conservation status and factors affecting the survival of indigenous freshwater fishes in the Cape Province. Koedoe 23:57–88

Gratwicke B, Marshall BE (2001) The relationship between exotic predators Micropterus salmoides and Serranochromis robustus and native stream fisher in Zimbabwe. J Fish Biol 58:68–75

Günther A (1864) Report on a collection of reptiles and fishes made by Dr. Kirk in the Zambesi and Nyassa regions. Sep Proc Zool Soc London: 1–2

Jackson PBN (1961) The impact of predation, especially by the tiger-fish (Hydrocynus vittatus Cast.) on African freshwater fishes. Proc Zool Soc Lond 132:1–30

Jubb RA (1967) Freshwater fishes of Southern Africa. Balkema, Capetown, pp 147–148

Kadye WT, Moyo NAG, Magadza CHD, Kativu S (2008) Habitat associations of three stream fishes on a montane plateau (Nyika Plateau, Malawi). Acta Zool Sin 54:67–76

Matthes H (1967) The fishes and fisheries of the Ruaha River basin, Tanzania. EAFFO Occ Pap 9:1–9

Minagawa W, Wada E (1984) Stepwise enrichment of 15N along food chains: further evidence and the relation between δ 15N and animal age. Geochim Cosmochim Acta 48:1135–1140 doi:10.1016/0016-7037(84)90204-7

Moyle PB, Vondracek B (1985) Persistence and structure of the fish assemblage in a small California stream. Ecology 66:1–13 doi:10.2307/1941301

Pfeffer GJ (1889) Übersicht der von Herrn Dr. Franz Stuhlmann in Ägypten, auf Sanzibar und dem gegenüberliegenden Festlande gesammelten Reptilien Amphibien Fische Mollusken und Krebse. Jahrb Wiss Anst Hamburg 6(2):15–16

Pienaar U de V (1978) The freshwater fishes of the Kruger National Park. National Parks Board of Trustees, Pretoria, pp 59–60

Seegers L (1996a) The fishes of the Lake Rukwa Drainage. Koninklijk Museum voor Midden-Afrika Tervuren. Annalen Zool Wetenschappen 187:192–195

Seegers L (1996b) Die Amphilius-Arten Ostafrikas. DATZ Aquar Terr 49(4):249–251, Eugen Ulmer, Stuttgart

Skelton PH (1984) A systematic revision of species of the catfish genus Amphilius (Siluroidei, Amphiliidae) from east and southern Africa. Ann Cape Prov Mus 16(Part 3):41–71, nat Hist

Skelton PH (1990) The conservation and status of threatened fishes in southern Africa. J Fish Biol 37:87–95 doi:10.1111/j.1095-8649.1990.tb05024.x

Skelton PH (1993) A complete guide to the freshwater fishes of southern Africa. Southern Book, Halfway House, p 147

Winemiller KO, Kelso-Winemiller LC (1996) Comparative ecology of catfishes in the Upper Zambezi River floodplain. J Fish Biol 49:1043–1061 doi:10.1111/j.1095-8649.1996.tb01777.x
Acknowledgements
We would like to thank the Stichting Nijmeegs Universiteitsfonds for a grant; M. Orbons for her assistance with the lab work; J. Eygensteyn for the analysis of the stable isotopes; the fieldwork assistants J. Sloothaak, K. Bäuerle, J. Jones, A. Tasire and C. Keller for their help during the stream surveys; J. Sloothaak, I. Laas and S. Gaigher for their help building the artificial stream; B. Barth and C, Keller for their company during night observations; M. Garfinkel for editing; F. Charko for editing and for her help gathering specimens for the stable isotope analysis; R. van Montfoort for ICT support; and P. Fouche and S. Foord of the University of Venda for providing us with a flow meter plus box net and for their assistance with the identification of macroinvertebrates. This is CWE publication no. 504.
About this article
Cite this article
van Oosterhout, M.P., van der Velde, G. & Gaigher, I.G. High altitude mountain streams as a possible refuge habitat for the catfish Amphilius uranoscopus . Environ Biol Fish 84, 109–120 (2009). https://doi.org/10.1007/s10641-008-9394-y
Received:

Accepted:

Published:

Issue Date:
Keywords
Amphilius uranoscopus

Refuge habitat

Behavior

Diet analysis

Stable isotopes