Abstract
The occurrence of changes in the trophic level (TL) of sharks with growth has not been quantified until now. Here length-related changes on Squatina guggenheim Marini trophic level were determined, and shifts in type, size and trophic level of its prey were analysed. Sampling took place during five bottom trawl surveys conducted in the Argentine–Uruguayan Common Fishing Zone during spring (December/1995, October/1997) and fall (March/1997, March–April/1998, May–June/1998), using an Engel bottom-trawl net to capture the sharks. Three length groups were defined based on diet composition and using a cluster analysis (group I, 23–60 cm; group II, 61–80 cm; group III, 81–91 cm L T). An ANOSIM procedure detected significant differences (P < 0.05) in the diet spectrum between the three length groups. The smallest sharks (group I) ingested fish prey ranging from 5 to 21 cm L T, medium sharks (group II) fed on fish prey between 11 and 35 cm L T, and largest sharks (group III) preyed on fish between 13 and 40 cm L T. Diet structure of length groups were discriminated by almost the same prey taxa that characterized them. The increase of S. guggenheim body length promoted a decrease in the relative importance of small pelagic fishes. Contrarily, prey as medium benthopelagic fishes, medium pelagic squid and medium benthopelagic fishes showed an inverse tendency, indicating a broad diet spectrum of adults. Predator-length and prey-length relationship indicated a trend where 44.8% of S. guggenheim diet was integrated by prey <20% of their own body length and 32.8% of their diet was composed by prey >30% of their own length. The increase of mean prey weight was associated with the increase of predator weight and length. Smallest sharks (group I) were identified as secondary consumers (TL < 4) whereas medium sharks (group II) and largest sharks (group III) were placed as tertiary consumers (TL > 4). The study revealed an increase in S. guggenheim TL with shark growth as a consequence of changes on type, size and TL of prey ingested.
Access options
Buy single article
Instant access to the full article PDF.
US$ 39.95
Tax calculation will be finalised during checkout.
Subscribe to journal
Immediate online access to all issues from 2019. Subscription will auto renew annually.
US$ 119
Tax calculation will be finalised during checkout.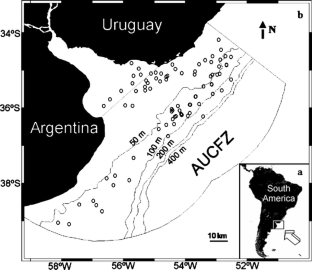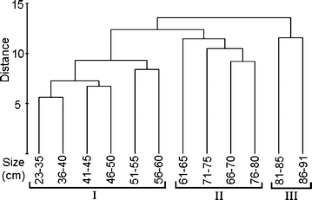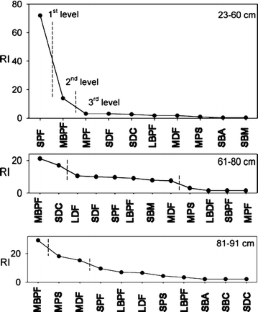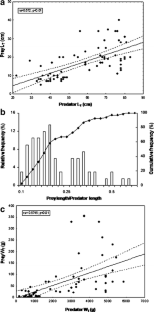 References
Acha EM, Mianzan HW, Guerrero RA, Favero M, Bava J (2004) Marine fronts at the continental shelves of austral South America: physical and ecological processes. J Mar Syst 44:83–105 doi:10.1016/j.jmarsys.2003.09.005

Assis CA (1996) A generalized index for stomach contents analysis in fish. Sci Mar 60:385–389

Bakun A, Parrish RH (1991) Comparative studies of coastal pelagic fish reproductive habitats: the anchovy (Engraulis anchoita) of the southwestern Atlantic. ICES J Mar Sci 48:343–361 doi:10.1093/icesjms/48.3.343

Bazzino G, Quiñones RA (1999) Características biológicas y ecológicas del calamar Illex argentinus (Cephalopoda, Ommastrephidae) relevantes para el ordenamiento de su pesquería en el Atlántico Sudoccidental. Gayana (Zool) 63:87–100

Boschi EE, Fischbach CE, Iorio MI (1992) Catálogo ilustrado de los crustáceos estomatópodos y decápodos marinos de Argentina. Frente Marit 10:1–92

Brewer DT, Blaber SJM, Salini JP, Farmer MJ (1995) Feeding ecology of predatory fishes from Groote Eylandt in the Gulf of Carpentaria, Australia, with special reference to predation on penaeid prawns. Estuar Coast Shelf Sci 40:577–600 doi:10.1006/ecss.1995.0039

Cherel Y, Duhamel G (2004) Antarctic jaws: cephalopod prey of sharks in Kerguelen waters. Deep-Sea Res (1 Oceanogr Res Pap) 51:17–31

Chiaramonte GE (1998) Shark fisheries in Argentina. Mar Freshw Res 49:601–609 doi:10.1071/MF97136

Christensen V, Pauly D (1992) ECOPATH II—a software for balancing steady-state ecosystem models and calculating network characteristics. Ecol Model 61:169–185 doi:10.1016/0304-3800(92)90016-8

Christensen V, Walters C (2004) Ecopath with Ecosim: methods, capabilities and limitations. Ecol Model 172:109–139 doi:10.1016/j.ecolmodel.2003.09.003

Clarke KL (1993) Non-parametric multivariate analyses of change in community structure. Aust J Ecol 18:117–143 doi:10.1111/j.1442-9993.1993.tb00438.x

Clarke KL, Green RH (1988) Statistical design and analysis for a "biological effects" study. Mar Ecol Prog Ser 46:213–226 doi:10.3354/meps046213

Colonello JH, Lucifora LO, Massa AM (2007) Reproduction of the angular angel shark (Squatina guggenheim): geographic differences, reproductive cycle, and sexual dimorphism. ICES J Mar Sci 64:131–140

Cortés E (1999) Standardized diet compositions and trophic levels of sharks. ICES J Mar Sci 56:707–717 doi:10.1006/jmsc.1999.0489

Cortés E, Manire Ch A, Hueter RE (1996) Diet, feeding habits, and diel feeding chronology of the bonnethead shark, Sphyrna tiburo, in southwest Florida. Bull Mar Sci 58:353–367

Cury P, Bakun A, Crawford RJM, Jarre A, Quiñones RA, Shannon LJ et al (2000) Small pelagics in upwelling systems: patterns of interaction and structural changes in ''wasp-waist'' ecosystems. ICES J Mar Sci 57:603–618 doi:10.1006/jmsc.2000.0712

Ellis JR, Pawson MG, Shackley SE (1996) The comparative feeding ecology of six species of shark and four species of ray (Elasmobranchii) in the north-east Atlantic. J Mar Biol Assoc UK 76:89–106

Froese R, Pauly D (eds) (2006) FishBase. http://www.fishbase.org. Cited Dec 2006

George EL, Hadley WF (1979) Food and habitat partitioning between rock bass (Ambloplites rupestris) and smallmouth bass (Micropterus dolomieui) young of the year. Trans Am Fish Soc 108:253–261 doi:10.1577/1548-8659(1979)108<253:FAHPBR>2.0.CO;2

Graeber RC (1974) Food intake patterns in captive juvenile lemon sharks, Negaprion brevirostris. Copeia 1974:554–556 doi:10.2307/1442559

Guerrero RA, Acha EM, Framiñán MB, Lasta CA (1997) Physical oceanography of the Rio de la Plata Estuary, Argentina. Cont Shelf Res 17:727–742 doi:10.1016/S0278-4343(96)00061-1

Hyslop EJ (1980) Stomach content analysis: a review of methods and their application. J Fish Biol 17:411–429 doi:10.1111/j.1095-8649.1980.tb02775.x

Karpouzi VS, Stergiou KI (2003) The relationships between mouth size and shape and body length for 18 species of marine fishes and their trophic implications. J Fish Biol 62:1353–1365 doi:10.1046/j.1095-8649.2003.00118.x

Lowe CG, Wetherbee BM, Crow GL, Tester AL (1996) Ontogenetic dietary shifts and feeding behaviour of the tiger shark, Galeocerdo cuvier, in Hawaiian waters. Environ Biol Fisches 47:203–211 doi:10.1007/BF00005044

Lucifora LO (2003) Ecología y conservación de los grandes tiburones costeros de Bahía Anegada, Provincia de Buenos Aires, Argentina. Ph.D. thesis. Universidad de Mar del Plata, Argentina p 410

Lucifora LO, Menni RC, Escalante A (2005) Reproduction, abundance and feeding habits of the broadnose sevengill shark, Notorynchus cepedianus, in north Patagonia, Argentina. Mar Ecol Prog Ser 289:237–244 doi:10.3354/meps289237

Lyle JM (1983) Food and feeding habits of the lesser spotted dogfish, Scyliorhinus canicula (L.), in Isle of Man waters. J Fish Biol 23:725–737 doi:10.1111/j.1095-8649.1983.tb02950.x

Menni RC, Ringuelet RA, Aramburu RH (1984) Peces marinos de la Argentina y Uruguay. Hemisferio Sur, Buenos Aires, p 369

Norbis W, Lorenzo I, Torres GJ (1999) Intra-annual growth variations of young-of-the-year hake (Merluccius hubbsi) of the Uruguayan continental shelf based on otolith analysis. Fish Res 44:129–137 doi:10.1016/S0165-7836(99)00059-4

Olson DB, Podestá GP, Evans RH, Brown OB (1988) Temporal variations in the separation of Brazil and Malvinas Currents. Deep-Sea Res 35:1971–1990 doi:10.1016/0198-0149(88)90120-3

Paesch L, Meneses P (1999) La pesquería de elasmobranquios en la Zona Común de Pesca Argentino–Uruguaya. In: Rey M, Arena G (eds) Estudios realizados sobre los elasmobranquios dentro del Río de la Plata y la Zona Común de Pesca Argentino–Uruguaya. INAPE–PNUD URU/92/003, Montevideo, 1–3

Pauly D, Trites AW, Capuli E, Christensen V (1998) Diet composition and trophic levels of marine mammals. ICES J Mar Sci 55:467–481 doi:10.1006/jmsc.1997.0280

Pauly D, Christensen V, Walters C (2000) Ecopath, Ecosim, and Ecospace as tools for evaluating ecosystem impact of Fisheries. ICES J Mar Sci 57:697–706 doi:10.1006/jmsc.2000.0726

Platell ME, Potter IC, Clarke KR (1998) Resource partitioning by four species of elasmobranchs (Batoidea: Urolophidae) in coastal waters of temperate Australia. Mar Biol (Berl) 131:719–734 doi:10.1007/s002270050363

Scharf FS, Juanes F, Rountree RA (2000) Predator size–prey size relationships of marine fish predators: interspecific variation and effects of ontogeny and body size on trophic niche breadth. Mar Ecol Prog Ser 208:229–248 doi:10.3354/meps208229

Schefer LN, Platell ME, Valesini FJ, Potter IC (2002) Comparisons between the influence of habitat type, season and body size on the dietary compositions of fish species in nearshore marine waters. J Exp Mar Biol Ecol 278:67–92 doi:10.1016/S0022-0981(02)00337-4

Sea Around Us (2006) A global database on marine fisheries and ecosystems. http://www.seaaroundus.org. Cited Dec 2006

Stephens DW, Krebs JR (1986) Foraging theory. Princeton University Press, Princeton, p 247

Stergiou KI, Karpouzi VS (2002) Feeding habits and trophic levels of Mediterranean fish. Rev Fish Biol Fish 11:217–254 doi:10.1023/A:1020556722822

Stevens JD, Bonfil R, Dulvy NK, Walker PA (2000) The effects of fishing on sharks, rays and chimaeras (Chondrichthians), and the implications for marine ecosystems. ICES J Mar Sci 57:476–494 doi:10.1006/jmsc.2000.0724

Stillwell CE, Kohler NE (1982) Food, feeding habits, and estimates of daily ration of the shortfin mako (Isurus oxyrinchus) in the northwest Atlantic. Can J Fish Aquat Sci 39:407–414

Villwock de ML, Vooren CM (2003) Catch and effort of demersal elasmobranchs in south Brazil from 1975 to 1997. Frente Marit 19:217–231

Vögler R, Milessi AC, Quiñones RA (2003) Trophic ecology of Squatina guggenheim on the continental shelf off Uruguay and northern Argentina. J Fish Biol 62:1254–1267 doi:10.1046/j.1095-8649.2003.00105.x

Vögler R, Milessi AC, Quiñones RA (2008) Influence of environmental variables on the distribution of Squatina guggenheim (Chondrichthyes, Squatinidae) in the Argentine–Uruguayan Common Fishing Zone. Fish Res 91:212-221 doi:10.1016/j.fishres.2007.11.028

Walters C, Christensen V, Pauly D (1997) Structuring dynamic model of exploited ecosystem from trophic mass-balance assessments. Rev Fish Biol Fish 7:139–172 doi:10.1023/A:1018479526149

Weihs D, Keyes RS, Stalls DM (1981) Voluntary swimming speeds of two species of large carcharhinid sharks. Copeia 1981:219–222 doi:10.2307/1444062

Werner EE, Gilliam JF (1984) The ontogenetic niche and species interactions in size-structured populations. Annu Rev Ecol Syst 15:393–425 doi:10.1146/annurev.es.15.110184.002141

Wetherbee BM, Cortés E (2004) Food consumption and feeding habits. In: Carrier JC, Musick JA, Heithaus MR (eds) Biology of sharks and their relatives. CRC, Florida, pp 223–244

White WT, Platell ME, Potter IC (2004) Comparisons between the diets of four abundant species of elasmobranchs in a subtropical embayment: implications for resource partitioning. Mar Biol (Berl) 144:439–448 doi:10.1007/s00227-003-1218-1

Wood JB, Day C (eds) (2006) CephBase. http://www.cephbase.utmb.edu. Cited Dec 2006

Zar JH (1999) Biostatistical analysis, 4thth edn. Prentice Hall, New Jersey, p 663
Acknowledgments
The authors thank DINARA (Uruguay) for permitting us to generate the database used in this research through the participation of R.V.S and A.C.M. in regular Micropogonias furnieri and Merluccius hubbsi evaluation cruises. We also acknowledge the crew of the RV "Aldebarán" for their assistance. B. Yannicelli, E. Cortés and L. Lucifora provided useful comments to improve the manuscript. The German Academic Exchange Service (Deutscher Akademisher Austausch Dienst, DAAD) funded R.V.S. (A/99/14455) and A.C.M. (A/01/17601) through scholarships to conduct graduate studies at the University of Concepción.
About this article
Cite this article
Vögler, R., Milessi, A.C. & Duarte, L.O. Changes in trophic level of Squatina guggenheim with increasing body length: relationships with type, size and trophic level of its prey. Environ Biol Fish 84, 41 (2009). https://doi.org/10.1007/s10641-008-9387-x
Received:

Accepted:

Published:
Keywords
Angular angel shark

Feeding ecology

Predator–prey interactions

Uruguay

Marine food webs