Abstract
We reared juvenile Chinook salmon for two consecutive flood seasons within various habitats of the Cosumnes River and its floodplain to compare fish growth in river and floodplain habitats. Fish were placed in enclosures during times when wild salmon would naturally be rearing in floodplain habitats. We found significant differences in growth rates between salmon reared in floodplain and river enclosures. Salmon reared in seasonally inundated habitats with annual terrestrial vegetation experienced higher growth rates than those reared in a perennial pond on the floodplain. Growth of fish in the non-tidal river upstream of the floodplain varied with flow in the river. When flows were high, there was little growth and high mortality, but when the flows were low and clear, the fish grew rapidly. Fish displayed very poor growth in tidally influenced river habitat below the floodplain, a habitat type to which juveniles are commonly displaced during high flow events due to a lack of channel complexity in the main-stem river. Overall, ephemeral floodplain habitats supported higher growth rates for juvenile Chinook salmon than more permanent habitats in either the floodplain or river. Variable responses in both growth and mortality, however, indicate the importance of providing habitat complexity for juvenile salmon in floodplain reaches of streams, so fish can find optimal places for rearing under different flow conditions.
Access options
Buy single article
Instant access to the full article PDF.
US$ 39.95
Tax calculation will be finalised during checkout.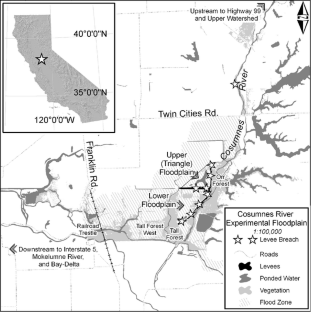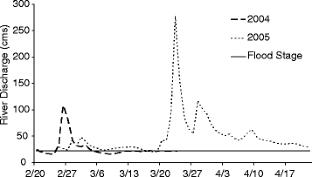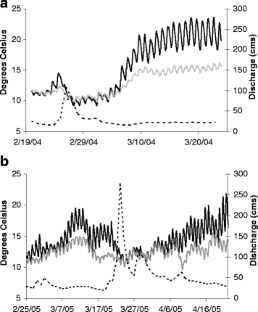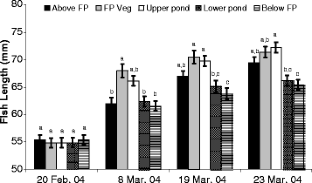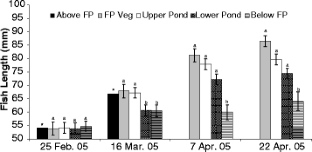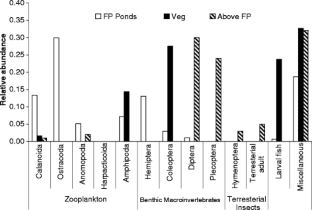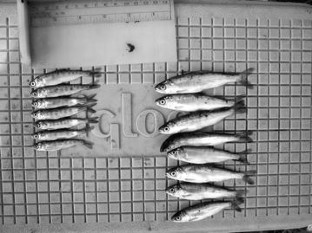 References
Ahearn DS, Viers JH, Mount JF, Dahlgren RA (2006) Priming the productivity pump: flood pulse driven trends in suspended algal biomass distribution across a restored floodplain. Freshw Biol 51:1417–1433

Baranyi C, Hein T, Holarek C, Keckeis S, Schiemer F (2002) Zooplankton biomass and community structure in a Danube River floodplain system: effects of hydrology. Freshw Biol 47:473–482

Bay-Delta Authority CALFED (2004) Ecosystem Restoration Multi-Year Program Plan (Years 5–8). Sacramento, California

Bayley P (1991) The Flood Pulse Advantage and the Restoration of River-Floodplain Systems. Regul Rivers Res Manage 6:75–86

Beechie TJ, Liermann M, Beamer EM, Henderson R (2005) A classification of habitat types in a large river and their use by juvenile salmonids. Trans Am Fish Soc 134:717–729

Brown TG, Hartman GF (1988) Contribution of seasonally flooded lands and minor tributaries to the production of Coho salmon in Carnation Creek, British-Columbia. Trans Am Fish Soc 117:546–551

Dodds WK, Hutson RE, Eichem AC, Evans MA, Gudder DA, Fritz KM et al (1996) The relationship of floods, drying, how and light to primary production and producer biomass in a prairie stream. Hydrobiologia 333:151–159

Florsheim JL, Mount JF (2002) Restoration of floodplain topography by sand-splay complex formation in response to intentional levee breaches, Lower Cosumnes River, California. Geomorphology 44:67–94

Galat DL, Zweimuller I (2001) Conserving large-river fishes: is the highway analogy an appropriate paradigm? J N Am Benthological Soc 20:266–279

Grosholz E, Gallo E (2006) The influence of flood cycle and fish predation on invertebrate production on a restored California floodplain. Hydrobiologia 568:91–109

Healey MC (1980) Utilization of the Nanaimo River estuary by juvenile Chinook salmon, Oncorhynchus tshawytscha. Fish Bull (Wash D C) 77:653–668

Junk WJ, Bayley PB, Sparks RE (1989) The flood pulse concept in river-floodplain systems. Special publication. Can J Fish Aquat Sci 106:110–127

Kjelson MA, Raquel PF, Fisher FW (1981) The life-history of fall run juvenile Chinook salmon, Oncorhynchus-Tshawytscha, in the Sacramento San Joaquin Estuary of California. Estuaries 4:285–285

Marine KR, Cech JJ (2004) Effects of high water temperature on growth, smoltification, and predator avoidance in Juvenile Sacramento River Chinook salmon. N Am J Fish Manage 24:198–210

Matthews KR, Berg NH (1997) Rainbow trout responses to water temperature and dissolved oxygen stress in two southern California stream pools. J Fish Biol 50:50–67

Mount JF (1995) California rivers and streams. University of California Press, Berkeley

Moyle PB, Crain PK, Whitener K (2007) Patterns in the use of a restored California floodplain by native and alien fishes. San Francisco Estuary and Watershed Science 5(3):1–27. http://repositories.cdlib.org/jmie/sfews/vol5/iss3/art1/

Myrick CA, Cech JJ (2004) Temperature effects on juvenile anadromous salmonids in California's central valley: What don't we know? Rev Fish Biol Fish 14:113–123

Richter A, Kolmes SA (2005) Maximum temperature limits for chinook, coho, and chum salmon, and steelhead trout in the Pacific Northwest. Rev Fish Sci 13:23–49

Richter BD, Mathews R, Wigington R (2003) Ecologically sustainable water management: Managing river flows for ecological integrity. Ecol Appl 13:206–224

Sommer TR, Nobriga ML, Harrell WC, Batham W, Kimmerer WJ (2001) Floodplain rearing of juvenile Chinook salmon: evidence of enhanced growth and survival. Can J Fish Aquat Sci 58:325–333

Swenson RO, Whitener K, Eaton M (2003) Restoring floods on floodplains: riparian and floodplain restoration at the Cosumnes River Preserve. In: Faber PM (ed) California riparian systems: processes and floodplains management, ecology, and restoration. 2001 Riparian Habitat and Floodplains Conference Proceedings. Riparian Habitat Joint Venture. Riparian Habitat Joint Venture, Sacramento, CA, pp 224–229

Tockner K, Stanford JA (2002) Riverine flood plains: present state and future trends. Environ Conserv 29:308–330

Unwin MJ (1997) Fry-to-adult survival of natural and hatchery-produced chinook salmon (Oncorhynchus tshawytscha) from a common origin. Can J Fish Aquat Sci 54:1246–1254
Acknowledgements
We thank the California Bay Delta Authority Science Program and The David and Lucile Packard Foundation for financial support of this project. We are grateful to the Cosumnes River Preserve for their support and access to the preserve. We would also like to express our appreciation for their help in the study design and field assistance to Wendy Trowbridge and Alicia Gilbreath. We thank the reviewers and the editor for their comments.
About this article
Cite this article
Jeffres, C.A., Opperman, J.J. & Moyle, P.B. Ephemeral floodplain habitats provide best growth conditions for juvenile Chinook salmon in a California river. Environ Biol Fish 83, 449–458 (2008). https://doi.org/10.1007/s10641-008-9367-1
Received:

Accepted:

Published:

Issue Date:
Keywords
Juvenile Chinook

Floodplain

Rearing

Growth

Restoration