Abstract
The waters around Bimini (25° 43.70′ N, 79° 18.00′ W) provide an ideal nursery location for juvenile lemon sharks, Negaprion brevirostris, but this habitat is threatened by the development of a large resort. Since 1999 the North Sound (NS) has been subjected to intermittent periods of dredging, the most intensive of which was in March 2001. Possible effects from the development up to June 2006 were investigated by: comparing growth rates of juvenile lemon sharks in the NS, Sharkland (SL) and South Bimini (SB) nurseries between 1995-2005 using before-after, control-impact (BACI) analysis; analyzing survival of juvenile lemon sharks in the NS and SL between 1995–2006; and by comparing habitat structures in the NS and SB nurseries in 2003 and 2005. BACI analysis detected no statistically significant difference between the growth rates of juvenile lemon sharks in the three nurseries before and after the impact date of March 2001. However, a reduction in the survival rate of juvenile lemon sharks in the NS after March 2001 was statistically significant, including a 23.5% decline in first-year survival. Habitat structure of the NS in 2003 and 2005 also varied with the mean percentage cover of the seagrass Thalassia testudinum declining by 17.7% since 2003. Our results indicate a correlation between the development thus far and a decline in the survival rates of juvenile lemon sharks and changes in the habitat structure of the NS. To elucidate further information regarding potential effects of the resort development on juvenile lemon sharks in the NS nursery, we suggest several future research directions.
This is a preview of subscription content, log in to check access.
Access options
Buy single article
Instant access to the full article PDF.
US$ 39.95
Price includes VAT for USA
Subscribe to journal
Immediate online access to all issues from 2019. Subscription will auto renew annually.
US$ 199
This is the net price. Taxes to be calculated in checkout.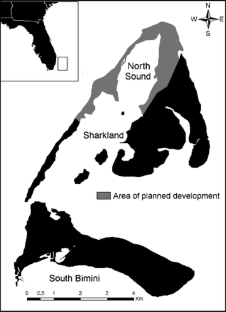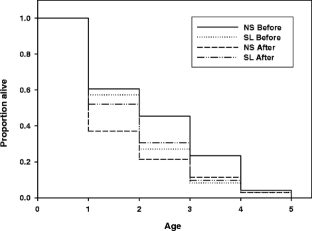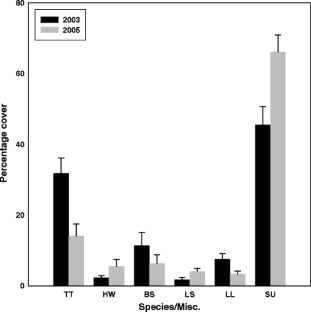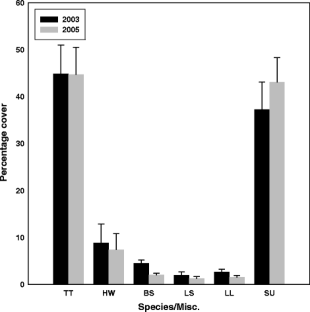 References
Barker MJ, Gruber SH, Newman SP, Schluessel V (2005) Spatial and ontogenetic variation in growth of nursery-bound juvenile lemon sharks, Negaprion brevirostris: a comparison of two age-assigning techniques. Environ Biol Fishes 72:343–355

Compagno LJV (1984) FAO species catalogue, vol. 4. Sharks of the world, an annotated and illustrated guide of shark species known to date. Part 2; Carcharhiniformes. FAO Series Synopsis No. 125. Food and Agriculture Organization of the United Nations, Rome, pp 251–655

Cortés E (1999) Standardized diet compositions and trophic levels of sharks. ICES J Mar Sci 56:707–717

Daskalov GM (2002) Over-fishing drives a trophic cascade in the Black Sea. Mar Ecol-Prog Ser 225:53–63

de Pinho AP, Guimaraes JRD, Martins AS, Costa PAS, Olavo G, Valentin J (2002) Total mercury in muscle tissue of five shark species from Brazilian offshore waters: effects of feeding habit, sex, and length. Environ Res 89:250–258

DiBattista JD, Feldheim KA, Gruber SH, Hendry AP (2007) When bigger is not better: selection against large size, high condition and fast growth in juvenile lemon sharks. J Evolution Biol 20:201–212

Fairey R, Taberski K, Lamerdin S, Johnson E, Clark RP, Downing JW, Newman J, Petreas M (1997) Organochlorines and other contaminants in muscle tissues of sport fish collected from San Francisco Bay. Mar Pollut Bull 34:1058–1071

Feldheim KA, Edrén SMC (2002) Impacts of dredging on local marine communities with special reference to resident lemon sharks (Negaprion brevirostris), at Bimini, Bahamas. Bahamas J Sci 9:28–35

Feldheim KA, Gruber SH, Ashley MV (2002) The breeding biology of lemon sharks at a tropical nursery lagoon. P Roy Soc Lond B Bio 269:1655–1661

Franks BR (2007) The spatial ecology and resource selection of juvenile lemon sharks (Negaprion brevirostris) in their primary nursery areas. Ph.D. Dissertation, Drexel University, USA. 203 pp

Gilliers C, Le Pape O, Desaunay Y, Morin J, Guerault D, Amara R (2006) Are growth and density quantitative indicators of essential fish habitat quality? An application to the common sole Solea solea nursery grounds. Estuar Coast Shelf S 69:96–106

Goldman KJ, Musick JA (2006) Growth and maturity of salmon sharks (Lamna ditropis) in the eastern and western North Pacific, and comments on back calculation methods. Fish B NOAA 104:278–292

Gruber SH (1982) Role of the lemon shark, Negaprion brevirostris (Poey) as a top predator in the tropical marine environment: a multidisciplinary study. Fla Sci 4:4–75

Gruber SH, Parks W (2002) Mega-resort development on Bimini: sound economics or environmental disaster? Bahamas J Sci 9:2–18

Gruber SH, Nelson DR, Morrissey JF (1988) Patterns of activity and space utilization of lemon sharks, Negaprion brevirostris, in a shallow Bahamian Lagoon. B Mar Sci 43:61–76

Gruber SH, de Marignac JRC, Hoenig JM (2001) Survival of juvenile lemon sharks at Bimini, Bahamas, estimated by mark-depletion experiments. Trans Am Fisheries Soc 130:376–384

Guidetti P (2001) Detecting human impacts on the Mediterranean seagrass Posidonia oceanica (L.) Delile: the use of reconstructive methods in combination with 'beyond BACI' designs. J Exp Mar Biol Ecol 260:27–39

Heithaus MR, Dill LM, Marshall GJ, Buhleier B (2002) Habitat use and foraging behavior of tiger sharks (Galeocerdo cuvier) in a seagrass ecosystem. Mar Biol 140:237–248

Henningsen AD, Gruber SH (1985) Assessment of two lemon shark, Negaprion brevirostris populations, by multiple mark procedures. Fla Sci 48:32

Jacobsen T (1987) An ecosystem-level study of a shallow, subtropical, marine lagoon, NS, Bimini, Bahamas. Ph.D. Dissertation, University of Georgia, Athens, USA. 253 pp

Jacobson PC (2005) Experimental analysis of a reduced daily bluegill limit in Minnesota. N Am J Fish Manage 25:203–210

Lombardi-Carlson LA, Cortés E, Parsons GR, Manire CA (2003) Latitudinal variation in life-history traits of bonnet head sharks, Sphyrna tiburo, (Carcharhiniformes: Sphyrnidae) from the eastern Gulf of Mexico. Mar Freshwater Res 54:875–883

Manire CA, Gruber SH (1991) Effect of M-type dart tags on field growth of juvenile lemon sharks. Trans Am Fish Soc 120:776–780

Morrissey JF, Gruber SH (1993) Habitat selection by juvenile lemon sharks, Negaprion brevirostris. Environ Biol Fishes 38:311–319

Myers RA, Baum JK, Shepherd TD, Powers SP, Peterson CH (2007) Cascading effects of the loss of apex predatory sharks from a coastal ocean. Science 315:1846–1850

Newman SP (2003) Spatial and temporal variation in diet and prey preference of nursery-bound juvenile lemon sharks (Negaprion brevirostris) at Bimini, Bahamas. Ph.D. Dissertation, University of Plymouth, UK. 268 pp

Parsons KT (2004) Trace metal accumulation and distribution in juvenile lemon sharks, their prey and sediments at Bimini, Bahamas. M.Res. Thesis, University of Plymouth, UK. 82 pp

R Development Core Team (2007) R: a language and environment for statistical computing. R Foundation for Statistical Computing, Vienna http://www.r-project.org

Russ GR, Alcala AC (2004) Marine reserves: long-term protection is required for full recovery of predatory fish populations. Oecologia 138:622–627

Schindler DE, Geib SI, Williams MR (2000) Patterns of fish growth along a residential development gradient in north temperate lakes. Ecosystems 3:229–237

Sealey KS (2004) Large-scale ecological impacts of development on tropical islands systems: comparison of developed and undeveloped islands in the central Bahamas. B Mar Sci 75:295–320

Simpfendorfer CA (2000) Growth rates of juvenile dusky sharks, Carcharhinus obscurus (Lesueur, 1818), from south-western Australia estimated from tag-recapture. Fish B NOAA 98:811–822

Torres LG, Heithaus MR, Delius B (2006) Influence of teleost abundance on the distribution and abundance of sharks in Florida Bay, USA. Hydrobiologia 569:449–455

Underwood AJ (1992) Beyond BACI: the detection of environmental impacts in the real, but variable, world. J Exp Mar Biol Ecol 161:145–178

Underwood AJ (1997) Experiments in ecology: their logical design and interpretation using analysis of variance. Cambridge University Press, Cambridge
Acknowledgements
We dedicate this paper to the many volunteers who helped to collect the data presented here, and we thank M. Drake, K. Feldheim, T. Calver, A. Grant, S. Newman, K. Parsons, M. Partyka, J. Randall, G. Johnson and K. Grudecki for running the field operation. We are grateful to C. Higgs and M. Braynen, Directors of the Bahamas Department of Fisheries, for issuing a scientific permit in support of our research. We also thank the people of Bimini, especially P. Duncombe and the Bimini bonefishermen. The study was made possible with financial support from the Bimini Biological Field Station, Earthwatch Institute, National Science Foundation (NSF-OCE 97-12793), PADI Project Aware, Florida Department of Education (FLORIDA 8749703000001), R. Mann and L. Hoover, the Hoover Foundation and T. and T. Fujino. We gratefully acknowledge the following corporate support: M. Aiello, owner of Davey Marine; the late D. Schaad of Mercury Division, Brunswick Corporation; Destron-Fearing Corporation, especially S. Casey; M. O'Brian, President, Bimini Island Air; and Pelican Products. We are also grateful to T. Raffel and the Rohr Ecology Lab at USF, P. Shaw, D. Noakes and three anonymous reviewers for their comments and suggestions regarding this manuscript.
About this article
Cite this article
Jennings, D.E., Gruber, S.H., Franks, B.R. et al. Effects of large-scale anthropogenic development on juvenile lemon shark (Negaprion brevirostris) populations of Bimini, Bahamas. Environ Biol Fish 83, 369–377 (2008). https://doi.org/10.1007/s10641-008-9357-3
Received:

Accepted:

Published:

Issue Date:
Keywords
BACI analysis

Growth rate

Habitat structure

Lemon shark conservation

Survival rate