Abstract
We examined the effects of turbidity on habitat preference of juvenile Atlantic cod in the laboratory, using a shuttle box where fish could select between two different habitats. In the first experiment, we compared three turbidity levels of kaolin (3, 8 and 21 beam attenuation m−1). In the second experiment, we looked at the effect of turbidity media (kaolin versus algae), after controlling for spectral differences between turbidity media. Although cod preferred an intermediate turbidity of kaolin over low turbidity water, comparisons between low and high turbidity, and intermediate and high turbidity did not significantly influence habitat preference. Algae did not influence habitat preference by cod. Although other studies have found that turbidity affects both foraging and antipredator behaviour of juvenile cod, this study has shown that gradients in turbidity per se do not have a strong effect on their habitat preference.
Access options
Buy single article
Instant access to the full article PDF.
USD 39.95
Price excludes VAT (USA)
Tax calculation will be finalised during checkout.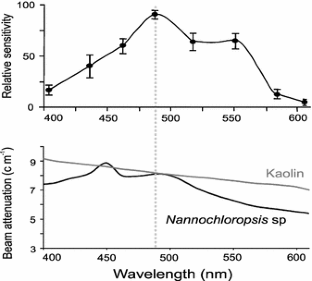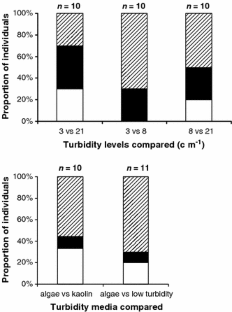 References
Agresti A (1990) Categorical data analysis. John Wiley, New York

Abrahams M, Kattenfeld M (1997) The role of turbidity as a constraint on predator-prey interactions in aquatic environments. Behav Ecol Sociobiol 40:169–174

Aksnes DL, Giske J (1993) A theoretical model of aquatic visual feeding. Ecol Model 67:233–250

Aksnes DL, Nejstgaard J, Soedberg E, Sornes T (2004) Optical control of fish and zooplankton populations. Limnol Oceanogr 49:233–238

Anthony PD (1981) Visual contrast thresholds in the cod Gadus morhua L. J Fish Biol 19:87–103

Anthony PD, Hawkins AD (1983) Spectral sensitivity of the cod, Gadus morhua L. Mar Behav Physiol 10:145–165

Bash J, Berman C, Bolton S (2001) Effects of turbidity and suspended solids on salmonids (Report No. WA-RD 526.1). Washington State Transportation Centre, Seattle

Berg L, Northcote TG (1985) Changes in territorial, gill-flaring, and feeding-behaviour in juvenile coho salmon (Oncorhynchus kisutch) following short-term pulses of suspended sediment. Can J Fish Aquat Sci 42:1410–1417

Bonsdorff E, Blomqvist EM, Mattila J, Norkko A (1997) Long-term changes and coastal eutrophication. Examples from the Aland Islands and the Archipelago Sea, northern Baltic Sea. Oceanol Acta 20:319–329

Boubée JDTL, Wesst DW, Barrier RFG (1997) Avoidance of suspended sediment by the juvenile migratory stage of six New Zealand native fish species. New Zeal J Mar Fresh 31:61–69

Bowers DG, Harker GEL, Smith PSD, Tett P (2000) Optical properties of a region of freshwater influence (the Clyde Sea). Est Cstl Shelf Sci 50:717–726

Bowmaker JK (1995) The visual pigments of fish. Prog Retin Eye Res 15:1–31

Claireaux G, Dutil JD (1992) Physiological-response of the Atlantic cod (Gadus morhua) to hypoxia at various environmental salinities. J Exp Biol 163:97–118

Claireaux G, Webber DM, Kerr SR, Boutilier RG (1995) Physiology and behaviour of free-swimming Atlantic cod (Gadus morhua) facing fluctuating temperature conditions. J Exp Biol 198:49–60

Cote D, Ollerhead LMN, Gregory RS, Scruton DA, McKinley RS (2002) Activity patterns of juvenile Atlantic cod (Gadus morhua) in Buckley Cove, Newfoundland. Hydrobiologia 483:121–127

Engström-Öst J, Karjalainen M, Viitasalo M (2006) Feeding and refuge use by small fish in the presence of cyanobacteria blooms. Environ Biol Fish 76:109–117

Frette Ø, Erga SR, Hamre B, Aure J, Stamnes JJ (2004) Seasonal variability in inherent optical properties in a western Norwegian fjord. Sarsia 89:276–291

Frid C, Hammer C, Law R, Loeng H, Pawlak JF, Reid PC, Tasker M (2003) Environmental status of the European seas. International Council for the Exploration of the Sea, Copenhagen, DK

Godø OR, Gjøsæter J, Sunnanå L, Dragesund O (1989) Spatial distribution of 0-group gadoids off mid-Norway. Rapp P-v Réun. Cons Int Explor Mer 191:273–280

Gotceitas V, Fraser S, Brown JA (1995) Habitat use by juvenile Atlantic cod (Gadus morhua) in the presence of an actively foraging and non-foraging predator. Mar Biol 123:421–430

Grant SM, Brown JA (1998a) Nearshore settlement and localisation populations of age 0 Atlantic cod (Gadus morhua). Can J Fish Aquat Sci 55:1317–1327

Grant SM, Brown JA (1998b) Diel foraging cycles and interactions among juvenile Atlantic cod (Gadus morhua) at a nearshore site in Newfoundland. Can J Fish Aquat Sci 55:1307–1316

Gregory RS, Anderson JT (1997) Substrate selection and use of protective cover by juvenile Atlantic cod (Gadus morhua) in inshore waters of Newfoundland. Mar Ecol Prog Ser 146:9–20

Henley WF, Patterson MA, Neves RJ, Lemly AD (2000) Effects of sedimentation and turbidity on lotic food webs: a concise review for natural resource managers. Rev Fish Sci 8:125–139

Hutchings JA, Baum JK (2005) Measuring marine fish biodiversity: temporal changes in abundance, life history and demography. Phil Trans R Soc B 360:315–338

Johnsen S, Sosik HM (2003) Cryptic coloration and mirrored sides as camouflage strategies in near-surface pelagic habitats: implications for foraging and predator vavoidance. Limnol Oceanogr 48:1277–1288

Linehan JE, Gregory RS, Schneider DC (2001) Predation risk of age-0 cod (Gadus) relative to depth and substrate in coastal waters. J Exp Mar Biol Ecol 263:25–44

Marshall S, Elliott M (1998) Environmental influences on the fish assemblage of the Humber Estuary, U.K. Est Cstl Shelf Sci 46:175–184

McMahon TG, Raine RCT, Fast T, Kies L, Patching JW (1992) Phytoplankton biomass, light attenuation and mixing in the Shannon estuary, Ireland. J Mar Biol Assoc UK 72:709–720

Meager JJ, Batty RS (2007) Effects of turbidity on the spontaneous and prey searching activity of juvenile Atlantic cod (Gadus morhua). Phil Trans R Soc B (in press)

Meager JJ, Domenici P, Shingles A, Utne-Palm AC (2006) Escape responses in juvenile Atlantic cod (Gadus morhua): the effect of turbidity and predator velocity. J Exp Biol 209:4174–4184

Meager JJ, Solbakken T, Utne-Palm AC, Oen T (2005) Effects of turbidity on the reaction distance, search time, and foraging success of juvenile Atlantic cod (Gadus morhua). Can J Fish Aquat Sci 62:1978–1984

Miner JG, Stein RA (1996) Detection of predators and habitat choice by small bluegills: effects of turbidity and alternative prey. Trans Am Fish Soc 125:97–103

Mobley CD (1994) Light and water: radiative transfer in natural waters. Academic Press, San Diego

de Robertis A, Ryer CH, Veloza A, Brodeur RD (2003) Differential effects of turbidity on prey consumption of piscivorous and planktivorous fish. Can J Fish Aquat Sci 60:1517–1526

Servizi JA, Martens DW (1992) Sublethal responses of coho salmon (Oncorhynchus kisutch) to suspended sediments. Can J Fish Aquat Sci 49:1389–1395

Utne ACW, Brännäs E, Magnhagen C (1997) Individual responses to predation risk and food density in perch (Perca fluviatilis L.). Can J Zool 75:2027–2035

Utne-Palm AC (2002) Visual feeding of fish in a turbid environment: physical and behavioural aspects. Mar Freshw Behav Physiol 35:111–128

Vinyard GL, O'Brien WJ (1976) Effects of light and turbidity on the reactive distance of bluegill (Lepomis macrochirus). J Fish Res Board Can 33:2845–2849

Vogel JL, Beauchamp DA (1999) Effects of light, prey size, and turbidity on reaction distances of lake trout (Salvelinus namaycush) to salmonid prey. Can J Fish Aquat Sci 56:1293–1297

Zaneveld JRV, Spinrad RW, Bartz R (1979) Optical properties of turbidity standards. Ocean Opt 6:159–168
Acknowledgements
Research was approved by the Norwegian Animal Research Committee (Forsøksdyrutvalget). Financial support was provided by the European Union Fisheries Directorate, through Contract QLRS-2002-00799, Project ETHOFISH. We would like to thank Jorun Egge and Jens Nejstgaard for advice about marine algae.
About this article
Cite this article
Meager, J.J., Utne-Palm, A.C. Effect of turbidity on habitat preference of juvenile Atlantic cod, Gadus morhua . Environ Biol Fish 81, 149–155 (2008). https://doi.org/10.1007/s10641-007-9183-z
Received:

Accepted:

Published:

Issue Date:

DOI: https://doi.org/10.1007/s10641-007-9183-z
Keywords
Turbidity

Juvenile Atlantic cod

Habitat preference