Abstract
We investigate the unintended consequences of carryout grocery bag (CGB) regulations by looking at the impact on sales of alternative plastic bag products. We extend the literature by studying two types of CGB regulations, bag bans and bag fees. Using retail scanner data and employing a general synthetic control method, we find that both types of CGB regulations are associated with significantly higher plastic trash bag sales. We estimate that CGB regulations lead to an average increase in purchased plastics of 127 pounds per store per month, ranging from 30 to 135 (37–224) pounds for 4-gallon (8-gallon) trash bags. These results confirm previous findings on bag bans and provide new evidence on bag fees. In general, the effects do not differ across CGB regulations, but some heterogeneity exists. Our results highlight unintentional spillover effects of narrowly targeted policies on other unregulated waste.
Access options
Buy single article
Instant access to the full article PDF.
USD 39.95
Price excludes VAT (USA)
Tax calculation will be finalised during checkout.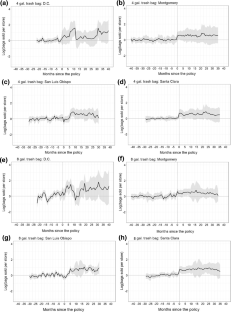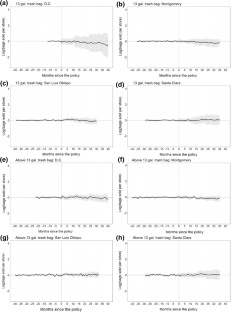 Data Availability
Restrictions apply to the availability of the data presented in this study. Data was obtained from the University of Chicago, Chicago Booth, and Nielsen with their permission. Note that the University of Chicago, Chicago Booth, and Nielsen make no warranty of any kind, express or implied, with respect to the merchantability, fitness, condition, use or appropriateness for subscriber's purposes of the data furnished to licensee and researcher under this agreement. All such data are supplied on an "as is" basis.
References
Abadie A (2021) Using synthetic controls: feasibility, data requirements, and methodological aspects. J Econ Lit 59(2):391–425

Abadie A, Diamond A, Hainmueller J (2010) Synthetic control methods for comparative case studies: estimating the effect of California's tobacco control program. J Am Stat Assoc 105(490):493–505

Abadie A, Gardeazabal J (2003) The economic costs of conflict: a case study of the basque country. Am Econ Rev 93(1):113–132

Arkhangelsky D et al (2019) Synthetic difference in differences. Cambridge

Ashenfelter O (1978) Estimating the effect of training programs on earnings. Rev Econ Stat 60(1):47–57

Asian Development Bank (2019) Asian Development Bank, ADB Launches $5 Billion Healthy Oceans Action Plan. https://www.adb.org/news/adb-launches-5-billion-healthy-oceans-action-plan. Accessed 25 October, 2019

Athey S, Imbens GW (2017) The state of applied econometrics: causality and policy evaluation. J Econ Perspect 31:3–32

Bag the Ban (2019) Bag the Ban. https://www.bagtheban.com/

Bai J (2009) Panel data models with interactive fixed effects. Econometrica 77(4):1229–1279

Clapp J, Swanston L (2009) Doing away with plastic shopping bags: international patterns of norm emergence and policy implementation. Environ Politics 18(3):315–332

Convery F, McDonnell S, Ferreira S (2007) The most popular tax in Europe? Lessons from the Irish plastic bags levy. Environ Resource Econ 38(1):1–11

Dikgang J, Leiman A, Visser M (2012) Analysis of the plastic-bag levy in South Africa. Resour Conserv Recycl 66:59–65

Homonoff TA (2018) Can small incentives have large effects? The impact of taxes versus bonuses on disposable bag use. Am Econ J Econ Pol 10(4):177–210

Internal Revenue Service (2021) SOI Tax stats, individual statistical tables by size of adjusted gross income. https://www.irs.gov/statistics/soi-tax-stats-individual-statistical-tables-by-size-of-adjusted-gross-income. Accessed 19 July, 2021

Martinho G, Balaia N, Pires A (2017) The portuguese plastic carrier bag tax: the effects on consumers' behavior. Waste Manag 61:3–12

Poortinga W, Whitmarsh L, Suffolk C (2013) The introduction of a single-use carrier bag charge in wales: attitude change and behavioural spillover effects. J Environ Psychol 36:240–247

Taiwan Environmental Protection Administration (2019) Simultaneous inspection launched nationwide following start of ban on single-use plastic straws. Taiwan Environmental Protection Administration. https://www.epa.gov.tw/eng/F7AB26007B8FE8DF/f8fb56de-5c07-4b0e-9cca-3f07fadcae78. Accessed 2 September, 2021

Taylor R (2019) Bag leakage: the effect of disposable carryout bag regulations on unregulated bags. J Environ Econ Manag 93:254–271

Taylor R (2020) A mixed bag: the hidden time costs of regulating consumer behavior. J Assoc Environ Resour Econ 7(2):345–378

Taylor R, Villas-Boas SB (2016) Bans vs. fees: disposable carryout bag policies and bag usage. Appl Econ Perspect Policy 38(2):351–372

Thomas GO, Poortinga W, Sautkina E (2016) The welsh single-use carrier bag charge and behavioural spillover. J Environ Psychol 47:126–135

Thompson RC et al (2004) Lost at Sea: Where Is All the Plastic? Science 304(5672):838

U.S. Census Bureau (2021) Historical population density data (1910–2020)

Xu Y (2017) Generalized synthetic control method: causal inference with interactive fixed effects models. Polit Anal 25:57–76
Acknowledgements
The authors acknowledge support through Texas AgriLife Research with support from the USDA National Institute of Food and Agriculture, Hatch project 1011850.
Additional information
Publisher's Note
Springer Nature remains neutral with regard to jurisdictional claims in published maps and institutional affiliations.
Appendices
Appendices
Detailed estimation results and the policy effect on unit prices of trash bags are presented in this section.
1.1

Appendix A: Endogeneity Checks and Estimation Results

See Figs.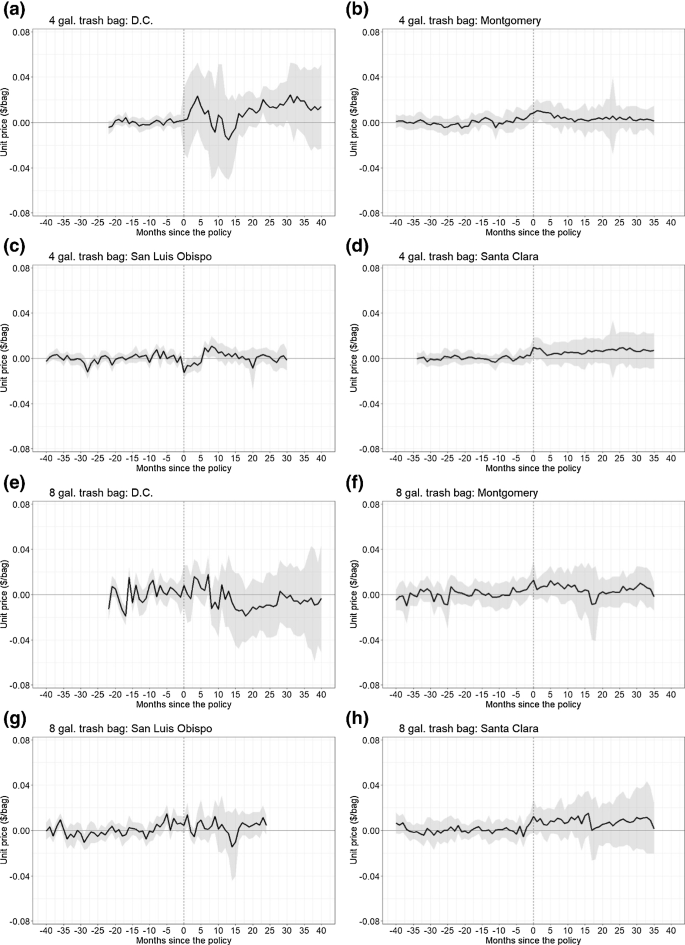 7 and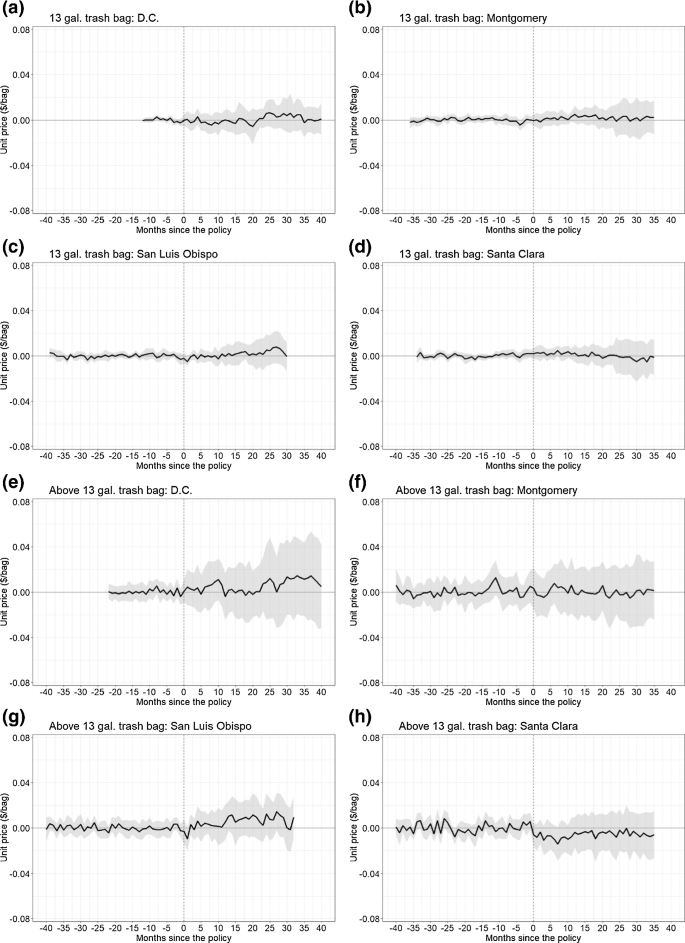 8 and Tables
3,
4,
5 and
6.
1.2

Appendix B: Synthetic Control Model Estimated with Less Observations

See Figs.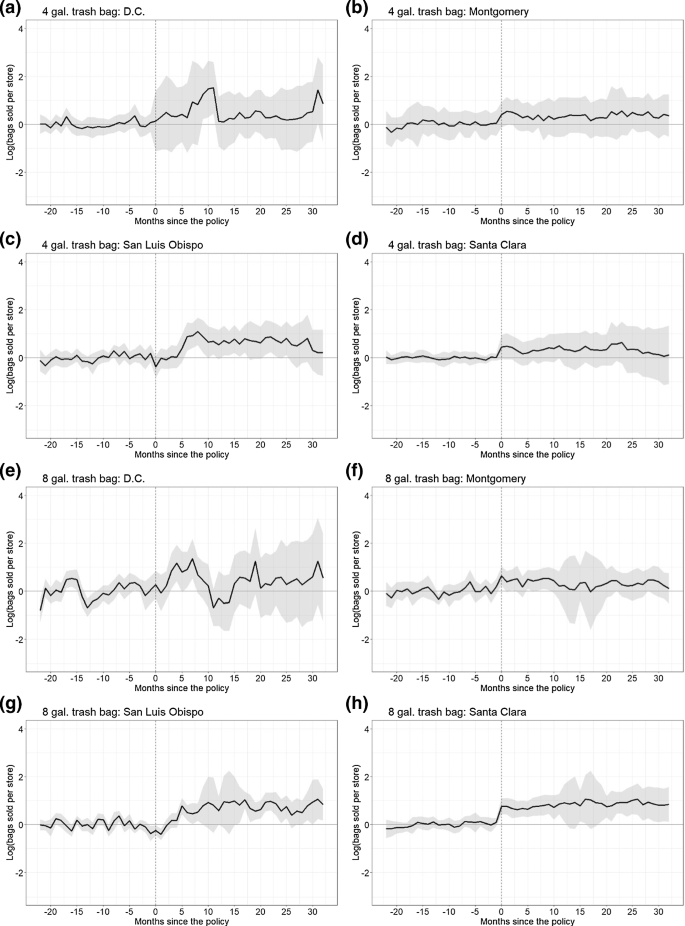 9,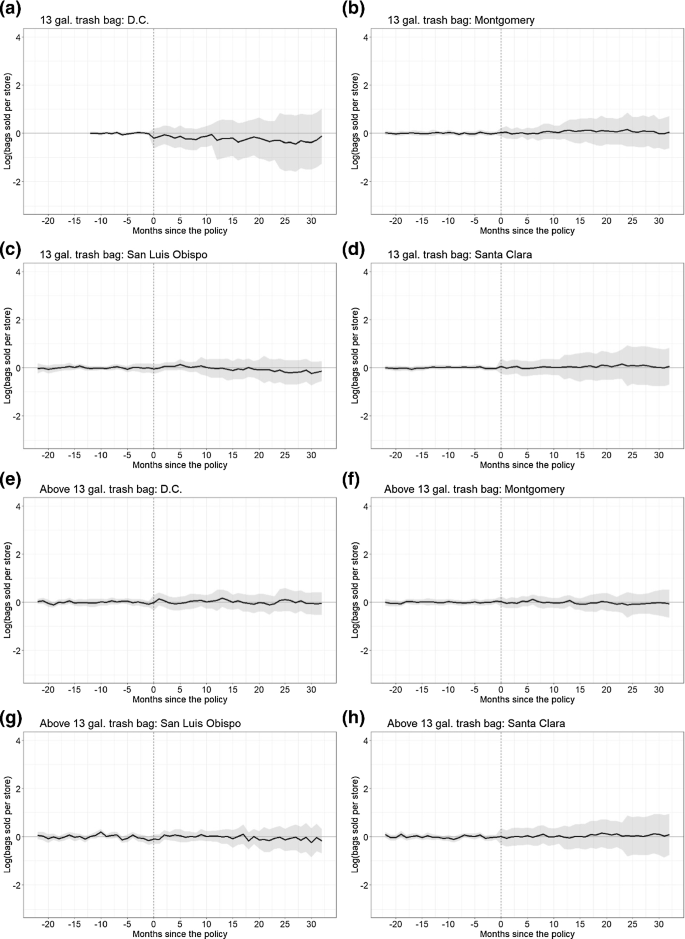 10,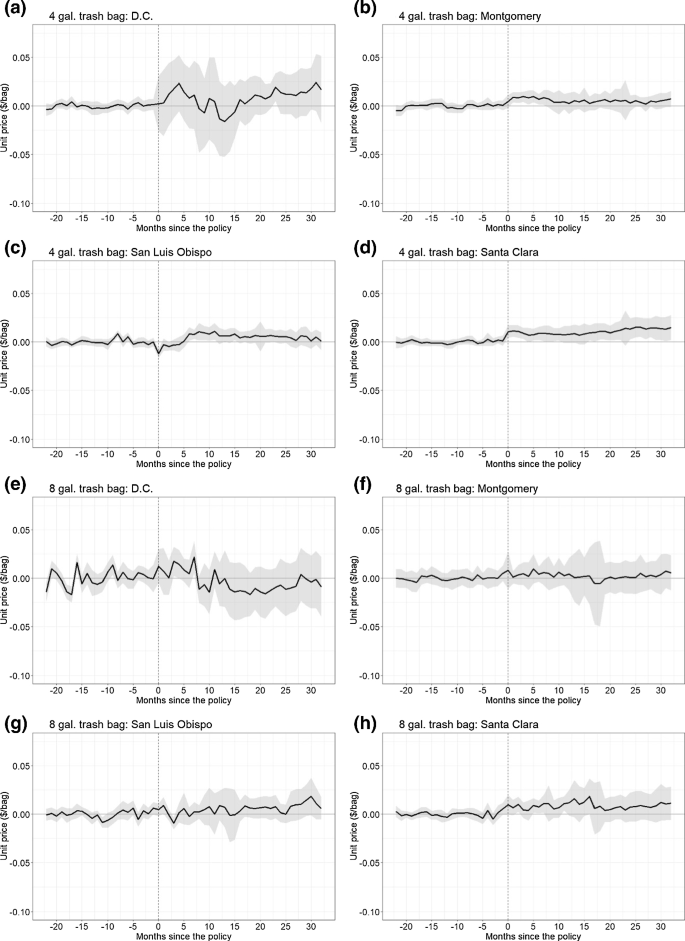 11,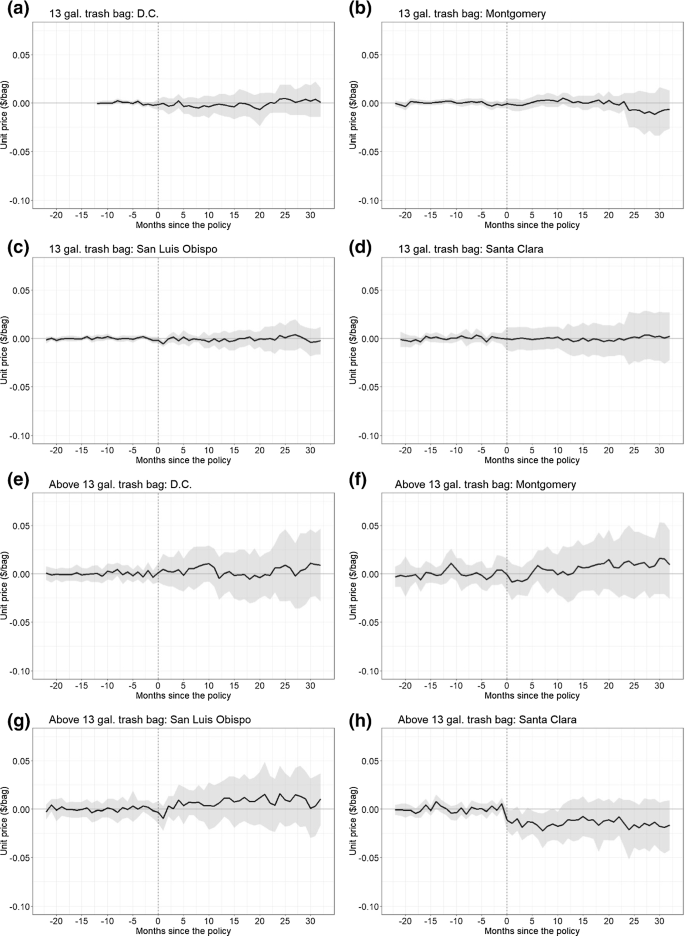 12,

13 and

14 and Tables
7,
8,
9 and
10.
About this article
Cite this article
Huang, YK., Woodward, R.T. Spillover Effects of Grocery Bag Legislation: Evidence of Bag Bans and Bag Fees. Environ Resource Econ 81, 711–741 (2022). https://doi.org/10.1007/s10640-022-00646-5
Accepted:

Published:

Issue Date:

DOI: https://doi.org/10.1007/s10640-022-00646-5
Keywords