Abstract
Can behavioural interventions achieve energy savings in non-residential settings where users do not face the financial consequences of their behaviour? Our paper addresses this question by using high-frequency data, leveraging social comparison and responsibility assignment in a large provincial government office building with 24 floors, a total of 1008 occupants. Floors were divided into two treatments arms and a control group. Both treatment groups received regular emails encouraging recipients to turn off appliances and lights before leaving the office and weekly ranked energy consumption results by floors. Additionally, weekly "energy advocates" were assigned to each floor in treatment group two. Floors assigned to the control group received no intervention. Findings show that floors that participated only in the inter-floor competitions reduced energy consumption by 8%, 95% CI [− 0.41, − 0.02] while those additionally assigned floor-wise "energy advocates" reduced energy consumption by 13%, 95% CI [− 0.62, − 0.05] with a substantial reduction in energy use occurring after working hours. Results, however, show no statistical difference in energy consumption between treatment groups one and two. We further investigate the intervention effect for the monthly cumulative post-intervention period. Additional qualitative interviews were conducted to enable a better understanding of our results.
Access options
Buy single article
Instant access to the full article PDF.
USD 39.95
Price excludes VAT (USA)
Tax calculation will be finalised during checkout.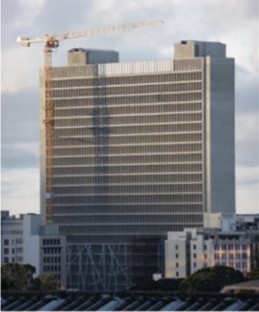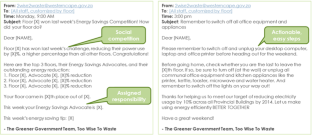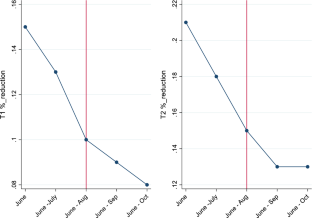 Notes
Both Europe and United Kingdom have the same level energy consumption.

At time of conducting our study (2015), pre-registration of RCTs study was not universal. As a result, the study and analysis plan were not pre-registered.

Electricity consumption is transformed into logs to deal with the observed skewness of data see Fig. 4 in Appendix.

That is, they didn't receive any treatment.

Friends, Schoolmates, Family members.

Co-workers, neighbors, church congregation.

Note due to faulty meter readings one floor was dropped.
References
Abrahamse W, Steg L, Vlek C, Rothengatter T (2005) A review of intervention studies aimed at household energy conservation. J Environ Psychol 25(3):273–291

Agarwal S, Rengarajan S, Sing TF, Yang Y (2017) Nudges from school children and electricity conservation: evidence from the "Project Carbon Zero" campaign in Singapore. Energy Econ 61:29–41

Allcott H, Kessler JB (2019) The welfare effects of nudges: a case study of energy use social comparisons. Am Econ J Appl Econ 11(1):236–276

Allcott H, Mullainathan S (2010) Behavior and energy policy. Science 327(5970):1204–1205

Allcott H, Rogers T (2014) The short-run and long-run effects of behavioral interventions: experimental evidence from energy conservation. Am Econ Rev 104(10):3003–3037

Asensio OI, Delmas MA (2015) Nonprice incentives and energy conservation. Proc Natl Acad Sci 112(6):E510–E515

Bernedo M, Ferraro PJ, Price M (2014) The persistent impacts of norm-based messaging and their implications for water conservation. J Consum Policy 37(3):437–452

Brown Z, Johnstone N, Haščič I, Vong L, Barascud F (2013) Testing the effect of defaults on the thermostat settings of OECD employees. Energy Econ 39:128–134

Byrne DP, Nauze AL, Martin LA (2018) Tell me something I don't already know: informedness and the impact of information programs. Rev Econ Stat 100(3):510–527

Carrico AR, Riemer M (2011) Motivating energy conservation in the workplace: an evaluation of the use of group-level feedback and peer education. J Environ Psychol 31(1):1–13

City of Cape Town (2015) Cape town state of energy report 2015. http://samsetproject.net/wpcontent/uploads/2016/02/SEA-Cape-Town-State-of-Energy-Report-2015.pdf

Costa DL, Kahn ME (2013) Energy conservation "nudges" and environmentalist ideology: evidence from a randomized residential electricity field experiment. J Eur Econ Assoc 11(3):680–702

Dixon GN, Deline MB, McComas K, Chambliss L, Hoffmann M (2015) Using comparative feedback to influence workplace energy conservation: a case study of a university campaign. Environ Behav 47(6):667–693

Eskom (2017) An overview of electricity consumption and pricing in South Africa

Fafchamps M, Vicente PC (2013) Political violence and social networks: experimental evidence from a Nigerian election. J Dev Econ 101:27–48

Ferraro PJ, Price MK (2013) Using non-pecuniary strategies to Influence behavior: evidence from a large scale field experiment. Rev Econ Stat 95:64–73

Ferraro PJ, Miranda JJ, Price MK (2011) The persistence of treatment effects with norm-based policy instruments: evidence from a randomized environmental policy experiment. Am Econ Rev 101(3):318–322

Fielding KS, Spinks A, Russell S, McCrea R, Stewart R, Gardner J (2013) An experimental test of voluntary strategies to promote urban water demand management. J Environ Manag 114:343–351. https://doi.org/10.1016/j.jenvman.2012.10.027

Fischer C (2008) Feedback on household electricity consumption: A tool for saving energy? Energy Effic 1(1):79–104

Gulbinas R, Taylor JE (2014) Effects of real-time eco-feedback and organizational network dynamics on energy efficient behavior in commercial buildings. Energy Build 84:493–500

Henry ML, Ferraro PJ, Kontoleon A (2019) The behavioural effect of electronic home energy reports: evidence from a randomised field trial in the United States. Energy Policy 132:1256–1261

Jessoe K, Lade GE, Loge F, Spang E (2017) Spillovers from behavioral interventions: Experimental evidence from water and energy use. Working Paper. https://business.illinois.edu/finance/wp-content/uploads/sites/46/2015/01/Paper.pdf

Kandul S, Lang G, Lanz B (2020) Social comparison and energy conservation in a collective action context: a field experiment. Econ Lett 188:108

Mahdavi A, Mohammadi A, Kabir E, Lambeva L (2008) Occupants' operation of lighting and shading systems in office buildings. J Build Perform Simul 1(1):57–65

Masoso OT, Grobler LJ (2010) The dark side of occupants' behaviour on building energy use. Energy Build 42(2):173–177

Miguel E, Kremer M (2004) Worms: identifying impacts on education and health in the presence of treatment externalities. Econometrica 72(1):159–217

Myers E, Souza M (2019) Social comparison nudges without monetary incentives: evidence from home energy reports. E2e Working Paper 041

Ornaghi C, Costanza E, Kittley-Davies J, Bourikas L, Aragon V, James PA (2018) The effect of behavioural interventions on energy conservation in naturally ventilated offices. Energy Econ 74:582–591

Pérez-Lombard L, Ortiz J, Pout C (2008) A review on buildings energy consumption information. Energy Build 40(3):394–398

Schultz PW, Nolan JM, Cialdini RB, Goldstein NJ, Griskevicius V (2007) The constructive, destructive, and reconstructive power of social norms. Psychol Sci 18(5):429–434

Steg L, Vlek C (2009) Encouraging pro-environmental behaviour: an integrative review and research agenda. J Environ Psychol 29(3):309–317

Sudarshan A (2017) Nudges in the marketplace: the response of household electricity consumption to information and monetary incentives. J Econ Behav Organ 134:320–335

Torres MMJ, Carlsson F (2018) Direct and spillover effects of a social information campaign on residential water-savings. J Environ Econ Manag 92:222–243
Additional information
Publisher's Note
Springer Nature remains neutral with regard to jurisdictional claims in published maps and institutional affiliations.
About this article
Cite this article
Klege, R.A., Visser, M., Datta, S. et al. The Power of Nudging: Using Feedback, Competition, and Responsibility Assignment to Save Electricity in a Non-residential Setting. Environ Resource Econ 81, 573–589 (2022). https://doi.org/10.1007/s10640-021-00639-w
Accepted:

Published:

Issue Date:

DOI: https://doi.org/10.1007/s10640-021-00639-w
Keywords