Abstract
Biased beliefs about climate change may lead to under-regulation of emissions. We study a new channel by which the public form beliefs about climate change: visible mitigation actions. By exploiting the rapid growth of rooftop solar panels, a large survey, and differences in incentives to install solar, we find that visible mitigation actions have a positive impact on belief in basic climate science. However, we also find that higher solar penetration reduces concern about the impacts of climate change, which may dampen demand for additional mitigation policy and individual abatement effort. Our results suggest that government policies that incentivize technology adoption can have subtle but important spillover effects on beliefs and other behaviors.
This is a preview of subscription content,
to check access.
Access this article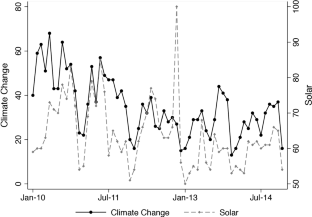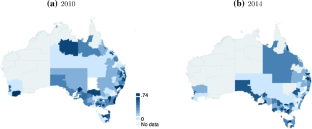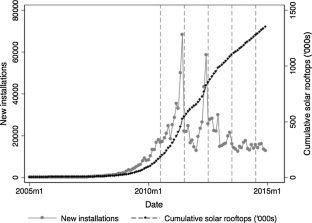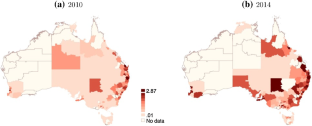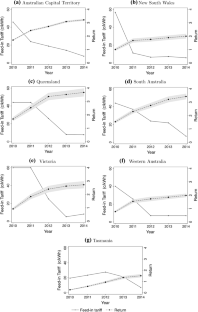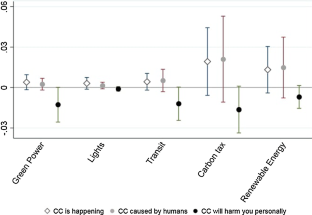 Notes
Voting patterns could reflect changes in beliefs about climate change, but they could also reflect changes in support for solar panel subsidies.

We use the interaction term because solar irradiance itself does not vary at over time, so cannot be used in a panel data context with a full set of fixed effects.

Approximately 5000 respondents answered more than one survey.

The map is produced at the Statistical Area 3 level, part of the Australian Bureau of Statistics statistical geography.

The map is produced at the Statistical Area 3 level, part of the Australian Bureau of Statistics statistical geography.

Here we use the 2016 population density data from Australian Bureau of Statistics.

According to (Spencer et al. 2015), 3000 people per square kilometers is often cited as the lowest density that supports any form of mass public transit. In a robustness check, we vary the upper bound for suburban population density from 3000 people per square kilometer to 4000 people per square kilometer and the results are qualitatively identical.

The actual net-present value (NPV) of residential solar depends on a number of factors that vary significantly over the period of our sample (including capital costs, subsidies such as feed-in tariffs and electricity prices) and that vary across households (including the volume and timing of electricity consumption, electricity prices, solar irradiance, panel orientation). An analysis by the think tank The Grattan Institute found that in 2015, the average NPV for installing a 3kW system was positive in five out of six states, assuming a five per cent discount rate (Wood and Blowers 2015). This implies that households responding only to economic incentives might well choose to install solar during our period of analysis. The Grattan Institute also notes that the major differences in NPV across households can be explained by differences in electricity consumption and in solar irradiance.

If those observing the installations identified by our instrument interpret these installations as motivated purely by economic incentives, then we should not expect to see any effect on beliefs. As we will show, the fact that we identify effects on beliefs and concern suggests that people continue to interpret solar panels as a signal about climate change even if they were motivated by economic incentives.

The 2SLS estimates are larger in magnitude than the OLS estimates. While this is not what would be predicted if simultaneity bias was the only difference between the OLS and 2SLS estimates, it is consistent with attentuation bias in the OLS estimates due to measurement error or with differences in the local average treatment effect isolated by the 2SLS estimates. Measurement error in solar installations is plausible for a number of reasons. First, the data are from government records and may well be subject to human error in data collection. There may also be natural delays between when panels are put up, when people notice them and when they are registered. Finally, some people may neglect to submit the paperwork to register their panels. It is also possible that the effect of incentivized solar installation, which is the local average treatment effect the IV strategy isolates, is larger than the effect of solar panels installed for environmental reasons. For example, individuals (and their neighbors) who only install solar because they are incentivized to do so have more malleable beliefs than those in areas where most people care about the environment and install solar panels regardless of incentives. In the concern results shown in the next section, we also find that the 2SLS results are larger in magnitude than the OLS results, but with negative coefficients. This is also consistent with the OLS results being systematically biased towards 0 or greater local average treatment effects for incentivized solar panels, but is not consistent with simultaneity bias in the 2SLS estimates.

Given that almost 80% of respondents believe that climate change is happening, there is not as much potential for beliefs to be updated towards the scientific consensus. This may partially explain why the effect on this variable is not as significant as the effect on beliefs about whether climate change is caused by humans.

The cut off point of education is college education and the cut off point of age is 51 years old.

We split the sample before aggregating to the postcode level. For example, the analysis of older respondents uses the average values for older respondents respondents in each postcode. An alternative methodology is to split the sample after aggregating so that the analysis of older respondents uses average values for the entire sample in postcodes within which the average age is older. This results of regressions using this sample splitting methodology, which yield qualitatively similar results, are shown in "Appendix" Table 10.

In "Appendix" Table 9 we show similar demographic differences for the effect of solar panels on whether climate change is happening.

Our survey data only identifies respondents with solar panels for two waves. Using this data, we find suggestive evidence that the reduction in Green Power enrollment comes from solar panel installers and not their peers, however the vastly reduced sample size does not allow us to draw strong conclusions.

We report results for 500 replications but the findings are qualitatively invariant to the number of replications.
References
Beattie G (2017) The social cost of 'fake news': how media coverage of climate change affects behavior. Working paper

Bénabou R, Tirole J (2016) Mindful economics: the production, consumption, and value of beliefs. J Econ Perspect 30(3):141–164

Bollinger B, Gillingham K (2012) Peer effects in the diffusion of solar photovoltaic panels. Market Sci 31(6):900–912

Burr C (2014) Subsidies, tariffs and investments in the solar power market. Working Paper, University of Colorado at Boulder

Byrnes L, Brown C, Foster J, Wagner LD (2013) Australian renewable energy policy: barriers and challenges. Renew Energy 60:711–721

Choi H, Varian H (2012) Predicting the present with Google trends. Econ Rec 88(s1):2–9

Comin D, Rode J (2013) From green users to green voters. National Bureau of Economic Research. Working Paper, p 19219

Cook J, Nuccitelli D, Green SA, Richardson M, Winkler B, Painting R, Way R, Jacobs P, Skuce A (2013) Quantifying the consensus on anthropogenic global warming in the scientific literature. Environ Res Lett 8(2):024024

Dastrup SR, Zivin JG, Costa DL, Kahn ME (2012) Understanding the solar home price premium: electricity generation and "green" social status. Eur Econ Rev 56(5):961–973

Deryugina T (2013) How do people update? The effects of local weather fluctuations on beliefs about global warming. Clim Change 118(2):397–416

Deryugina T, Shurchkov O (2016) The effect of information provision on public consensus about climate change. PLoS ONE 11(4):e0151469

Golman R, Loewenstein G, Moene KO, Zarri L (2016) The preference for belief consonance. J Econ Perspect 30(3):165–187

Graziano M, Gillingham K (2014) Spatial patterns of solar photovoltaic system adoption: the influence of neighbors and the built environment. J Econ Geogr 15:815–839

Herrnstadt E, Muehlegger E (2014) Weather, salience of climate change and congressional voting. J Environ Econ Manag 68(3):435–448

Howard P, Sylvan D (2015) Expert consensus on the economics of climate change. New York University School of Law, Institute for Policy Integrity, New York

Hughes JE, Podolefsky M (2015) Getting green with solar subsidies: evidence from the California solar initiative. J Assoc Environ Resour Econ 2(2):235–275

Kahan DM, Peters E, Wittlin M, Slovic P, Ouellette LL, Braman D, Mandel G (2012) The polarizing impact of science literacy and numeracy on perceived climate change risks. Nat Clim Change 2(10):732

Kahn ME, Kotchen MJ (2011) Business cycle effects on concern about climate change: the chilling effect of recession. Clim Change Econ 2(03):257–273

Kraft-Todd GT, Bollinger B, Gillingham K, Lamp S, Rand DG (2018) Credibility-enhancing displays promote the provision of a non-normative public good. Nature 563:245

McCright AM (2010) The effects of gender on climate change knowledge and concern in the American public. Popul Environ 32(1):66–87

McCright AM, Dunlap RE (2011) Cool dudes: the denial of climate change among conservative white males in the United States. Glob Environ Change 21(4):1163–1172

Millner A, Ollivier H (2016) Beliefs, politics, and environmental policy. Rev Environ Econ Policy 10(2):226–244

Spencer A, Gill J, Schmahmann L (2015) Urban or suburban? Examining the density of Australian cities in a global context. In: Proceedings of the state of Australian cities conference, Gold Coast, Australia, pp 9–11

Werfel SH (2017) Household behaviour crowds out support for climate change policy when sufficient progress is perceived. Nat Clim Change 7:512

Wood T, Blowers D (2015) Sundown, surise: how Australia can finally get solar power right. Grattan Institute, Melbourne
Acknowledgements
We thank the Australian Photovoltaic Institute, Zoe Leviston, and the Commonwealth Scientific and Industrial Research Organization for access to the data for this project. We acknowledge funding from the Mascaro Center for Sustainable Innovation, University of Pittsburgh. We also thank Tatyana Deryugina, Randall Walsh, and participants at the Association for Environmental and Resource Economists conference for helpful comments. All errors, omissions, and views are our own.
Additional information
Publisher's Note
Springer Nature remains neutral with regard to jurisdictional claims in published maps and institutional affiliations.
Appendix
Appendix
See Tables 8, 9, 10, 11, 12, 13; Fig. 7.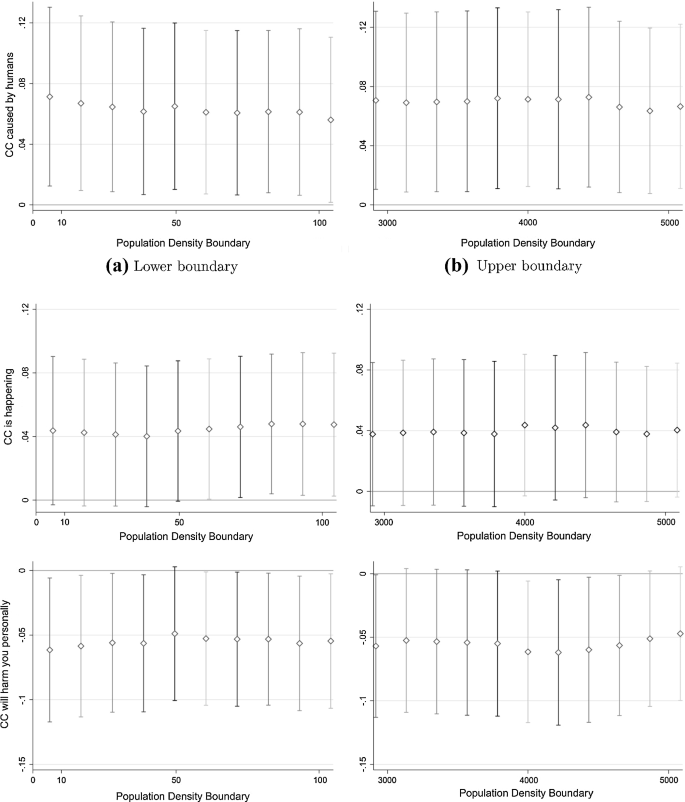 About this article
Cite this article
Beattie, G., Han, Y. & La Nauze, A. Conservation Spillovers: The Effect of Rooftop Solar on Climate Change Beliefs. Environ Resource Econ 74, 1425–1451 (2019). https://doi.org/10.1007/s10640-019-00374-3
Accepted:

Published:

Issue Date:

DOI: https://doi.org/10.1007/s10640-019-00374-3
Keywords