Abstract
South Africa has a competitive and viable food production sector which enables the country to be a consistent net exporter of agricultural products. Lately, the business and labour organisations have raised concerns that the government's intention to implement the carbon tax policy will affect the food supply, subsequently exacerbating the unemployment and food insecurity in the country. Carbon tax is one of the policy tools to be implemented in order to reduce the growing greenhouse gas emissions thus helping the government meets its Paris Agreement commitments. South Africa's National Treasury released a second draft of the carbon tax bill in 2017, which takes into account the concerns raised by different organisations. In this paper, we evaluate the potential impact of the carbon tax policy on agriculture, food and other sectors using a dynamic computable general equilibrium model. The results show that the carbon tax is an effective policy tool to mitigate emissions, as they decline by 33% relative to the baseline by 2035. This also leads to a welfare loss of R98.326 billion as the country transforms into a green economy. The carbon-intensive sectors like transport, steel and coal-generated electricity experiences significant output decline. However, the agriculture and food sectors show improvements in terms of jobs and production when the carbon tax is implemented. The positive effects on these two sectors are greatly reduced if tax exemptions provided to the agricultural sector are removed and the tax revenue is not recycled in the form of production subsidy to industries.
This is a preview of subscription content, log in to check access.
Access options
Buy single article
Instant unlimited access to the full article PDF.
US$ 39.95
Price includes VAT for USA
Subscribe to journal
Immediate online access to all issues from 2019. Subscription will auto renew annually.
US$ 199
This is the net price. Taxes to be calculated in checkout.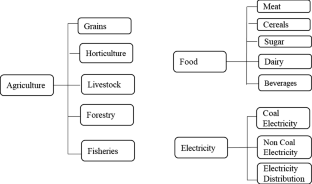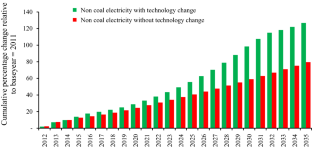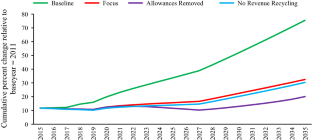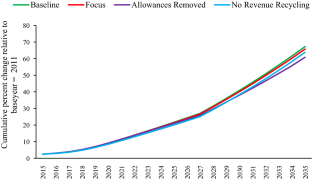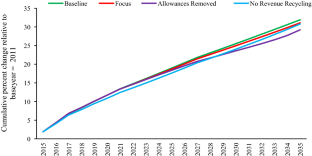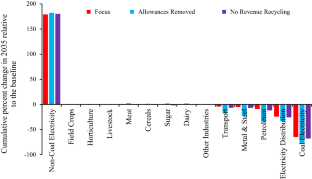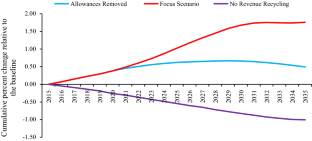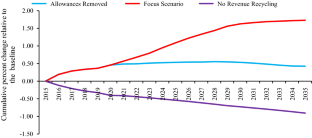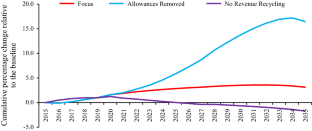 Notes
1.

Paris Agreement is a legally-binding framework for an internationally coordinated effort to tackle climate change. It was adopted on 12 December 2015 by 196 Parties of UNFCCC. Agreement entered into force on 4 November 2016.
References
Adams PD, Dixon J, Giesecke J, Horridge JM (2014) MONASH multi-regional forecasting model. Centre of Policy Studies, Melbourne

Alton T, Arndt C, Davies R, Hartley F, Mekrelov K, Thurlow J, Ubogu D (2014) Introducing carbon taxes in South Africa. Appl Energy 116:344–354

Armington PS (1969) A theory of demand for products distinguished by place of production. Int Monet Fund Staff Pap, XVI, pp 159–178

Arndt C, Davies R, Makrelov K, Thurlow J (2013) Measuring the carbon intensity of the South African economy. S Afr J Econ 81(3):393–415

Bohlmann HR, Van Heerden JH, Dixon PB, Rimmer MT (2015) The impact of the 2014 platinum mining strike in South Africa: an economy-wide analysis. Econ Modell 51:403–411

Burniaux JM, Truong T (2002) GTAP-E: an energy-environmental version of the GTAP model. GTAP Technical Paper No. 16

Department of Environmental Affairs (DEA) (2017) South Africa's Intended Nationally Determined Contribution (INDC). www.dea.gov.za. Accessed 7 July 2017

Devarajan S, Go DS, Robinson S, Thierfelder K (2011) Tax policy to reduce carbon emissions in a distorted economy: illustration from a South African CGE model. BE J Econ Anal Policy 11(1):1–24

Dixon PB, Rimmer MT (2002) Dynamic General Equilibrium Modelling for forecasting and policy: a practical guide and documentation of Monash. Elsevier, Amsterdam

Dixon PB, Koopman RB, Rimmer MT (2013) The MONASH style of CGE modeling. In: Dixon PB, Jorgenson DW (eds) Handbook of computable general equilibrium modeling. North-Holland, Amsterdam

Garnett T (2011) Where are the best opportunities for reducing greenhouse gas emissions in the food system (including the food chain)? Food Policy 36(1):s23–S32

Gibson KL (2003) Armington elasticities for south africa: long and short run industry level estimates. Working Paper. Trade and Industrial Policy Strategies (TIPS), Pretoria

Hinchy M, Hanslow K (1996) The MEGABARE model: interim documentation. Australian Bureau of Agricultural and Resource Economics, Canberra

Horowitz JK, Just RE (2013) Economics of additionality for environmental services from agriculture. Environ Econ Manag 66:105–122

International Energy Agency (IEA) (2017) Tracking clean energy progress 2017. www.iea.org. Accessed 9 Nov 2017

National Treasury (NT) (2013) Carbon tax policy paper: reducing greenhouse gas emissions and facilitating the transition to a green economy. Policy paper for public comment. www.treasury.gov.za. Accessed 15 Nov 2014

National Treasury (NT) (2017) Carbon tax bill. www.treasury.gov.za. Accessed 21 Feb 2018

Ntombela SM, Kalaba M, Bohlmann H (2018) Estimating trade elasticities for South Africa's agricultural commodities for use in policy modeling. Agrekon 57(3–4):221–232

Oelofse SH, Nahman A (2013) Estimating the magnitude of food waste generated in South Africa. Waste Manag Res 31(1):86

Peters GP, Hertwich EG (2006) Structure analysis of international trade: environmental impacts of Norway. Econ Syst Res 18(2):155–181

Seymore R, Inglesi-Lotz R, Blignaut JN (2014) A greenhouse gas emissions inventory for South Africa: a comparative analysis. Renew Sustain Energy Rev 34:371–379

Van Heerden J, Blignaut J, Bohlmann H, Cartwright A, Diederich N, Mander M (2016) The economic and environmental effects of a carbon tax in South Africa: a dynamic CGE modeling approach. S Afr J Econ Manag Sci Asset Res NS 19(5):714–732

World Resource Institute (WRI) (2015) Climate analysis indicator tool—South Africa. www.wri.org. Accessed 5 Jan 2018
Additional information
Publisher's Note
Springer Nature remains neutral with regard to jurisdictional claims in published maps and institutional affiliations.
About this article
Cite this article
Ntombela, S.M., Bohlmann, H.R. & Kalaba, M.W. Greening the South Africa's Economy Could Benefit the Food Sector: Evidence from a Carbon Tax Policy Assessment. Environ Resource Econ 74, 891–910 (2019). https://doi.org/10.1007/s10640-019-00352-9
Accepted:

Published:

Issue Date:
Keywords
JEL Classification