Abstract
Household biogas systems are a renewable energy technology with the potential to provide sustainable development benefits by reducing pressure on forest stocks and by shifting household time allocation towards higher value activities or long-term investments in human capital. We estimate the environmental and socioeconomic impacts of biogas expansion in Nepal using an instrumental variables approach that exploits conditional variation in access to biogas installation companies. We confirm prior evidence that biogas use significantly reduces collected fuelwood, estimating changes of approximately 800–2000 kg per year per household. We find new evidence that biogas saves time in fuelwood collection (23–47%), and results in reallocation of time away from home production and wage labor towards agricultural labor and education. We find that biogas reduced forest cover loss in the Hill region and when combined with other forest protection policies. Together the results suggest that biogas can contribute modestly to sustainable development, particularly in combination with complimentary opportunities or policies.
Access options
Buy single article
Instant access to the full article PDF.
USD 39.95
Price excludes VAT (USA)
Tax calculation will be finalised during checkout.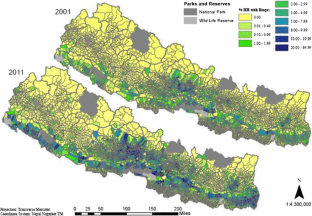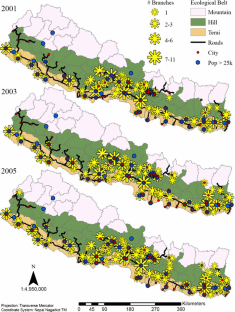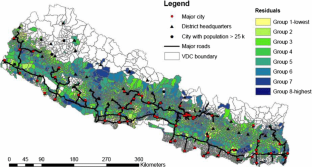 Notes
In addition, Köhlin et al. (2015) argue that there is a large "know-do gap" between research on sustainable development technologies and what is actually implemented globally.

Not finding measurable impacts could also be due to missing complimentary institutions; for example, Meeks (2018) has found that formalizing property rights played a role in increasing household access to energy (and other services) in rural Peru.

Work by Chakravorty et al. (2015) suggests an important role of fuelwood markets on collection times in neighboring India.

For example, if more educated or entrepreneurial households are also more likely to install biogas and use it optimally, then analyses comparing households with and without biogas may result in overestimates of impacts. If, on the other hand, households that install biogas are more entrenched in agricultural production (e.g. have more livestock) or less entrepreneurial, the estimated impact of biogas may be downward biased.

25.2% of the population lives below the national poverty line (World Bank 2016).

AEPC works together with the Biogas Promotion Program (BSP) to support biogas expansion.

VDCs should be thought of as sub-districts—there are 3973 VDCs within the 75 districts of Nepal.

Most of the mountain area is excluded because it is too cold for biogas. We included 190 mountain VDCs that had biogas systems installed by 2011. We include a control for mountain region but group these observations with the Hill for regional comparisons. We exclude the Kathmandu District from analysis because most of the households are not suitable for biogas and there are no good counterfactuals given its unique status as the capital and major international hub of the country. Robustness checks including this district yield similar results.

Indeed, some households in Nepal cite the bio-slurry as the main reason they chose to invest in a biogas system.

Calculations are based on the 2013 exchange rate of 1 USD = 98.98 NPR.

Costs vary depending both on location and whether the household must purchase the required construction materials (brick, stone, cement, etc.) and unskilled labor or whether they can obtain them in kind.

Due to political turmoil, 2001 census enumeration was disturbed in 83 VDCs (across 12 districts); these VDCs are thus excluded.

The 2001 time allocation information was collected differently and so we could not construct the same outcome variables for this year and cannot use the data as a panel at the VDC level.

5000 of 293,000 installations (1.7%) up through 2011 could not be matched to census VDC codes.

We exclude households using electricity, LPG, kerosene, or "other" main cooking fuels.

This includes land under strict protection, conservation areas and buffer zones, and covers approximately 20% of Nepal's land area.

This is based on the Hansen measures and excludes about 20% of VDCs, mostly located in the Terai region.

Of the 215,668 systems installed between 2001 and 2011, we matched the company branch to a location for all but 5951 installations (\(\sim 3\%\)). The remaining 73 unmatched branches either existed very briefly and thus were never included on any official list, or were incorrectly coded in the administrative data.

This is similar to the map illustrating the instrument in Madestam et al. (2013).

Robustness checks excluding the dung covariates yield similar results. Dung covariates are not included in the first stage as dung and wood together are perfectly collinear with biogas.

Household characteristics that are binary variables are aggregated to the VDC-level as proportions of the VDC with that characteristic. Household characteristics that are continuous variables are aggregated to the VDC-level as averages for the VDC.

Running the first stage using the census data limited to the NLSS 03/10 VDCs produces a Chi-squared statistic more similar to columns 1 and 2, suggesting it is an issue of sample size, not VDC selection.

We also used the Oster bounds (Oster 2013) to check for the strength of confounders needed to overturn the results. This indicated that such confounders were likely, providing additional support for using our instrumental variables as our primary empirical approach.

Many households do not both collect and purchase fuelwood. Households that report no collection amount or no expenditure are coded as having a value of zero for that variable.

We tested for the endogeneity of regressors using the endog option of ivreg2, which tests the difference between the two Sargan–Hansen statistics. Unlike the Durbin–Wu–Hausman test, this test is robust to violations of conditional homoscedasticity. We fail to reject the null in all three of the firewood analyses, suggesting that for these outcomes, OLS and IV analyses give similar answers.

As a robustness check, we also perform this analysis dropping the top and bottom 1% of VDCs (according to size). Results do not substantially change.

Testing for endogeneity using the same method as above, we find that 8/10 of the census outcomes reject the null at the 5% level and the other 2/10 reject at the 10% level.

The IV strategy had a first stage that was too weak due to the smaller number of VDCs in the sample. Although the NLSS/NLFS sample includes more households than the NLSS II/III sample, there is more overlap among sampled VDCs, so the number of VDCs is lower.

This is almost the same level as that in the Hill region (\(\sim 30\)% of time).

As described in the data section, the census collected data on economic and non-economic activities of each family member, aged 10 years or higher. A test looking separately just at the time allocation of the group aged between 10 and 18 years old did not find a significant increase in study time, and in fact showed conflicting results between the OLS and IV specifications, with the IV implying possibly significant negative impacts on time spent studying and more time on home-production. This may be due to heterogeneity in treatment effects as well as the already high proportion of time spent studying by most teenagers during this time. According to the UNICEF MICS surveys in 2010 and 2014, secondary school net attendance increased from 55.6 to 62.3% over our study period (CBS 2012b, 2015).

This would be due to apparent large percentage changes resulting from areas with very little forest cover to start.

Stock–Yogo critical values have not been tabulated for cases with more than two endogenous variables. Therefore, we also include the first stage Sanderson–Windmeijer F statistics testing for weak identification of each endogenous regressor, all of which exceed the critical values.

An alternative reason for small estimates is that neighboring households respond by collecting additional wood. For this reason, we tested for spillovers to other households without biogas in VDCs with high uptake of biogas. We did not find significant increases on average wood collection by neighboring households.

A study of technical potential of biogas in Nepal suggests 1.03 million suitable households who have not yet installed biogas (SETM 2013).
References
Adams R, Almeida H, Ferreira D (2009) Understanding the relationship between founder-CEOs and firm performance. J Empir Financ 16(1):136–150

Agarwala M, Ghoshal S, Verchot L, Martius C, Ahuja R, DeFries R (2017) Impact of biogas interventions on forest biomass and regeneration in southern India. Glob Ecol Conserv 11:213–223

Alix-Garcia JM, McIntosh C, Sims KRE, Welch JR (2013) The ecological footprint of poverty alleviation: evidence from Mexico's Oportunidades program. Rev Econ Stat 95(2):417–435

Alix-Garcia JM, Sims KRE, Yañez-Pagans P (2015) Only one tree from each seed? Environmental effectiveness and poverty alleviation in Mexico's Payments for Ecosystem Services Program. Am Econ J Econ Policy 7(4):1–40

Arnold JEM, Köhlin G, Persson R (2006) Woodfuels, livelihoods, and policy interventions: changing perspectives. World Dev 34(3):596–611

Assunção J, Lipscomb M, Mobarak MA (2015) Infrastructure development can benefit the environment: electrification, agricultural productivity and deforestation in Brazil. LACEA working paper

Bajgain S, Shakya IS, Mendis MS (2005) The Nepal Biogas Support Programme: a successful model of public private partnership for rural household energy supply. SNV, Kigali

Baland J, Bardhan P, Das S, Mookherjee D, Sarkar R (2010) The environmental impact of poverty: evidence from firewood collection in rural Nepal. Econ Dev Cult Change 59(1):23–61

Barnes DF, Khandker SR, Samad HA (2010) Energy access, efficiency, and poverty: how many households are energy poor in Bangladesh? World Bank Policy Research working paper No. 5332. SSRN: http://ssrn.com/abstract=1620783

Barnhart SL (2012) "Just like fingernail and flesh": community forestry, biogas, and environmental governmentality in Nepal. Doctoral dissertation

Bentzen JS (2012) How bad is corruption? Cross-country evidence of the impact of corruption on economic prosperity. Rev Dev Econ 16(1):167–184

Biogas Support Programme (2012) BSP 2011/2012, Lalitpur, Nepal

Bluffstone R, Somanathan E, Jha P, Luintel H, Bista R, Paudel NS, Adhikari B (2015) Does collective action sequester carbon? The case of the Nepal community forestry program. World Bank Policy Research working paper no. 7327. SSRN: http://ssrn.com/abstract=2621881

Bond T, Templeton MR (2011) History and future of domestic biogas plants in the developing world. Energy Sustain Dev 15(4):347–354

Brandt JS, Nolte C, Agrawal A (2016) Deforestation and timber production in Congo after implementation of sustainable forest management policy. Land Use Policy 52:15–22

Burgess R, Pande R (2005) Do rural banks matter? Evidence form the Indian social banking experiment. Am Econ Rev 95(3):780–795

Cavalcanti TVV, Tavares J (2008) Assessing the "engines of liberation": home appliances and female labor force participation. Rev Econ Stat 90(1):81–88

Central Bureau of Statistics (CBS) (2012a) National population and housing census 2011. Kathmandu, Nepal

Central Bureau of Statistics (CBS) (2012b) Nepal Multiple Indicator Cluster Survey 2010, mid- and far western regions. Final Report, Central Bureau of Statistics and UNICEF Nepal, Kathmandu

Central Bureau of Statistics (CBS) (2013) Environment statistics of Nepal. Kathmandu, Nepal

Central Bureau of Statistics (CBS) (2015) Nepal Multiple Indicator Cluster Survey 2014. Final report, Central Bureau of Statistics and UNICEF Nepal, Kathmandu, Nepal

Chakravorty U, Pelli M, Risch A (2015) Far away from the forest and close to town? Fuelwood markets in rural India. https://econ.gatech.edu/sites/default/files/seminars/201502/FuelwoodMarketsCPRJan2015.pdf

Chen L, Zhao L, Ren C, Wang F (2012) The progress and prospects of rural biogas production in China. Energy Policy 51:58–63

Christiaensen L, Heltberg R (2014) Greening China's rural energy: new insights on the potential of smallholder biogas. Environ Dev Econ 19(01):8–29

Coen-Pirani D, León A, Lugauer S (2010) The effect of household appliances on female labor force participation: evidence from microdata. Labour Econ 17(3):503–513

Devoto F, Duflo E, Dupas P, Parienté W, Pons V (2012) Happiness on tap: piped water adoption in urban Morocco. Am Econ J Econ Policy 4(4):68–99

Dhingra R, Christensen ER, Liu Y, Zhong B, Wu C-F, Yost MG, Remais JV (2011) Greenhouse gas emission reductions from domestic anaerobic digesters linked with sustainable sanitation in rural China. Environ Sci Technol 45(6):2345–2352

Dinkelman T (2011) The effects of rural electrification on employment: New evidence from South Africa. Am Econ Rev 101(7):3078–3108

Durrance CP (2010) Noneconomic damage caps and medical malpractice claim frequency: a policy endogeneity approach. J Law Econ Organ 26(3):569–591

Fishback PV, Johnson RS, Kantor S (2010) Striking at the roots of crime: the impact of welfare spending on crime during the great depression. J Law Econ 53(4):715–740

Garfí M, Ferrer-Martí L, Velo E, Ferrer I (2012) Evaluating benefits of low-cost household digesters for rural Andean communities. Renew Sustain Energy Rev 16(1):575–581

Gosens J, Lu Y, He G, Bluemling B, Beckers TAM (2013) Sustainability effects of household-scale biogas in rural China. Energy Policy 54:273–287

Government of Nepal (2007) Non-formal education policy 2063 (2007AD). Non-formal Education Centre, Bhaktapur. http://www.moe.gov.np/assets/uploads/files/NFEC_Policy_English1.pdf

Greenwood J, Guner N, Kocharkov G, Santos C (2016) Technology and the changing family: a unified model of marriage, divorce, educational attainment, and married female labor-force participation. Am Econ J Macroecon 8(1):1–41

Guasch JL, Laffont J-J, Straub S (2007) Concessions of infrastructure in Latin America: government-led renegotiation. J Appl Econom 22(7):1267–1294

Hanna R, Oliva P (2015) Moving up the energy ladder: the effect of an increase in economic well-being on the fuel consumption choices of the poor in India. Am Econ Rev 105(5):242–246

Hanna R, Duflo E, Greenstone M (2016) Up in smoke: the influence of household behavior on the long-run impact of improved cooking stoves. Am Econ J Econ Policy 8(1):80–114

Hansen MC, Potapov PV, Moore R, Hancher M, Turubanova SA, Tyukavina A, Thau D, Stehman SV, Goetz SJ, Loveland TR, Kommareddy A (2013) High-resolution global maps of 21st-century forest cover change. Science 342(6160):850–853

Hiemstra-van der Horst G, Hovorka AJ (2008) Reassessing the "energy ladder": Household energy use in Maun, Botswana. Energy Policy 36(9):3333–3344

Howlader A, Ando AW (2016) Consequences of protected areas for forest extraction and human well-being: evidence from Nepal. In: 2016 annual meeting, 31 July–2 Aug 2016, Boston, MA (No. 236272). Agricultural and Applied Economics Association

Jeuland MA, Pattanayak SK (2012) Benefits and costs of improved cookstoves: assessing the implications of variability in health, forest and climate impacts. PLoS ONE 7(2):e30338

Karki AB, Expert B (2006) Country report on the use of bio-slurry in Nepal. BSP-Nepal, Kathmandu

Karki AB, Shrestha JN, Bajgain MS (2005) Biogas: as renewable source of energy in Nepal, Theory and development. BSP-Nepal, Kathmandu

Köhlin G, Pattanayak S, Sills E, Mattsson E, Ostwald M, Salas A, Ternald D (2015) In search of double dividends from climate change interventions evidence from forest conservation and household energy transitions. EBA Report 2015:09. http://eba.se/wp-content/uploads/2016/03/Report201509climate.pdf

Levine DI, Beltramo T, Blalock G, Cotterman C (2013) What impedes efficient adoption of products? Evidence from randomized variation in sales offers for improved cookstoves in Uganda. University of California Center for Effective Global Action working paper. http://faculty.haas.berkeley.edu/levine/papers/2013-April%2012%20What%20Impedes%20Efficient%20Product%20Adoption.pdf

Lipscomb M, Mobarak AM, Barnham T (2013) Development effects of electrification: evidence from the topographic placement of hydropower plants in Brazil. AEJ. Appl Econ 5(2):200–231

Lohri C, Vögeli Y, Oppliger A, Mardini R, Giusti A, Zurbrügg C (2010) Evaluation of biogas sanitation systems in Nepalese prisons. Water Pract Technol 5(4):wpt2010093

Madestam A, Shoag D, Veuger S, Yanagizawa-Drott D (2013) Do political protests matter? Evidence from the tea party movement. Q J Econ 128(4):1633–1685

Marquardt K, Khatri DB, Pain A (2016) REDD+, foresttransition, agrarian change and ecosystem services in the hills of Nepal. Hum Ecol 44(2):229–244

Meeks R (2017) Water works: the economic impact of water infrastructure. J Hum Resour 52:4

Meeks R (2018) Property rights and drinking water access: evidence from land a titling program in rural Peru. World Dev 102:345–357

Miller G, Mobarak AM (2015) Learning about new technologies through social networks: experimental evidence on nontraditional stoves in Bangladesh. Mark Sci 34(4):480–499

Nepal M, Nepal A, Grimsrud K (2011) Unbelievable but improved cookstoves are not helpful in reducing firewood demand in Nepal. Environ Dev Econ 16(01):1–23

Nguyen AN, Quang Pham N, Nguyen CD, Nguyen ND (2008) Innovation and exports in Vietnam's SME sector. Eur J Dev Res 20(2):262–280

Ojha H, Persha L, Chhatre A (2009) Community forestry in Nepal: a policy innovation for local livelihoods. International Food Policy Research Institute, 913

Oldekop JA, Sims KR, Whittingham MJ, Agrawal A (2017a) An upside to globalization: international migration drives reforestation in Nepal. Submitted manuscript

Oldekop JA, Sims KR, Karna Birendra K, Whittingham MJ, Agrawal A (2017b) Decentralized forest management simultaneously reduces deforestation and poverty. Submitted manuscript

Oster E (2013) Unobservable selection and coefficient stability: theory and validation. No. w19054, National Bureau of Economic Research

Pant KP (2008) Estimating health benefits when behaviors are endogenous: a case of indoor air pollution in rural Nepal. South Asian Network for Development and Environmental Economics (SANDEE), Kathmandu

Pant KP (2012) Cheaper fuel and higher health costs among the poor in rural Nepal. Ambio 41(3):271–283

Paudel J (2016) Community-managed forests and household welfare: empirical evidence from Nepal. SSRN: http://ssrn.com/abstract=2804115

Pezzey JCV, Toman MA (2002) Progress and problems in the economics of sustainability. In: Tietenberg T, Folmer H (eds) International yearbook of environmental and resource economics. Edward Elgar, Cheltenham, pp 165–232

Rajendran K, Aslanzadeh S, Taherzadeh MJ (2012) Household biogas digesters—a review. Energies 5(12):2911–2942

Regmi KD (2016) The status of adult literacy and lifelong learning in Nepal. In: Egetenmeyer R (ed) Adult education and lifelong learning in Europe and beyond. Sage, London. https://www.peterlang.com/view/9783653951011/chapter15.xhtml#cch38

Sharma BP, Pattanayak S (2015) REDD+ impacts: evidence from Nepal, No. 95-15. ISSN: 1891-1893

Sims KRE, Alix-Garcia JM (2017) Parks versus PES: evaluating direct and incentive-based land conservation in Mexico. J Environ Econ Manag 86:8–28

Singh M, Maharjan KL (2003) Contribution of biogas technology in well-being of rural hill areas of Nepal: a comparative study between biogas users and non-users. J Int Dev Coop 9(2):43–63

Solow R (1993) An almost practical step toward sustainability. Resour Policy 19(3):162–172

Somanathan E, Bluffstone R (2015) Biogas: clean energy access with low-cost mitigation of climate change. Environ Resource Econ 62(2):265–277

Stock J, Yogo M (2005) Testing for weak instruments in linear IV regression. In: Andrews DWK (ed) Identification and inference for econometric models. Cambridge University Press, New York, pp 80–108

Surendra KC, Takara D, Hashimoto AG, Khanal SK (2014) Biogas as a sustainable energy source for developing countries: opportunities and challenges. Renew Sustain Energy Rev 31:846–859

Sustainable Energy and Technology Management (SETM) (2013) Final report on "market mapping study for biogas companies", Kathmandu, Nepal

Sustainable Energy and Technology Management (SETM) (2014) Final report on "study on socio-economic impact of Biogas Support Programme in Nepal", Kathmandu, Nepal

Tachibana T, Adhikari S (2009) Does community-based management improve natural resource condition? Evidence from the forests in Nepal. Land Econ 85(1):107–131

Uddin K, Shrestha HL, Murthy MSR, Bajracharya B, Shrestha B, Gilani H, Pradhan S, Dangol B (2015) Development of 2010 national land cover database for the Nepal. J Environ Manag 148:82–90

United Nations (2016) Goal 7: ensure access to affordable, reliable, sustainable and modern energy for all. http://www.un.org/sustainabledevelopment/energy/

United Nations Educational, Scientific and Cultural Organization (UNESCO) (2006) An inventory of non-formal education in Nepal. http://unesdoc.unesco.org/images/0014/001474/147483e.pdf

U.S. Energy Information Administration (2016) International energy outlook 2016, Washington, DC

Weisse MJ, Naughton-Treves LC (2016) Conservation beyond park boundaries: the impact of buffer zones on deforestation and mining concessions in the Peruvian Amazon. Environ Manag 58(2):297–311

Winrock International (2003) Financing biogas: a reference manual for microfinance institutions in Nepal, Kathmandu, Nepal

Wolfram C, Shelef O, Gertler P (2012) How will energy demand develop in the developing world? J Econ Perspect 26(1):119–137

Wooldridge JM (2002) Econometric analysis of cross section and panel data, vol XXIII. MIT Press, Cambridge

World Bank (2006) Improving lives: World Bank group progress on renewable energy and energy efficiency in fiscal year 2006

World Bank, Global Poverty Working Group (2016) Poverty headcount ratio at national poverty lines (% of population). https://data.worldbank.org/country/nepal

Yergeau ME, Boccanfuso D, Goyette J (2017) Linking conservation and welfare: a theoretical model with application to Nepal. J Environ Econ Manag 85:95–109
Additional information
The authors are grateful for generous funding from the ADVANCE Elizabeth Caroline Crosby Program, the University of Michigan Rackham Research Grant, and the Carnegie Corporation of NY. Brendan Hall, Wincy Poon, and Anri Chomentowska provided excellent research assistance. The authors are grateful to Johan Oldekop for sharing VDC level data on forest user groups and forest cover change. We thank David Lam, Shaun McRae, Dean Yang, Aparna Howlander, Jayash Paudel, and participants at the AERE summer meeting, the Midwest Energy Fest at Northwestern University, and the UM-MSU EEE workshop for comments.
About this article
Cite this article
Meeks, R., Sims, K.R.E. & Thompson, H. Waste Not: Can Household Biogas Deliver Sustainable Development?. Environ Resource Econ 72, 763–794 (2019). https://doi.org/10.1007/s10640-018-0224-1
Accepted:

Published:

Issue Date:

DOI: https://doi.org/10.1007/s10640-018-0224-1
Keywords
JEL Classification