Abstract
Despite increasing empirical evidence of strong links between climate and economic growth, there is no established model to describe the dynamics of how different types of climate shocks affect growth patterns. Here we present the first comprehensive, comparative analysis of the long-term dynamics of one-time, temporary climate shocks on production factors, and factor productivity, respectively, in a Ramsey-type growth model. Damages acting directly on production factors allow us to study dynamic effects on factor allocation, savings and economic growth. We find that the persistence of impacts on economic activity is smallest for climate shocks directly impacting output, and successively increases for direct damages on capital, loss of labor and productivity shocks, related to different responses in savings rates and factor-specific growth. Recurring shocks lead to large welfare effects and long-term growth effects, directly linked to the persistence of individual shocks. Endogenous savings and shock anticipation both have adaptive effects but do not eliminate differences between impact channels or significantly lower the dissipation time. Accounting for endogenous growth mechanisms increases the effects. We also find strong effects on income shares, important for distributional implications. This work fosters conceptual understanding of impact dynamics in growth models, opening options for links to empirics.
Access options
Buy single article
Instant access to the full article PDF.
USD 39.95
Price excludes VAT (USA)
Tax calculation will be finalised during checkout.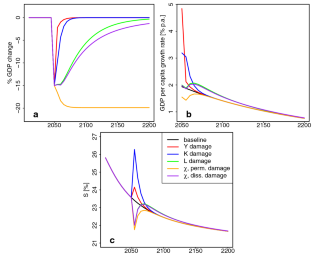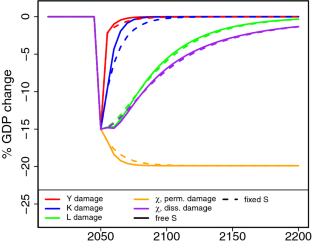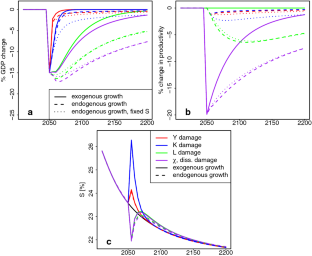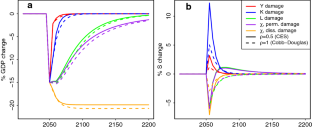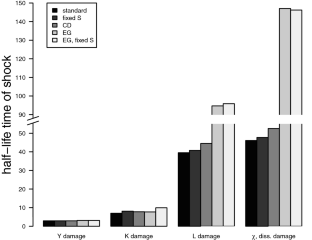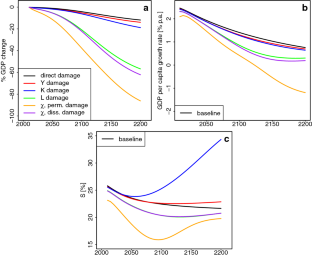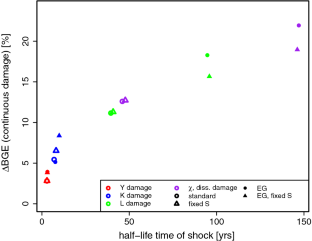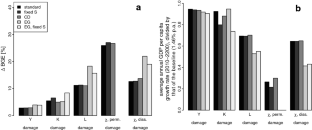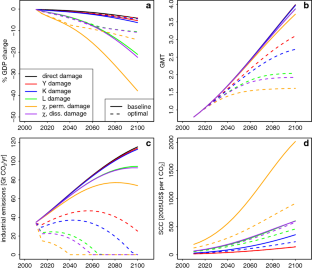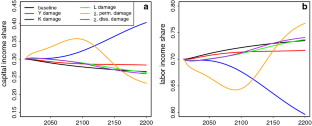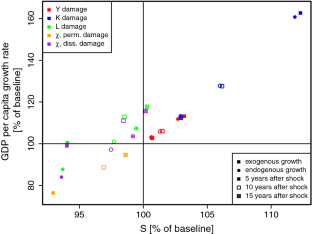 Notes
In case of a Cobb–Douglas production function (as in the DICE model), however, total factor productivity enhancing technological progress can be transformed to an equivalent labor-enhancing representation. With a Cobb–Douglas production function, a balanced growth path can therefore exist if technological change increases TFP.

The convergence dynamics are as expected from the Ramsey model (see Barro and Sala-i-Martin 2004) and the results also show the different transition and long-run dynamics depending on the persistence of shocks (see, e.g. King and Rebelo 1999 for simulations of single TFP shocks with different degrees of persistence in the RBC framework).

Note that the quantitative comparison of impact channels is inherently problematic because different concepts of damage functions have to be calibrated consistently with a clear and operational definition based on the same point. The calibration definition applied here applies a static criterion to replicate a GDP loss at a certain temperature increase. However, the different impact channels lead to vastly different transient results on GDP as temperature increases over time. Alternatively, a definition considering the transient effects could be formulated, but there are no estimates available consistent with such a transient definition. Therefore, future research on climate impact and macroeconomic damages needs to consider the transient features rather than static damages that relate significant temperature increases to significant GDP losses without considering cumulative effects over time.

Thus, the model framework is essentially that of the DICE model with modified production functions and damages with varying biases and persistence. Contrary to the climate DSGE models cited in the introduction, we abstract from uncertainty in damages.

See Carleton and Hsiang (2016) for an extensive review of further references.
Abbreviations
IAM:

Integrated assessment model

CGE:

Computational general equilibrium

BGE:

Balanced growth equivalent

GDP:

Gross-domestic product

CES:

Constant elasticity of substitution

trl:

Trillion

RBC:

Real business cycles
References
Ackerman F, Stanton EA (2012) Climate risks and carbon prices: revising the social cost of carbon. Economics: The Open-Access, Open-Assessment E-Journal 6(2012–10):1–25

Aiyagari SR (1994) Uninsured idiosyncratic risk and aggregate saving. Q J Econ 109:659–684

Angeletos G-M (2007) Uninsured idiosyncratic investment risk and aggregate saving. Rev Econ Dyn 10:1–30

Anthoff D, Tol RSJ (2009) The impact of climate change on the balanced growth equivalent: an application of FUND. Environ Resour Econ 43:351–367. https://doi.org/10.1007/s10640-009-9269-5

Antras P (2004) Is the U.S. aggregate production function Cobb–Douglas? New estimates of the elasticity of substitution. BE J Macroecon 4:1534–6005

Arent DJ, Tol RS, Faust E et al (2014) Key economic sectors and services. In: Field CB, Barros VR, Dokken DJ et al (eds) Climate change 2014: impacts, adaptation, and vulnerability. Part A: global and sectoral aspects. Contribution of working group II to the fifth assessment report of the intergovernmental panel on climate change. Cambridge University Press, Cambridge, New York, pp 659–708

Atkinson RD, Hackler D (2010) Economic doctrines and approaches to climate change policy. The Information Technology & Innovation Foundation, October 2010. Available at SSRN: https://ssrn.com/abstract=1722821

Barrios S, Bertinelli L, Strobl E (2010) Trends in rainfall and economic growth in Africa: a neglected cause of the african growth tragedy. Rev Econ Stat 92:350–366. https://doi.org/10.1162/rest.2010.11212

Barro RJ, Sala-i-Martin X (2004) Economic growth. The MIT Press, Cambridge, London

Berlemann M, Wenzel D (2016) Long-term growth effects of natural disasters—empirical evidence for droughts. Econ Bull 36:464–476

Bewley T (1977) The permanent income hypothesis: a theoretical formulation. J Econ Theory 16:252–292

Bosello F, Eboli F, Pierfederici R (2013) Climate change impacts: a new integrated assessment. CMCC research paper no. 199. Available at SSRN: https://ssrn.com/abstract=2491657

Bretschger L, Vinogradova A (2014) Growth and mitigation policies with uncertain climate damage. No. 145, OxCarre working papers, Oxford Centre for the Analysis of Resource Rich Economies, University of Oxford. Available at https://EconPapers.repec.org/RePEc:oxf:oxcrwp:145

Brown C, Meeks R, Hunu K, Yu W (2010) Hydroclimate risk to economic growth in sub-Saharan Africa. Clim Change 106:621–647. https://doi.org/10.1007/s10584-010-9956-9

Burke M, Hsiang SM, Miguel E (2015) Global non-linear effect of temperature on economic production. Nature 527:235–239. https://doi.org/10.1038/nature15725

Burke M, Craxton M, Kolstad CD et al (2016) Opportunities for advances in climate change economics. Science (80-) 352:292–293. https://doi.org/10.1126/science.aad9634

Cai Y, Judd KL, Lenton TM et al (2015) Environmental tipping points significantly affect the cost-benefit assessment of climate policies. Proc Natl Acad Sci 112:4606–4611

Carleton TA, Hsiang SM (2016) Social and economic impacts of climate. Science (80-) 353:1112–1129

Cavallo E, Galiani S, Noy I, Pantano J (2013) Catastrophic natural disasters and economic growth. Rev Econ Stat 95:1549–1561. https://doi.org/10.1162/REST_a_00413

Chirinko RS (2008) [Sigma]: the long and short of it. J Macroecon 30:671–686

Chirinko RS, Mallick D (2017) The Substitution elasticity, factor shares, and the low-frequency panel model. Am Econ J Macroecon 9:225–253

Ciscar J-C, Iglesias A, Feyen L et al (2011) Physical and economic consequences of climate change in Europe. Proc Natl Acad Sci U S A 108:2678–2683. https://doi.org/10.1073/pnas.1011612108

Coffman M, Noy I (2011) Hurricane Iniki: measuring the long-term economic impact of a natural disaster using synthetic control. Environ Dev Econ 17:187–205. https://doi.org/10.1017/S1355770X11000350

Colmer J (2018) Weather, labor reallocation and industrial production: evidence from India, CEP discussion papers, No. 1544, Centre for Economic Performance, LSE. Available at https://EconPapers.repec.org/RePEc:cep:cepdps:dp1544

Dell M, Jones BF, Olken BA (2012) Temperature shocks and economic growth: evidence from the last half century. Am Econ J Macroecon 4:66–95

Dell M, Jones B, Olken B (2014) What do we learn from the weather? The new climate-economy literature. J Econ Lit 52:740–798

Dellink R, Lanzi E, Château J et al (2014) Consequences of climate change damages for economic growth. OECD Publishing, Paris

Deryugina T, Hsiang SM (2014) Does the environment still matter? Daily temperature and income in the United States. NBER working papers No. 20750, National Bureau of Economic Research, Cambridge

Desmet K, Rossi-Hansberg E (2015) On the spatial economic impact of global warming. J Urban Econ 88:16–37. https://doi.org/10.1016/j.jue.2015.04.004

Dietz S, Stern NT (2015) Endogenous growth, convexity of damages and climate risk: how Nordhaus' framework supports deep cuts in carbon emissions. Econ J 125:574–620

Donadelli M, Grüning P, Jüppner M, Kizys R (2017) Global temperature, R&D expenditure, and growth. No. 188, SAFE working paper series, research center SAFE – Sustainable Architecture for Finance in Europe, Goethe University Frankfurt. Available at https://EconPapers.repec.org/RePEc:zbw:safewp:188

Eboli F, Parrado R, Roson R (2010) Climate-change feedback on economic growth: explorations with a dynamic general equilibrium model. Environ Dev Econ 15:515–533. https://doi.org/10.1017/S1355770X10000252

Estrada F, Tol RSJ, Gay-García C (2015) The persistence of shocks in GDP and the estimation of the potential economic costs of climate change. Environ Model Softw 69:155–165. https://doi.org/10.1016/j.envsoft.2015.03.010

Fankhauser S, Tol RSJ (2005) On climate change and economic growth. Resour Energy Econ 27:1–17. https://doi.org/10.1016/j.reseneeco.2004.03.003

Golosov M, Hassler J, Krusell P, Tsyvinski A (2014) Optimal taxes on fossil fuel in general equilibrium. Econom J Econom Soc 82:41–88

Hallegatte S, Bangalore M, Bonzanigo L et al (2016) Shock waves: managing the impacts of climate change on poverty. The World Bank, Washington

Hallegatte S, Vogt-Schilb A, Bangalore M, Rozenberg J (2017) Unbreakable: building the resilience of the poor in the face of natural disasters. Climate Change and Development, World Bank, Washington

Heathcote J, Storesletten K, Violante GL (2009) Quantitative macroeconomics with heterogeneous households. Annu Rev Econom 1:19–54. https://doi.org/10.1146/annurev.economics.050708.142922

Hirabayashi Y, Mahendran R, Koirala S et al (2013) Global flood risk under climate change. Nat Clim Change 3:816–821. https://doi.org/10.1038/nclimate1911

Hope C (2006) The marginal impact of CO2 from PAGE2002: an integrated assessment model incorporating the IPCC's five reasons for concern. Integr Assess J 6:19–56

Horowitz JK (2009) The income-temperature relationship in a cross-section of countries and its implications for predicting the effects of global warming. Environ Resour Econ 44:475–493. https://doi.org/10.1007/s10640-009-9296-2

Horton S, Steckel RH (2013) Malnutrition: global economic losses attributable to malnutrition 1900–2000 and projections to 2050. In: Lomborg B (ed) How much have global problems cost the earth? A scorecard from 1900 to 2050. Cambridge University Press, New York, pp 247–272

Hsiang (2010) Temperatures and cyclones strongly associated with economic production in the Caribbean and Central America. Proc Natl Acad Sci 107:15367–15372

Hsiang SM, Jina AS (2014) The causal effect of environmental catastrophe on long-run economic growth: evidence from 6,700 cyclones. NBER working papers No. 20352, National Bureau of Economic Research, Cambridge

Huggett M (1997) The one-sector growth model with idiosyncratic shocks: steady states and dynamics. J Monet Econ 39:385–403

Jensen S, Traeger CP (2014) Optimal climate change mitigation under long-term growth uncertainty: stochastic integrated assessment and analytic findings. Eur Econ Rev 69:104–125

Juselius M (2008) Long-run relationships between labor and capital: indirect evidence on the elasticity of substitution. J Macroecon 30:739–756

Kalkuhl M, Edenhofer O (2016) Knowing the damages is not enough: the general equilibrium impacts of climate change. No. 5862, CESifo working paper series, CESifo Group Munich

Kalkuhl M, Wenz L (2017) The impact of climtae conditions on economic production. Evidence from a global panel of regions. In: EAERE conference paper (23rd annual conference)

King RG, Rebelo ST (1999) Resuscitating real business cycles. In: Taylor JB, Woodford M (eds) Handbook of macroeconomics, 1st edn. Elsevier, Amsterdam, pp 927–1007

Kjellstrom T, Kovats RS, Lloyd SJ et al (2009) The direct impact of climate change on regional labor productivity. Arch Environ Occup Health 64:217–227. https://doi.org/10.1080/19338240903352776

Klump R, Saam M (2008) Calibration of normalised ces production functions in dynamic models. Econ Lett 99:256–259. https://doi.org/10.2139/ssrn.947680

Kousky C (2014) Informing climate adaptation: a review of the economic costs of natural disasters. Energy Econ 46:576–592. https://doi.org/10.1016/j.eneco.2013.09.029

Krebs T (2003a) Growth and welfare effects of business cycles in economies with idiosyncratic human capital risk. Rev Econ Dyn 6:846–868

Krebs T (2003b) Human capital risk and economic growth. Q J Econ 118:709–744

Krusell P, Smith AA (1998) Income and wealth heterogeneity in the macroeconomy. J Polit Econ 106:867–896

Kydland FE, Prescott EC (1982) Time to build and aggregate fluctuations. Econom J Econom Soc 50:1345–1370

Lecocq F, Shalizi Z (2007) How might climate change affect economic growth in developing countries? A review of the growth literature with a climate lens. Policy research working paper series, No. 4315, The World Bank, Washington

Lemoine D, Traeger CP (2014) Watch your step: optimal policy in a tipping climate. Am Econ J Econ Policy 6:137–166

Lontzek TS, Cai Y, Judd KL, Lenton TM (2015) Stochastic integrated assessment of climate tipping points indicates the need for strict climate policy. Nat Clim Change 5:441–444

Lorenz A, Kriegler E, Held H, Schmidt MGW (2012) How to measure the importance of climate risk for determining optimal global abatement policies? Clim Change Econ 3:1250004. https://doi.org/10.1142/S2010007812500042

Lucas RE (1987) Models of business cycles, vol 26. Basil Blackwell, Oxford

Mankiw NG (2015) Macroeconomics, 9th edn. Worth, New York

Mendelsohn R, Emanuel K, Chonabayashi S, Bakkensen L (2012) The impact of climate change on global tropical cyclone damage. Nat Clim Change 2:205–209. https://doi.org/10.1038/nclimate1357

Mirrlees JA, Stern N (1972) Fairly good plans. J Econ Theory 4:268–288

Moore FC, Diaz DB (2015) Temperature impacts on economic growth warrant stringent mitigation policy. Nat Clim Change 5:127–131. https://doi.org/10.1038/nclimate2481

Moyer EJ, Woolley MD, Matteson NJ et al (2014) Climate Impacts on economic growth as drivers of uncertainty in the social cost of carbon. J Legal Stud 43:401–425

Nordhaus W (2013) The climate casino: risk, uncertainty, and economics for a warming world. Yale University Press, New Haven

Nordhaus W (2014) Estimates of the social cost of carbon: concepts and results from the DICE-2013R model and alternative approaches. J Assoc Environ Resour Econ 1:273–312. https://doi.org/10.1086/676035

Nordhaus WD, Boyer J (2000) Warming the world. MIT Press, Cambridge

Noy I (2016) Tropical storms: the socio-economics of cyclones. Nat Clim Change 6:343–345. https://doi.org/10.1038/nclimate2975

Pallage S, Robe MA (2003) On the welfare cost of economic fluctuations in developing countries. Int Econ Rev (Philadelphia) 44:677–698

Phelps ES (1967) Golden rules of economic growth: studies of efficient and optimal investment. Norton, New York

Pindyck RS (2013) Climate change policy: what do the models tell us? J Econ Lit 51:860–872. https://doi.org/10.1257/jel.51.3.860

Prudhomme C, Giuntoli I, Robinson EL et al (2014) Hydrological droughts in the 21st century, hotspots and uncertainties from a global multimodel ensemble experiment. Proc Natl Acad Sci U S A 111:3262–3267. https://doi.org/10.1073/pnas.1222473110

Ramey VA (2016) Macroeconomic shocks and their propagation. In: Taylor JB, Uhlig H (eds) Handbook of macroeconomics, vol 2A. Elsevier, Amsterdam, pp 71–162

Rezai A, Taylor L, Foley D (2018) Economic growth, income distribution, and climate change. Ecol Econ 146:164–172. https://doi.org/10.1016/j.ecolecon.2017.10.020

Rosenzweig C, Elliott J, Deryng D et al (2014) Assessing agricultural risks of climate change in the 21st century in a global gridded crop model intercomparison. Proc Natl Acad Sci U S A 111:3268–3273. https://doi.org/10.1073/pnas.1222463110

Roson R, van der Mensbrugghe D (2012) Climate change and economic growth: impacts and interactions. Int J Sustain Econ 4:270–285

Serban Scrieciu S, Barker T, Ackerman F (2013) Pushing the boundaries of climate eocnomics: critical issues to consider in climate policy analysis. Ecol Econ 85:155–165

Smith J (2008) That elusive elasticity and the ubiquitous bias: is panel data a panacea? J Macroecon 30:760–779

Stern N (2007) The economics of climate change: the stern review. Cambridge University Press, Cambridge

Stern N (2013) The structure of economic modeling of the potential impacts of climate change: grafting gross underestimation of risk onto already narrow science models. J Econ Lit 51:838–859. https://doi.org/10.1257/jel.51.3.838

Stern N (2016) Economics: current climate models are grossly misleading. Nature 530:407–409. https://doi.org/10.1038/530407a

Stiglitz JE (2015) New theoretical perspectives on the distribution of income and wealth among individuals: part I. The wealth residual. NBER working papers no. 21189, National Bureau of Economic Research, Cambridge

Swan TW (1964) Growth models: of golden ages and production functions. In: Berrill K (ed) Economic development with special reference to East Asia. Palgrave Macmillan, Basingstoke, pp 3–18

Tol RSJ (2009) The economic effects of climate change. J Econ Perspect 23:29–51

Turnovsky SJ (2002) Intertemporal and intratemporal substitution, and the speed of convergence in the neoclassical growth model. J Econ Dyn Control 26:1765–1785

van der Ploeg F, Poelhekke S (2009) Volatility and the natural resource curse. Oxf Econ Pap 61:727–760

Waldhoff S, Anthoff D, Rose S, Tol RSJ (2014) The marginal damage costs of different greenhouse gases: an application of FUND. Econ Open-Access Open-Assess E-J 8:1. https://doi.org/10.5018/economics-ejournal.ja.2014-31
Acknowledgements
This work was conducted within the project ENGAGE, funded in the framework of the Leibniz Competition (SAW-2016-PIK-1).
Additional information
Publisher's Note
Springer Nature remains neutral with regard to jurisdictional claims in published maps and institutional affiliations.
Electronic supplementary material
Below is the link to the electronic supplementary material.
About this article
Cite this article
Piontek, F., Kalkuhl, M., Kriegler, E. et al. Economic Growth Effects of Alternative Climate Change Impact Channels in Economic Modeling. Environ Resource Econ 73, 1357–1385 (2019). https://doi.org/10.1007/s10640-018-00306-7
Accepted:

Published:

Issue Date:

DOI: https://doi.org/10.1007/s10640-018-00306-7
Keywords