Abstract
This paper develops and operationalizes the integrated economic-environmental modelling (IEEM) platform which integrates environmental data organized under the first international system of environmental economic accounting with a powerful dynamic economy-wide modelling approach. IEEM enables the ex-ante economic analysis of policies on the economy and the environment in a quantitative, comprehensive and consistent framework. IEEM elucidates the two-way interrelationships between the economy and environment, considering how economic activities depend on the environment as a source of inputs and as a sink for their outputs. In addition to standard economic impact indicators such as gross domestic product, income and employment, IEEM generates indicators that describe policy impacts on the use of environmental resources, wealth and environmental quality which together determine prospects for future economic growth and well-being. To illustrate the analytical capabilities of IEEM, the model is calibrated with Guatemala's SEEA and applied to analysis of its forest and fuelwood sector where negative health and environmental impacts arise from inefficient fuelwood use.
This is a preview of subscription content, log in to check access.
Access options
Buy single article
Instant access to the full article PDF.
US$ 39.95
Price includes VAT for USA
Subscribe to journal
Immediate online access to all issues from 2019. Subscription will auto renew annually.
US$ 199
This is the net price. Taxes to be calculated in checkout.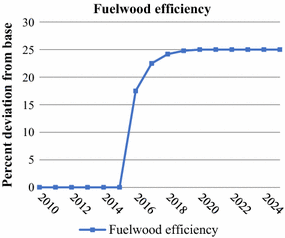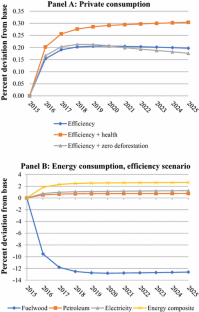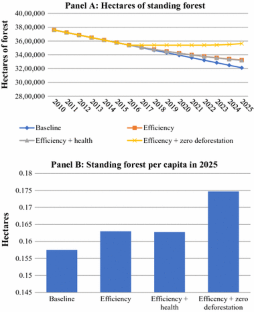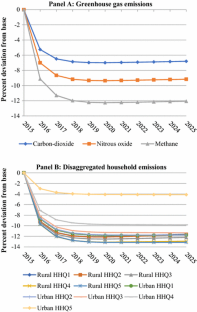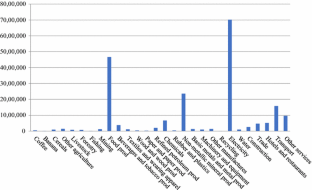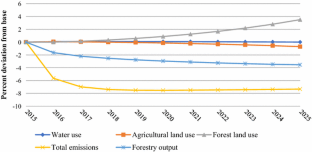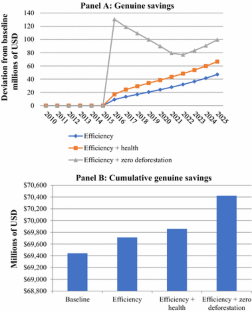 Notes
1.

2.

The concept of ecosystem services is relevant for IEEM since while the IEEM Platform operationalized here integrates data on provisioning ecosystem services, one of the goals of the IEEM project is to move beyond provisioning services to represent regulating and maintenance services such as climate regulation and erosion mitigation, as well as cultural ecosystem services. This frontier area is discussed in the concluding remarks section.

3.

In other contexts, this treatment can also be applied to land used in managed forests.

4.

In its full version, IEEM can include various water categories. In the case of Guatemala, registered and non-registered water is distinguished, while non-registered water could be further split between agriculture and non-agriculture uses.

5.

6.

One type of publically available ecosystem service modelling modules is the InVEST modelling suite developed through the Natural Capital Project (Sharp et al. 2016). Ecosystem service modules for specific ecosystem services can be calibrated for a country and used for generating ecosystem accounts and scenario analysis.
References
Ahmed K, Awe Y, Barnes DF, Cropper ML, Kojima M (2005) Environmental health and traditional fuel use in Guatemala. World Bank, Washington

Arrow K, Dasgupta P, Goulder L, Daily G, Ehrlich P, Heal G, Levin S, Mäler K-G, Schneider S, Starrett D, Walker B (2004) Are we consuming too much? J Econ Perspect 18:147–172

Arrow KJ, Dasgupta P, Goulder LH, Mumford KJ, Oleson K (2012) Sustainability and the measurement of wealth. Environ Dev Econ 17:317–353

Banco de Guatemala & IARNA-URL (2009) Cuenta Integrada del Bosque: Bases Teóricas, Conceptuales y Metodológicas. Ciudad de Guatemala: Banco de Guatemala & IARNA-URL

Banerjee O, Cicowiez M, Vargas R, Horridge M (2016a). The integrated economic-environmental modelling framework: an illustration with Guatemala's forest and fuelwood sectors. IDB working paper series no. 757. Washington DC, Inter-American Development Bank

Banerjee O, Cicowiez M, Horridge JM, Vargas R (2016b) A conceptual framework for integrated economic-environmental modelling. J Environ Dev 25(3):276–305

Banerjee O, Cicowiez M, Dudek S, Crossman N, Horridge M (2017a) The integrated economic-environmental modeling platform project. In Presented at the second forum on natural capital accounting for better policy, November 22 and 23, 2017. The Hague, The Netherlands

Banerjee O, Cicowiez M, Dudek S, Masozera M, Alavalapati JRR (2017b) Economic and land use impacts of Rwanda's green growth strategy: an application of the integrated economic-environmental modelling platform. In: GTAP (ed) GTAP 20th annual conference on global economic analysis. Purdue University, West Lafayette

Bielecki C, Wingenbach G (2014) Rethinking improved cookstove diffusion programs: a case study of social perceptions and cooking choices in rural Guatemala. Energy Policy 66:350–358

Breisinger C, Thomas M, Thurlow J (2009) Social accounting matrices and multiplier analysis: an introduction with exercises. IFPRI, Washington

Cicowiez M, Banerjee O, Vargas R, Horridge M (Forthcoming) Construction of an extended environmental and economic social accounting matrix from a practitioner's perspective. IDB working paper. Inter-American Development Bank, Washington

Conrad JM (2010) Resource economics. Cambridge University Press, Cambridge

Duflo E, Greenstone M, Hanna R (2008) Indoor air pollution, health and economic well-being. Surv Perspect Integr Environ Soc 1:1–9

EC, IMF, OECD, UN, WB (2009) System of National Accounts 2008. United Nations, New York

GAMS Development Corporation (2013) General Algebraic Modeling System (GAMS) Release 24.2.1. GAMS Development Corporation, Washington DC,

García-Frapolli E, Schilmann A, Berrueta VM, Riojas-Rodríguez H, Edwards RD, Johnson M, Guevara-Sanginés A, Armendariz C, Masera O (2010) Beyond fuelwood savings: valuing the economic benefits of introducing improved biomass cookstoves in the Purépecha region of Mexico. Ecol Econ 69(12):2598–2605

Giesecke JA, Madden JR (2013) Regional computable general equilibrium modeling. In: Dixon PB, Jorgenson DW (eds) Handbook of computable general equilibrium modeling, chapter 7. North-Holland, Amsterdam, pp 379–475

Global Alliance for Clean Cookstoves (2014) Plan de Acción Nacional de Guatemala para Estufas y Combustibles Limpios. Global Alliance for Clean Cookstoves, Guatemala City

Habermehl H (2007) Economic evaluation of the improved household cooking stove dissemination programme in Uganda. GTZ, Eschborn

Harrison WJ, Pearson KR (1996) Computing solutions for large general equilibrium models using GEMPACK. Comput Econ 9: 83–127

Hertel TW, Tyner WE, Birur DK (2010) The global impacts of biofuel mandates. Energy J 31(1):75–100

INAB, Instituto de Agricultura, Recursos Naturales y Ambiente de la Universidad Rafael Landívar [IARNA-URL] & Food and Agriculture Organization [FAO] (2012) Oferta y Demanda de Lena en la República de Guatemala. INAB, IARNA-URL and FAO, Ciudad de Guatemala

Instituto Nacional de Bosques [INAB] (2015) Estrategia Nacional de Producción Sostenible y Uso Eficiente de Leña 2013–2014. INAB, Ciudad de Guatemala

Instituto Nacional de Estadística [INE] (2011) Encuesta Nacional de Condiciones de Vida, ENCOVI 2011. INE, Guatemela City

Jagger P, Shively G (2014) Land use change, fuel use and respiratory health in Uganda. Energy Policy 67:713–726

King B (1985) What is SAM? In: Pyatt G, Round JI (eds) Social accounting matrices: a basis for planning. World Bank, Washington

Lambe F, Ochieng C (2015) Improved cookstoves in Central America: health impacts and uptake. Stockholm Environment Institute, Stockholm

Lofgren H, Harris RL, Robinson S (2002) A standard computable general equilibrium (CGE) model in GAMS, microcomputers in policy research, vol 5. IFPRI, Washington

McCracken JP, Smith KR (1998) Emissions and efficiency of improved woodburning cookstoves in highland Guatemala. Environ Int 24(7):739–747

Millenium Ecosystem Assessment [MA] (2005) Ecosystems and human well-being: synthesis. Island Press, Washington

Ministerio de Minas y Energía [MEM] (2013) Política Energética 2013-2027: Energía para el Desarrollo. Ministerio de Energía y Minas, Guatemala City

Narayanan B, Aguiar A, McDougall R (2015) Global trade, assistance and production: the GTAP 9 data base. GTAP, Purdue University, West Lafayette

Obst C, Eigengraam M (2016) Using the SEEA experimental ecosystem accounting framework to advance I-O and CGE integrated environmental-economic modelling. In: Presented at the 19th annual conference on global economic analysis, Washington, DC, June 2016

Pikitch EK, Santora C, Babcock EA, Bakun A, Bonfil R, Conover DO, Dayton P, Doukakis P, Fluharty D, Heneman B, Houde ED, Link J, Livingston PA, Mangel M, McAllister MK, Pope J, Sainsbury KJ (2004) Ecosystem-based fishery management. Science 305:346–347

Polasky S, Bryant B, Hawthorne P, Johnson J, Keeler B, Pennington D (2015) Inclusive wealth as a metric of sustainable development. Ann Rev Environ Resour 40:445–466

Round J (2003) Constructing SAMs for development policy analysis: lessons learned and challenges ahead. Econ Syst Res 15(2):161–183

SEGEPLAN (2010) Tercer Informe de Avances en el Cumplimiento de los Objetivos d Desarrollo del Milenio. SEGEPLAN, Guatemala City

Sharp R, Tallis HT, Ricketts T, Guerry AD, Wood SA, Chaplin-Kramer R, Nelson E, Ennaanay D, Wolny S, Olwero N, Vigerstol K, Pennington D, Mendoza G, Aukema J, Foster J, Forrest J, Cameron D, Arkema K, Lonsdorf E, Kennedy C, Verutes G, Kim CK, Guannel G, Papenfus M, Toft J, Marsik M, Bernhardt J, Griffin R, Glowinski K, Chaumont N, Perelman A, Lacayo M Mandle L, Hamel P, Vogl AL, Rogers L, Bierbower W, Denu D, Douglass J (2016) InVEST +VERSION+ User's Guide. The Natural Capital Project, Stanford University, University of Minnesota, The Nature Conservancy, and World Wildlife Fund

Smith KR, McCracken JP, Weber MW, Hubbard A, Jenny A, Thompson LM et al (2011) Effect of reduction in household air pollution on childhood pneumonia in Guatemala (RESPIRE): a randomised controlled trial. The Lancet 378(9804):1717–1726

Smith KR, Frumkin H, Balakrishnan K, Butler CD, Chafe ZA, Fairlie I et al (2013) Energy and human health. Ann Rev Public Health 34(1):159–188

Smith-Sivertsen T, Díaz E, Pope D, Lie RT, Díaz A, McCracken J et al (2009) Effect of reducing indoor air pollution on women's respiratory symptoms and lung function: the RESPIRE randomized trial, Guatemala. Am J Epidemiol 170(2):211–220

Stiglitz JE, Sen AK, Fitoussi JP (2010) Mis-measuring our lives: why GDP doesn't add up. New Press, New York

TEEB (2010) The economics of ecosystems and biodiversity: ecological and economic foundations. Earthscan, London

United Nations Environment Program, United Nations Statistical Division & Convention on Bioological Diversity Project (2017) SEEA experimental ecosystem accounting: technical recommendations. Consultation Draft. UNEP, UNSD, CBD, Geneva

United Nations, European Commission, Food and Agriculture Organization, International Monetary Fund, Organisation for Economic Cooperation and Development & The World Bank (2014) System of environmental economic accounting 2012-central framework. UN, EC, FAO, IMF, OECD and the World Bank, New York

United Nations, European Commission, International Monetary Fund, Organisation for Economic Cooperation and Development & World Bank (2005) Handbook of national accounting: integrated environmental and economic accounting 2003. Studies in methods, series F, no. 61, rev. 1, Glossary. United Nations, New York

Vardon M, Burnett P, Dovers S (2016) The accounting push and the policy pull: balancing environment and economic decisions. Ecol Econ 124:145–152

Verburg PH, Eickhout B, Van Meijl H (2008) A multi-scale, multi-model approach for analyzing the future dynamics of European land use. Ann Reg Sci 42:57–77

World Bank (2005) Where is the wealth of nations? Measuring capital for the 21st century. World Bank, Washington

World Bank (2011) The changing wealth of nations. Measuring sustainable development in the New Millennium. World Bank, Washington
Acknowledgements
This work was funded by the BIO Program of the Inter-American Development Bank.
Electronic supplementary material
Below is the link to the electronic supplementary material.
About this article
Cite this article
Banerjee, O., Cicowiez, M., Vargas, R. et al. The SEEA-Based Integrated Economic-Environmental Modelling Framework: An Illustration with Guatemala's Forest and Fuelwood Sector. Environ Resource Econ 72, 539–558 (2019). https://doi.org/10.1007/s10640-017-0205-9
Accepted:

Published:

Issue Date:
Keywords
Ex-ante economic impact evaluation

Evidence-based policy design

System of environmental-economic accounting

Dynamic computable general equilibrium model

System of national accounting

Economic and environmental indicators

Wealth

Natural capital

Ecosystem services