Abstract
Portugal has a unitary system in which the central government transfers funds to lower government levels for their public functions. In 2007, Portugal introduced Ecological Fiscal Transfers (EFT), where municipalities receive transfers for hosting protected areas (PA). We study whether introducing EFT in Portugal incentivized municipalities to designate PA and has led to a decentralization of conservation decisions. We employ a Bayesian structural time series approach to estimate the effect of introducing EFT in comparison to a simulated counterfactual time series. Quantitative results show a significant increase in the ratio of municipal and national PA designations following Portugal's EFT introduction—which we infer to be a causal consequence. The analysis furthermore places emphasis on the importance of relevant municipal conservation competencies for the functioning of the instrument. Results have important implications for conservation policy-making in terms of allocating budgets and competencies in multi-level governments.
This is a preview of subscription content, log in to check access.
Access options
Buy single article
Instant access to the full article PDF.
US$ 39.95
Price includes VAT for USA
Subscribe to journal
Immediate online access to all issues from 2019. Subscription will auto renew annually.
US$ 199
This is the net price. Taxes to be calculated in checkout.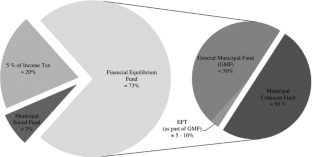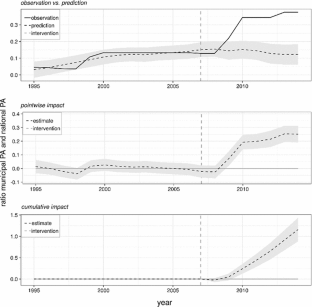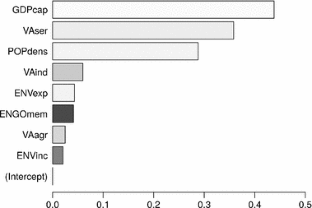 Notes
1.

For an analysis of strategic interactions at the local level in the Brazilian state Paraná see Sauquet et al. (2014).

2.

For an application of voter behaviour with web search data see Street et al. (2015).

3.

In this context, it is worth noting, that the Natura 2000 network (including most other PA) covered 18.8 per cent of continental Portugal in 2010, while the RNAP only accounted for 7.9 per cent (INE 2015) and in 2013 Natura 2000 covered 20.7 per cent of entire Portugal (EU 2015) while the RNAP accounted for 8.5 per cent of Portugal (ICNF 2015). This is due to the special nature of Natura 2000 sites which are not necessarily to be designated as PA under national law but managed according to EU law. The EFT mechanism, however, accounts for both Natura 2000 and RNAP sites.

4.

Monetary values were deflated based on the World Bank GDP deflator for Portugal or calculated in Euro with average US dollar exchange rates for 2005.
Abbreviations
AR:

Autoregressive

CI:

Confidence interval

EFT:

Ecological Fiscal Transfers

EU:

European Union

GDP:

Gross domestic product

GMF:

General Municipal Fund

ICNF:

Instituto da Conservação da Natureza e das Florestas

IUCN:

International Union for Conservation of Nature

MCMC:

Markov chain Monte Carlo

NGO:

Non-governmental organization

PA:

Protected area

RNAP:

Rede Nacional de Áreas Protegidas

SAC:

Special Areas of Conservation

SD:

Standard deviation

SPA:

Special Protection Areas
References
Andersson KP, Ostrom E (2008) Analyzing decentralized resource regimes from a polycentric perspective. Policy Sci 41(1):71–93. https://doi.org/10.1007/s11077-007-9055-6

Armsworth PR, Cantú-Salazar L, Parnell M, Davies ZG, Stoneman R (2011) Management costs for small protected areas and economies of scale in habitat conservation. Biol Conserv 144(1):423–429. https://doi.org/10.1016/j.biocon.2010.09.026

Ashenfelter O, Card D (1985) Using the longitudinal structure of earnings to estimate the effect of training programs. Rev Econo Stat 67(4):648–660

Athey S, Imbens GW (2015) Recursive Partitioning for Heterogeneous Causal Effects, pp 1–9. arXiv:1504.01132

Boadway R, Tremblay JF (2012) Reassessment of the Tiebout model. J Public Econ 96(11–12):1063–1078. https://doi.org/10.1016/j.jpubeco.2011.01.002

Borge LE, Brueckner JK, Rattsø J (2014) Partial fiscal decentralization and demand responsiveness of the local public sector: theory and evidence from Norway. J Urban Econ 80:153–163. https://doi.org/10.1016/j.jue.2014.01.003

Borie M, Mathevet R, Letourneau A, Ring I, Thompson JD, Marty P (2014) Exploring the contribution of fiscal transfers to protected area policy. Ecol Soc. https://doi.org/10.5751/ES-05716-190109

Box GEP, Tiao GC (1975) Intervention with applications analysis to economic and environmental problems. J Am Stat Assoc 70(349):70–79

Box GEP, Jenkins GM, Reinsel GC, Ljung GM (2016) Time series analysis: forcasting and control, 5th edn. Wiley, Hoboken

Brennan G, Buchanan JM (1980) The power to tax: analytic foundations of a fiscal constitution. Liberty Fund, Indianapolis

Brodersen KH, Gallusser F, Koehler J, Remy N, Scott SL (2015) Inferring causal impact using Bayesian structural time-series models. Ann Appl Stat 9(1):247–274. https://doi.org/10.1214/14-AOAS788

Butchart SHM, Clarke M, Smith RJ, Sykes RE, Scharlemann JPW, Harfoot M, Buchanan GM, Angulo A, Balmford A, Bertzky B, Brooks TM, Carpenter KE, Comeros-Raynal MT, Cornell J, Ficetola GF, Fishpool LDC, Fuller RA, Geldmann J, Harwell H, Hilton-Taylor C, Hoffmann M, Joolia A, Joppa L, Kingston N, May I, Milam A, Polidoro B, Ralph G, Richman N, Rondinini C, Segan DB, Skolnik B, Spalding MD, Stuart SN, Symes A, Taylor J, Visconti P, Watson JEM, Wood L, Burgess ND (2015) Shortfalls and solutions for meeting national and global conservation area targets. Conserv Lett 8(5):329–337. https://doi.org/10.1111/conl.12158

Coase RH (1937) The nature of the firm. Economica 4(16):386–405. https://doi.org/10.1111/j.1468-0335.1937.tb00002.x

Commandeur JJ, Koopman SJ (2007) An introduction to state space time series analysis. Oxford University Press, Oxford

da Costa JS, Carvalho A (2013) Yardstick competition among Portuguese municipalities: the case of Urban Property Tax (IMI ). Universidade do Porto, Porto

Direção-Geral das Autarquias Locais (2015) Portal Autárquico - Municípios. http://www.portalautarquico.pt/pt-PT/financas-locais/transferencias/municipios/

Droste N, Lima GR, May P, Ring I (2017) Municipal Responses to Ecological Fiscal Transfers a microeconometric panel data approach. Environ Policy Gov 27(4):378–393. https://doi.org/10.1002/eet.1760

EU (2015) Natura 2000 Barometer. http://ec.europa.eu/environment/nature/natura2000/barometer/index_en.htm

Evans D (2012) Building the European Union's Natura 2000 network. Nat Conserv 1:11. https://doi.org/10.3897/natureconservation.1.1808

Faguet JP (2004) Does decentralization increase government responsiveness to local needs? evidence from Bolivia. J Public Econ 88(3–4):867–893. https://doi.org/10.1016/S0047-2727(02)00185-8

Faguet JP (2014) Decentralization and governance. World Dev 53:2–13. https://doi.org/10.1016/j.worlddev.2013.01.002

Feld LP (2014) James Buchanan's theory of federalism: from fiscal equity to the ideal political order. Const Polit Econ 25:231–252. https://doi.org/10.1007/s10602-014-9168-9

George EI, McCulloch RE (1997) Approaches for bayesian variable selection. Stat Sin 7:339–373

Grieg-Gran M (2000) Fiscal incentives for biodiversity conservation: the ICMS Ecológico in Brazil. Environmental Economics Programme Discussion Paper 00-01. International Institute for Environment and Development, London

Heckman JJ (2008) Econometric causality. Int Stat Rev 76:1–27

Hyndman RJ (2014) Fitting models to short time series. http://robjhyndman.com/hyndsight/short-time-series/

Hyndman RJ, Kostenko AV (2007) Minimum sample size requirements. Foresight 6:12–15

ICNF (2015) Áreas Protegidas. http://www.icnf.pt/portal/ap

INE (2015) Portal de Estastística. http://www.ine.pt/xportal/xmain?xpid=INE&xpgid=ine_main&xpid=INE

Inman RP, Rubinfeld DL (1997) Rethinking federalism. J Econ Perspect 1(4):43–64. https://doi.org/10.3817/0694100003

Irawan S, Tacconi L, Ring I (2014) Designing intergovernmental fiscal transfers for conservation: the case of REDD+ revenue distribution to local governments in Indonesia. Land Use Policy 36:47–59. https://doi.org/10.1016/j.landusepol.2013.07.001

Köllner T, Schelske O, Seidl I (2002) Integrating biodiversity into intergovernmental fiscal transfers based on cantonal benchmarking: a Swiss case study. Basic Appl Ecol 3(4):381–391. https://doi.org/10.1078/1439-1791-00104

Kotchen MJ, Reiling SD (2000) Environmental attitudes, motivations, and contingent valuation of nonuse values: a case study involving endangered species. Ecol Econ 32(1):93–107. https://doi.org/10.1016/S0921-8009(99)00069-5

Kumar S, Managi S (2009) Compensation for environmental services and intergovernmental fiscal transfers: the case of India. Ecol Econ 68(12):3052–3059. https://doi.org/10.1016/j.ecolecon.2009.07.009

List JA, Bulte EH, Shogren JF (2002) "Beggar thy neighbor": testing for free riding in state-level endangered species expenditures. Public Choice 111(3–4):303–315. https://doi.org/10.1023/A:1014947110729

Loureiro W (2002) Contribuição do ICMS Ecológico à Conservação da Biodiversidade no Estado do Paraná. Doctoral thesis, Universidade Federal do Paraná, Curitiba

Loureiro W, Pinto MA, Motta MNJ (2008) Legislação atualizada do ICMS Ecológico por Biodiversidade

May P, Veiga Neto F, Denardin V, Loureiro W (2002) Using fiscal instruments to encourage conservation: municipal responses to the 'ecological' value-added tax in Paraná and Minas Gerais, Brazil. In: Pagiola S, Bishop J, Landell-Mills N (eds) Selling forest environmental services: market-based mechanisms for conservation and development. Earthscan, London, pp 173–199

MEA (2005) Ecosystems and human well-being: biodiversity synthesis. World Resources Institute, Washington, DC

Meyer BD (1995) Natural und quasi-experiments in economics. J Bus Econ Stat 13(2):151–161

Mumbunan S (2011) Ecological fiscal transfers in Indonesia. Ph.D. thesis, University Leipzig, Helmholt Centre for Environmental Research–UFZ, Leipzig

Musgrave RM (1959) The theory of public finance: a study in public economy. McGraw-Hill, New York

Oates WE (1972) Fiscal Federalism. Harcourt Brace Jovanovich, New York

Oates WE (2005) Toward a second-generation theory of fiscal federalism. Int Tax Public Finance 12:349–373. https://doi.org/10.1007/s10797-005-1619-9

Ojea E, Loureiro ML (2007) Altruistic, egoistic and biospheric values in willingness to pay (WTP) for wildlife. Ecol Econ 63(4):807–814. https://doi.org/10.1016/j.ecolecon.2007.02.003

Olson M (1965) The logic of collective action: public goods and the theory of groups. Harvard University Press, Cambridge

Olson M (1969) The principle of "fiscal equivalence": the division of responsibilities among different levels of government. Am Econ Rev 59(2):479–487

Ostrom E (1990) Governing the commons: the evolution of institutions for collective action. Cambridge University Press, Cambridge

Perrings C, Gadgil M (2003) Conserving biodiversity: reconciling local and global public benefits. In: Kaul I, Conceicao P, Le Goulven K, Mendoza RL (eds) Providing global public goods: managing globalization. Oxford University Press, Oxford, pp 532–555

Qian Y, Weingast BR (1997) Federalism as a commitment to preserving market incentives. J Econ Perspect 11(4):83–92

R Development Core Team (2016) R: a language and environment for statistical computing. http://www.r-project.org/

Ring I (2002) Ecological public functions and fiscal equalisation at the local level in Germany. Ecol Econ 42:415–427. https://doi.org/10.1016/S0921-8009(02)00124-6

Ring I (2008a) Compensating municipalities for protected areas: fiscal transfers for biodiversity conservation in Saxony, Germany. Gaia 17(S1):143–151

Ring I (2008b) Integrating local ecological services into intergovernmental fiscal transfers: the case of the ecological ICMS in Brazil. Land Use Policy 25(4):485–497. https://doi.org/10.1016/S0921-8009(02)00124-6

Rubinchik-Pessach A (2005) Can decentralization be beneficial? J Public Econ 89(7):1231–1249. https://doi.org/10.1016/j.jpubeco.2003.11.005

Samuelson PA (1954) The pure theory of public expenditure. Rev Econ Stat 36(4):387–389. https://doi.org/10.2307/1925895

Samuelson PA (1955) Diagrammatic exposition of a theory of public expenditure. Rev Econ Stat 37(4):350–356. https://doi.org/10.2307/1925849

Santos R, Ring I, Antunes P, Clemente P (2012) Fiscal transfers for biodiversity conservation: the Portuguese local finances law. Land Use Policy 29(2):261–273. https://doi.org/10.1016/j.landusepol.2011.06.001

Santos R, Antunes P, Ring I, Clemente P (2015) Engaging local private and public actors in biodiversity conservation: the role of agri-environmental schemes and ecological fiscal transfers. Environ Policy Gov 25(2):83–96. https://doi.org/10.1002/eet.1661

Sauquet A, Marchand S, Féres J (2014) Protected areas, local governments, and strategic interactions: the case of the ICMS-Ecológico in the Brazilian state of Paraná. Ecol Econ 107:249–258. https://doi.org/10.1016/j.ecolecon.2014.09.008

Schröter-Schlaack C, Ring I, Koellner T, Santos R, Antunes P, Clemente P, Mathevet R, Borie M, Grodzińska-Jurczak M (2014) Intergovernmental fiscal transfers to support local conservation action in Europe. Zeitschrift für Wirtschaftsgeographie 58:98–114

Scott SL, Varian H (2014) Predicting the present with bayesian structural time series. Int J Math Model Optim 5:4–23. https://doi.org/10.1504/IJMMNO.2014.059942

Sen A (1977) Rational fools: a critique of the behavioral foundations of economic theory. Philos Public Affairs 6(4):317–344. https://doi.org/10.2307/2264946

Simon HA (1955) A behavioral model of rational choice. Quart J Econ 69(1):99–118. https://doi.org/10.2307/1884852

Simonton DK (1977) Cross sectional time series experiments: some suggested statistical analyses. Psychol Bull 84(3):489-S02

Smith HJM, Revell KD (2016) Micro-incentives and municipal behavior: political decentralization and fiscal federalism in Argentina and Mexico. World Dev 77(November):231–248. https://doi.org/10.1016/j.worlddev.2015.08.018

Smith R, Veríssimo D, Leader-Williams N, Cowling RM, Knight AT (2009) Let the locals lead. Nature 462(November):280–281

Spash CL (2006) Non-economic motivation for contingent values: rights and attitudinal beliefs in the willingness to pay for environmental improvements. Land Econ 82(4):602–622. https://doi.org/10.3368/le.82.4.602

Spash CL, Urama K, Burton R, Kenyon W, Shannon P, Hill G (2009) Motives behind willingness to pay for improving biodiversity in a water ecosystem: Eeconomics, ethics and social psychology. Ecol Econ 68(4):955–964. https://doi.org/10.1016/j.ecolecon.2006.09.013

Street A, Murray TA, Blitzer JB, Patel RS (2015) Estimating voter registration deadline effects with web search data. Polit Anal 23(2):225–241. https://doi.org/10.1093/pan/mpv002

TEEB (2010) The economics of ecosystems and biodiversity: mainstreaming the economics of nature: a synthesis of the approach, conclusions and recommendations of TEEB. http://www.teebweb.org/our-publications/

ten Brink P, Bassi S, Badura T, Gantioler S, Kettunen M, Mazza L, Hart K, Rayment M, Pieterse M, Daly E, Gerdes H, Lago M, Lang S, Markandya A, Nunes P, Ding H, Tinch R, Dickie I (2013) Economic benefits of the natura 2000 network. Synthesis report. European Union, Luxembourg. https://doi.org/10.2779/41957

Terman JN, Feiock RC (2014) Improving outcomes in fiscal federalism: local political leadership and administrative capacity. J Public Adm Res Theory. https://doi.org/10.1093/jopart/muu027

Thiel A (2015) Constitutional state structure and scalar re-organization of natural resource governance: the transformation of polycentric water governance in Spain, Portugal and Germany. Land Use Policy 45:176–188. https://doi.org/10.1016/j.landusepol.2015.01.012

Tiebout CM (1956) A pure theory of local expenditures. J Polit Econ 64(5):416–424. https://doi.org/10.1086/257839

Vatn A (2007) Institutions and the environment. Edward Elgar, Northampton

Vogel J (1997) The successful use of economic instruments to foster sustainable use of biological diversity: six case studies from latin America and the Caribbean. Biopolicy J 2(5):1–44

von Hayek FK (1945) The use of knowledge in society. Am Econ Rev 35(4):519–530

Weingast BR (2009) Second generation fiscal federalism: the implications of fiscal incentives. J Urban Econ 65(3):279–293. https://doi.org/10.1016/j.jue.2008.12.005

Weingast BR (2014) Second generation fiscal federalism: political aspects of decentralization and economic development. World Dev 53:14–25. https://doi.org/10.1016/j.worlddev.2013.01.003

Williams RC (2012) Growing state-federal conflicts in environmental policy: the role of market-based regulation. J Public Econ 96(11–12):1092–1099. https://doi.org/10.1016/j.jpubeco.2011.08.003

World Bank (2015) World development indicators. World DataBank. http://databank.worldbank.org/data/home.aspx

Wu J (2014) Public open-space conservation under a budget constraint. J Public Econ 111:96–101. https://doi.org/10.1016/j.jpubeco.2013.12.008

Zodrow GR, Mieszkowski P (1986) Pigou, Tiebout, property taxation, and the underprovision of local public goods. J Urban Econ 19(3):356–370. https://doi.org/10.1016/0094-1190(86)90048-3
Acknowledgements
While retaining responsibility for any error, we thank the editor, two anonymous reviewers, the participants of the AURÖ 2016 and LACEA/LAMES 2016 conferences, and colleagues at Cense and UFZ for helpful comments and suggestions. Furthermore, ND is grateful for financial support of the Heinrich Böll foundation (Grant No. P118873).
Appendix: Descriptive Statistics
Appendix: Descriptive Statistics
Summary Statistics
See Table 2.
Time Series of Dependent Variable Components for Robustness Checks
See Table 3.
Monte Carlo Standard Errors
See Table 4.
About this article
Cite this article
Droste, N., Becker, C., Ring, I. et al. Decentralization Effects in Ecological Fiscal Transfers: A Bayesian Structural Time Series Analysis for Portugal. Environ Resource Econ 71, 1027–1051 (2018). https://doi.org/10.1007/s10640-017-0195-7
Accepted:

Published:

Issue Date:
Keywords
Bayesian structural time series

Ecological Fiscal Transfers

Fiscal federalism

Municipal conservation competencies

Portugal
JEL Codes