Abstract
Over-fishing is a global problem that damages the marine environment and compromises the long-term sustainability of fisheries. This damage can be mitigated by restricting catch or other activities which can occur in marine areas. However, such management is only effective when restrictions are enforced to ensure compliance. We expect fishers to help enforce restrictions when they have exclusive user rights and can capture the benefits of management. In a number of such cases, however, fisher participation in the enforcement of user rights is absent. In this analysis we used central Chile as a case-study to investigate why some fishers may not participate in enforcement even when they have exclusive territorial user rights for fisheries. We used a best-worst scaling survey to assess why fishers would choose not to participate in enforcement through monitoring their TURF management areas, and what would help to increase their participation. We found that the main reason fishers may not monitor is because they consider government policing of marine areas and punishment of poachers to be ineffective. Increased and timely responsiveness by government when poachers are detected and more stringent penalisation of poachers may lead to greater involvement in enforcement by fishers.
Access options
Buy single article
Instant access to the full article PDF.
US$ 39.95
Tax calculation will be finalised during checkout.
Subscribe to journal
Immediate online access to all issues from 2019. Subscription will auto renew annually.
US$ 119
Tax calculation will be finalised during checkout.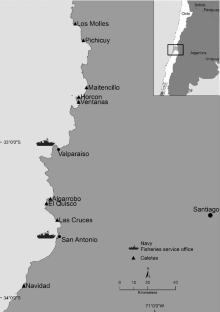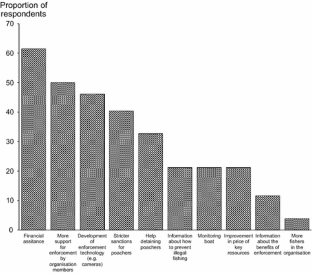 Notes
1.

A reviewer raised the possibility of lower revenues creating a disincentive for monitoring rather than vice versa. However, anecdotal evidence in the region suggests that TURF areas were chosen because they were (at least initially) productive fishing grounds worthy of monitoring; productivity declined only after monitoring stopped.

2.

Estimation of latent class models results in predicted membership of classes that is difficult to interpret on the basis of individuals' characteristics and are not reported here; the small sample size may limit the ability to estimate robust latent classes.
References
Anderson LG (1989) Enforcement issues in selecting fisheries management policy. Mar Resour Econ 6:261–277

Bandin RM, Quiñones RA (2014) Impacto de la captura ilegal en pesquerías artesanales bentónicas bajo el régimen de co-manejo: El caso de isla mocha, chile. Lat Am J Aquat Res 42:547–579

Byers J, Noonburg E (2007) Poaching, enforcement, and the efficacy of marine reserves. Ecol Appl 17:1851–1857

Castilla JC (1997) Chilean resources of benthic invertebrates: fishery, collapses, stock rebuilding and the role of coastal management areas and national parks. In: Developing and Sustaining World Fisheries Resources. The State of Science and Management. Second World Fisheries Congress. CSIRO Publishing, Collingwood, Australia, pp. 130–135

Castilla JC (2010) Fisheries in chile: Small pelagics, management, rights, and sea zoning. Bull Mar Sci 86:221–234

Castilla JC, Defeo O (2001) Latin american benthic shellfisheries: emphasis on co-management and experimental practices. Rev Fish Biol Fish 11:1–30

Cochran WG, Cox GM (1950) Experimental designs (Wiley Mathematical Statistics Series). Wiley, New York

Cudney-Bueno R, Basurto X (2009) Lack of cross-scale linkages reduces robustness of community-based fisheries management. PloS One 4:e6253

Czapiński J, Lewicka M (1979) Dynamics of interpersonal attitudes: positive-negative asymmetry. Pol Psychol Bull 10:31–40

Davis K, Kragt M, Gelcich S et al (2015) Accounting for enforcement costs in the spatial allocation of marine zones. Conserv Biol 29:226–237

Erdem S, Rigby D, Wossink A (2012) Using best-worst scaling to explore perceptions of relative responsibility for ensuring food safety. Food Policy 37:661–670

Finn A, Louviere JJ (1992) Determining the appropriate response to evidence of public concern: the case of food safety. J Public Policy Mark 11:12–25

Flynn TN (2010) Valuing citizen and patient preferences in health: recent developments in three types of best-worst scaling. Expert Rev Pharmacoecon Outcomes Res 10:259–267

Flynn TN, Louviere JJ, Peters TJ et al (2008) Estimating preferences for a dermatology consultation using best-worst scaling: comparison of various methods of analysis. BMC Med Res Methodol C7–76(8):1–12

Flynn TN, Marley AAJ (2014) Best worst scaling: theory and methods. In: Hess S, Daly A (eds) Handbook of choice modelling. Edward Elgar Publishing, Cheltenham

FAO (Food and Agriculture Organization) (2014) The state of world fisheries and aquaculture 2014. Food and Agriculture Organization of the United Nations, Rome

Gallic BL, Cox A (2006) An economic analysis of illegal, unreported and unregulated (IUU) fishing: key drivers and possible solutions. Mar Policy 30:689–695

Gelcich S, Castilla JC, Kaiser MJ et al (2008) Engagement in co-management of marine benthic resources influences environmental perceptions of artisanal fishers. Environ Conserv 35:36–45

Gelcich S, Edwards-Jones G, Kaiser MJ et al (2005) Using discourses for policy evaluation: the case of marine common property rights in chile. Soc Nat Resour 18:377–391

Gelcich S, Fernandez M, Godoy N et al (2012) Territorial user rights for fisheries as ancillary instruments for marine coastal conservation in chile. Conserv Biol 26:1005–1015

Gelcich S, Godoy N, Castilla JC (2009) Artisanal fishers' perceptions regarding coastal co-management policies in chile and their potentials to scale-up marine biodiversity conservation. Ocean Coast Manag 52:424–432

Gibson CC, Williams JT, Ostrom E (2005) Local enforcement and better forests. World Dev 33:273–284

González J, Stotz W, Garrido J et al (2006) The Chilean TURF system: how is it performing in the case of the loco fishery? Bull Mar Sci 78(3):499–527

González Poblete E, Cerda D'Amico R, Quezada Olivares J et al (2013) Diagnóstico del Estado y tendencias de la pesca artesanal en Chile. Dept: Subsecretaría de Pesca y Acuicultura de Chile, Valparaiso

Guidetti P, Milazzo M, Bussotti S et al (2008) Italian marine reserve effectiveness: does enforcement matter? Biol Conserv 141:699–709

Hatcher A, Jaffry S, Thebaud O et al (2000) Normative and social influences affecting compliance with fishery regulations. Land Econ 76:448–461

Hoffman S, Duncan G (1988) Multinomial and conditional logit discrete-choice models in demography. Demography 25:415–427

Jennings S, Marshall SS, Polunin NVC (1996) Seychelles' marine protected areas: Comparative structure and status of reef fish communities. Biol Conserv 75:201–209

Jones PJS (2001) Marine protected area strategies: issues, divergences and the search for middle ground. Rev Fish Biol Fish 11:197–216

Kalikoski DC, Vasconcellos M, Lavkulich L (2002) Fitting institutions to ecosystems: The case of artisanal fisheries management in the estuary of patos lagoon. Mar Policy 26:179–196

Lancsar E, Louviere J, Donaldson C et al (2013) Best worst discrete choice experiments in health: methods and an application. Soc Sci Med 76:74–82

Louviere JJ, Flynn TN (2010) Using best-worst scaling choice experiments to measure public perceptions and preferences for healthcare reform in australia. Patient Patient Cent Outcomes Res 3:275–283

Lundquist CJ, Granek EF (2005) Strategies for successful marine conservation: integrating socioeconomic, political, and scientific factors. Conserv Biol 19:1771–1778

Marti J (2012) A best-worst scaling survey of adolescents' level of concern for health and non-health consequences of smoking. Soc Sci Med 75:87–97

McClanahan TR, Glaesel H, Rubens J et al (1997) The effects of traditional fisheries management on fisheries yields and the coral-reef ecosystems of southern kenya. Environ Conserv 24:105–120

McFadden D (1974) Conditional logit analysis of qualitative choice behavior. In: Zarembka P (ed) Frontiers in econometrics. Academic Press, New York

Milazzo M (1998) Subsidies in world fisheries: a re-examination. In: World Bank Technical Paper. The World Bank, Washington DC, p. 86

O'Ryan D (2014) Capital social en organizaciones de pescadores en chile central. Department of Ecology. Pontificia Universidad Catolica de Chile, Santiago, Chile

OECD (Organisation for Economic Co-operation and Development), (2013) The OECD handbook for fisheries managers: Principles and practice for policy design. OECD Publishing, Paris

OECD (Organisation for Economic Co-operation and Development), (2006) Financial support to fisheries–implications for sustainable development in OECD Committee for Agriculture Fisheries. OECD, France

Ostrom E (2005) Self-governance and forest resources. In: Shah PJ, Maitha V (eds) Terracotta reader: a market approach to the environment. Academic Foundation, New Delhi

Peeters G, Czapinski J (1990) Positive-negative asymmetry in evaluations: the distinction between affective and informational negativity effects. Eur Rev Soc Psychol 1:33–60

Pomeroy RS, Berkes F (1997) Two to tango: the role of government in fisheries co-management. Mar Policy 21:465–480

Potoglou D, Burge P, Flynn T et al (2011) Best-worst scaling vs. Discrete choice experiments: an empirical comparison using social care data. Soc Sci Med 72:1717–1727

Rife AN, Erisman B, Sanchez A et al (2013) When good intentions are not enough\(\ldots \)insights on networks of "paper park" marine protected areas. Conserv Lett 6:200–212

Rigby D, Burton M, Lusk JL (2014) Journals, preferences, and publishing in agricultural and environmental economics. Am J Agric Econ 97:490–509

Robinson EJZ, Kumar AM, Albers HJ (2010) Protecting developing countries' forests: enforcement in theory and practice. J Nat Resour Policy Res 2:25–38

Robinson EJZ, Lokina RB (2012) Efficiency, enforcement and revenue tradeoffs in participatory forest management: an example from tanzania. Environ Dev Econ 17:1–20

Ruddle K (1998) The context of policy design for existing community-based fisheries management systems in the pacific islands. Ocean Coast Manag 40:105–126

Samoilys MA, Martin-Smith KM, Giles BG et al (2007) Effectiveness of five small philippines' coral reef reserves for fish populations depends on site-specific factors, particularly enforcement history. Biol Conserv 136:584–601

Schlager E, Ostrom E (1992) Property-rights regimes and natural resources: a conceptual analysis. Land Econ 68:249–262

SERNAPESCA (Servicio Nacional de Pesca y Acuicultura), (2015) GTI Area de manejo. Dept: Servicio Nacional de Pesca y Acuicultura, Chle

Sethi SA, Hilborn R (2008) Interactions between poaching and management policy affect marine reserves as conservation tools. Biol Conserv 141:506–516

Sumaila R, Delagran L (2010) Subsidizing fisheries. World Trade Report 2010. World Trade Organization

Sumaila UR, Khan A, Dyck A et al (2010) A bottom-up re-estimation of global fisheries subsidies. J Bioecon 12:201–225

Wallis P, Flaaten O (2001) Fisheries management costs: concepts and studies. IIFET 2000

Wilen JE, Cancino J, Uchida H (2012) The economics of territorial use rights fisheries, or TURFs. Rev Environ Econ Policy 6:237–257
Acknowledgments
This research was conducted with support from the Australian Research Council Centre of Excellence for Environmental Decisions. The authors would like to thank F Auzanneau, M Guerrero Gatica, and A Keim for their invaluable and expert assistance during data collection. SG thanks Financiamiento Basal FB-0002, Nucleo-Milenio RC13004, and NC-120086 from the Ministerio de Economia, The David and Lucile Packard Foundation, The Walton Family Foundation, and The Pew Marine Conservation Fellowship Program.
Additional information
This paper has not been submitted elsewhere in identical or similar form, nor will it be during the first three months after its submission to the Publisher.
About this article
Cite this article
Davis, K.J., Kragt, M.E., Gelcich, S. et al. Why are Fishers not Enforcing Their Marine User Rights?. Environ Resource Econ 67, 661–681 (2017). https://doi.org/10.1007/s10640-015-9992-z
Accepted:

Published:

Issue Date:
Keywords
Best-worst scaling

Chile

Marine management

Monitoring

Small-scale fisheries

TURFs